In whatever art form he's working in, Timothy Hoey holds up a mirror to Canada, in all of its wonder, complexity and, yes, kitschy pop culture.
By David Lennam • Photos by Jeffrey Bosdet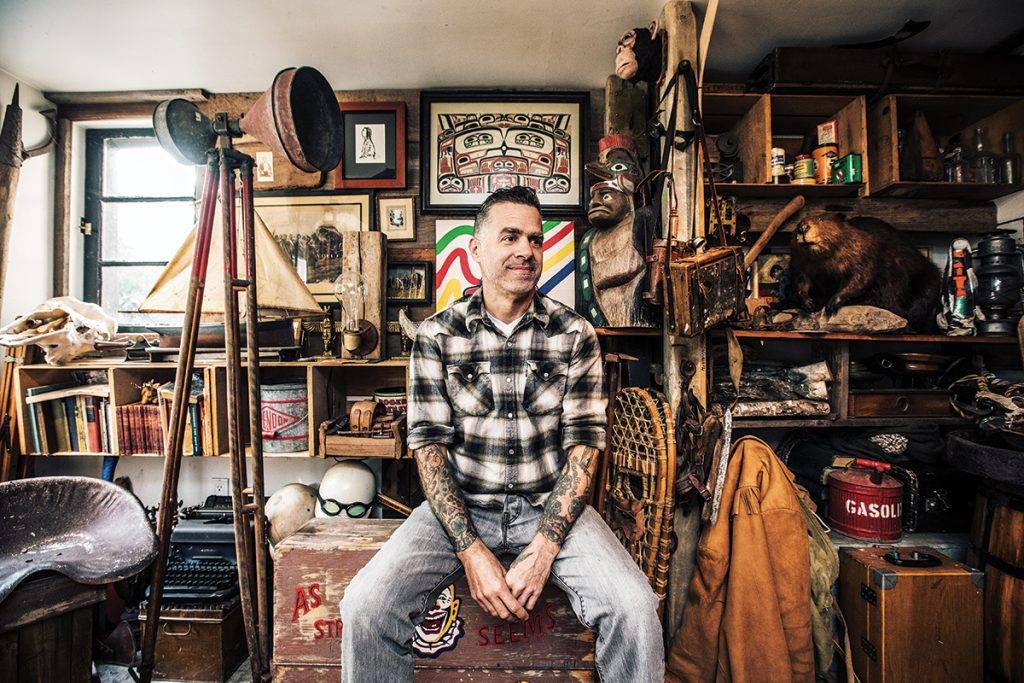 ---
Warhol had his tins of soup. Lichtenstein had his riffs on comic book panels. Emily Carr had totems and trees. Timothy Hoey has his images of Canadiana. The native Victorian painter, builder and collector has achieved recognition well beyond his hometown through an ever-continuing series of acrylics celebrating every conceivable Canadian trope: the Queen in a Mountie hat and Habs' sweater, stubby beer bottles, moose, beavers, raccoons in a canoe, even Wayne and Shuster.
Many of Hoey's pieces feature those iconic Hudson Bay Company stripes for added Canadian-ness. All are framed in used hockey sticks (more than 10 kilometres of Bauer and CCM, for 4,000-plus paintings). The project even resulted in a fat book, O-Canada 150, timed for Canada's sesquicentennial and the artist showed his stuff in London's Trafalgar Square as part of the Canada Day festivities.
The Great Canadian Serendipity
Hoey began putting Canada onto canvas 13 years ago, almost accidentally. A painter since the age of 17, he was in a period of creating conceptual abstracts and experimenting with mediums when a gallery came calling, looking for work to hang. He'd hastily banged off portraits of Pierre Trudeau and a raven just for fun, but the gallery wanted to add them to the show, assuming they were works Hoey had asked some of his painting students to do.
---
He ended up negotiating an entire Canada Day show for the gallery where there'd be a street hockey game, Pop Shoppe pop, ripple chips, all manner of Canuck kitsch. And he wanted to donate the proceeds to a family in need.
The whole thing was so well received it turned into an ongoing celebration of our culture, our heroes and our silly touchstones like Tim Horton's, Old Dutch ketchup chips and a duffel bag's worth of hockey imagery.
The National Post once wrote that if Hoey were any more Canadian, he'd be a doughnut. But does he get tired of being such an edible patriot?
"Funny thing is, I'm not. Everyone goes, 'Oh, you're Mr. Canada.' Now, if someone were to say I'm the most Canadian mirror, OK, because all I'm really doing is reflecting back everything else we all like and people who are truly great Canadians."
The 51-year-old is self-taught and works quickly — "fast and sloppy" as he once told the CBC's Grant Lawrence.
"A lot of it's just one brush stroke going 'pfffft,'" says Hoey. "You smash in a highlight, smash in a lowlight. I like to paint fast because by the time I'm a quarter of the way through a painting, I'm thinking of the next one."
His basement studio, long, dimly lit and curated like a museum, is a homemade warehouse of heritage ephemera: Old snowshoes, a stuffed beaver, a wooden boat, drawers of vintage penknives, indescribable objects he's hammered together from wood and steel and cigar boxes stuffed with whatever — all bits and pieces collected by him and for him.
"If I'm going out thrift shopping and I see a cup that celebrates the Medicine Hat Centennial, I go, 'Oh, Tim Hoey would want this,'" says pal Marcus Pollard. "He's kind of a dilettante, but in a really good way. He's like a rarefied Red Green."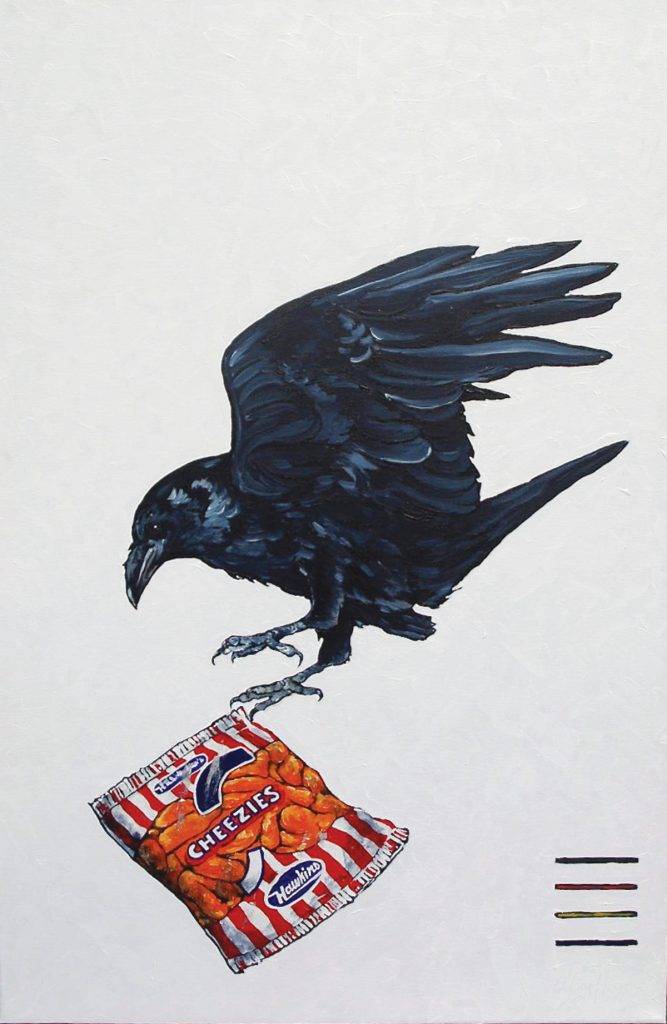 ---
Another friend, Scott Aitchison lets on that Hoey is into anything dead. "I ran across a dead possum on Hornby and sent him a picture. He replied: 'You're bringing that home for me, right?'"
There's the thing. Hoey has done a lot. He's been a Vespa-riding mod, punk rocker, tattoo artist, woodworker, philanthropist. It's his ongoing, feel-good tribute to national memory that, for most of us, defines him.
"The O-Canada series for me was — because I do tons of things, tons of different stuff — the one that resonated the biggest on a higher level, and I'm so grateful for it … but I've also been able to do a whole bunch of stuff. There's this idea of constantly making something new and trying to create something for my own enjoyment. I don't want to sit back and stick to the same thing."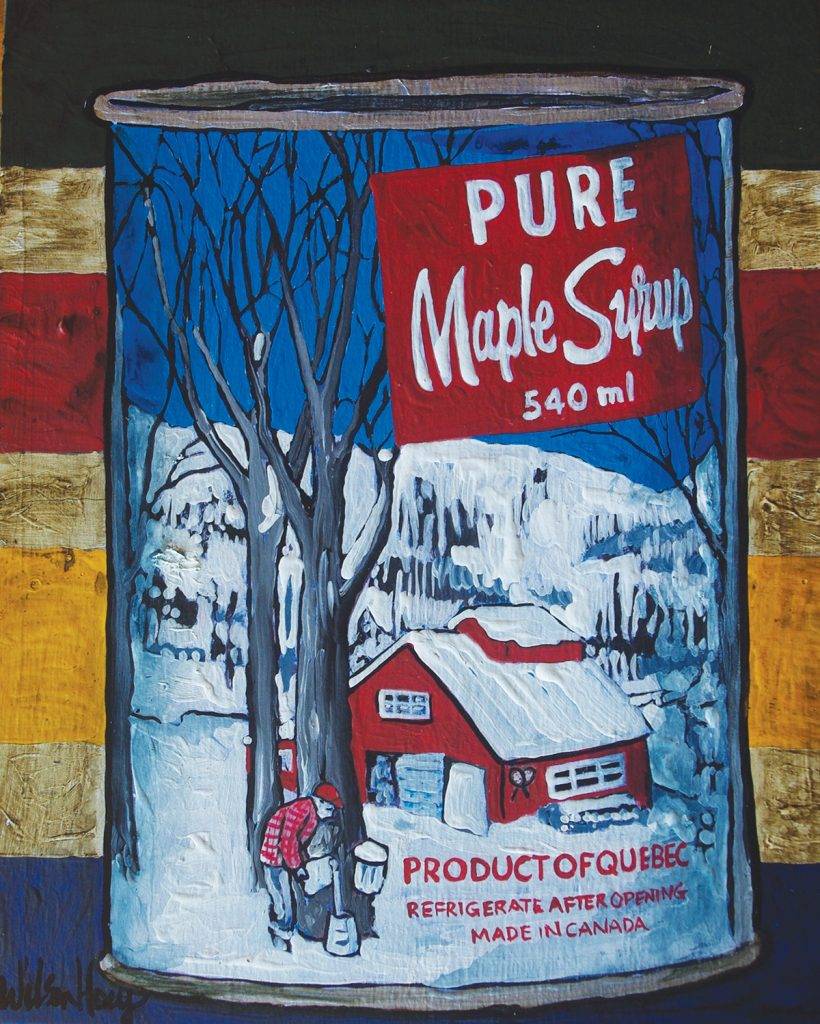 ---
Band of Weirdos
In the late 80s, finishing at Oak Bay High, Hoey made the scene when punk rock was spawning bands like Dayglo Abortions, NoMeansNo and Jerk Ward.
"If you weren't a jock and you weren't a heavy metal guy, you were this collection of weirdos. And Victoria, being a small town, you had all sorts of weirdos with all sorts of influences, which meant the music was crazy."
When styles blurred in the 90s and ska, mod, punk, country and western all collided, Hoey fronted an almost legendary band, the Metronome Cowboys, which featured the lineup of Carolyn Mark, Scott Henderson, Paul Pigat, Tolan McNeil and Dave Lang (and sometimes J. McLaughlin and sometimes three drummers at once!).
"I wasn't a particularly good musician or a singer, but I was pretty good at filling a roster. I was like the manager who got the team into the Stanley Cup. I couldn't skate, but I sure could find people who could."
Pollard ended up booking them at his club, The Limit, recalling the epic scale of their shows that jammed 300 fans into the venue.
"They did a show," says Pollard. "Tim understood the showbiz part of a show when literally no one else did. Their shows were events." Not Really an "Artist"
Last spring, Hoey convinced a couple of buddies to ride vintage bicycles (Hoey's was a 1936 CCM) to Whistler as a fundraiser for the Alzheimers Society of B.C. and a response to those who say, "You can't do that."
"I can," he says. After all, he once painted 150 works in 87 days to fill out the O-Canada 150 book. "And I can still sucker two people into doing this ride, and we can still raise over 13 grand for charity." One of those who made the trip was Aitchison.
"Biking up Whistler on a shitty old bike sure was fun with him," he says, then laughingly admits it was horrible. "Just a torture session." But Hoey's resourcefulness and positive get-'er-done attitude kept the pedals turning.
"He really taught me something. I was out of my comfort zone, but he's such a calm guy." Hoey's approach remains collaborative and humble. He even rejects being labelled an artist, a term he says should be given to you long after you're dead and you've earned it.
Early advice from local textile artist Carole Sabiston stuck with him. She told a very young Hoey, "Never be so arrogant you won't flip a hamburger."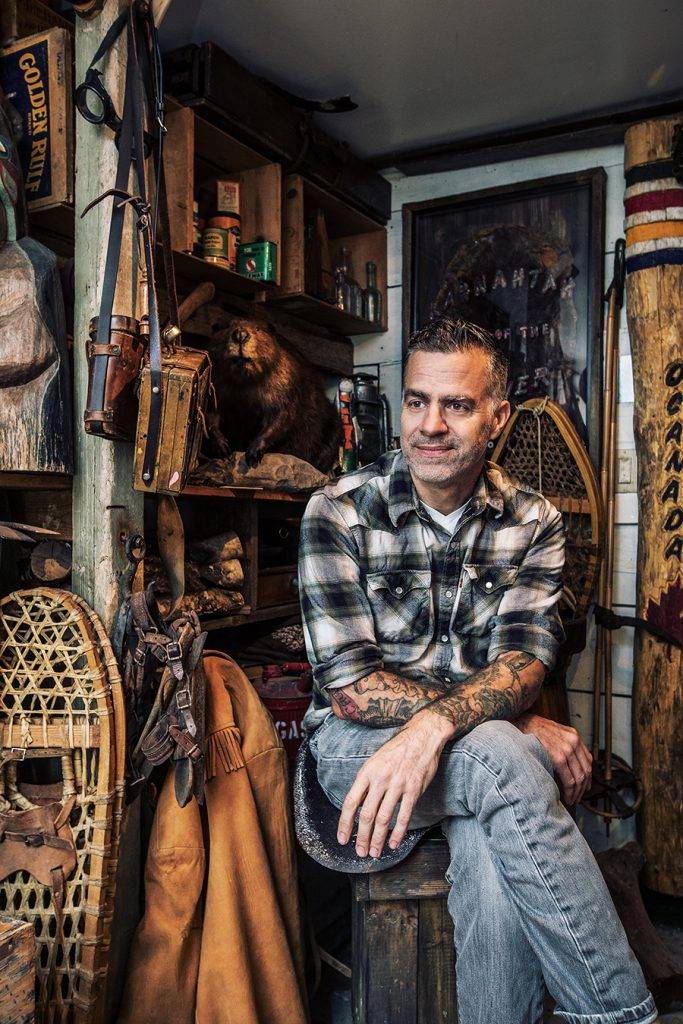 Inside Our Heads
It's all really storytelling. From the paintings and vintage bike ride to Whistler to fronting a band and showing up at the Moss Street Paint-In with a carnival tent— it's all a complex narrative he wants us to groove on.
"I don't have to sit there and say, 'What I'm trying to say with my art is da, da, da, da, da' … I'm trying to trigger a memory or get a story from someone else because that's more interesting. Living history is just storytelling." It comes back again to that O-Canada series. Hoey has found a divining rod to pull stories from each of us.
"I feel really fortunate that I can paint stuff and then get an emotional response from someone because it triggers something that's a memory to them, or a story they've heard. I'm just giving the visual clue to trigger the story."