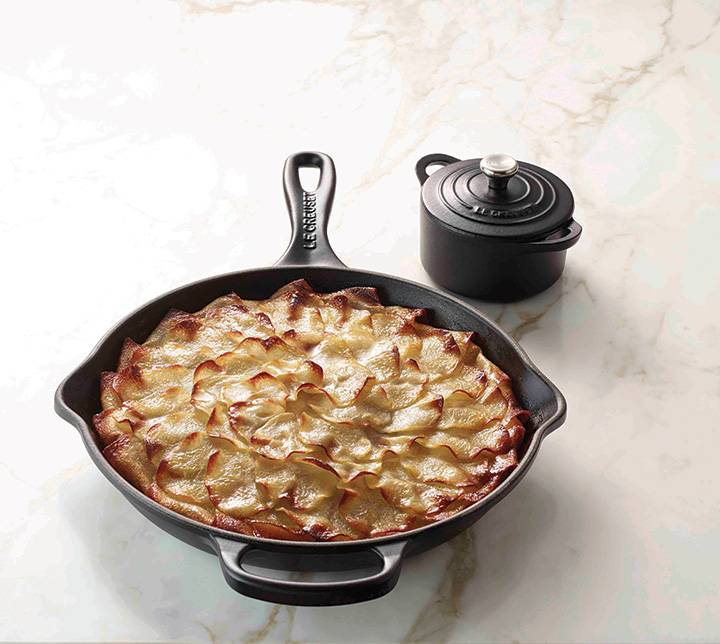 Licorice is the hot new colour for Le Creuset's iconic line of cast iron cookware. Each piece is cast individually in sand molds and hand-inspected by French artisans. Try Le Creuset's recipe for Pommes Anna with Celeriac — perfect for welcoming the fall season.
(Le Creuset cookware available at Penna & Co.)
---
Pommes Anna with Celeriac
(Created for the Iron Handle Skillet)
Preheat oven to 425F
Cooking Time: 1 hour
Serving Size: 6-8
Ingredients:
6 Tbsp butter
5 large russet potatoes, peeled
1 small celeriac, peeled
Salt
Pepper

Directions:
In a saucepan, melt butter, set aside. Using a mandolin, thinly slice the potatoes: two lengthwise and four widthwise. Thinly slice the celeriac. Set aside.
Generously brush a 30cm skillet with melted butter. Arrange the first layer of round potatoes, overlapping to form a rosette.
Top with all the oblong-shaped potato slices, be sure they overlap and extend up the side of the skillet.
Alternate with round potatoes and celeriac layers. Season each layer with salt, pepper and a light brush of butter. Lightly press each layer. Fold the oblong potato slices towards the centre. Finish with a potato rosette layer.
Brush with remaining butter.
Bake for 1 hour or until the outside of the potatoes are golden brown and crisp. While hot, run a spatula around the outside of the potatoes to loosen.