By Danielle Pope
Mornings in Victoria are crisp and dark now, with a sharp layer of frost covering leaves on the ground. Boots and tall socks are ready by the door. Blankets are curled in a basket by the sofa. Your favourite winter teas are perched neatly by the pot in the kitchen. The fireplace crackles, offering a welcome glow, while your best-loved book lies open on the rug before it. The smells of oatmeal and cinnamon call you in.
---
We're in full-blown hygge season, but for many North Americans, this is a new concept and one that's difficult to define. Hygge (pronounced "hoo-gah") is a Danish philosophy that doesn't have a direct English translation — it captures the idea of a cozy, warm atmosphere, surrounded by people you love. Yet it's also a feeling that encompasses the enjoyment of life at its truest essence. And it's catching on.
Hygge is being present, authentic, content in the now, without thinking about it … Hygge is a sanctuary for the soul.
As Danish psychotherapist and writer Anne Sture Tucker says, "Hygge is being present, authentic, content in the now, without thinking about it … Hygge is a sanctuary for the soul." So how do we bring the beautiful world of hygge into our lives? Grab a cup of tea, cuddle up with this magazine in your woolies by the fireplace, and let's find out.
Making Space for the Intangible
Denmark has been named the happiest nation in the world again this year, snagging the top spot on the United Nations' World Happiness Report in 2013, 2014 and 2016 (and third in the 2015 report), so it's little wonder the world is looking for clues about what binds happiness to a culture.
Along with achieving work-life balance, underemployment benefits and trust in governmental structures, leisure time and "the art of hygge" rank high on the list of essential elements. The word itself elicits images of intimate get-togethers with family and friends in the warm glow of candlelight — or even lounging in a sidewalk café or at the beach when the sun is out. It's a feeling Danes strive for at all times.
Yet one reason we struggle with the definition is that hygge is a difficult concept in our fast-paced North American lifestyle. The idea of "relaxing" is often seen as a reward instead of a goal, but Lise-Lotte Loomer, a local author and facilitator of Danish heritage, says she believes that must be reversed.
In order to embrace hygge, you have to be intentional about setting time aside and creating space for friends and enjoyment.
"In order to embrace hygge, you have to be intentional about setting time aside and creating space for friends and enjoyment," says Loomer, who makes hygge a daily practice. "Once you are able to set up the environment, it's about just enjoying, letting go and not trying to put another level on that — being in that moment with whoever is there with you."
Loomer grew up with the concept of hygge thanks to her Danish mother, who made it her mission to ensure time was preserved for "the finer things in life." When Loomer's mother entered hospice care, it was fitting that she gave her daughter her precious greenhouse, which would become the impetuous for Loomer's book, blog and home practice. Greenhouse Hygge: The House of My Growing Dreams will be published late this year, and people can view Loomer's pin-worthy photography and hygge tips on her website at partygreen.ca.
"I wanted my greenhouse to create a sense of space, even though it's just this little 6′ x 8′ glass house," she says. "When I sit in there and meditate, have a cup of tea or visit with my kids after school, I'm conscious of what I'm creating. Hygge is not an add-on — it's a practice. It's not just being 'cozy'; it's about how comfortable you can be connecting with the environment and the people around you."
Cue the Ambience
While the concept is new for some, hundreds of books and courses can be found on the topic of bringing more hygge into your life. There are movements to incorporate hygge philosophies into parenting, relationships and mental health practices, and some enthusiasts have dedicated their studies to become professors of the topic.
Loomer and other Danes will be the first to tell you hygge is not something you can buy. Yet there is something to be said about creating the environment you want.
Marika Beise, creator of the interior-design and event-styling company Rock Paper Square, has been incorporating the philosophies of hygge into her work for years — the tagline to her business is "Making spaces feel good."
"In a house, comfort is a big thing," says Beise. "High-style design is popular, but I'm interested in the elements that make you feel at home in a space and allow you to really live in it."
Beise says the popularity of the rustic chic look is one indicator that people are searching more for usable comfort over institutional "perfection." Still, no matter your style, there are ways to develop hygge through a little environmental manipulation. Beise suggests playing with textures. Imagine the effect, for example, if the first thing you experience in your home is removing your shoes and stepping onto a thick, plush area rug. You don't always need a throw on your couch, but consider having a hand-woven basket close by, cradling a selection of comfy blankets for guests to use as needed. Select pillows you want to sink into.
Colour Therapy
Colour is another way to amplify comfort. Neutrals will form a relaxing space, with small pops of colour in pillows or artwork stimulating the environment. (Big accent walls or monotone whites can create a more threatening, intense environment, Beise warns.) Lighting plays a crucial role, and Beise recommends using a dimmer with soft bulbs or diffused lampshades to create pools of light. Consider also the position of your furniture. Do the couches have their backs to you when entering a room, or do they welcome you with open arms?
Get creative with scent. Beise loves adding Woodlot candles (her favourite is "Rekindle") to any space for extra serenity. Another option is displaying a fresh bouquet of lilies or even throwing a batch of cookies into the oven, so the aroma of baking will set guests at ease. Finally, Beise encourages people to add meaning. One way is to create gallery walls of special photos and framed children's artwork.
Bringing in personal elements will make your place feel like a home in a way that no esthetic alone can.
"Bringing in personal elements will make your place feel like a home in a way that no esthetic alone can," says Beise. "Frame a map of where you first travelled together, hang pieces of art from a friend or drawings from your kids. This is where you can be bold and focus on what you love. There's a lot of hygge in that."
Add Friends, Add Stories
One distinct element of hygge is the idea of togetherness. That doesn't mean a person can't experience true hygge alone, but the essence of connection and collaboration is at the heart of the act.
Pam Lewis, co-founder of Moonrise Creative, was faced with a unique challenge when she was creating her studio in a 300-square-foot Fernwood space. Lewis and co-creator Stephanie Papik had a passion for Scandinavian design and hygge intention from the get-go, but their startup location left a lot to be desired. Fortunately, Lewis's partner, Martin Scaia, owner of Green Island Builders, had a few ideas.
"When we walked into the space, it was really rough," says Scaia. "The walls were in terrible shape, the floor unfinished, there was concrete and panelling, and everything looked disjointed. But, rather than try to force it to look really nice with our limited budget and time, we decided to embrace how imperfect it was."
The three made a plan to work with what was there. Scaia glued bevelled plywood onto the concrete floor to resemble an old farmhouse. He brought out the textures of unfinished wood and brought in reclaimed pieces from previous projects. The team used old, salvaged light fixtures and turned the disjointed mezzanine into a display highlight. Most of all, they carefully selected every item in the space with a story in mind.
"The space didn't have to be perfect. In fact, the more banged up it was, the better," says Lewis. "We put in the intention of what we wanted: to choose everything with a sense of story. Each item was meaningful to us on some level, and people can feel that. We also wanted enough space for people to be able to come in and create their own narrative."
While Lewis has since moved to a larger space, she carries hygge into each location and interaction she has. "Hygge helps ground us in time and space. Our lives can be so bombarded, so it's essential to me that I help create spaces where we can breathe and reconnect," Lewis says. "As a mother, you want those little moments that your kids can feel comfortable colouring without feeling rushed. As a friend, partner or just for yourself, you want a space that encourages you to slow down. That's the hygge way."
---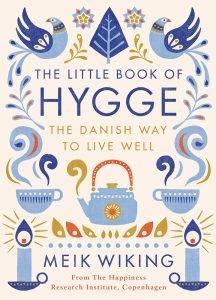 Looking for a true hygge expert? Meik Wiking is the CEO of the Happiness Research Institute in Copenhagen. His new book, The Little Book of Hygge, is a great primer to this mainstay of Danish life, and offers advice and ideas on incorporating it into your own lifestyle. "Hygge is about an atmosphere and an experience," Wiking writes. "It is about being with the people we love. A feeling of home. A feeling that we are safe."