By Cinda Chavich • Photos by Jeffrey Bosdet
There's nothing I enjoy more than gathering family and friends around my table to dine. But during the holiday season, high expectations and a shortage of time makes the perfect storm for stress, especially when you're the designated cook.

---
Though I'm comfortable in the kitchen, big dinners and parties can be daunting at this time of year. But entertaining doesn't have to be difficult. A potluck party is my favourite solution. It's an easy way to share the work — and the stress — of shopping and cooking, while keeping the spirit of festive meals alive. A potluck is a great way to share the glory too. You can focus on that main dish to impress your in-laws and let someone else shine in the appetizer or dessert department.
HOST WITH THE MOST
When I'm hosting a potluck party, I like to think of myself as the director of a choir. The director can choose the music (the menu) and make sure everyone involved contributes their best to the performance (the meal). So whether you're assigned to the chorus (bringing the bread, cheese or drinks) or asked to step up with a solo (main dish or dessert), follow the host's lead for the most harmonious result.
Planning a potluck involves choosing a theme and planning a menu. We've had a lot of great potluck events in the past, from roll-your-own sushi parties (when each guest brings a filling for the nori and sushi rice is provided to make rolls) to pizza-making parties. Sometimes our potlucks are ethnically inspired, other times friends simply arrive with seasonal appetizers, salads or desserts.
A potluck party can be a dinner for eight or a feast for 40. As the potluck host, you'll be in charge of organizing the food and drinks, getting enough chairs, glasses, plates and cutlery, and making sure there's space to heat, chill and present the food that your guests contribute.
And, of course, you're providing a place for all to gather.
MAKING A POTLUCK MENU
Whether you decide on a traditional turkey dinner, a family-style feast or an appetizer buffet, one of the best approaches is for you to make the main dish, then assign specific tasks and supporting roles to your guests. If you're cooking a turkey, you might ask someone to bring a potato dish, a vegetable, a salad, an appetizer or dessert.
If you're planning a family-style buffet, you might ask guests to bring a few main dishes as well — perhaps a lasagna, traditional tourtière (meat pie) or vegetarian curry. Appetizers may be hot or cold and range from cheese and meat trays to more complex canapés.
Like a traditional First Nations' potlatch, a potluck dinner is all about gathering to celebrate and share food. There's no better way to show your love and respect for your community than a communal dinner. Everyone loves a potluck, especially when they can bring one of their favourite dishes. Here are some of mine — my holiday gift to you!
---
White Bean Slather with Roasted Onions and Goat Cheese
This is the mother of all spreads — a chunky concoction to slather thickly on a toasted baguette, grilled pita bread or to scoop up with sturdy crackers. Warm it up in the microwave just before serving.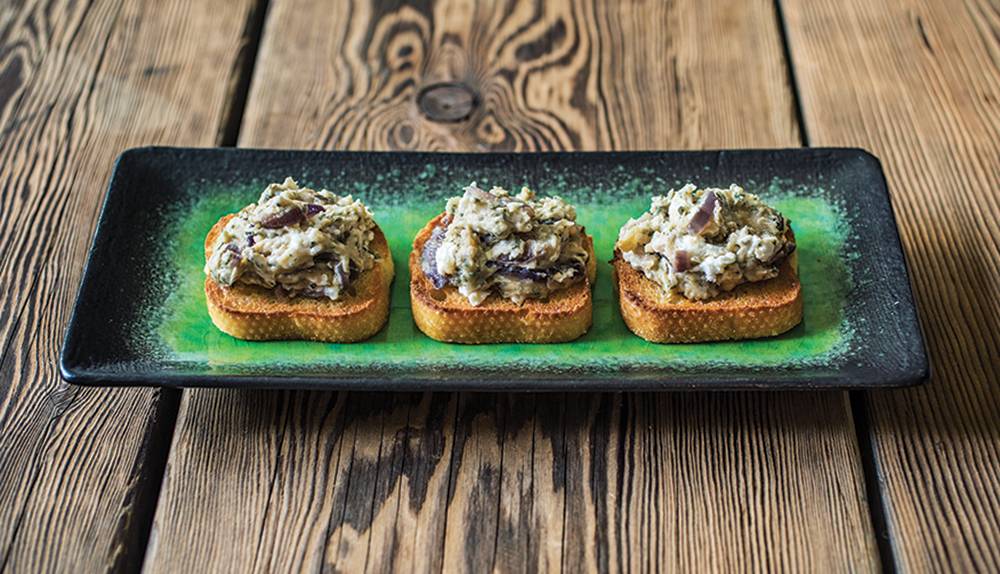 • 1/2 cup chopped fresh herbs (rosemary, sage, thyme)
• 2 cloves garlic, minced
• 1 tsp balsamic vinegar
• dash hot pepper sauce
• 1 large 19-oz (540 ml) can white beans, drained and rinsed, divided
• 3 tbsp extra virgin olive oil, divided
• salt and freshly ground black pepper
Roasted onions
• 2 cups slivered red or white onions
• 1/4 cup olive oil
• 4 ounces soft goat cheese, crumbled
In a food processor, combine the herbs, garlic, vinegar and hot sauce and pulse to chop. Add half the beans and half the olive oil (1 1/2 tbsp), and process until smooth. Add the remaining beans and olive oil and process in short bursts until all the ingredients are combined but still chunky.
Meanwhile, caramelize the onions. Heat the 1/4 cup of olive oil over medium-low heat and cook the onions slowly, stirring often, until they are soft and golden brown. This should take at least 30 to 40 minutes.
Add the bean purée to the onions in the pan and stir to heat through. Sprinkle in the goat cheese, toss together lightly and remove from the heat. The cheese should be melting but still visible in small pieces. Serve warm or at room temperature. Makes 2 cups.
---
Yam Salad
Colourful, portable, healthy and delicious, this yam salad is always a good addition to a potluck party.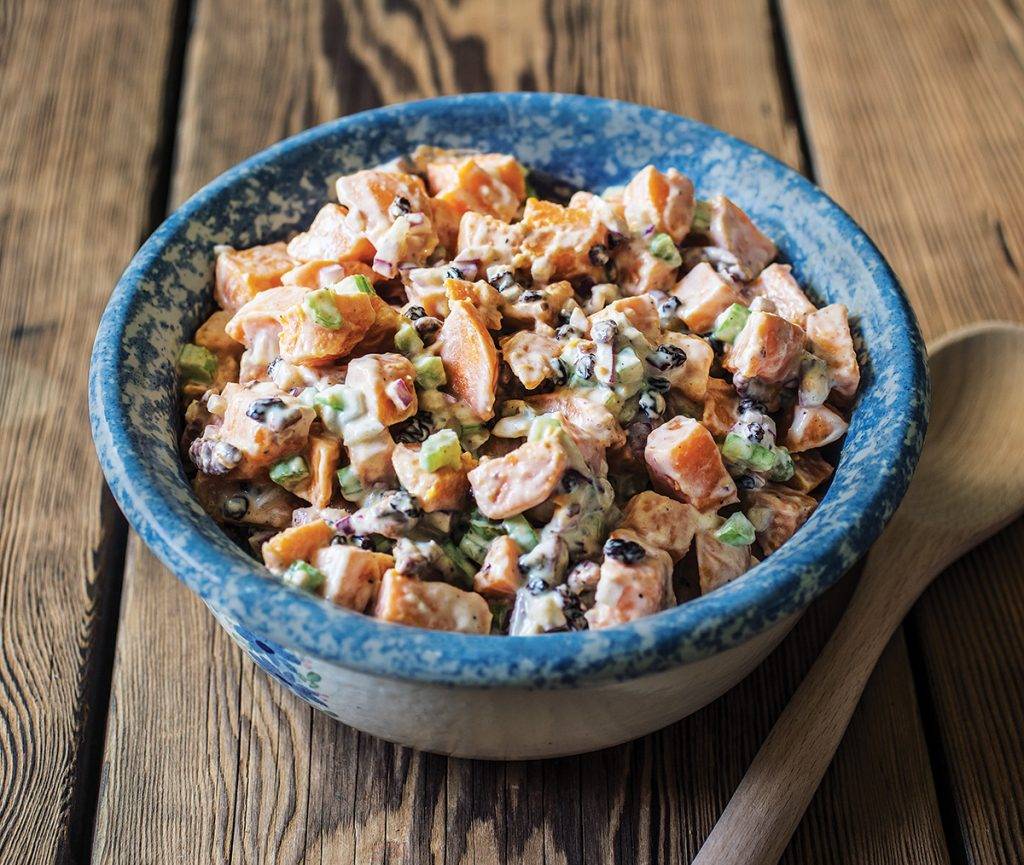 • 8 cups orange yams (sweet potatoes) peeled and cubed
• 1/2 cup mayonnaise
• 1/2 cup plain yogurt
• 1 tsp sugar
• 1 tsp ground ginger
• 1 tbsp lemon juice
• 1/2 cup raisins or dried currants
• 1/2 cup toasted pecans
• 3/4 cup finely chopped celery
• 1/2 cup finely chopped red onion or scallions
• salt and black pepper
Place the yams in a steamer basket over boiling water and steam until barely tender, about 15 minutes. Cool.
In a large bowl, whisk together the mayonnaise, yogurt, sugar, ginger and lemon juice. Fold in the raisins, pecans, celery and onion. Season with salt and pepper to taste.
Add the cooled yams to the salad bowl and mix gently to combine. Chill the salad before serving. Serves 8.
---
Seafood Lasagna with Two Cheeses
This is a wonderful, rich, make-ahead meal which is perfect for a holiday dinner party. Tender and delicate fresh pasta makes the nicest lasagna. Try using no-boil lasagna noodles if fresh sheets are not available.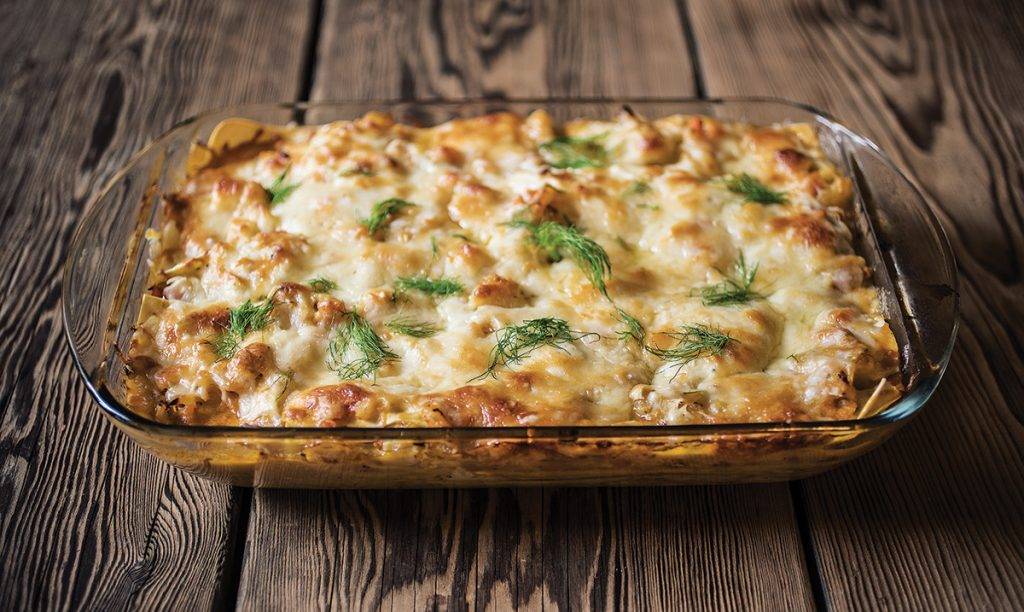 Seafood sauce:
• 1 medium fennel bulb
• 1 tbsp olive oil
• 1 tbsp butter
• 1 medium white onion, minced
• 1 medium carrot, finely diced
• 1 clove garlic, minced
• 2 tbsp Cognac
• 1 cup chopped fresh or canned tomatoes
• 1 tbsp tomato paste
• 1 cup fish stock
• 1/2 cup dry white wine
• 1/4 tsp saffron, crushed
• 1/4 cup heavy cream
• 3 cups cooked seafood (scallops, shrimp, crab and/or lobster meat), chopped
• salt and white pepper to taste
Bechamel sauce:
• 1 1/2 cups milk
• 1 cup heavy cream
• pinch white pepper
• big pinch nutmeg
• big pinch dried basil
• 3 tbsp butter
• 1/3 cup flour
• 1/2 cup grated Parmesan cheese
Assembly:
• 1 lb fresh or dried lasagna noodles
• 4 oz shredded dry Friulano cheese
• 2 oz shredded Parmesan cheese
To make the seafood sauce, cut off the long stems and fronds of the fennel and peel the bulb. Finely slice the fennel, reserving some of the fronds for garnish.
Heat the oil and butter in a deep skillet and sauté the onion, carrot and fennel for five minutes, until almost tender. Add the garlic and cognac and simmer until most of the liquid has evaporated. Stir in the tomatoes, tomato paste, stock, wine and saffron. Simmer until the sauce has reduced by half.
Add the cream and simmer 5 minutes longer, until the sauce is thickened nicely. Stir in the seafood, and season to taste with salt and pepper. Remove the sauce from the heat and keep warm.
To make bechamel, heat the milk, cream, pepper, nutmeg and basil to a boil, then remove from the heat and set aside. Heat the butter until foamy, stir in the flour and cook for 2 minutes. Gradually whisk in the hot milk mixture, raise the heat and simmer until thick and smooth. Stir in the Parmesan cheese.
Meanwhile, bring a pot of salted water to a boil and cook the pasta until just cooked through but still al dente, about 2 to 3 minutes. Drain and chill in cold water, then drain again. Combine the two cheeses.
Preheat the oven to 375ºF. To assemble lasagna, place 1/4 of the sauce in the bottom of a 9 x 13-inch rectangular baking dish. Top with a layer of noodles, a layer of the seafood sauce and dollops of bechamel. Sprinkle lightly with the cheeses and add another layer of pasta. Continue layering sauce, bechamel cheese and pasta until lasagna has four layers. Sprinkle the top with more cheese.
Place the lasagna in the oven and bake for 30 to 40 minutes, just until bubbling and beginning to brown. (If using no-boil noodles, cover with foil for the first 30 minutes, then remove to brown.) Garnish with the reserved fennel fronds to serve. Serves 4 to 6.
---
Mushroom, Nut and Oat Roast with Caramelized Onion Sauce
Even if you're the only vegetarian in the family, you can contribute this nutty loaf to the feast, which pairs perfectly with holiday side dishes like mashed potatoes and cranberry sauce. Make it vegan by substituting olive oil for the butter. Even the carnivores in the crowd will be asking for this recipe!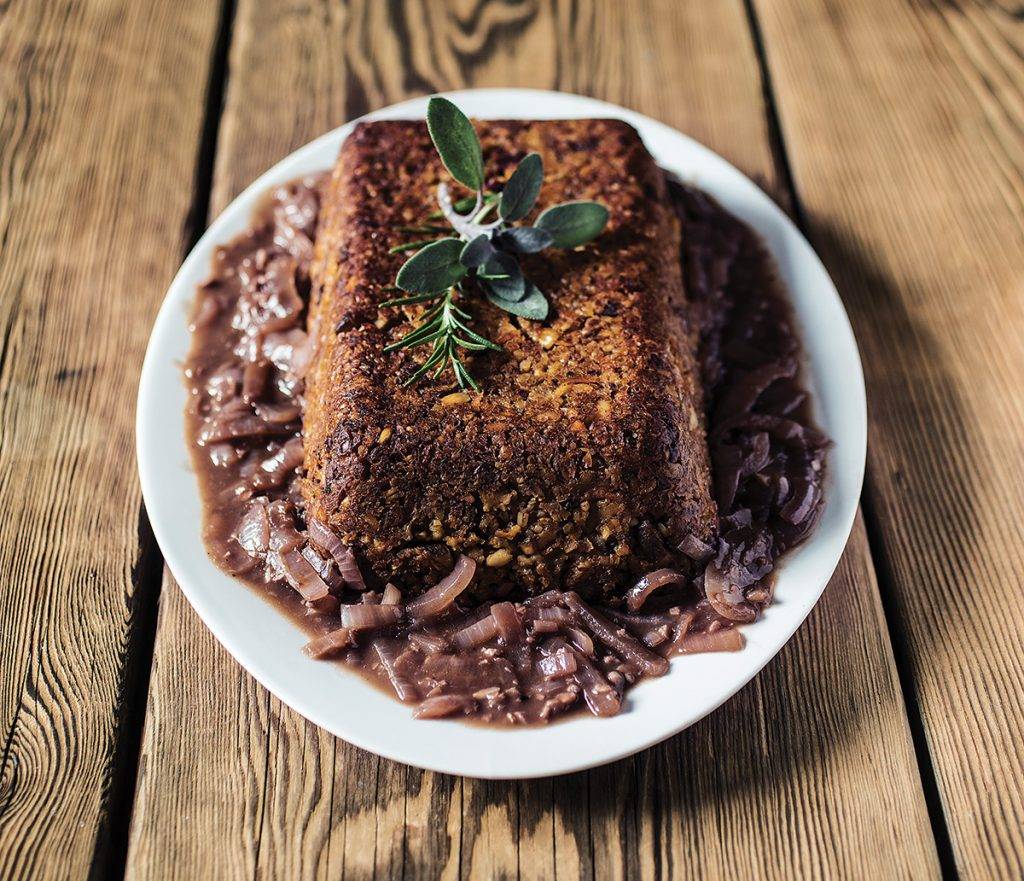 • 3 tbsp butter, divided
• 2/3 cup steel cut oats
• 2/3 cup rolled oats
• 2/3 cup finely chopped nuts (mix of almonds, cashews, hazelnuts, etc.)
• 2 tbsp butter
• 1 tbsp olive oil
• 1 large onion, finely chopped
• 2 medium carrots, shredded
• 2 to 3 cloves garlic, minced
• 8 large mushrooms, chopped
• 1/3 cup red lentils
• 2 1/2 to 3 cups vegetable stock (or water), divided
• 1/2 cup kidney or romano beans (canned/cooked), mashed
• 1 tbsp soy sauce
• 1/2 tsp dried thyme
• 1/2 tsp dried savoury
• 1/4 tsp celery salt
• 1/4 tsp cayenne pepper
• 1/2 tsp black pepper
• 1 tbsp fresh lemon juice
Melt 1 tablespoon butter in a large sauté pan over medium-high heat. Add the oats and nuts and toast together for 5 to 10 minutes, stirring often, until starting to brown. Transfer to a bowl and set aside.
In the same sauté pan, heat the remaining 2 tablespoons of butter and olive oil over medium heat. Sauté the onion until softened and starting to colour. Add the carrots, garlic and mushrooms and sauté 5 minutes longer. Stir in the lentils and 1 cup of the stock. Bring to a boil.
Mix another 1 cup of stock with the mashed beans and soy sauce, and add to the pan. Cover and simmer 10 minutes.
Stir in the reserved toasted oats and nuts and seasonings (thyme through black pepper), bring to a boil, then return the lid to the pan and simmer on low for 15 minutes.
Add another 1/2 to 3/4 cup of broth or water as necessary. This mixture should be moist, but not soupy.
Stir in the lemon juice. Taste and adjust seasoning. It may need salt, depending on what kind of broth you've used. Turn into a buttered loaf pan and bake at 375˚F for 30 minutes. Serves 6.
Caramelized Onion Sauce:
• 2 tbsp olive oil
• 2 tbsp butter
• 2 large onions, halved and sliced thinly (or chopped)
• 2 large cloves garlic, minced
• 1/2 cup red or white wine
• 1 tbsp flour
• 2 cups water or vegetable broth
• 1 tbsp soy sauce
• splash of Worcestershire sauce
• salt and pepper, to taste
---