Lindsay Katsitsakatste Delaronde's artistic pursuits cultivate personal and cultural change through collaborative and inventive projects.
By Kate Cino | Photos by Jeffrey Bosdet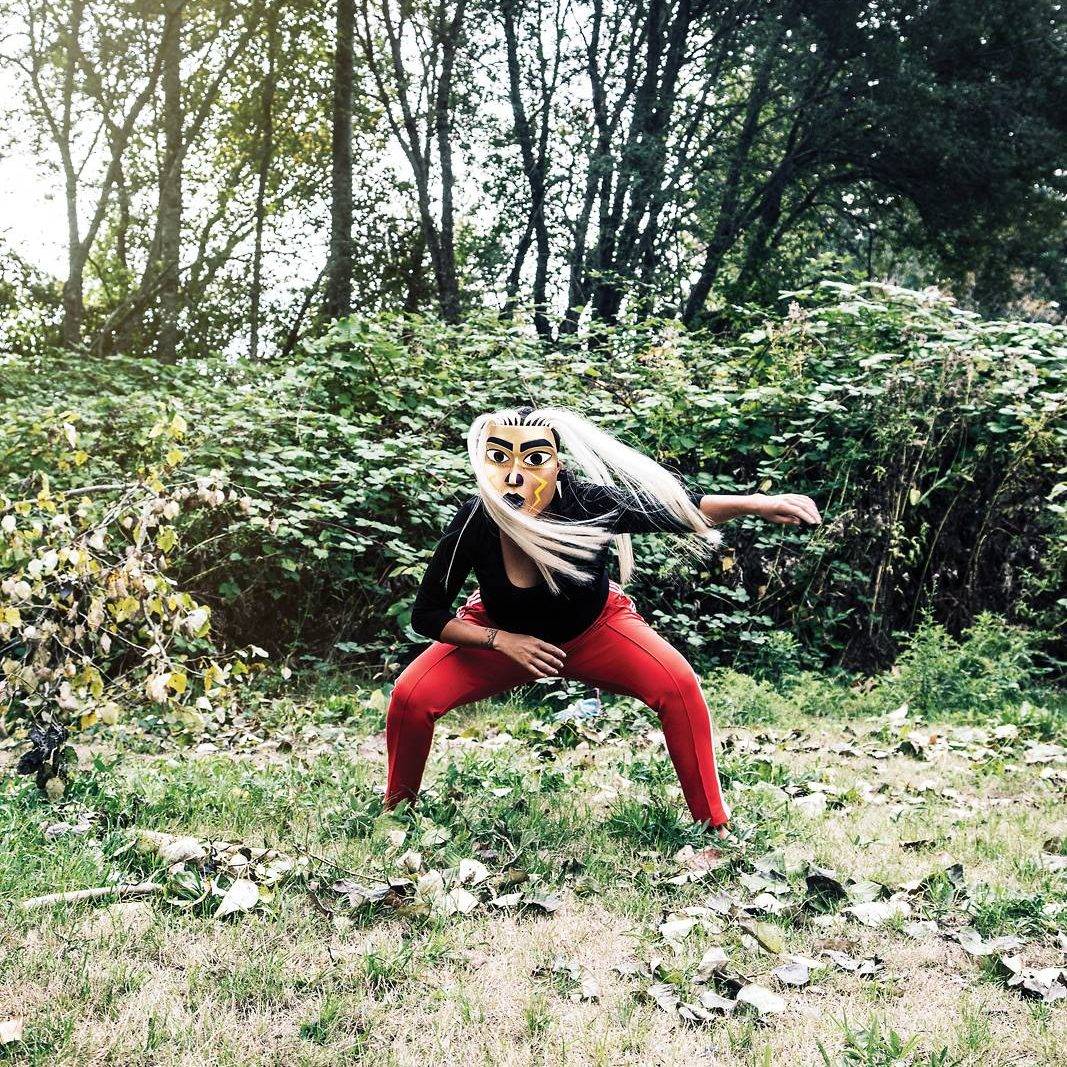 It's a warm August day, and Lindsay Katsitsakatste Delaronde is feeling happy, having just returned from a successful film shoot at French Beach.
The film she is curating and directing is called Mother: Embodying Mother Earth's Teachings through Land-based Performance and it features nine presentations by First Nation artists. Describing the day's events at French Beach, Delaronde explains how the film's concept combines visual storytelling and poetry.
It was the performer's first film experience, and in it she offers gifts of thanks to the teachings of Mother Earth. To honour the sacred feminine, her body was painted red. The performer gave these word offerings while walking in the ocean, as waves crashed around her poetic outpourings.
This extraordinary experience is not unusual in Delaronde's creative journey. At 35, her artistic practice encourages personal and cultural change through collaborative projects.
Her work is ever-evolving, intense and deeply personal. Her mediums of expression include visual art, photography, Indigenous theatre and site-specific performances.
Journey to the West Coast
Delaronde is a member of Kanienke'ha:ka (Mohawk) First Nations and grew up near Montreal on the Kahnawake Reserve. As a youth, art making was a place of solace and healing. As a teenager, Delaronde enrolled in the fine arts program at Dawson College in Montreal.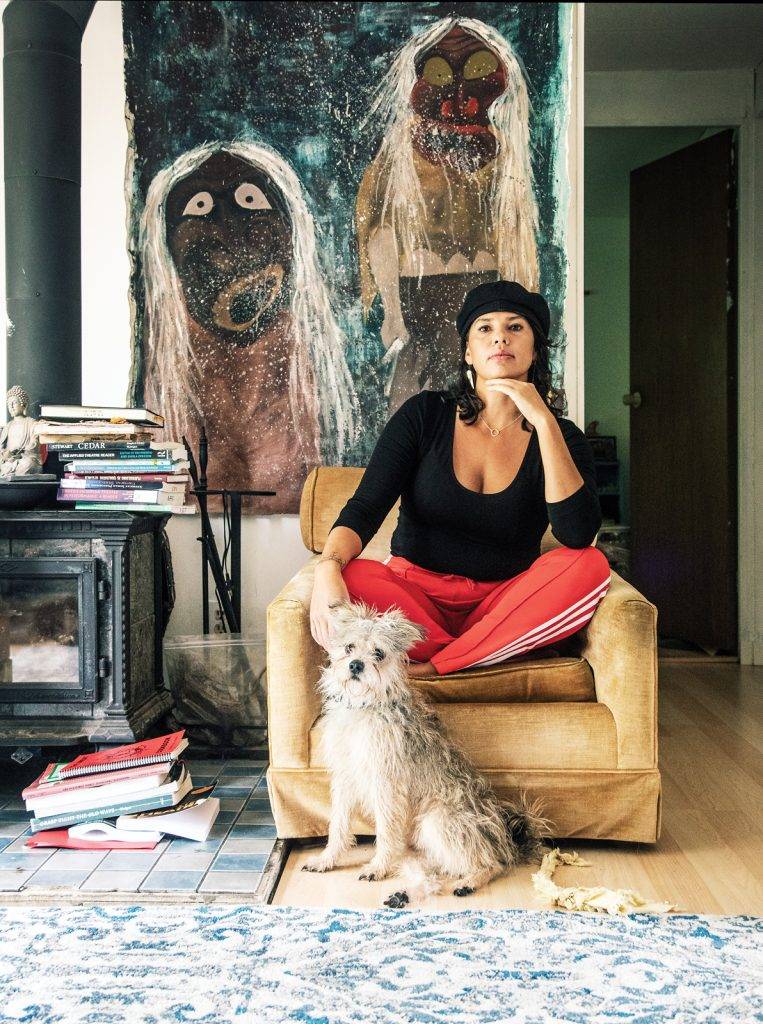 Moving west, she completed a fine arts degree at Emily Carr University of Art + Design and a master of fine arts at the University of Victoria (UVic). She also holds a master's in Indigenous communities counselling from UVic. This past July, she left her position as Indigenous resurgence coordinator for the faculty of fine arts at UVic and is now a Ph.D. student in applied theatre at the university.
The Personal Statement in her Art
Delaronde's skills and talents have blossomed over the past several years. Her photography exhibition IN DEFIANCE at the Legacy Art Gallery in 2016 included 32 portraits of Indigenous women. This remarkable achievement was three years in the making. The photos were taken in natural settings, chosen by the subjects.
Personal statements were designed to counter the stigma of the derogatory term "squaw." The exhibition presented a fresh perspective on female sexuality, including healing, power and pride. It aimed to acknowledge, yet counter, the spectre of violence that hovers over Indigenous women and girls.
Creating Connections in the City
From 2017 to 2019 Delaronde was the City of Victoria's first Indigenous Artist in Residence.
Her creative vision fuelled two exceptional Indigenous showcases: Pendulum and Super Nova. Both played to packed houses at the Belfry Theatre. The third showcase, a theatre performance, was scheduled for May 2020 and received major funding from the BC Arts Council. Workshops were offered in the fall of 2019 to assist in the recruiting and nourishing of Indigenous performers.
Five weeks into rehearsals in 2020, the global pandemic shut down production. "It was a time of stress for everyone," Delaronde says, "trying to cope with events and move forward."
How She Turned to Film
Thinking creatively, Delaronde decided to produce a film instead. Several performers left, but others stayed on, as well as two filmmakers, Dean Kalyan and Lyle Almond. Their theatre set expanded to include the natural world.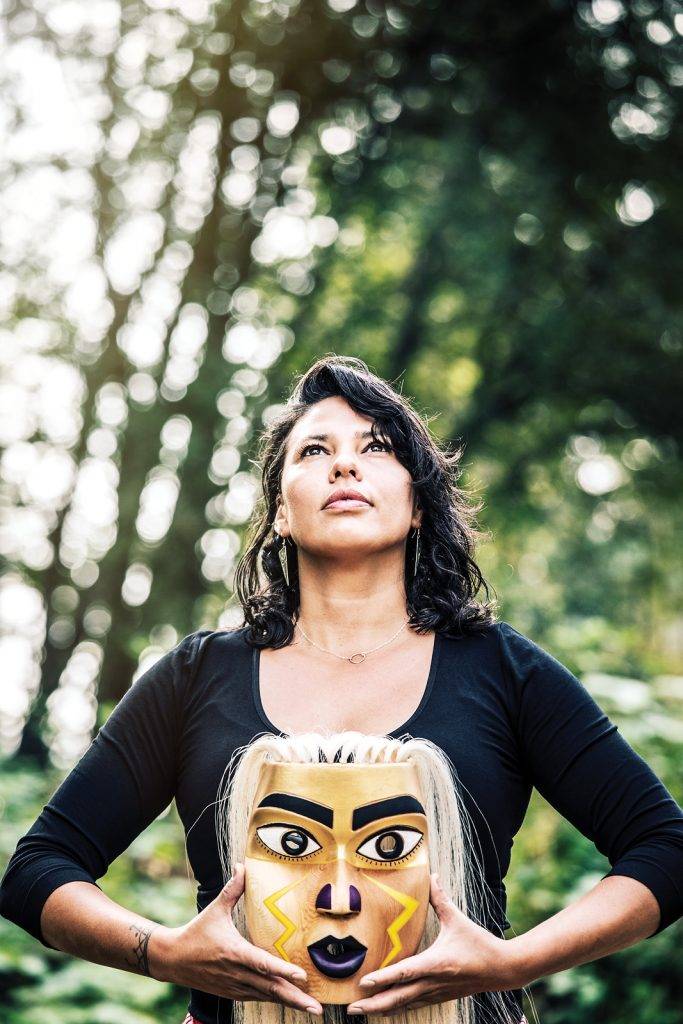 Indigenous law and spirituality are interwoven with the land, which is viewed as a living being. Rights, responsibilities and ceremonies are in place to sustain this essential ecosystem. Mother became an opportunity to deepen our relationship with the land, explains Delaronde. Through ceremony and performance, our cultural expressions and ideologies are being upheld, she notes.
"This film has my heart," Delaronde says, "and I am very grateful to the local Lekwungen and WASANEC for access to these beautiful places on their territories."
Working From the Heart
Heart is a word that resonates with Rebecca Hass when she speaks about Delaronde. Hass is Pacific Opera's director of public engagement, and has been with Delaronde throughout the film project.
"There is a quality of authenticity about Lindsay that makes her presence a gift," she says.
Lindsay works from her heart, Hass notes, and is both empathetic and fierce.
"By creating a respectful space for emerging artists," Hass says, "Lindsay manages to coax out best performances." Hass approves of Delaronde's decision to further her academic training in theatre, believing it will enhance her career.
Hass has Metis ancestry on her father's side and reconnected with her culture several years ago. In Mother, Hass sings an aria dedicated to a tree in Mount Douglas Park. She found the ceremonies and preparations enriched her life and cultural awareness.
Reconciliation as a Process
The City of Victoria proclaimed 2017 to be the Year of Reconciliation. Delaronde started her two-year term as artist in residence in 2017 and felt the responsibility keenly. Carey Newman, who created the Witness Blanket, describes reconciliation as a process, not a destination. For settlers, one way to further the process of reconciliation is to bear witness.
"I am glad to have been able to uphold and hold up the Indigenous performative community," says Delaronde. "And for advocating for land sovereignty in relation to land-based performance practices that revive and resurge our cultural artistic expressions and ideologies."
Delaronde looks forward to presenting Mother: Embodying Mother Earth's Teachings through Land-based Performance in local venues in the coming months.
Continue Reading… Cold Water Therapy in Victoria BC