By Erin McIntosh
Photographs by Joshua Lawrence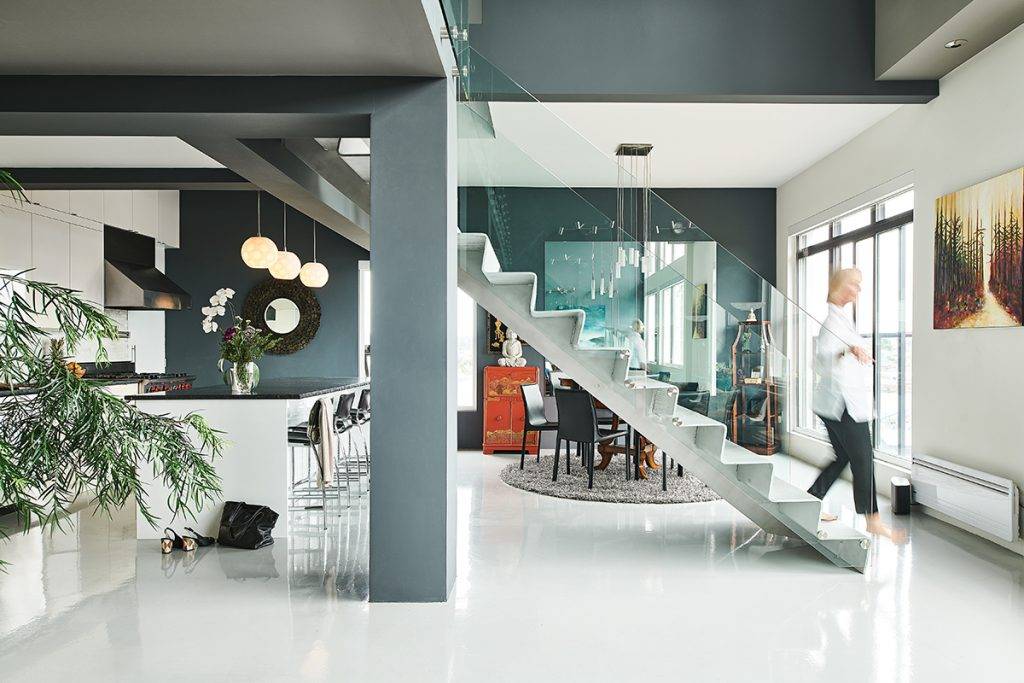 Deana Brown's nomadic spirit has taken her to many corners of the world and has seen her living out of backpacks and selling off her possessions more than once. Buying a condo in Victoria West was the last thing she imagined doing — until she laid eyes on a breathtaking view and a stove so brilliant she couldn't resist it.
"I think the whole reason we live here is because of that stove. We walked in and [saw that it was] a Wolf range — and we love, love, love cooking," says Brown. "We just walked in at the right time."
While the stove may have been the extra push Brown needed to buy the condo, it's really the jaw-dropping view of downtown Victoria that keeps her and her partner Doug Kelly from leaving. Two-storey windows flood the unit in sunshine, and no matter the time of day, there's always something to look at. The new bridge lifts up and down as boats pass beneath. The Legislature lights flicker on in the evenings. Harbour Air float planes whiz through the air. Castletops, church spirals and mountain peaks pepper the skyline.
"We've had people come over and they just stare out the windows the whole time. It's like moving art: it never, ever ends," says Brown.
Urban Edge
The unit in The Edge building was move-in ready when Brown and Kelly first viewed it. The previous owner had put time and money into the renovations: epoxy-coated concrete floors throughout, quartz countertops in the kitchen, new white cabinets and, yes, the stunning Wolf gas range stove. Both bathrooms have heated floors, and with a clawfoot tub in the downstairs bathroom and a steam shower upstairs, Brown has a spa in the comfort of her own home. Brown and Kelly also added a guest bedroom on the main floor that doubles as an office and art studio.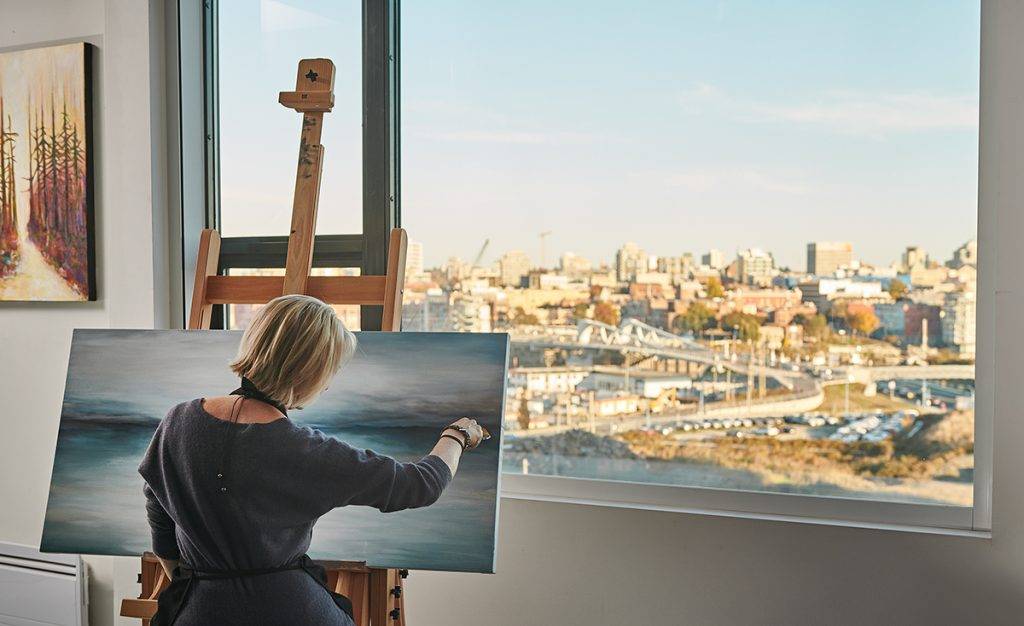 The Edge, nestled between highrises and developments in Victoria West, is recognizable from downtown for its wave-like rooftop. Built in 2000, it features 51 units spread over four floors. Brown and Kelly live in a top corner unit facing southeast.
The couple met five years ago and rented a large house together in Fairfield. Even though that home had plenty of space, it never felt quite right, so Brown started to browse for condos in the city, never intending to buy. When she saw the ad for a unit in The Edge, she was eager to check it out. Despite an immediate love for the unit, they browsed the market before making a move.
"We looked at a lot of other condos; you sort of expect two bedroom, two bathroom, and they all have a lot of similarities, but this one had a real wow factor with two-storey windows," says Brown. And soon enough, they were homeowners.
Fewer Possessions, More Lifestyle
At 55, Brown has ample experience with moving out, moving on and selling everything. She lived in Toronto for 25 years, accumulating things. When she moved in her late 30s to Mexico, all of her belongings were spread across her two neighbours' lawns. She didn't like seeing it all laid out in front of her, so she purged.
"It was really an amazing feeling of being free, and not trapped," she recalls.
She lived in Mexico for 11 and a half years, and came to Victoria seven years ago with all her belongings stuffed in just five suitcases. Brown appreciates the minimalist lifestyle. "I can't imagine being weighed down by storage bins and closets full of stuff."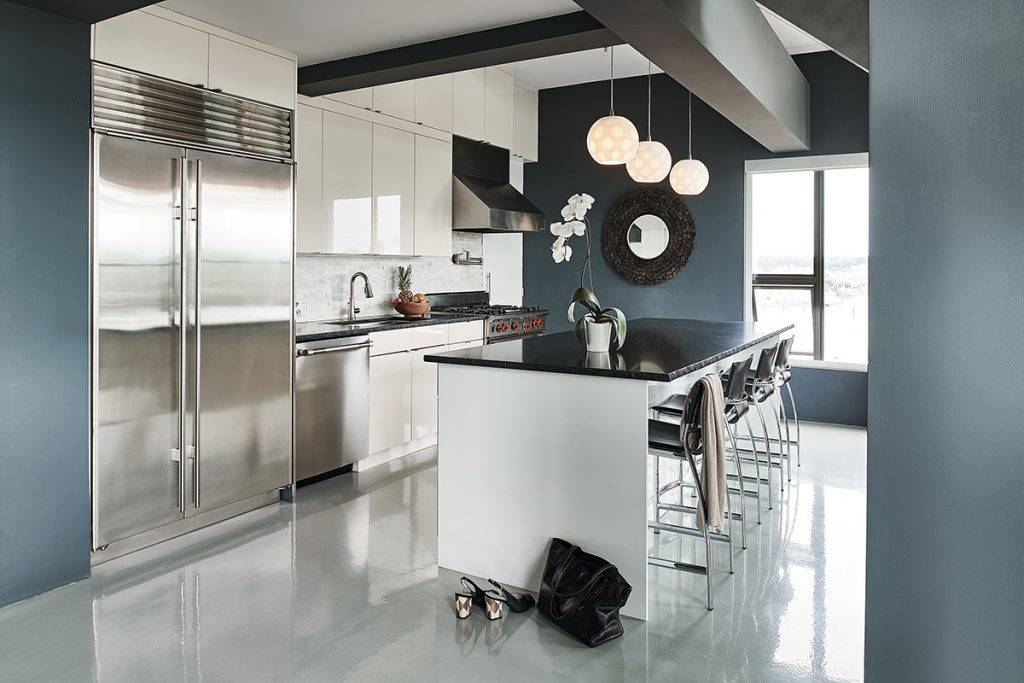 And living in The Edge means just that. There's no front closet, no linen closet: "Everything has to be compact," says Brown. "You have to kind of be a minimalist to live in a condo."
It's been three years since the couple moved into the space, and there's no hint of either growing restless to move.
"I think you have so much more time for all the things you really want to do [when you live in a condo]. I want to go to yoga. I want to paint. We want to entertain. I want to cook. I don't want to do gardening. I don't want to mow the lawn. We don't want to shovel. We don't want to deal with eavestroughs," says Brown. Instead, she would much rather serve wine, decorate a charcuterie board and enjoy conversations with friends.
Brown and Kelly entertain nearly every week in their home. Brown says the unit is the "perfect entertainment space."
"We have a better view than most bars!" she exclaims. The island in the kitchen is big enough for 12 people to stand around, eat and drink. The large sectional in the living room, from Victoria-based furniture store Parc Modern Interiors, was a thoughtful purchase that combines comfort and style, so friends and family can feel right at home. The accessories from Max Furniture and Moe's Home Victoria are subtle, simple and elegant. And peppered throughout the condo are Buddhas and trinkets from Brown and Kelly's travelling past.
"I think that it's nice when everything doesn't exactly match. I just wanted it to be comfy. I wanted furniture people can put their feet up on, where they can feel relaxed and don't need coasters. And if you spill your red wine on our HomeSense carpet it's not that big of a deal."
When the weather's nice, the couple takes the party upstairs to their private 300-square-foot terrace for another spectacular view of the city. Brown has created a cozy outdoor space with a firepit, heat lamp and pots of herbs and flowers for colour. They like to spend as much time as possible outside, where they can dance, drink, eat and talk as loudly as they please.
Inspirational living
Brown is an account manager at Page One Publishing, but in her spare time and on weekends she's an artist. She started painting while living in Mexico, attending workshops and experimenting with oils, ink and watercolours. It wasn't until meeting Kelly that she started to devote energy to her painting. In the last five years she's developed a strong sense of her style, and her work is catching on. It was recently chosen by The Housse, a local staging and design firm, to decorate home staging projects. Brown will also have her first show this March at The Gallery at Mattick's Farm. (Details below.)
All the artwork found in Brown and Kelly's home is Brown's. She likes to hang her pieces up in various locations, studying them in different light. Painting comes naturally to her; it's always spontaneous. She is mesmerized by bodies of water, and attributes some of her inspiration to that. Her mind will often be occupied with colours, landscapes and different brush strokes. On weekends she might devote a couple hours, or an entire day, to painting.
"It's like when you get into that favourite book and you just get lost for a whole day. That's me."
Just like her art, which is ever-changing, the home she shares with Kelly offers an ever-changing landscape of moving art.
"You always have sky, you always have light, and you always have colours," Brown says. "You're always staring at something."
SAVE THE DATE
An exhibition featuring the original work of Deana Brown and Kylee Turunen takes place at The Gallery at Mattick's Farm from February 28 to March 24. The opening reception is on Sunday, March 10, 1 p.m. to 4 p.m.
---
This article is from the March/April 2019 issue of YAM.