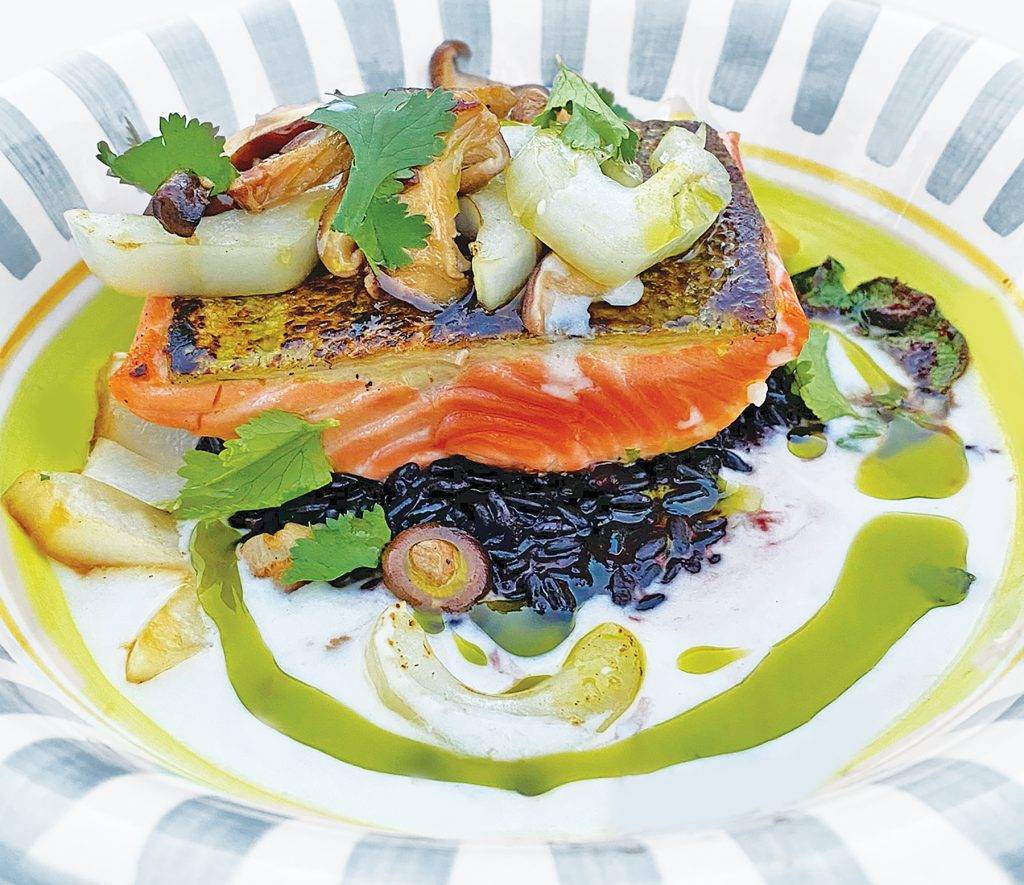 Chef Travis Petersen, known as the Nomad Cook, is a pioneer in integrating cannabis into food and is considered one of the leading cannabis chefs in North American.
Here, he shares his recipe for Crispy Skin Salmon, as well as insight into how chefs create cannabis-infused olive oil.
Chef's Notes
"When I think of great foods for pain management, salmon is the first that comes to mind," Petersen says. "Loaded with anti-inflammatory omega-3 fatty acids, salmon is considered heart-healthy and may relieve joint tenderness if you have rheumatoid arthritis. Combined with this beautiful coconut sauce, wild rice and bok choy, this hearty dish will fill the belly and rejuvenate the soul."
Tasting Notes
"I love this sauce for seafood," Petersen says. "It reminds me of Foot Loops Cereal Milk. The Lemongrass adds a perfect pairing to the smooth coconut milk."
Recipe
INGREDIENTS
• 1 cup wild rice
• 2 cups vegetable stock
• 1/4 cup infused olive oil (see chef tips for making your own below, using a sous vide)
• 1 cup cilantro (no stems)
• 1 salmon fillet
• salt & pepper
• 1 can coconut milk
• 4 stalks of lemongrass (peeled & split)
• 3 heads of Baby Bok Choy
• 1⁄2 Cup Shiitake Mushrooms (sliced)
• 2 tbsps black sesame seeds
PROCESS
In a small pot, bring rice and stock to a boil. Reduce to low heat and put a lid on for 35 minutes. Pour infused olive oil into a blender and add the cilantro. Fully emulsify and pour through a mesh strainer lined with cheesecloth.
Remove any bones from the salmon and dry both sides with a paper towel. Season with salt and pepper.
Put coconut milk in a medium pot with lemongrass and bring to a simmer. Leave lemongrass to soak for 30 minutes. Remove and strain.
In a large frying pan, add infused oil and cilantro mixture and heat to medium high.
Add salmon, skin side down, and sear until skin becomes crispy and salmon is partially cooked. Flip over gently and fry for 90 seconds. Remove from heat and place on a cutting board to cool.
Wash and peel bok choy.
Heat frying pan to medium and add 2 tbsp of water along with bok choy. Fry for 2 minutes and remove. Put 2 scoops of rice in a bowl, then top with bok choy and salmon, skin side up. Pour lemongrass coconut sauce over top.
How Chef Petersen Creates Infused Olive Oil
INGREDIENTS
• 3.5 grams of Simply Bare Organics Platinum Punch
• 1 Cup Olive Oil
PROCESS
1. Decarboxylate Cannabis at 190 F for 45 Minutes
2. Combine the decarbed cannabis with the oil and add to a mason jar and seal.
3. Add to a water bath with a Sous Vide and leave for 2.5 hours at 170 degrees (alternatively you can use an extract machine like the LEVO II).
4. Pass through a mesh strainer lined with cheesecloth and store in a sealed mason jar in a dark cupboard. Make sure to properly label with Dosage, strain, name and date.