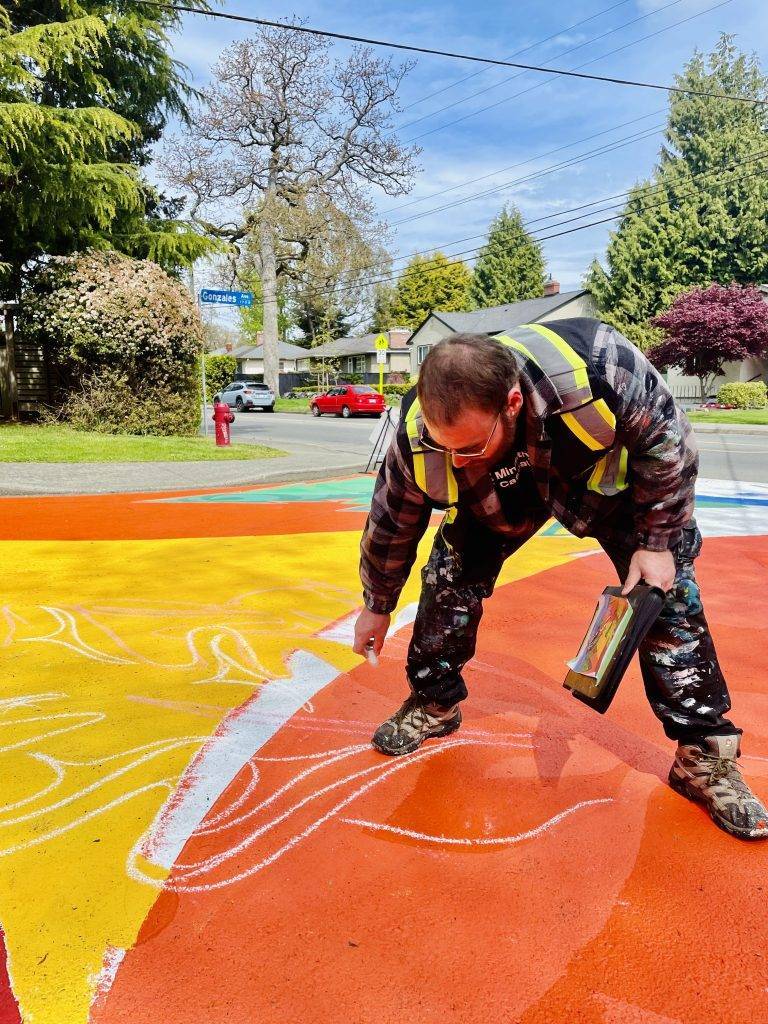 A street mural is underway at a new plaza on the corner of Gonzales Avenue and Richmond Road. Designed by Indigenous artists Jesse Campbell (Métis, Saulteaux) and Brianna Bear (Songhees), the mural is part of the Curbside Colour project, a collaboration between the City of Victoria and Greater Victoria Placemaking Network.
The new art "represents the land, water way systems and the environment that we live, work and play in on the Lekwungen speaking territories of the Songhees and Esquimalt Nations," says artist Brianna Bear.
"Curbside Colour is a demonstration project, adding bright, meaningful designs by Indigenous artists to two 'traffic calming' locations on Victoria streets," notes GVPN Board Director and project lead Lorne Daniel. "By painting asphalt surfaces inside the posts where the City of Victoria has delivered traffic calming interventions, we will create joyful places for residents and visitors to pause and linger. The intention for Curbside Colour is to deepen our sense of place, stimulating conversation and connection."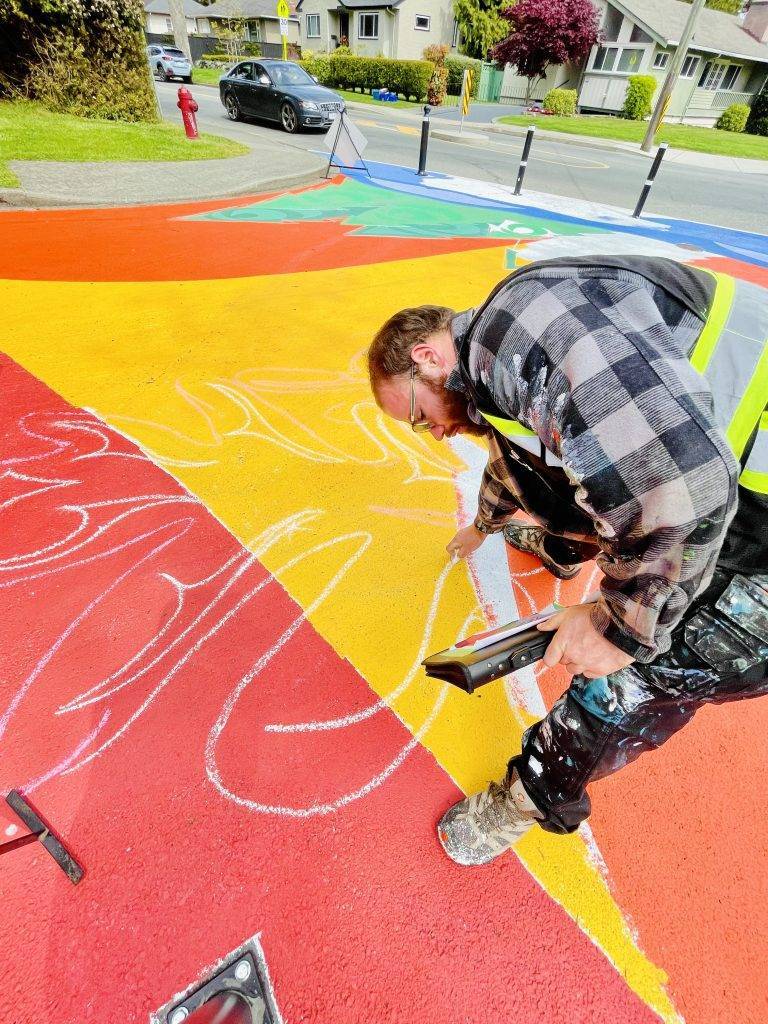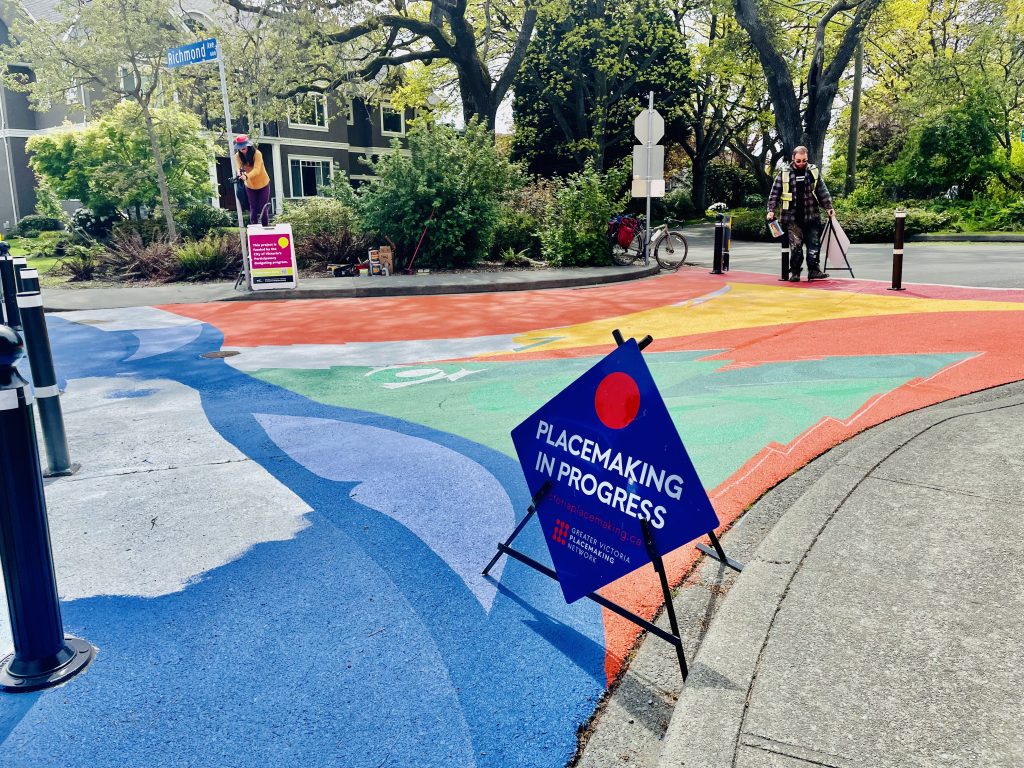 When work is completed at the Gonzales and Richmond site, the artists and volunteers will shift to the second mural site at the corner of Vancouver and Burdett. The two street murals showcase traditional plants and animals here on the ancestral territories of the W̱SÁNEĆ, Esquimalt, Songhees Nations and Lək̓ ʷəŋən-speaking Peoples.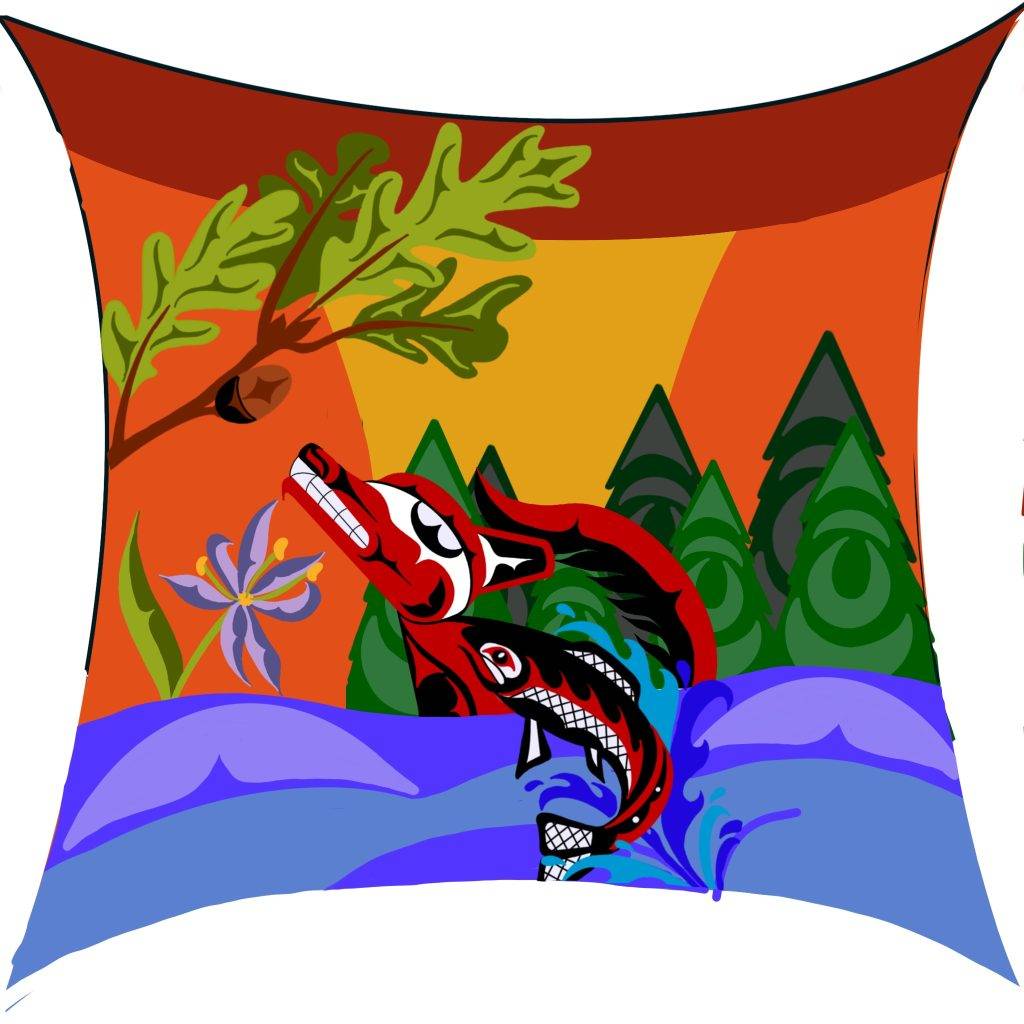 The Curbside Colour project is funded through the City of Victoria's 2021 Neighbourhood Spaces Participatory Budgeting initiative. All applicants were encouraged to think about "neighbourhood spaces" with an understanding and respect of the Indigenous context. Brianna Bear offered an Indigenous welcome to the Participatory Budgeting process, and the Greater Victoria Placemaking Network is very excited to now be collaborating with her and Jesse Campbell as this project comes to life.
The two locations were chosen to exemplify how redesign of street rights-of-way can be both attractive and interesting. The new plaza at Gonzales and Richmond is part of the City's greenway network and a crosswalk will also be added to this site in 2022.
The Greater Victoria Placemaking Network will continue to work with the City of Victoria, schools, and neighbourhood groups to encourage more Curbside Colour placemaking initiatives. The Placemaking Network provides volunteer help to support the artists, and coordinates planning, approvals and funding.