Interior designer Lana Lounsbury highlights common home decor problems to help you update your interior so that it really shines.
By Lana Lounsbury
As a designer, I always get asked, "What is the first thing you notice about someone's home?" For me, the first thing is always the people who live in the home and how they bring their personalities to it. But after meeting the homeowners, here are the top three things that grab my attention. I hope these tips give you "designer eyes" of your own to see your house from a fresh perspective.
Pay Attention To Your Walls
Blues and yellows can be tough to get right because of the undertones. Two that go well are Benjamin Moore's CC-700 Smoky Green (left) and CC-170 Honey Harbour.
---
The most obvious problem I notice when I first enter homes is the wall colour. Sometimes,
it's just wrong. For instance, a homeowner may have intended to paint walls in a cheerful yellow, but the result reminds everyone of neon highlighter. Even designers don't always get it right, especially when experimenting! To get the colour you really want, don't rely on small paint chips that don't allow your eye to process colour on a large scale. Instead, ask for paint samples you can take home and view in situ.
Update Your Window Coverings
HunterDouglas Pirouette Shades.

---
If your home still features those one-inch metal Venetian blinds with a few slats missing, then your windows are begging for an update. In choosing a new product, remember that blinds can and should do a lot for you, from energy savings to controlling the light quality to adding that perfect touch of style. And do consider blinds with a lift system: HunterDouglas Pirouette shades with a motorized PowerView lift are one of my favourites for functionality and style.
Don't Leave the Lighting For Last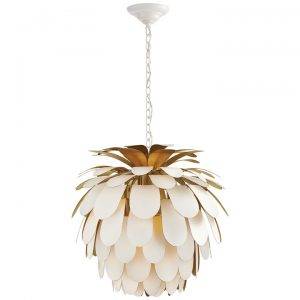 Visual Comfort's Cynara chandelier.
---
Lighting is usually an afterthought for both home builders and home buyers, so changing it up is a prime opportunity to give your interior that wow factor. Since lighting is often a focal point, it's the perfect way to show off your style and bring personality to your home. For instance, Visual Comfort's Cynara chandelier in white and gold is the perfect way to bring a touch of whimsy and character to an otherwise sleekly modern dining room.
This article is from the March/April 2018 issue of YAM.