By Kerry Slavens with files from Nessa Pullman |Photos by Jeffrey Bosdet
By gathering the best interior design resources from around the world, Design District Access is Victoria's hub for home inspiration.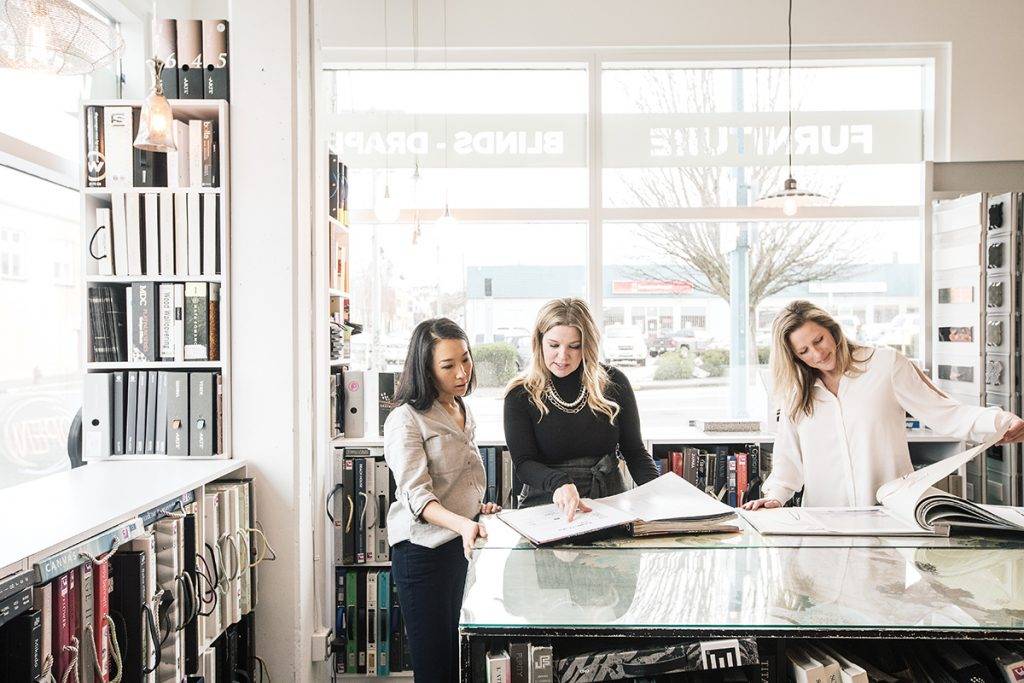 Danisha Dury enters the showroom at Design District Access (DDA) looking every bit the style influencer she is. In her black turtleneck and grey skirt, holding Lily, her newly groomed Maltese, she exudes creativity as she stands in a "library" featuring thousands of samples of the best and latest in tile, flooring, fabric, hardware, wallpaper, lighting and more.
It's a dream space for homeowners, most of whom have never visited a design showroom, and for whom interior design remains a mysterious world behind mood boards. But thanks to DDA's 2,300-square-foot showroom, with its high ceilings and exposed pipes, architectural concrete floors and racks full of design samples, homeowners are given a unique look behind the curtains of Oz.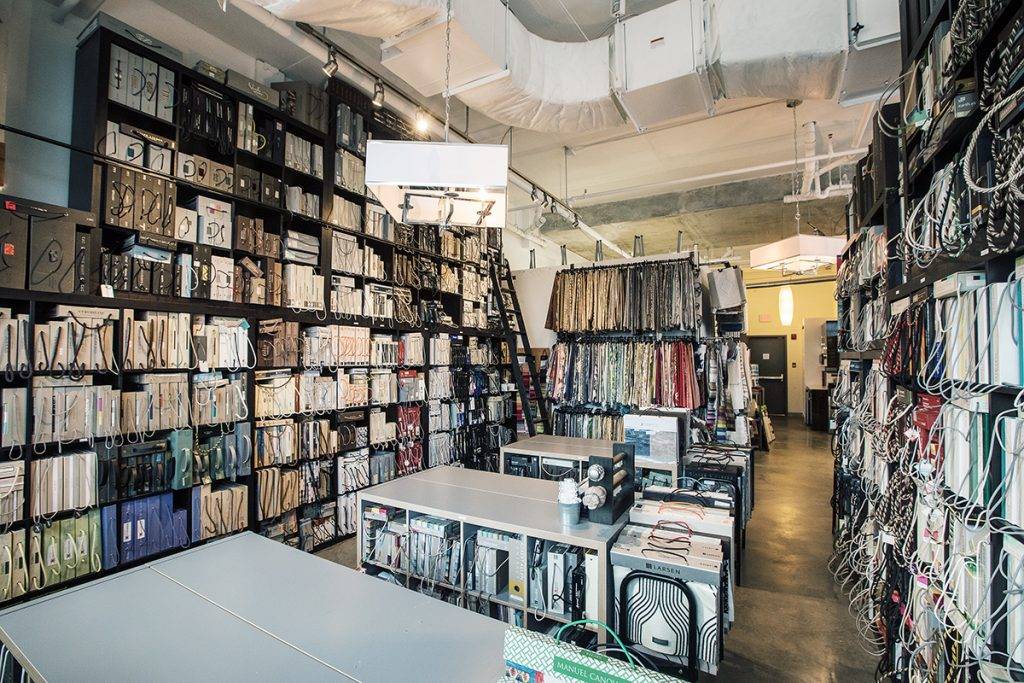 Design showrooms used to be exclusive to designers, "but we broke the mould on that," says Drury, noting that DDA is open not only to designers and their clients, but to the public as well.
"The industry is moving more toward that, and I support it because it's pretty pretentious to say, 'You can come, but you can't.' Victoria is a small market, and we wanted to be open to designers, installers, designers' clients and the public. It's been well-received."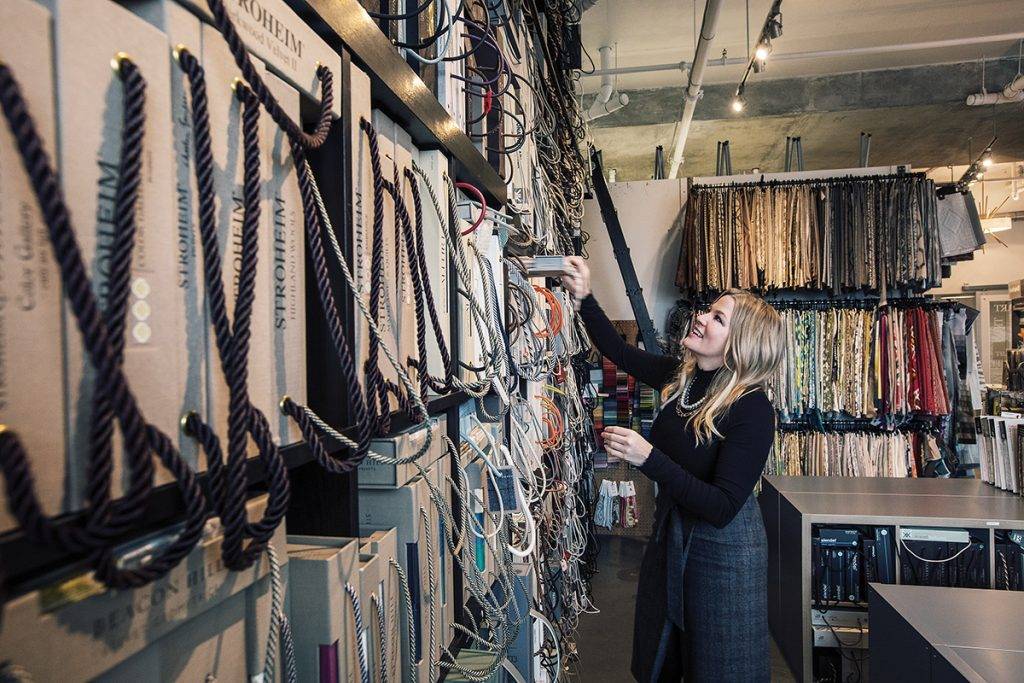 Along with opening up the world of design to homeowners in a new way, DDA's showroom on Pembroke Street in Victoria's Design District remains an essential resource for designers. As a one-stop design resource, it saves designers time, gives them access to leading brand suppliers (in a space where they can actually see and feel samples) and provides professional development opportunities in everything from vintage flooring to the latest colour trends.
"Having a business that provides the public and designers a wide variety of products all in one place is extremely convenient," says Mari O'Meara of Mari Kushino Design.
Designing a Vision
With a builder father and a realtor mother, Drury came by her interest in homes naturally. "As a teenager, I made my own wallpaper," she says, "and in my bedroom everything had to be symmetrical."
But she didn't start out as a designer. Entrepreneurial by nature, she opened her own cappuccino bar and later several winemaking businesses, before an injury led her to rethink her career direction. After studying at Royal Roads University and Camosun, she embarked on a career in interior design in 2007, but soon discovered Victoria had very limited access to supplies and resources for interior designers.
"I think a big part of that is being on an island," she says.
Combining her design and entrepreneurial skills, she embarked on a mission to expand the options for local designers.
Three years later, she launched DDA to give the design community access to a huge range of products, both global and local. That means Victoria designers can more easily access the most contemporary finishes and products, expanding the scope of their design possibilities.
The time and investment needed to fill a resource centre and keep it up to date is significant, but Drury's vision was clear, and she was driven.
"When I first opened, people said to me, 'Designers don't even speak to each other, how do you think you're going to build a community?'" Drury says with a laugh. "And look at us now, hosting events, having lunch together; I feel like we totally broke new ground in that regard."
Design Central
Today, DDA is a central gathering place where many members of the design community collaborate, learn, and access high-quality materials.
"I love being able to see what projects everyone is working on in the city," says Drury. "People often say that because I'm an interior designer that this showroom is for me. I have to tell them that no, I built it for the community. We leave our egos at the door — it's really only about supporting each other."
"It's wonderful having access to a local trade showroom specializing in unique materials," says Jenny Martin of Jenny Martin Design. "It's something larger cities have many of."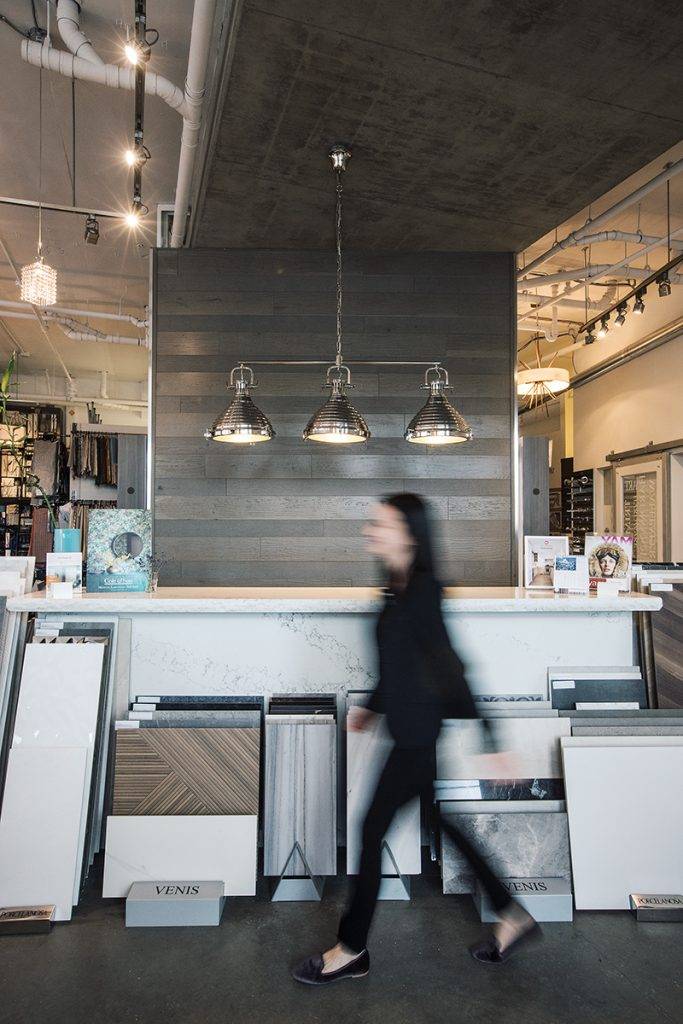 In fact, design resource centres are a staple in many North American cities. LA Mart in Los Angeles features over half a million square feet of home, furniture and lifestyle brands.
"But we pack a lot of punch into our 2,300 square feet of space here in Victoria," says Drury, noting that DDA focuses on premier brands like Harlequin and Cole & Son, known for designer wall coverings, and Richelieu Hardware and Vintage Hardwood.
As passionate as Drury is about DDA, she's also passionate about her own design business, which employs a team of five to nine and takes on everything from residential projects to commercial ones like the renovation of Abigail's, the famous boutique hotel in Fairfield, voted one of Canada's most romantic places to stay. 
Sitting in DDA's light-filled board room with its massive wall of silver metallic wallpaper in diamond geometrics, Drury's passion for design is evident as she reaches across the boardroom table and pulls out a tile sample from Maya Romanoff. The Flexi Mother-of-Pearl tile, made from actual capiz shells, is one of her current favourites, she says. She's also in love with Harlequin's Limosa wallpaper, which features finely drawn feathers in an array of colours.
"I love design and the world of design," she says, adding that she's fascinated to see design and the appreciation of great design flourish in Victoria in recent years.
For her, it's not about going it alone. Success means everyone wins.
"I've always supported the community because it's all we have. The more we build each other up the greater we all become."
---
This article is from the March/April 2020 issue of YAM