By Athena McKenzie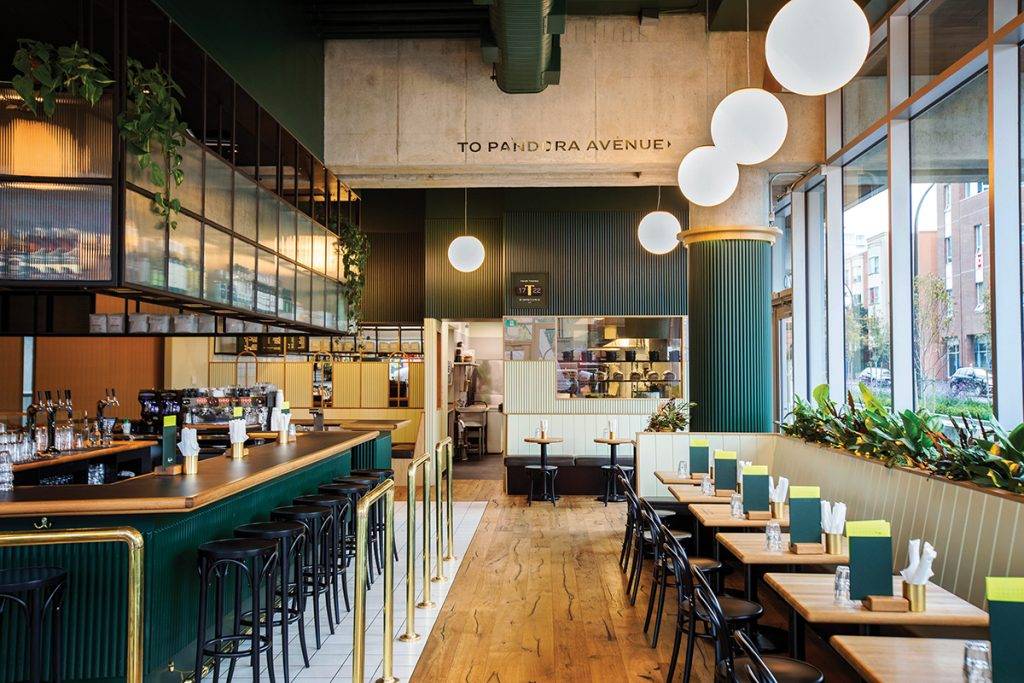 With an emphasis on organic elements and textural materials, Sherwood is a contemporary urban eatery with a timeless sensibility.
"The challenge was working within a modern building and new space and needing it to feel cozy," says interior designer Kyla Bidgood of Bidgood + Co. "The mandate from the owner, Shane [Devereaux] was to make it comfortable and cozy."
To cloak the large, round concrete columns — one of the "colder" industrial components in the space — Bidgood needed a material that could bend, so she created custom-fitted MDF panels. It's a highly versatile approach that could be used to add a textural element to any space, and doubles as a way to absorb sound in an open, echoing room.
Using two tones of green from Benjamin Moore's Historical Collection for the restaurant's palette, Bidgood even painted the upper panels and ceilings.
"It gives it a cozier feeling," she says. "Your ceiling is a huge surface; why not have fun with it? Paint it in a dark colour. It brings the height down. I did it in my previous home to great effect."
One lesson that Bidgood says needs to be addressed in both commercial and residential spaces is making sure everything is to human scale.
"My biggest pet peeve is when I sit at a bar or table and it's the wrong height for the seating," she says. "And if you have foot rails at the bar or counter in a restaurant, why not in a home?"
Bidgood also points to Sherwood's abundance of plants as a detail that should be carried over to your private space. "Plants offer air purification qualities, making your home breathable and healthy," she says. "Plus they add an organic texture and soften the light in a space."
---
This article is from the March/April 2019 issue of YAM.