By Athena McKenzie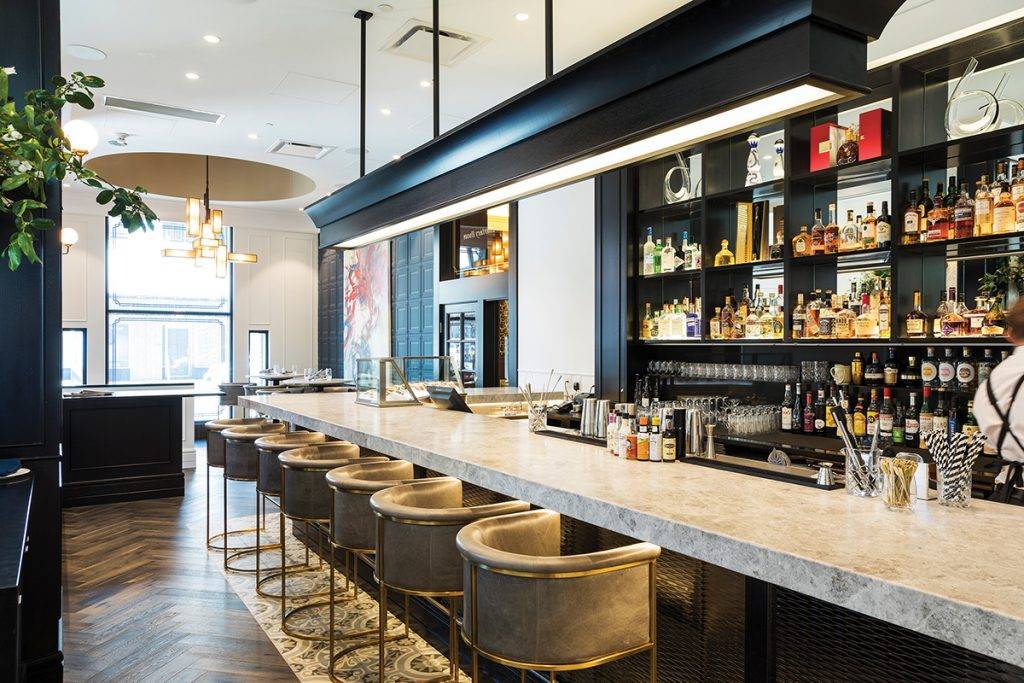 The Courtney Room, the new restaurant at the Magnolia Hotel & Spa, is an elegant space where Old World meets new. Interior designer Sharon Bortolotto of BBA Design took cues from the "old grand dame hotels of Paris," where she recently spent time.
This look is for the more traditionally inclined, from the vintage-style lighting, leather touches, brass accents and bronze beaded curtains.
"The warm, subtle hues of slate blues, taupes and greys are punched up with black and whites and create a neutral backdrop to showcase furnishings and artwork with a pop of colour," says Bortolotto, who worked closely with branding and design agency Glasfurd & Walker and the Magnolia Hotel & Spa team in devising the ambience.
While black trim may be less common than white, it does make for a sophisticated and striking alternative in this room. To carry over to residential applications, one could paint ceiling beams, doors, mouldings and baseboards in a high-gloss black to achieve a similar elegance.
"The traditional mouldings, such as the ones we used in The Courtney Room, painted in a crisp white can add a modern vibe and updated esthetic to many of the older turn-of-the-century homes in and around Victoria," Bortolotto says.
Rich wood floors warm up any space but can go unnoticed. Here, a chevron pattern creates an eye-catching twist that could work well in a foyer or living room.
With diners wanting to linger over carefully crafted drinks and gorgeously prepared food, fine-dining restaurants tend to invest in well-designed chairs. Take a note from the Courtney Room and choose seating that envelops one in luxury, like their bar chairs from Restoration Hardware. It's a detail sure to elevate your at-home entertaining.
---
This article is from the March/April 2019 issue of YAM.