By Athena McKenzie | Photos by Jeffrey Bosdet
From awe-inspiring spaces to iconic furniture and art, these creative forces are pushing the form and function of our West Coast esthetic.
DESIGNING HAPPY
Kyla Bidgood embraces clever twists on colour, pattern and material for her distinct style.
If interior designer Kyla Bidgood has a visual signature, it could be described as ebullient.
"I think a lot of our interiors have a really happy, playful element to them," says the principal designer of Bidgood + Co, where she leads a team of six in residential and commercial design projects — from restaurants here in Victoria to tech offices in London, England.
"I love pattern and materiality and using creativity to discover how you can use a material in ways that haven't been done before," she continues. "Really pushing the envelope. When you design a space, it's easy to say, 'Let's pick a carpet, a paint colour, a light fixture,' but that's not how I think of space at all. To me, it's very sculptural. It's tactile. How do we push it beyond what anyone imagined in this space and transform it into something else?"
Recently, Bidgood + Co. won two Interior Designers of B.C. awards for their work at
The Duke Saloon, a Victoria country and western bar, and for Citizen, a downtown menswear store. "With commercial work, you're story-telling," she says. "Someone needs to walk in the door of that tech office or restaurant and immediately get a sense of what that space is about, whether it's sophisticated, serious and romantic, or playful like a country bar. I don't want to say it's like set design, but it is like setting the stage for a person's experience in that space."
For the retail space in Citizen, Bidgood + Co designed a pegboard wall with interchangeable components, including shelving, hooks and boxes, that can be switched out depending on the shop merchandise.
"It's highly functional but it's also a striking pattern when you walk in the space," Bidgood says. "So the rest of the space can be totally simple and that wall speaks for itself."
While Bidgood says that commercial projects allow her to take more risks because many clients are looking for something they haven't seen before, a residential project needs to be an extension of the homeowner's lifestyle and a person's personality.
"My job as a designer is not to come in and impose my style on someone else; it's to come in and listen to them and transpose that onto physical space."
For a recent residential project, Bidgood + Co renovated a 1920s heritage house, which Bidgood says might be outside of the company's normal contemporary esthetic, but she loved the challenge. The homeowners wanted to pay tribute to the era but also wanted the home modernized. Bidgood + Co used a repeated graphic black-and-white motif with brass elements to striking effect.
If Bidgood pushes her clients, she also takes design risks in her own home, recently ordering a pink sofa for her living room. She admits she was slightly worried before it arrived that she might "grow to hate it in 10 years" but now that's it's placed in the room, she loves it and "everything else has to change — loving design is a disease and a gift."
Her attraction to colour is reflected in her major design influence, Patricia Urquiola, an Italian architect and designer known for her imaginative furniture and tile patterns. "I think her approach to furniture design is very similar to my design approach," Bidgood says. "It's very modern and you've never seen anything like it before, but there's always something about it that's very nostalgic. She's very original and uses so much colour."
The interior designer does see a possible future in designing furniture herself. In January of last year, Bidgood + Co merged with a builder, Strong Construction Group, to form Bidgood Strong Projects.
"We've been doing a lot of our own custom stuff, furniture we need for projects and wall paneling like the pegboard at Citizen — how could that evolve, what other versions of that can we do?" Bidgood says. "I'd love to design light fixtures. That's high on my list of things I want to do one day. Really thinking beyond what's available. What can we create that isn't there yet?"
---
REIMAGINING THE TREE
John Lore looks to create a West Coast furniture esthetic.
---
Entering Live Edge Design's Duncan workshop, with its evocative smells of fresh-cut cedar and maple, one's eye is immediately drawn upward to the enormous tree slabs filling the shelves high on each wall. Every piece has been air- and kiln- dried and photographed for the company's extensive database, where customers can pick the wood they want for their custom furniture, be it a striking live-edge dining table with a beach-rock pool inlay, a floating art-like headboard or curvy kitchen countertop.
"If we want to keep the tree slab as wide as possible, we have to keep the defects, so we treat these defects as design possibilities or features, if you will," says John Lore, founder of Live Edge. "If there's a knot or a crack we make it look interesting. We can fill a crack with resin or make larger ones rock pools."
Live Edge obtains most of its wood through what Lore calls "urban salvaging." After a wind or snow storm on the Island — mainly between Mill Bay and Nanaimo — the company gets a call that a tree is down and "drops everything" to retrieve it for processing at its workshop.
"At a minimum, we're able to tell someone where the tree grew and why it came down, and that adds another dimension to the piece [of furniture]," says Lore. "A tree has been in one spot for its whole life, which is often several generations of humans. It's like a sentinel watching the area. When you think of all the things that happen in the area around that tree, it's really good fodder for history and imagining."
Lore has been designing furniture for 20 years and says his style has moved from a rustic esthetic to more contemporary. He credits Japanese-American furniture maker George Nakashima for this evolution.
"He brought over the idea of using really wide slabs in furniture and leaving the natural edge on. For years he was the only one doing it, then we helped popularize it."
For Lore, Live Edge Design grew out of his perceived need for a furniture style that suited the West Coast architectural esthetic started by Arthur Erikson, with its powerful natural influences that blurred the lines between the inside and outside.
"One of my main goals was to build furniture that looks at home in those kinds of homes, with their huge windows and lots of beams," he says. "Primarily in North America, the furniture designers are on the East Coast and the design has European influences. The West Coast has its own look, and it is really underserviced by furniture manufacture."
The pieces he enjoys making most are the dining tables, with all their possible combinations of wood and design features, such as bases and rock pools. The final product provides a large palette for the wood grain and it serves as a central piece of furniture for the house.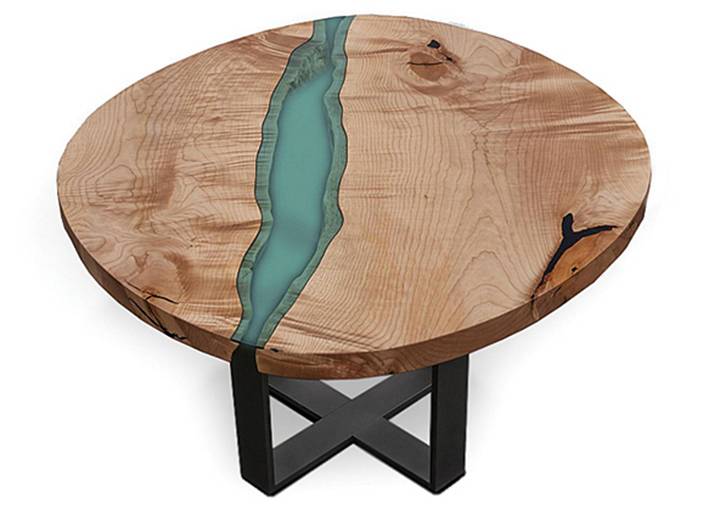 Pictured above: The River Cross dining table from Live Edge Design gets its name from the crossing steel that forms its pedestal base and the inlaid glass that creates a river through the oval-shaped wood slab.
"You end up with something you can look at every day and find something different in it to enjoy," Lore says. "It's about family, friends and neighbours, great conversations and decisions — you name it, it happens around the dining table. When you design a good one, you hope it's going to be in the family for a few generations: it's fun to imagine how that table will play a part in their lives."
---
PLANTING THE SEED
Bianca Bodley's innovative designs bring more nature into people's urban lives.
---
When Bianca Bodley, owner of Biophila Design Collective, first started on her career path in landscape design 11 years ago, she was living in a small apartment. Experiencing life in a confined urban space inspired her to develop Biophilia, a company that has led the way in greening indoor spaces with stunning living walls and installations.
"There are so many of us in apartments and small spaces, spending time at work where there's little natural light and greenery," she says. "We all have an innate attraction to nature; that's what Biophilia means. I wanted to bring greenery into people's lives, to where we spend most of our time. I do love big landscapes, but not everyone has two acres to play with. We all have a wall or a little patio or a little garden or a communal rooftop space — or even space in a coffee shop."
Much of Bodley's knowledge around living walls comes from researching systems in France and those of one of the original builders of living walls, Patrick Leblanc.
"There are a lot of considerations and challenges," Bodley says. "The essential elements to making a living wall sucessful are finding plant palettes that will do well, inspire people, make the air healthier and fit people's budgets, as well as establishing the correct watering schedule."
Along with living walls, Biophilia is also a design leader in the emerging movement to green roofs.
"Green roofs are great because they act as insulation, extend your outdoor space and create habitat," Bodley says. "A lot of my knowledge around green roofs comes from Scandinavia and Germany because they're the founders of all the technology, and green roofs are actually mandated in many countries in Europe. I also took courses and trained locally. Initally people here were scared of water damage, but if they're built right they don't have those risks."
While living walls and green roofs are a passion for Bodley and the demand is growing, much of of Biophilia's work is landscape-design build. Bodley's partner — in life and business — Lindsay Mitchell, is a welder and furniture maker, and the pair tries to incorporate elements of art or built-ins into all of their projects so each is truly unique. Of course, they also bring a sustainability focus to every job, whether it is indoors or out.
"Environmentally friendly is what the consumer base is expecting — I've always been here, but it's great to see the transition," she says. "There's also a real movement towards food production. Food production in your landscape doesn't have to be in a designated spot. I like to incorporate it. For example, herbs look great all year round. You can have a front garden that's entirely herbs if it has the right aspect and it will just look like a beautiful garden. Vegetables are a bit different because they only have a short window when they look good, but if you do them in the foreground of a garden bed that can work too."
Each design process is very client driven. Bodley describes herself as a pragmatic person, so combining form and function is important. Her first thought is to maintenance requirements and if the client understands those requirements.
"How it looks relates to the level of maintenance and you need to find that balance," she says. "I try to make every project unique. It's easy to repeat what works, but you can fall into a formula. I want each client to see themselves in the project and relate to it."
---
CARVING SPACE
For Illarion Gallant, the Canadian landscape is a dynamic muse.
---
"The joke is that I'm going to make my money designing wallpaper and linen," says Illarion Gallant, the Victoria landscape architect and sculptor best known for his polarizing public art, such as Bouquet of Memories, the tulips at the Victoria International Airport, and Commerce Canoe in Bastion Square. Gallant is flipping through stacks of Moleskine notebooks, where he's repeatedly doodled and coloured in a small delicate design.
"When I'm in board meetings or when I'm on flights, I draw these," he says. "I hammer them out and then I come home and colour them. I joke that this is where the money is at; now I have to prove that I'm right."
Along with these "doodles," Gallant fills three to four "idea books" a year — large, hardcover sketchbooks in which he roughs out the concepts for each of his projects, be it a sculpture or a landscape design. And when talking to Gallant, the two are rarely differentiated.
"Do I see the difference between the two? Not really," Gallant says. "When you're doing landscapes, there's sculptural form everywhere. When you're doing anything, there's functionality involved because people are going to interact with it — landscape more so because the premise is that people are going to use it, people are going to pass through it."
When speaking of his influences, Gallant refers to time spent in Austria while an art student in the mid-1980s. He was helping a group of German and Austrian sculptors transform a stone quarry into a people's park.
"We were a group of sculptors who understood objects trying to define space. It was a pivotal experience and it put in me this love of the landscape," Gallant says. "When I came back, I started designing landscapes."
Gallant runs his landscape design company, Rusnak Gallant, with his partner in business and life, Twyla Rusnak. "She knows how to carve space — she carves the positive, I carve the negative."
Along with his experience in Europe, Gallant points to his childhood in Ontario and time spent in central Ontario as his biggest influence. As an artist, he tries to define the Canadian landscape and looks at human intervention on the fabric of this terrain.
A current public art commission has him working on a memorial honouring the Second World War airmen who trained at the former Royal Canadian Air Force base on the grounds of what is now the Victoria International Airport. Along with a seating area made from bricks salvaged from a former hospital on the site, the main sculptural feature will be 25 giant metal feathers.
"The airport memorial is heavy emotionally — look at the ages of the people who were killed," he says. "As an artist, I get tossed in these situations and I get to research and I learn all these things. For me that's the kind of stuff I love and brings the deeper layers."
Gallant and Rusnak bring this research to their landscape work as well, learning as much about the site — and landowners — as possible.
"That's my job; how else do you design? When I meet my clients, within 20 minutes I can be asking pretty personal questions. I'm designing for you; I need to know this stuff because I'm making decisions for you."
If it comes off as ego and bravado, Gallant is OK with that. In his mind, especially in the art world, you need to be bigger than life or you'll "get squashed." And while it also helps with dealing with criticism, it's the ultimate characteristic for designing with creativity. "It's about having that confidence," he says with a laugh and a shrug. "It's about having gay abandon."