The perfect kitchen has a great atmosphere — and the biggest atmosphere creator is lighting. Here are tips from registered interior designer Lana Lounsbury of Lana Lounsbury Interiors to help you illuminate your kitchen with an ambience you'll love.
By Lana Lounsbury
Pendant Power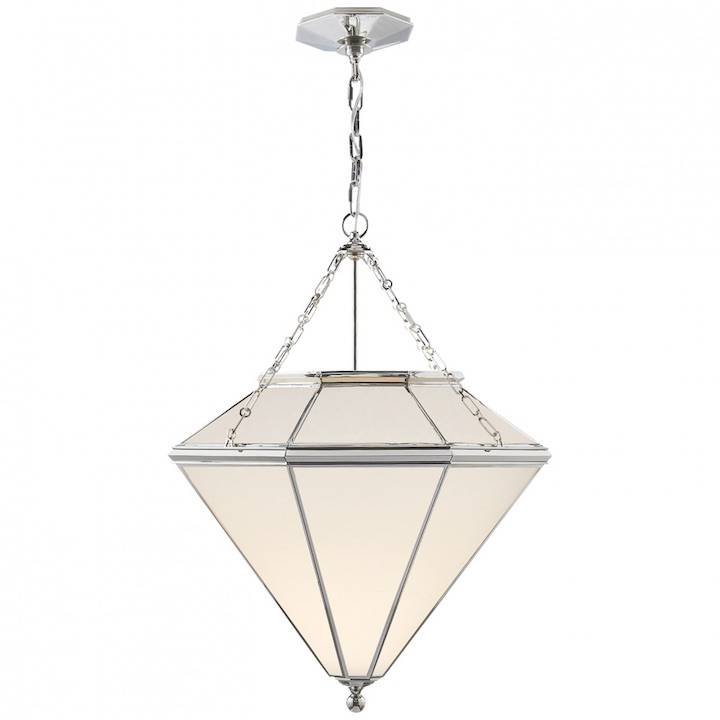 Visual Comfort's Cannes pendant in polished nickel with white glass.
---
Design flash: people are moving away from multiple small pendants in their kitchens, opting instead for one or two larger fixtures. Not only does this approach bring more freedom in terms of style, it also allows you to really make a big statement with your lighting.
When choosing lighting, I prefer to use the less dominant style as the cue. So if your kitchen is transitional white, but you prefer a beachy vibe, do a wooden or shell chandelier over the island. If your kitchen is sleek and modern, add an industrial metal fixture.
Layering Light
Layering light is a powerful way to create ambience in your kitchen. For effective layering, you will need recessed lighting for tasks, pendants or a ceiling fixture for general light, and cabinet lighting for both task and mood lighting. Cabinet lighting includes under-cabinet, lighting inside glass cabinets and mood lighting in kicks, crowns or under floating cabinets. For most cabinet lighting, I use an LED tape light with a soft white diffuser to create an even glow. Control all this lighting from your phone or wall pad with dimmers and a Lutron lighting system.
Recess Time
Photograph by Joshua Lawrence
---
There are two types of kitchens where I prefer recessed lighting to fixtures hanging above an island. The first is a contemporary kitchen where hanging fixtures tend to look cluttered and take away from the clean lines of the finishing. The second is a small kitchen where the island or the peninsula is not symmetrical. In both cases, hanging fixtures tend to look like the owner thought they should have pendants, but the result isn't pleasing. For a cleaner, more open feel, recessed lighting is a great option.
This article is from the July/August 2018 issue of YAM.