By Athena McKenzie | Photos by Jeffrey Bosdet/YAM magazine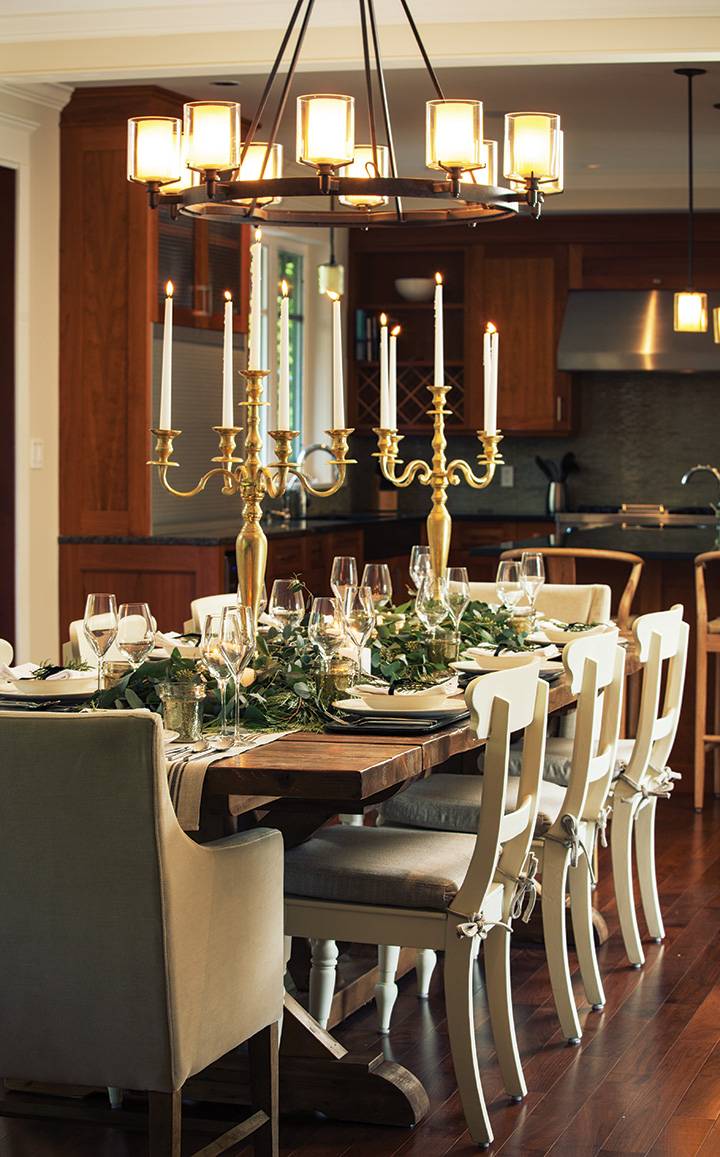 ---
Get inspired to bring that magical touch to your holiday entertaining with these festive wintery tabletops from three of Victoria's top designers.
BLACK-TIE CASUAL
A mix of festively formal and organic touches creates an elegant backdrop. In fashioning this sophisticated look, Lana Lounsbury and Andrea Bauer of Lana Lounsbury Interiors wanted to contrast the refinement of the elaborate candelabra and the classic white-and-gold china with the informality of the fragrant cascade of scented cedar and eucalyptus that runs down the centre of the table. Linen napkins are adorned with sprigs of rosemary and "black ties," and settings along the side of the table are enhanced by black marble cheeseboards used as chargers.
Lana's table was in a client's home, where the project included a dining room redesign. Scented cedar and seeded eucalyptus provided by Daisy Chain Florists. Candelabra, table runner and green tumblers from Chintz & Co. Table and chairs from Restoration Hardware; cheeseboards from Pier One Imports.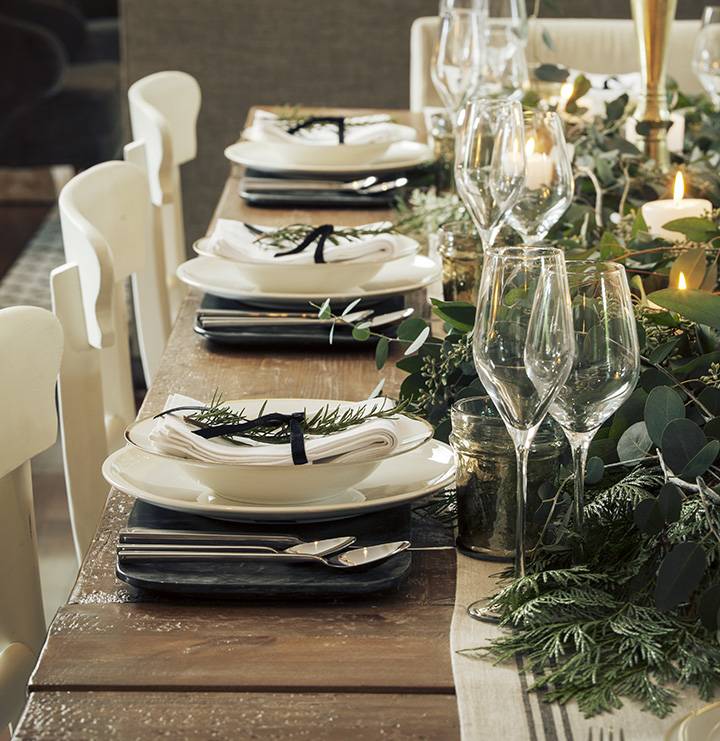 ---
SCANDI COOL
This modern minimalist table, with its nods to Scandinavian design and function, uses an unexpected colour palette to evoke the season.
For event planner and designer Marika Beise of Rock Paper Square, a memorable setting is found in the details. While she didn't use "typical" seasonal colours, she wanted to bring in the feel of snow and frost with the use of an icy blue. Punches of colour are introduced through a signature cocktail and featured food ingredients — accents of artichokes and rosemary provide texture, smell and visual interest. Candles of varying heights and styles contribute to the warm, intimate ambiance.
Shot on location at Chester Fields, Marika's creativity is displayed on a table by Bensen. The votive candle holders, table runner, bell jar, napkins, marble cutting board and nesting bowls are from Pigeonhole Home Store; the dinnerware and glasses are available at Capital Iron. Additional décor is Marika's own, including cutlery gifted from her oma.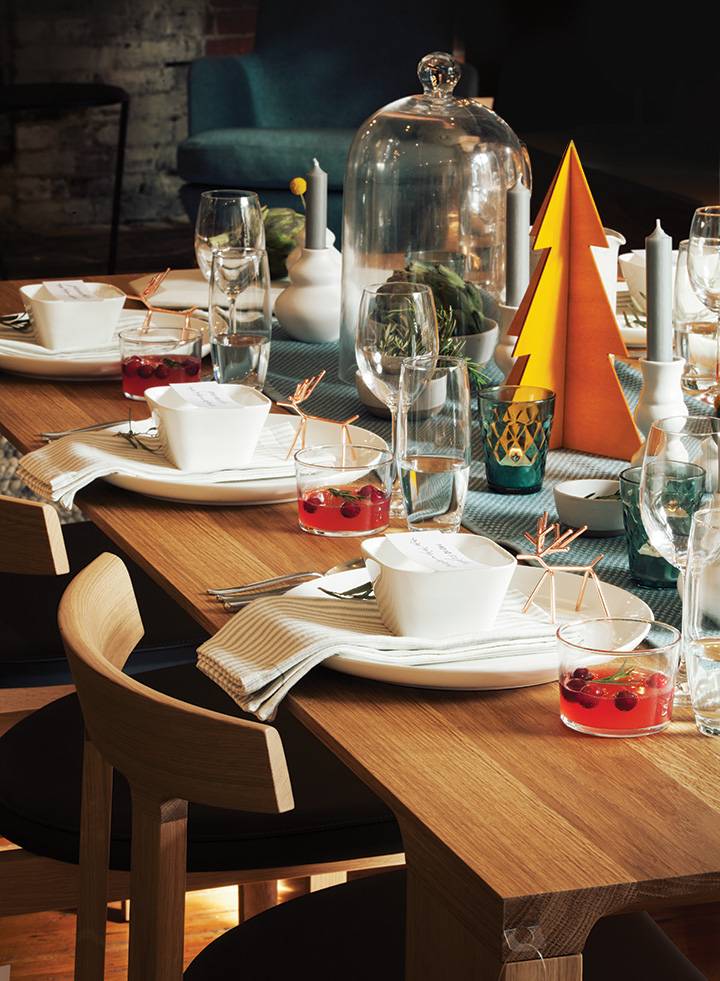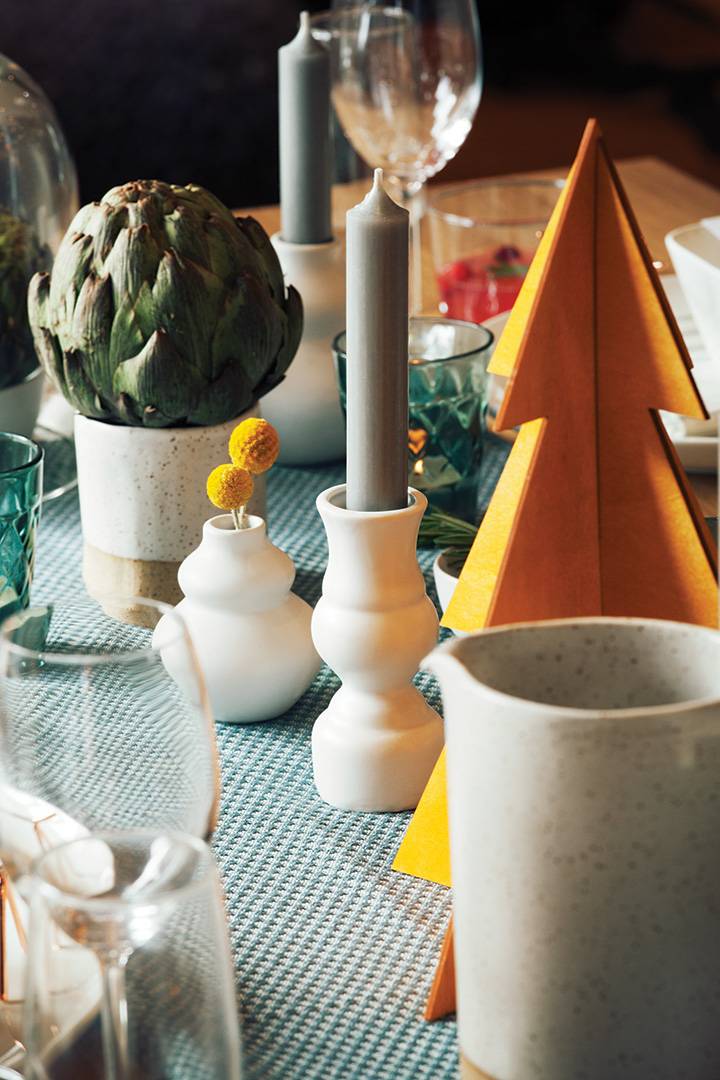 ---
WOODLAND WHIMSY
The spirit of the season shines with this charming family table and its playful details. By dressing up the family table in this light-filled sunroom, Ben Brannen of Bespoke Design has created a kid-friendly atmosphere that embraces the whimsical side of the holidays. Woodland creatures peek around the cheerful floral centrepiece and between the fine strand of twinkle lights.
Brannen shows how everyday dishes can be used on your holiday table by pairing versatile solid-coloured plates with neutral napkins and patterned bowls, adding tone and texture to this simple setting. A hurricane glass is an easy DIY seasonal décor piece with the addition of greenery and a candle.
Photographed at a client's home, where a sunroom was added on to the kitchen, Ben's table features seasonal florals by Thorn & Thistle. Gordon Ramsay by Royal Doulton dinnerware and Nuevo table and chairs are available through Bespoke Design.