Communal dining is back in vogue — wherever there is fresh, seasonal food to enjoy, the long table brings people together to share it.
By Cinda Chavich
At last year's long-table dinner at The Root Cellar, a narrow table and family-style dining contributed to the intimate ambience of the event. Photograph by Simon Desrochers.


---
From annual Diner en Blanc pop-ups, where hundreds gather to sup under the stars, to the outdoor meals hosted in vineyards and orchards or on farms across the country, al fresco dining with strangers is a phenomenon that seems to be growing with every harvest.
Dining at a communal table is ultimately egalitarian. A writer might sit next to a judge, a bartender alongside a farmer or pharmacist. As the family-style platters are passed, the conversation flows — it's a way to create community in an ever-fragmented world.
"The sharing makes it different from the usual wine dinner," says Oak Bay Beach Hotel general manager Michelle Le Sage, who often joins the group gatherings at the hotel's series of summer long-table winemaker's dinners. Dining on the hotel's grassy terrace overlooking the spa and the sea, guests may have the best seat in town.
"It starts with people who don't even know each other and they're friends by the end of the night. It's magical."
Take It Outside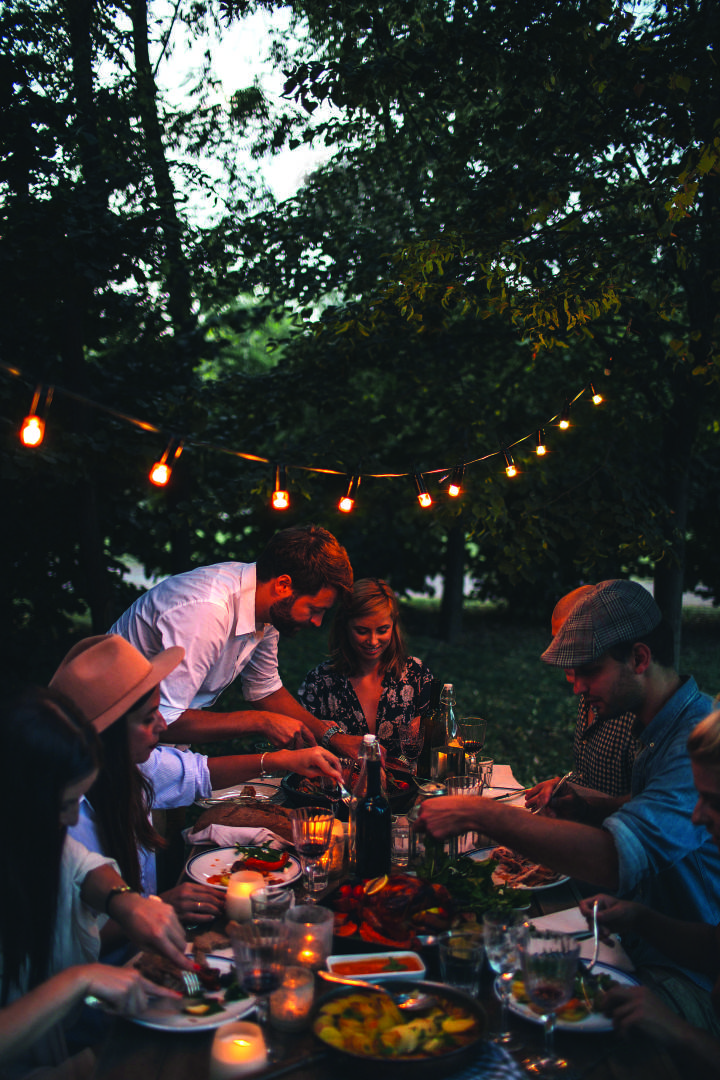 There's something delicious about dining outdoors. Whether it's an impromptu picnic or a backyard barbecue, al fresco dinners are inherently casual and convivial. When you have a spectacular patio or other outdoor space, it's just a given that you'll find a way to serve dinner in the sunshine or under the stars.
At Oak Bay Beach Hotel, the impetus for the dinners was definitely the space, says food and beverage manager Christian Sealey who, with executive chef Kreg Graham, organizes four long-table dinners over the summer months, centred around B.C. wines.
The wine dinners, for about 25 to 30 guests, feature a family-style menu, with Graham creating seasonal dishes with local B.C. ingredients, from platters of grilled salmon to short ribs with creamy polenta and colourfully composed salads, all designed for sharing.
"The idea is also to encourage socializing, which is why the dinner is served family style," adds Sealey.
Though there are logistical challenges when cooking and dining outdoors, the long table brings an instant air of celebration and magic to the meal. Whether it's the memories of big holiday dinners, with tables cobbled together to accommodate everyone in the family, or the kind of harvest celebrations in the local church hall for the whole community, a long table is inviting. Setting it up outdoors, or in an unusual venue, just adds to the fun.
Which may be why the long-table format has become popular for fundraising parties and summer weddings. When chef Dan Hayes of The London Chef prepared a long-table dinner last year for dozens of diners at The Root Cellar in Victoria, he spoke of the long-held European traditions of communal dining and restoring our relationship with dinner.
"We're so lucky to live here where the vegetables are so outstanding," Hayes said, surveying the produce from hundreds of local growers while passing platters of roasted zucchini, beets, potatoes and acorn squash drizzled with a citrus salsa verde. His hearty menu drew from a variety of local ingredients, from kale crostini and free-range chicken thighs served with mushroom risotto, to his Eton Mess dessert of crisp meringue and seasonal berries.
The long table was set inside a big tent that usually serves as the garden centre at The Root Cellar, transforming a utilitarian space into a beautiful outdoor venue.
So dinner became a happening, making the event as much about bringing people together around the table, and sharing, as about the food.
Farm, City or Both
One local culinary couple, Alana and James Day, believes so strongly in the long-table concept that they created their business, The Long Table Series, around it. They even provide the long table, hauling their custom-made, red cedar table (25 feet long and made from a single second-growth tree) to serve dinners at locations as diverse as Victoria Distillers and Fairburn Farm.
Their long-table dinners feature creative seasonal plates ranging from compressed celeriac tartar, charred onion and celery foam, to local duck and sunchoke soup, and sweet potato brownies topped with parsnip ice cream. Last year, they even set up their long table amidst the lush rows of vegetables sprouting on a strip of land next to the Galloping Goose Trail.
The venue is home to TOPSOIL, an innovative urban farm that supplies fresh herbs, vegetables and salad greens to local restaurants. It is the perfect spot to gather a group for a farm-to-table feast.
"We want to connect our guests with the food they're eating and where it comes from," says James about the couple's choice of TOPSOIL's locale to launch their al fresco catering company last year. "We can be picking the products and cooking right in front of our guests."
The Long Table Series builds on the Days' years of experience in the restaurant and hotel industry. James, a British-born-and-trained chef, honed his craft with British chef Raymond Blanc at English country hotels and Canadian ski resorts, including a stint with Vancouver chef David Hawksworth. Since arriving in Victoria, James has combined a love of local food and holistic nutrition with cooking classes and wellness workshops, and customized long-table dinners.
"This summer we've 'adopted' an acre of farmland in the Cowichan Valley to grow our own food crops," he says, "and will hopefully have some dinners out there in the field."
Planned future events include dinners with local distillers and wineries, and a return to the TOPSOIL urban garden.
"We design the menu around what is in season and available, then cook on site," says James, who can now take his high-end cuisine anywhere.
Creating Your Own Menu
---
Ideas For Your Own Al Fresco Dinner Party
Peperonata with Buffalo Mozzarella and Baguette
Kale Crostini
Grilled Maple-Brined Salmon with Zucchini Pasta and Roasted Tomatoes
Cherry Clafoutis
Individual Summer Berry Cheesecakes
---
A menu for a long-table dinner may revolve around any season or celebration, but it's always great to feature a show-stopping main dish.
Whether that's a whole grilled salmon, a pork butt or beef brisket from the smoker, a seafood paella, or a turkey with all the trimmings; it's up to you. But at the height of summer the bounty of fresh vegetables, seafood, free-range meats, tender tree fruits and ripe berries, offers lots of inspiration.
Consider how your dishes will look on large platters, and how easy it will be for your guests to serve themselves. If you're cooking a whole salmon, for example, fillet and portion before serving. Make big composed salads that look impressive but are easy to share. Pass baskets of local artisan breads and fruity olive oil for dipping.
Consider portioned and portable desserts — whether it's individual mini cheesecakes, tiny tiramisus, muffin-sized carrot cakes, or brownies.
Whether you go for a collection of rustic picnic tables with wooden platters, a long roll of newsprint to dump out piles of steaming crab, or white-on-white china and linens, long tables are meant to be social.
Do keep table centres to a minimum — you want your guests to be able to chat across the table — and leave plenty of space for bowls and platters. Classic tablescapes range from glass bowls of floating flowers and entwined evergreen boughs, to driftwood with smooth stones, beach glass and lots of votive candles.
The locale may be a backyard, a beach, an orchard, a vineyard or even a curved table in a suburban cul-de-sac. You may set up your long table under a tent, beneath twinkling lights or out in the middle of a field.
You can have a long-table dinner for a wedding, the entire neighborhood or a regular supper club of eight of your closest friends. Whether it's a casual potluck, a formal affair or an annual feast it's the experience that counts — coming together, dining together and enjoying together.
The long table is set!
This article is from the July/August 2018 issue of YAM.