How a much-loved old church in Victoria underwent a reverential transformation to become one of the region's most stylish homes.

By David Lennam
Photographed by Joshua Lawrence
When Kari MacIntyre and Jamie Hubick decided to make their new home in an old church, they didn't realize how curious their Fernwood neighbours would be.
Even as construction was underway on a renovation that would take the peaked-roof, 1912 structure from public space to private place, there was a regular lineup of passersby dropping in for a peek. Most assumed the iconic Fernwood Avenue building known as the Orange Hall was still a church, a meeting hall, or a live performance space.
As I arrived to visit the house, a man who just happened by was trying to get in the front door.
"Where are you going?" I asked.
He was bewildered. "Isn't this a public space?" he replied.
It had been for a century.
Ryan Macleod of Citizen Design Build, who worked with MacIntyre and Hubick on converting the century-old church into their dream home, was surprised by the attention the project received — and by the 40 or so onlookers who showed up to check it out when construction began last fall.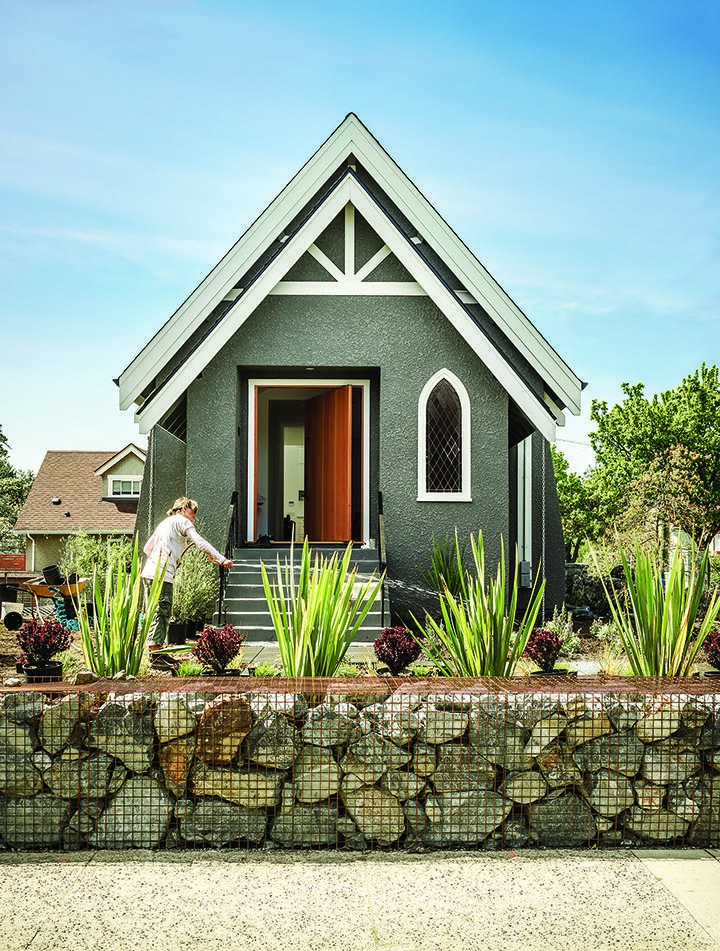 "On average we'd have one or two people a day — not knocking on the door, but just wandering in," he laughs. "That made us realize how incredibly public the [Orange] hall was."
The hall was built by the Unitarian Church and later used by the Presbyterians before the Orange Lodge took it over. For the two years before the couple purchased it, parishioners at St. Mark's Traditional Anglican Church convened for worship, and more than 20 community groups booked it regularly for everything from yoga and theatre to bluegrass concerts. A dwindling membership led owners, the Protestant fraternal and charitable Orange organization, to put it up for sale. MacIntyre and Hubick, who were on a mini-vacation in Kelowna at the time, put in an offer sight unseen.
Preserving the Past
Both MacIntyre and Hubick were up to the challenge of transforming hall into home. They'd tackled major renos before, removing walls, adding skylights, even installing a vaulted ceiling.But the Orange Hall was not without particular challenges: no plumbing on the main floor, drafty, single-pane windows, and no insulation in the walls. It had never been lived in, save for any lingering spirits that refused to depart.
The complications, however, almost dared them to exercise architectural derring-do. And, in the end, they didn't outweigh the appeal of 22-foot cathedral ceilings with a network of conversation-starting beams and a wide-open floor plan, including a 20 x 40-foot room where the church sanctuary had been.
"We realized we could make it whatever we wanted," recalls MacIntyre. And much of what they wanted was to preserve a sense of time and give their home an historical narrative.
Historical Harmony
The same ideology was motivating Macleod and his company Citizen: learning the story of the client, the building, and the neighbourhood, and bringing them into harmony.
Macleod calls it story and collaboration, or how the client affects the space and vice versa. "We were trying to keep as much of the original magic of the space [as possible]," explains the builder. "I think, if anything, the building was re-invigorated with life. There was no sustainable model in keeping that building alive the way it was."
So it had to change. Radically, but sustainably. And without expanding the footprint or altering the features of the exterior, save for a swath of new stucco with a sophisticated, but demure, coat of grey paint.
The wood structure on the interior was kept intact, while Macleod gave the building a full seismic upgrade and, with Hubick's help, built a new roof from the outside in, incorporating R-28 insulation, and speckling it with eight large skylights.
The original windows — save one in the classic lancet style at the front entrance serving as reminder of a holy past — were removed and replaced with 28 Energy Star windows. The wainscoting was pulled off and reused as stair treads; the well-worn handrail from the original staircase became the handrail on the new staircase; and along the railing of a new, second-story mezzanine (where the master suite is situated) are panes of leaded glass that used to be feature windows on the sides of the old church.
Layers of laminate were stripped off to reveal original fir floors that, refinished, are buttery soft, warm to the toes, and gleam in the light pouring in from every angle. So much light, in fact, that MacIntyre jokes about having to wear sunglasses in the house.
Completed, the church-turned-home is like a brand-new space with clean white lines, a soaring ceiling, and an open-plan expanse.
"The couple began by demolishing the long, narrow space themselves — gutting the interior on evenings and weekends, and reconfiguring a 960-square-foot main floor to support the second-level mezzanine.
A Sense of Arrival
The home is loaded with features, but not cluttered with them. Starting with the front door, where an oversized, five-foot-wide slab of fir, which replaced the original double doors, rests on an offset pivot. Rather than swinging from the edge of the frame, where most doors are hinged, this door is balanced on a steel rod one foot in. It seems to float open. "We wanted to have a sense of arrival," says Hubick.
Under a regular-height ceiling, a long hall, flanked by a second, three-piece bathroom, and a cozy office, leads into the "Oh, wow!" reveal of an open kitchen/living/dining space beneath that cathedral ceiling — fittingly occupying the old church's "holy end." The centerpiece is a five-by-twelve-foot island-cum-dining table topped by quartz. Ten can sit for dinner or sidle up for drinks, while enjoying the eye-catching, four-foot-wide Kozy Heat gas fireplace. Coupled with a number of discreet, wall-mounted StelPro electric convection heaters, it makes the whole house less expensive to heat than using the old oil furnace, which was removed.
Asked about assuring the heat doesn't get trapped 22 feet up in the 'steeple', MacIntyre points to an enormous ceiling fan with blades the size of a wind turbine.
The stainless steel appliances are GE, including a restaurant-inspired Café Series gas stove with double oven. Keeping with the kitchen's playful industrial feel are a matching pair of vintage steel light fixtures sourced from an old school gym (but found at Cook Street's Surroundings).
There's no TV. "That's downstairs," deadpans MacIntyre. "We didn't want the TV upstairs." There's an intimate, soundproofed media room in the full-height basement.
The existing polished concrete basement floor wasn't touched, but new open-style staircases to the mezzanine and to the basement were installed, the latter behind an ultra-modern, frameless glass railing, letting all that natural light filter through. MacIntyre, a hair stylist, plans to run her Nest Salon from the lower level of their new house, which fits with the existing mixed-use zoning of the lot.
The master bed and bath hang above the main floor party space on their own mezzanine level, fronted by that railing of antique glass from the old church. Through massive, triangular church windows and all those skylights, the view is like living in a cloud city — sky and more sky. A three-quarter-height wall separates bed from bath.
Inside, the rear wall is entirely covered in shining white ceramic tile with texture that interprets the movement of waves —continuing through a double shower (six-and-a half feet long) with side-by-side rain heads, wrapped in seamless glass. Like the rest of the house, it seems to float on air and light.
Renovation and Redemption
MacIntyre and Hubick still get asked why they did it. "People have said, 'You could have built a brand new house for that money,'" says MacIntyre.
But you could never buy the history.