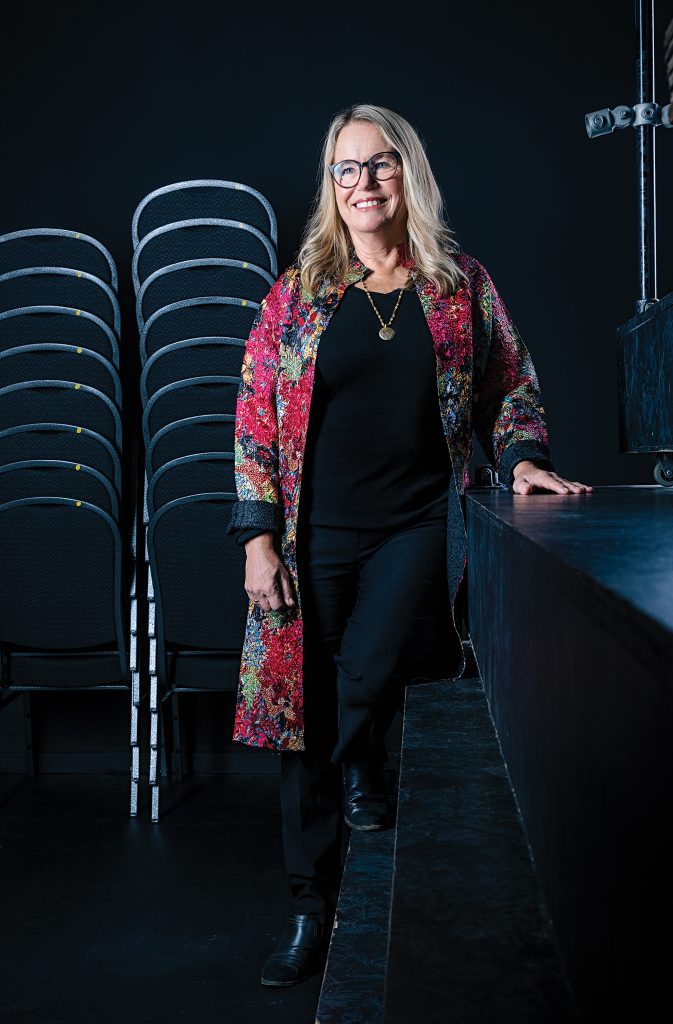 By David Lennam
All the world has quietly (and beautifully) become theatre multi-disciplinarian Kate Rubin's stage.
Kate Rubin remembers her first day showing up for work at William Head, the minimum-security federal correctional institution where the country's only inmate-run theatre program is in its 40th year presenting plays to a paying public.
She was one of the witches cast by director Ian Case for a production of Macbeth.
"Yes, there was some trepidation. A little bit," she says. "But once I had my first day there, though, all trepidations were gone. I was welcomed and treated with respect. And continue to be. I've learned a lot working there."
It was a seminal moment for Rubin. The longtime Victoria theatre multi-disciplinarian found new inspiration working with William Head on Stage Society (WHoS), one that has resulted in a 17-year relationship with the prison artists as actor, director, writer and dramaturge.
Transformational acts
Rubin's work was recognized in October with a Greater Victoria Regional Arts Award, specifically for her ongoing work with WHoS (though it could really be celebrating her 30-plus years building a solid theatre community in this town).
The 67-year-old says doing theatre with the inmates seems like it's giving them a really good, long drink of water when they're thirsty.
"For some of these guys, I will say the word, it is actually transformational. I don't go in with that objective, but it can potentially change their life trajectory. And for me, that's really rewarding and heartening. I feel like this work is important."
But, she quickly adds, she doesn't want to get self-important about it.
"It isn't just me," says Rubin, acknowledging that Case, as well as Kathleen Greenfield and Ingrid Hansen of SNAFU Society of Unexpected Spectacles, have been just as instrumental with WHoS.
Case recalls Rubin being a tad nervous that first day, through the whole process of screening, training, getting ID, going through those ominous gates and learning all the protocols and "rules of engagement."
"But," he adds, "Kate was a rock from the very beginning and through the process of rehearsing I could see how she started to fall in love with what the WHoS program offers to the inmates and the community artists involved in the process."
Teaching resilience
Rubin has been omnivorous in her involvement in the arts, working with almost every theatre company in town — teaching, directing, writing, performing, hanging lights, probably even setting out the chairs. By Rubin's estimation, she's helped guide more than 5,000 kids through all aspects of theatre for 23 years at her own drama school, and before that working with Kaleidoscope Theatre.
She sold the Kate Rubin Theatre & Drama Studio in 2017 to Theatre SKAM, which she calls a natural fit to continue offering the intrinsic value of theatre to children, teaching them through, essentially, play.
"Giving [kids] an avenue that allows them to voice different opinions, perspectives, characters, life experiences, I think, regardless of whether you're going to be an artist, just gives you so many skills and psychological skills and skillsets about collaboration, creative thinking, being able to be flexible, especially now in a world that has become increasingly inflexible," says Rubin.
"It also develops the right brain, where our school system is so loaded up in developing the left brain. I believe in both sides of the brain being supported — you get a smarter, more resilient human being when you do both."
Time for collaboration
No longer running a school has meant more time to collaborate with other artists, not only at William Head, but with companies like Theatre Inconnu. Her work with their production of The Curious Incident of the Dog in the Night-Time won Rubin more honours, as she was recognized by local theatre critics for her deft and daring direction of that standout production.
She's taken on some new projects with WHoS as well. Rubin was part of a cohort that started devising original work with the inmates, allowing the prisoners to put their own stories on stage, resulting in works such as 2015's HERE: A Captive Odyssey.
Productions like this, says Case, have encouraged the growth of storytelling and devised work, "something which has really flourished and benefitted the inmates involved in WHoS by allowing them to more personally connect with the artistic work they're doing and to tell their own stories. Prior to her work at WHoS, I don't think this kind of theatre work was being explored to any great extent."
Currently Rubin is overseeing the completion of a film project, again with the inmates and her regular collaborators at SNAFU. Common Threads comprises three short films based on the experiences of those incarcerated, and is scheduled to get a public screening early in 2022.
Also this year, an opportunity to put her degree in environmental education to use will see Rubin return to Lasqueti Island where she spent five post-teen years living an off-grid lifestyle and dabbling in the then-novel idea of sustainability. She has teamed up with her daughter, Ariel, on her farm to explore everything from expanding their small organic cut-flower business to teaching sustainable food production. (Rubin was one of three women who started the Gorge Tillicum Urban Farmers 13 years ago.) And yes, there will be theatre. The Greater Victoria Shakespeare Festival, for which Rubin has directed several plays, spent last summer rehearsing at a studio on the farm.
It might be said she fully embodies the Bard's line about all the world being a stage and in her time playing so many parts.
Case probably speaks for the entire theatre community when he praises Rubin for developing so many well-trained and sensitive theatre artists, for employing so many artists, for bringing them together and for being that artist, so rich of diversity and flavour.
"And," he says, "she's done all this quietly and without expectation of awards and acknowledgment. It's especially gratifying to see her, and her work, finally getting the recognition it deserves."