By Cinda Chavich
When you're talking holiday visions of sugar plums, there's nothing as impressive as an elaborate gingerbread creation. Whether you are baking gingerbread cookies or constructing gingerbread condos, YAM brings you tips and stories from local gingerbread gurus to enrich this most gingery of seasons.
---
Gingerbread is the vehicle for seasonal sugary whimsy of all kinds, whether it's shimmery cookies, iced and decorated with silvery sprinkles, chunky gingerbread people to hang on the tree or that ultimate cookie fantasy, the gingerbread house.
The knobby rhizome of the ginger plant, Zingiber officinale, has a hot, spicy zing, a flavour that crosses cultures. Whether it's used in a savoury stir-fry or Indian masala, steeped in sugar syrup for cocktails or candied and dipped in dark chocolate, we all love ginger. Long before the days of chai lattes and pickled sushi ginger, most Canadians enjoyed their ginger in a cookie or a glass of ginger ale.
In fact, our homegrown Canada Dry soda — still doled out by moms to sick kids everywhere — was created by an Ontario pharmacist back in 1904. That's fitting provenance, considering ginger is now viewed as a super food, prescribed for everything from motion sickness to diabetes, arthritis and even cancer.
Sweet History
Gingerbread has been with us for centuries. The origins of this classic cookie recipe date back to medieval Europe, though some researchers note that the Chinese and the ancient Greeks were baking with ginger hundreds, even thousands, of years earlier.
The dark spiced sweet breads, the precursor of gingerbread cookies, likely originated with an Armenian monk who lived in southern Italy in 992, then made his way to a town near Pithiviers in France. By the 1600s, there were gingerbread guilds in Germany, and bakers were using elaborately carved wooden boards for their gingerbread designs, some depicting patron saints and monarchs, perhaps the origins of today's gingerbread men.
The earliest English, French, Dutch and German cookies were often cut into fanciful shapes, from animals and birds to flowers, kings and queens, then decorated with gold leaf for royal celebrations.
The tradition of building houses from gingerbread may come from the Brothers Grimm's fairy tale "Hansel and Gretel," about children who discover a house made of bread and decorated with sugar while lost in the forest.
Ginger is often combined with "warm" spices like cinnamon, cloves and nutmeg. In the Dutch tradition, soft ginger spice cookies (speculaas) are also flavoured with white pepper and cardamom (sometimes star anise too), and in Nordic countries the spicy pepperkaker cookie is thin and crisp. Some modern gingerbread recipes even boost the ginger flavour with chopped candied ginger or up the spice ante with Chinese five-spice powder or a pinch of cayenne.
Cookie Creation
What separates an everyday gingerbread cookie from an outstanding one is the subtle combination of spices. And at Victoria's Patisserie Daniel, pastry chef Daniel Vokey has nailed his signature gingerbread spice mixture.
"We make gingerbread cookies all year round, but there are lots of different kinds of gingerbread," says Vokey, describing his fanciful fish and lobster gingerbread cookies, or gingerbread men, sold decorated or plain and ready to decorate at home.
Holiday baking is big at this local bakery, where even the mincemeat is made from scratch and the mince pies are topped with gingerbread. The tender moulded speculaas cookies, with their own unique combination of ginger and spices, are a specialty he saves for the Christmas season.
"We use our own mixture of 20 different spices for our gingerbread," says Vokey. "The fragrance in the bakery is intoxicating." You'll find gingerbread creations from other bakers around town too, from the speculaas and ginger tarts at the Dutch Bakery to the whimsical gingerbread cookies at Bubby Rose's Bakery & Cafe, Pure Vanilla Bakery & Café and Fol Epi.
Make It a Party
It's fun and festive to make gingerbread at home too. Gather the kids to construct a candy-encrusted house, or plan a cookie party to bake up some holiday spirit with friends.
For Victoria's Brian Cant, the annual holiday baking party is even more focused — designed with decorators in mind. "Four of us get together and just decorate gingerbread cookies," says Cant. "We've been doing it for eight years." As the host, Cant prepares the gingerbread cookies in advance, and his guests arrive with all of the icing and candy needed for their colourful creations. Then it's an evening of festive frivolity around the dining room table.
"We have about 15 different shapes to make cookies, ranging from bears and reindeer to snowflakes and the standard gingerbread men," says Cant, who offers these tips for home bakers.
"Definitely make the gingerbread at least one day before to allow it to set, and always drop the bake time by one to two minutes from what the recipe says to get softer cookies," he says. "You can't decorate without good wine, plus a rum and eggnog to start."
Ginger Dreams
And then there are those who love gingerbread so much, they make an annual exhibition of it. At Canada's National Gingerbread Showcase, held every year at Victoria's Inn at Laurel Point (IALP), creative pastry chefs — both home cooks and professionals — construct elaborate gingerbread houses to compete for the top title. It's all for the bragging rights and to raise funds for the local Habitat for Humanity. But make no mistake, for the bakers, this is serious stuff.
When I visit the hotel's pastry chef, Kimberley Vy, in August, she is already designing her entry. "This year the theme is Around the World," says Vy, sharing some of the top-secret plans she is formulating with her team in AURA's pastry kitchen. Everything constructed on the two-foot-square base allotted each entry must be edible, and for Vy that means she needs to begin baking … soon.
"Lots of people start baking in August, as it's important that all of the pieces are properly hardened and dried," she says.
It's a true team effort. AURA's executive chef Takashi Ito is part of the planning too, and they've devised a system of laminating gingerbread and using his specialized ice-carving tools to create the three-dimensional characters and creatures that will bring their entry to life.
Donations from visitors who come to see these elaborate constructions over the holiday season (and from the hotel's Santa Claus brunches and gingerbread tea) help to build real houses for families in need. Last year, nearly $45,000 was raised to aid Habitat for Humanity, with $128,000 collected for the local charity since the contest's inception.
Cookie Construction
Habitat for Humanity is an appropriate cause for gingerbread, which has the strength and stability to support all kinds of structures. Last year, competition entries ranged from an edible West Coast Long House, created by the Spectrum Community School's culinary arts students, to Jesika Edison's Christmas Camping gingerbread trailer in the woods to amateur winner Sarah Jones Lescene's adorable Minions in Need. The winner in the professional category was The Rainbow Connection, complete with Miss Piggy and friends, from local cake artist Anne-Marie Fortin.
At this level, gingerbread creations move beyond baking to the realm of edible sculpture. And that's Fortin's specialty. "This is mixed-media sculpture with everything edible," says Fortin, who has won top honours in the professional category at the gingerbread contest for two years running.
"I taught sculpture at university in Montreal, but I always worked in a café and did a lot of baking while studying for my PhD," says the Victoria baker who now channels her artistic energy into Cake Boss-worthy custom cakes at therewillbecake.ca.
Dough Stories
It's clear that Fortin's art education is at work here. Her gingerbread creations tell stories, from her 2014 entry featuring a boy reading a book, with a houseful of imaginary scenes bursting from his head, to the full cast of Muppet characters stuffed into a gingerbread car for a family vacation, at last year's contest. Every detail is carefully planned and adds to the narrative.
"The idea to pile the suitcases on the roof was to achieve the 18-inch height requirement, but every one is unique," she says, pointing out the intricate details in each piece of gingerbread luggage teetering on the vintage "woody" station wagon, inspired by another holiday movie. "The green one is for Kermit, the ugly black one is for Monster, the pretty one is for Miss Piggy."
Fortin says she combs the aisles at bulk food stores, searching for edible inspiration. She has used a Rice Krispies Treats base to lighten large pieces, coloured gum paste and fondant for characters, candy cigarettes for edible armatures, and poppy seeds mixed with coarse black sugar to mimic asphalt. A stiff construction-style gingerbread, with cinnamon (but not all of the usual expensive spices), is the base for her winning cookie creations.
"Technically it's edible, but it's like cardboard, very hard and with no eggs or leavening," she says. "You don't need it to be soft and fluffy if no one will eat it."
When designing her elaborate sculptures, Fortin first builds a full-size scale model in cardboard, then adds weight to ensure the gingerbread base is stable. She uses cinnamon, cocoa powder and nutmeg to enhance the colour of her gingerbread and to create components in various shades of brown.
The dough must be evenly rolled (on parchment for lifting onto pans) and cut to size using paper templates. To ensure the gingerbread is properly dried, it's baked in a low-temperature oven for three to four hours, with the door propped open for circulation. Individual pieces are trimmed to size while warm, then stored flat, in sealed plastic bags, before assembling, to make sure they don't soften in Victoria's damp environs, the gingerbread builder's worst nightmare, she says.
It's as complex as any full-size construction project, with some of the tools from the workshop making their way into the sweets kitchen. Sanding blocks remove rough edges. Royal icing is the "glue" that holds it all together — made with meringue powder to save money and reduce waste — and the "spackle" that smooths contours and anchors decorations. More than 200 hours of work go into each of her complex creations.
Gingerbread Capital
Victoria is a city steeped in Christmas traditions — and celebrating this classic holiday cookie is just a taste. So get your gingerbread fix with a tour of the inventive gingerbread entries at Canada's National Gingerbread Showcase (November 19 to January 2) at the Inn at Laurel Point, and vote for your favourite. It's a great way to kick-start the holidays while helping to build affordable housing here in Victoria.
And whether you are an experienced baker or a baking newbie, gingerbread is an easy crowd pleaser. In fact, it won't take long for you to graduate from making simple, round cookies to creating your own gingerbread people and your very own gingerbread house.
---
Recipes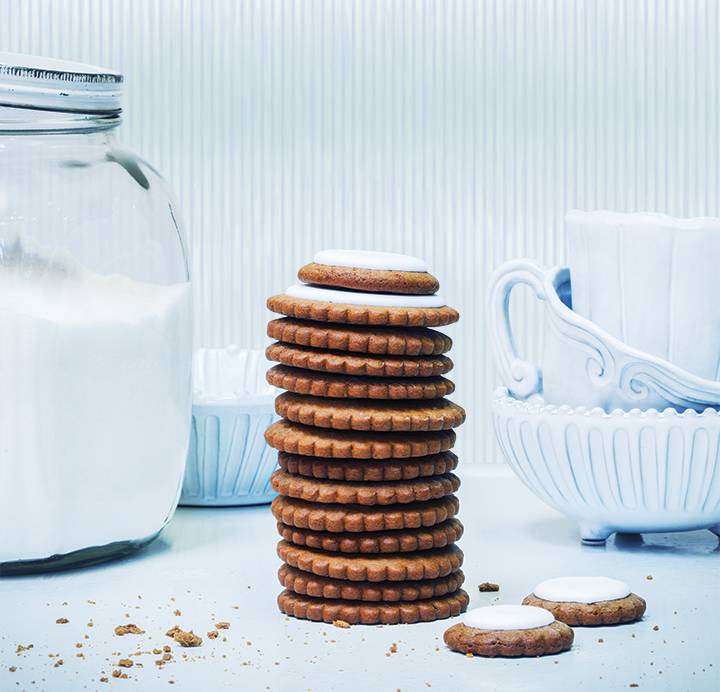 INN AT LAUREL POINT'S GINGERBREAD COOKIES
• 3/4 cup butter (room temperature)
• 1 3/4 cup brown sugar
• 1/2 tsp baking Soda
• 1/4 tsp salt
• 1 1/4tsp ground ginger
• 1/2 tsp cinnamon
• 1/4tsp nutmeg
• 1/8 tsp ground clove
• 1 large egg
• 1/2 cup molasses
• 3 cups pastry flour
Pre-heat oven to 350°F. Sift baking soda, salt, ground ginger, cinnamon, nutmeg and ground clove together into a bowl and set aside.
Cream together butter and brown sugar in a mixing bowl with a paddle attachment on medium speed. Scrape down sides and continue to beat until light and fluffy.
Add eggs to butter one at a time, scraping after each addition.
Add molasses and mix until fully incorporated.
Add pastry flour and mix until just combined; be sure to scrape to the bottom of the mixing bowl.
Press dough into a thick flat disk, wrap in plastic wrap. Refrigerate for 4 hours or overnight.
Roll out to π inch thick and cut out desired shapes.
Bake at 350F for 7 minutes, rotate and bake an additional 3 minutes.
(At 2 tbsp per cookie this will make approximately 25 cookies.)
---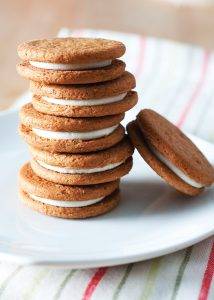 GINGER AND EGGNOG GANACHE SANDWICH COOKIES
During the holiday season, the gingerbread theme continues throughout the Inn at Laurel Point: toast the season with a holiday gingerbread cocktail (AURA's G4 includes Ginger of the Indies liqueur, freshly grated ginger, ginger beer and even a rim of ground ginger cookies) and try the hotel's signature Ginger and Eggnog Ganache sandwich cookies.
Chef Vy says she bakes more than 5,000 of these coveted cookies every holiday season, using candied ginger and a pinch of pepper in the batter and a splash of real rum in the white-chocolate filling. "It's exactly the right amount of ganache to gingerbread, and just a touch of booziness," she says. Sounds like exactly the right way to channel your holiday spirit too.
Double Ginger Cookies
• 2 cups all-purpose flour
• 2 3/4 teaspoons ground ginger
• 1 tsp baking soda
• 1/4 tsp salt
• 1/8 tsp white pepper (pinch)
• 1/8 tsp black pepper (pinch)
• 3/4 cup butter
• 1 cup granulated sugar
• 1 large egg
• 1/4 cup molasses
• 1 tsp vanilla
• 1/4 cup finely chopped crystallized ginger
• Extra granulated sugar for coating cookies before baking
Sift together dry ingredients.
Using an electric mixer, cream the butter and sugar together.
Add egg, molasses, vanilla and crystallized ginger. Scrape the bowl as needed.
Add dry ingredients and mix until blended. Scoop up roughly 2 tablespoons at a time of dough, roll into balls, then roll in granulated sugar.
Place on a parchment-lined baking sheet, leaving room for the cookies to expand as they bake (each will be about 2.5 inches across). Bake cookies at 350°F, low fan, for 9 to 12 minutes. Rotate pan halfway through. For non-convection ovens, increase the temperature by 25 degrees to 375°F and baking time by 25% (11 to 15 minutes). Rotate after 8 minutes, and check after 6 additional minutes.
When done, cookies will puff and crack on top. The surface will look a bit wet.
Yields about 30 cookies / 15 cookie sandwiches.
Eggnog Butter Ganache
• 1/3 cup butter
• 1 tbsp glucose or light corn syrup
• 1/2 tsp ground nutmeg
• 1/2 vanilla bean, seeds scraped
• 250 g white chocolate, melted and tempered at 30°C
• 1 tbsp dark rum (Vy's favourite is Goslings Black Seal Bermuda Black Rum or Appleton Dark Rum)
Using a mixer with the paddle attachment, cream together butter, glucose or corn syrup, nutmeg and vanilla seeds.
By hand, stream the melted white chocolate into the butter mixture. Be careful not to allow chunks of chocolate to form in the butter mixture.
Also by hand, stream in the rum, stirring until the mixture is homogenous.
Allow ganache to sit at room temperature, stirring occasionally, until it reaches piping consistency.
To fill ginger cookies, pipe 2 teaspoons of filling onto the bottom of one cookie and sandwich with a second cookie.
One recipe fills 38 cookie sandwiches at 2 teaspoons per sandwich.
---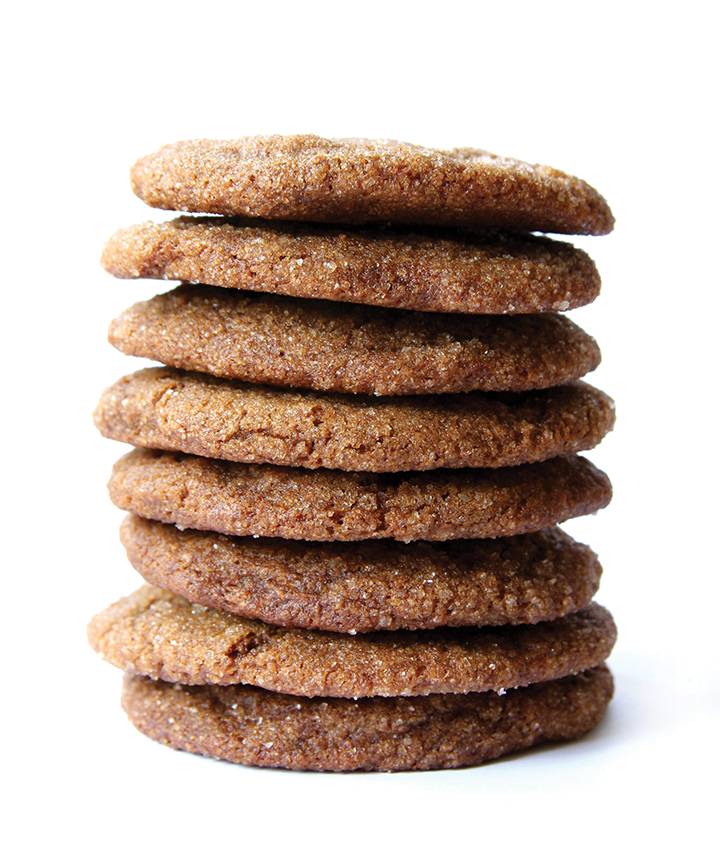 READY-WHEN-YOU-ARE GINGER SNAPS
This is an easy icebox cookie — make the dough in advance and chill (or freeze) in two-inch logs, and then just slice and bake to order. For real adult gingery flavour, include the chopped candied ginger and a pinch of white pepper or cayenne in the mix.
• 3/4 cup dark brown sugar, packed
• 1/4 cup granulated sugar
• 3/4 cup butter, softened
• 2 large eggs
• 1/2 cup ground almonds
• 1/4 cup minced candied ginger (optional)
• 2 1/4 cups all-purpose flour
• 2 tsps ground ginger
• 1 tsp each: baking soda and cinnamon
• 1/4 tsp each: ground nutmeg, cloves and salt
In a mixing bowl, combine the sugars and butter and beat with an electric mixer until creamed. Add the eggs, one at a time, and beat. Stir in the ground almonds and candied ginger, if using.
In another bowl, combine the flour and spices. Add dry ingredients to the butter mixture, mixing well. The dough should be stiff.
Form into rolls that are about 1 1/2 to 2 inches in diameter. You can use plastic wrap or parchment paper to form the rolls. Wrap tightly in plastic and refrigerate at least 12 hours before baking (you can also freeze the rolls for several months — just thaw before slicing and baking).
Using a sharp knife, slice the rolls to form 1/4-inch cookies and arrange on parchment-lined baking sheets, about an inch apart.
Bake at 350°F for 10 to 12 minutes, just until the cookies are lightly browned and crisped. Cool on wire racks and store in cookie tins.
Makes about 4 to 5 dozen.