An elevated mid-century modern build brings new shades to the concept of home.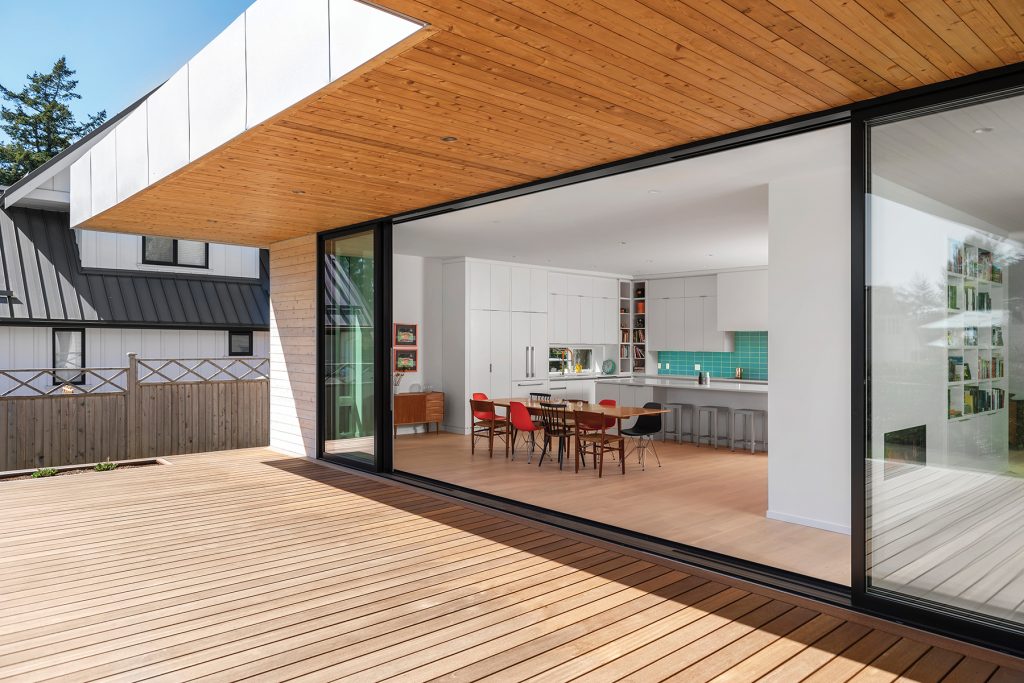 ---
BY DANIELLE POPE | PHOTOS BY: JODY BECK
When Ian Roberts, designer and builder of Flashhouse, first saw the property Tanja Pollock and her family had purchased in the Cadboro Bay area, he immediately envisioned drafting a home with striking modern architecture and mid-century charm.
Roberts knew the 1952 bungalow situated on the property was "ready for a crush," but the lot had plenty of potential for a new open-concept, single-level home with a spacious deck for enjoying Victoria's weather.
"The house fits with the established neighbourhood and emphasizes that mid-century look but is updated for today," says Roberts. "You'd be surprised how large the house actually is because it presents fairly quietly from the street. The materials, however, are in line with regionally accepted ones — cedar, cement and galvalume fascia that picks up all the colours when the sun is shining or setting."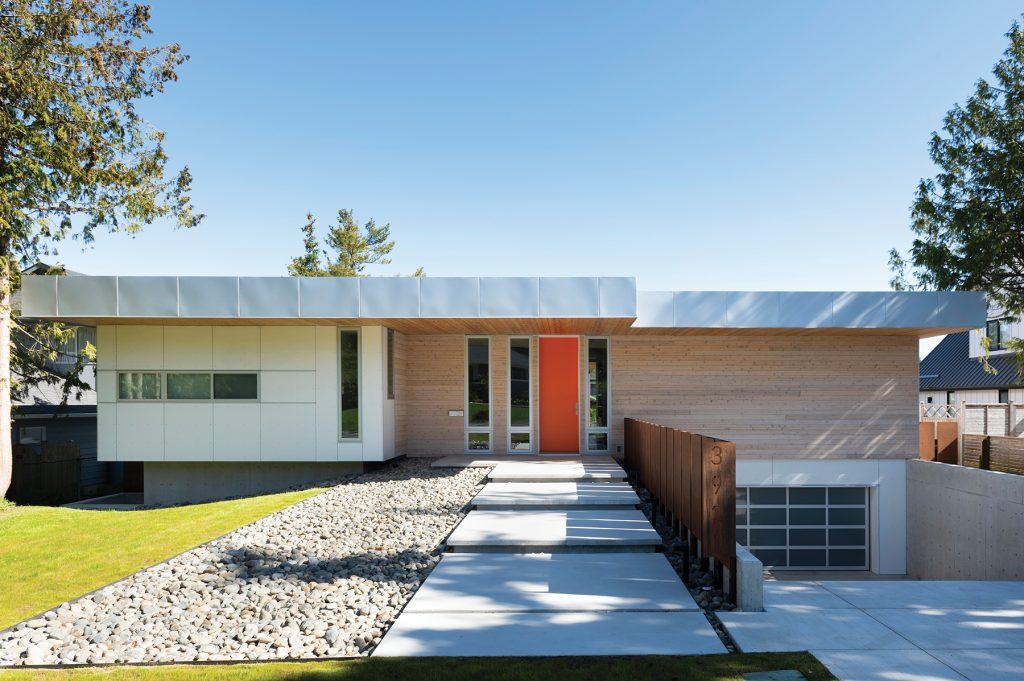 ---
Colour became a huge part of this build, both to suit Pollock's love of vivacious shades, and to create Roberts's design. Using a rotation of mid-century-inspired tones, the home's striking orange front door hints at the flair to come. Partnered with blonde oak floors, clean white walls and Nordic cabinetry, the contrast is dramatic.
Lorin Turner, principal interior designer and head of Zebra Interiors, part of Zebra Group, worked with Pollock on a previous project and joined this one with Roberts to create the interior design of the home.
"Tanja is not a fan of ornate design or fixtures, so we wanted to bring in a touch of character without adding clutter to the space," says Turner.
Turner's aim was to find unique areas to add pops of colour without taking over the design. Avoiding chandeliers and pendant lamps that might obscure natural light from the windows, elements like the teal tile backsplash in the kitchen succeed without overwhelming the room.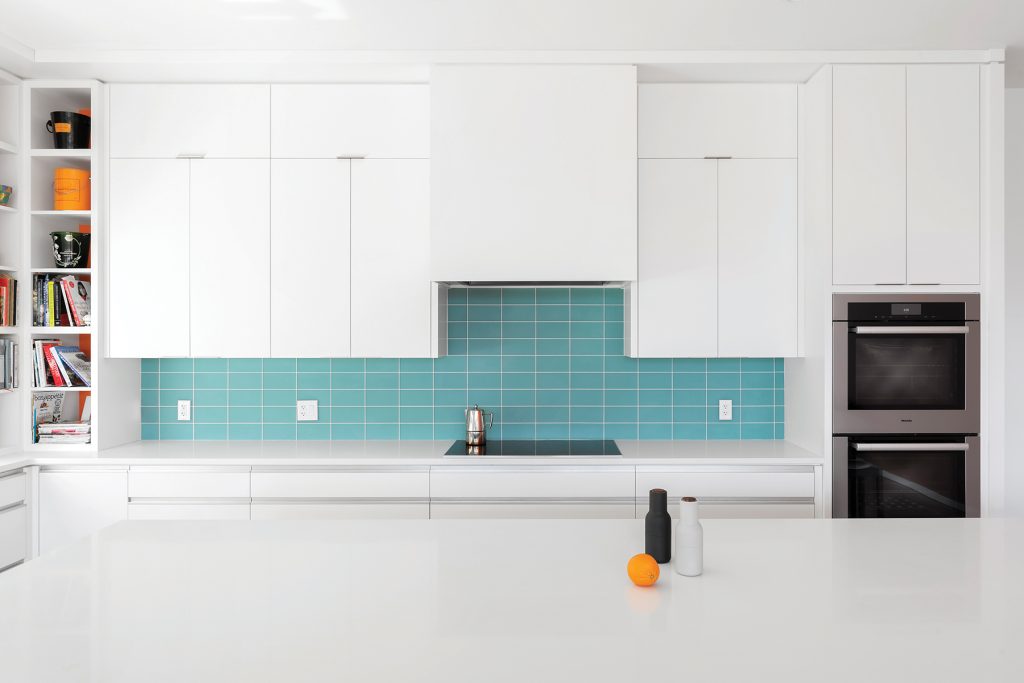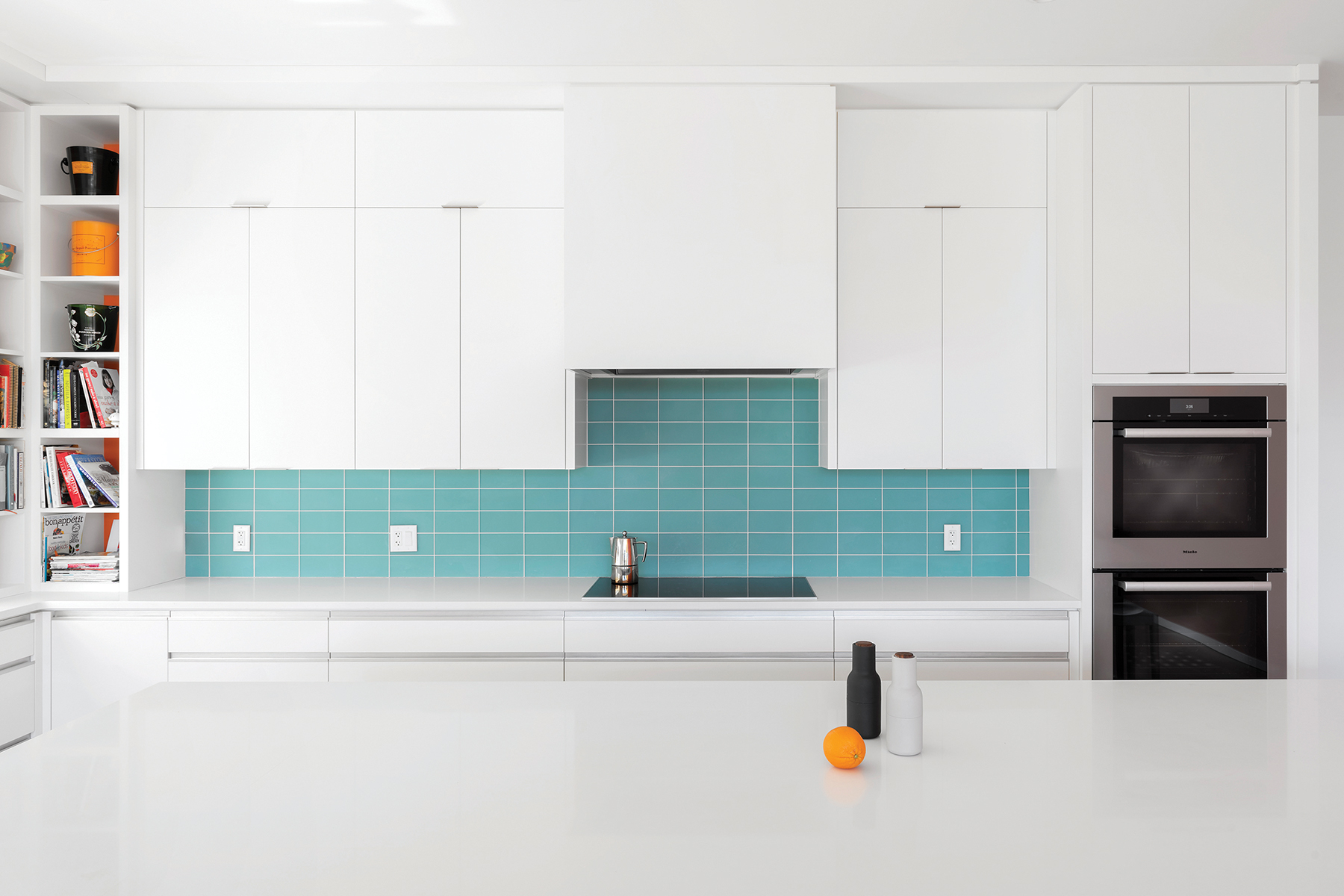 ---
"I absolutely love colour, and I've always liked bright colours," says Pollock. "The laundry room door is a bright pink — I love it. The doors to the boys' bedrooms are green and orange; I have blue turquoise for my bedroom, and the kitchen has a big orange feature wall, framed by surrounding white walls. It makes me happy. I think colour energizes you and makes you smile, and it battles the Victoria grey."
While Roberts says the colours were client driven, they also became an anchor to the design. With no notable view to focus on, Roberts wanted to create an exterior treatment that provided its own atmosphere, including an outdoor space that would inspire the family to be outside in the area's generous shoulder seasons — with an extra large Red Balau deck, along with badminton and volleyball areas.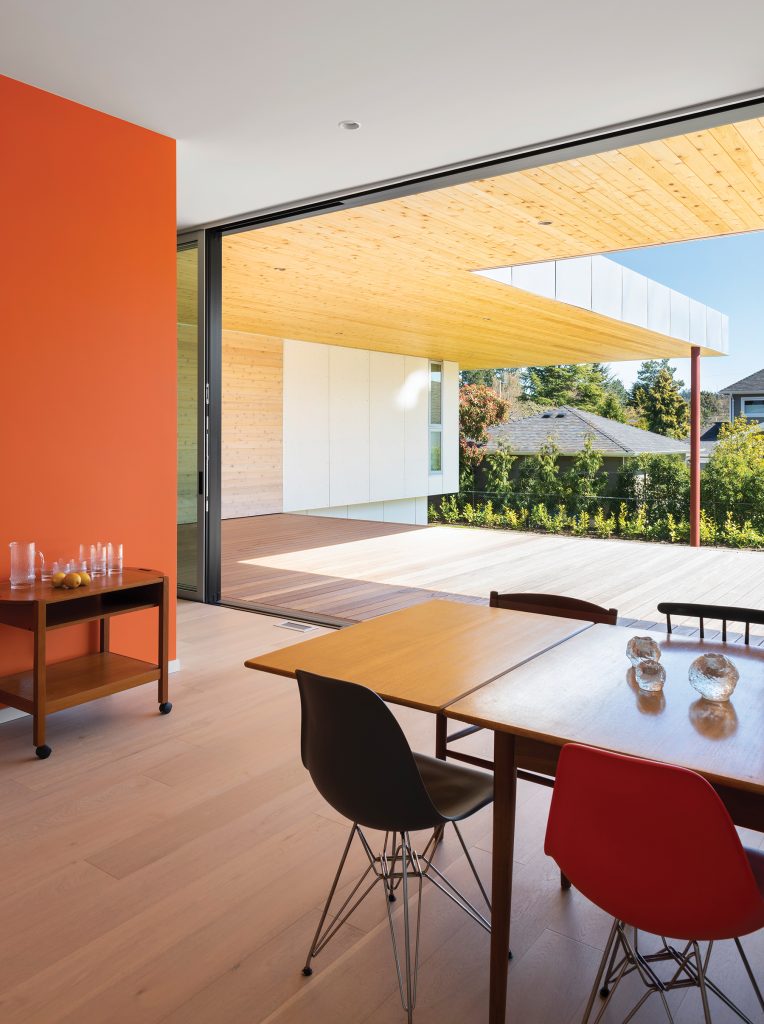 ---
"Tanja has had orange in every home she's lived in, and for this build she allowed the kids to pick whatever colour doors they wanted for their rooms," says Roberts. "She wanted to open up her whole house to light and colour, and even make the shadows create their own art."
In Pollock's previous home, rooms that went unused were a major issue. To address this, Roberts gave Pollock's twin sons larger rooms and bathrooms, and enhanced the sitting areas, inside and out.
The 4,600-square-foot home includes a wall of sliding glass windows off the kitchen to welcome in as much light as possible. Elements of light and colour appear throughout the house's four bedrooms, five bathrooms, basement media room and living areas. One of Pollock's favourite features is the built-in library wall next to the fireplace that allows for a tranquil environment for reading with a cup of tea, and hosting her collection of literature and choice antiques.
"Tanja is an avid reader, so the bookshelves were essential to this design," says Roberts. "Because of her collection of heirlooms, mid-century furniture and art, this home has a very eclectic style. Something I often encourage clients is to let their homes grow 'hair' — you don't want to live in a museum. Anything that gets touched needs to have a personable feel to it."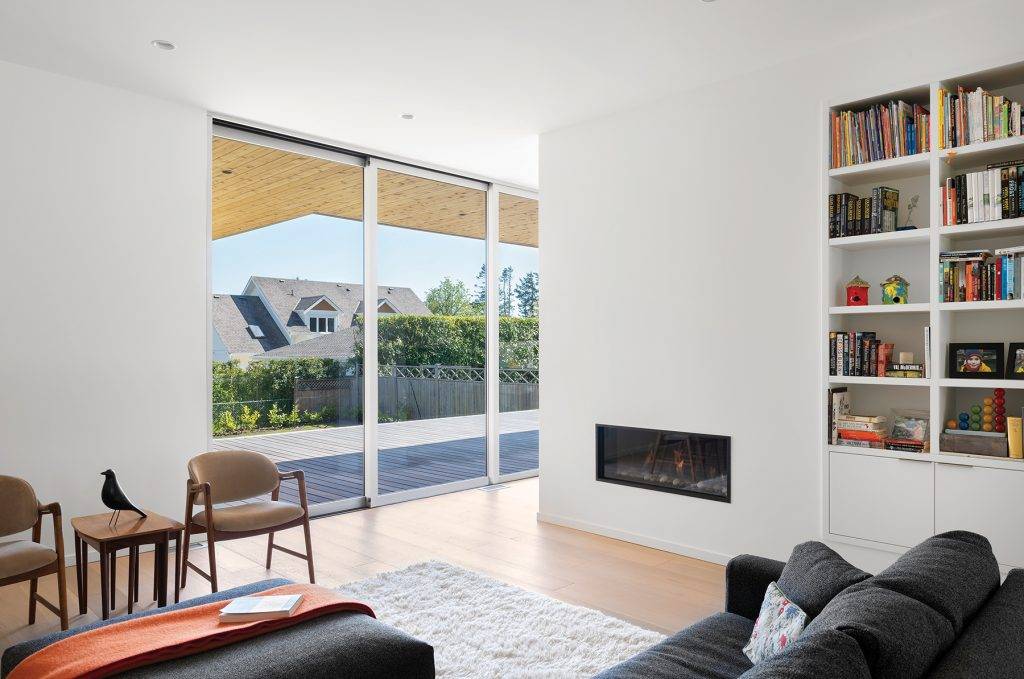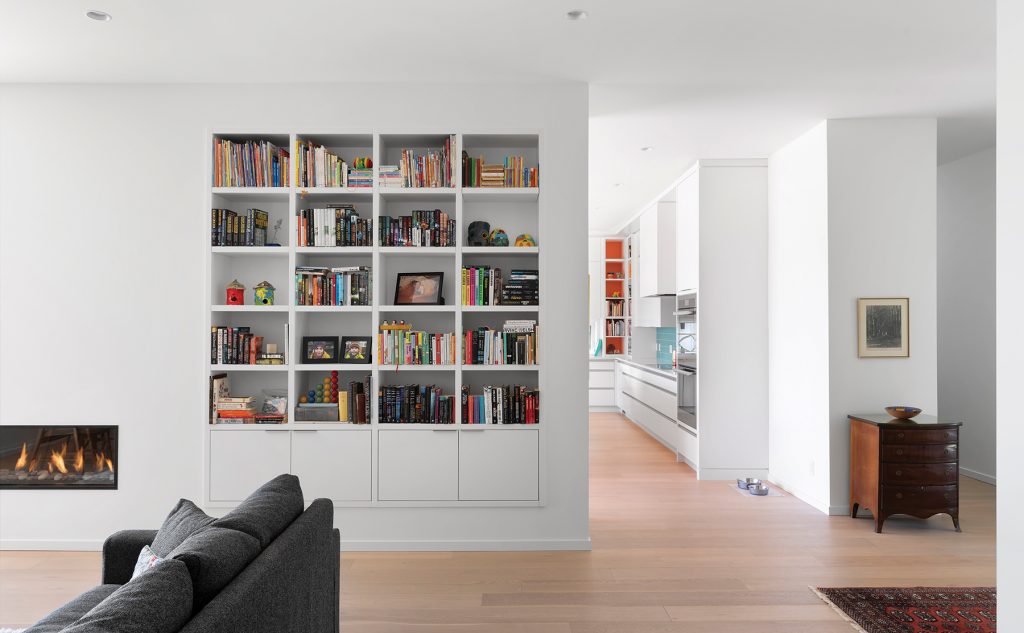 ---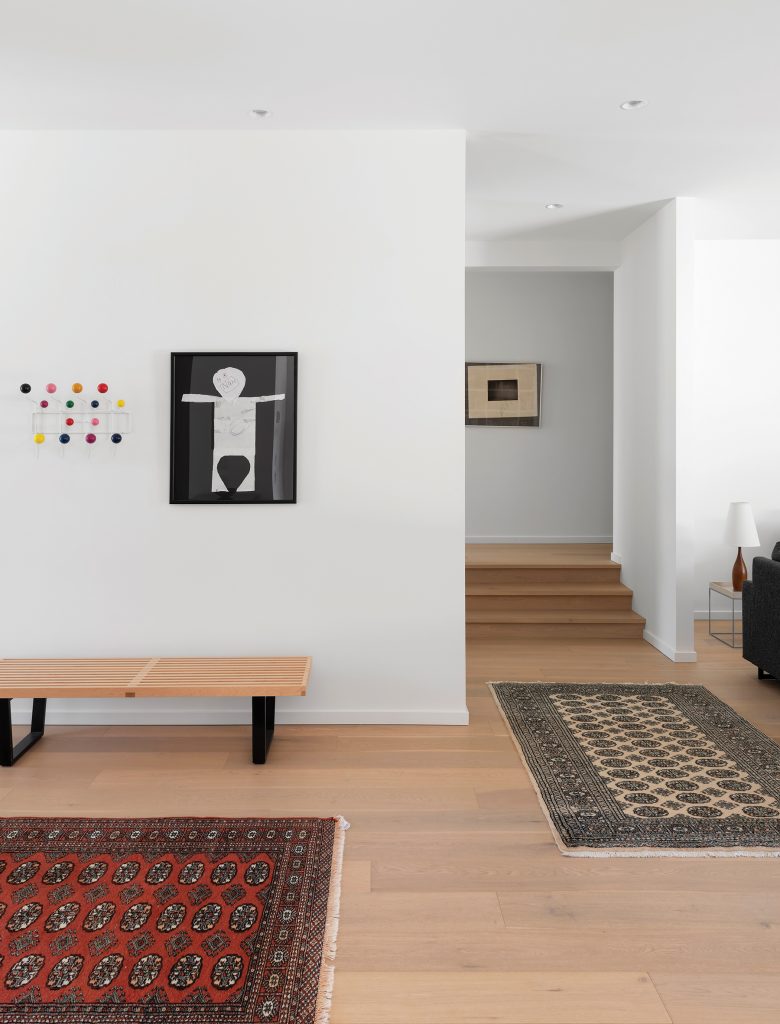 ---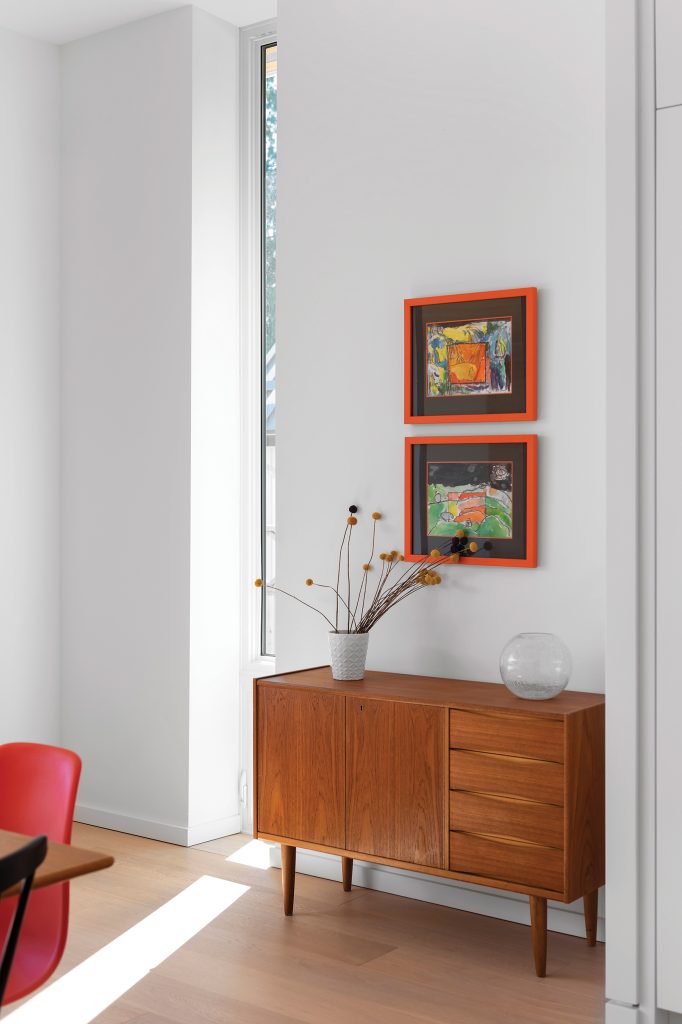 ---
Roberts's personal success in this build is the exterior of the home — from the poured concrete slabs to the gently graduated incline and the guards made of oxidized steel, designed to weather the west coast climate. For Pollock, the indoor-outdoor living is the perfect match, year round.
"I love the sitting room, when we have friends around over the holidays, just sitting by the fire, and I love mornings in the summer, standing in the kitchen with all the light streaming in," she says. "Having that room open to the deck means I can walk straight out to all that extra space and just enjoy."
Resources
Designer: Ian Roberts, Flashhouse
Builder: Flashhouse
Interior: Lorin Turner, Zebra Interiors, Zebra Group
Framer: Coulas Contracting
Plumbing: Good Grade Plumbing and Gas Co.
Mechanical: RedBlue Heating & Refrigeration
Electrician: Pardell Electric
Light fixtures: McLaren Lighting and Gabriel Ross
Doors and hardware: Slegg Building Materials and Karmanah Wood Design
Windows: Vinyltek and Complete Windows
Roofing: A. MacKenzie Roofing
Tile: Ricardo Pontedura, Premium Tiling
Countertops: Colonial Countertops
Plumbing fixtures: Andrew Sheret
Flooring: Paul Werthner, Hourigan's Flooring
Landscape design: Bianca Bodley, Biophilia Design Collective
Steel and metalwork: Broadwell Metal Company
Cladding: Cardinal Carpentry