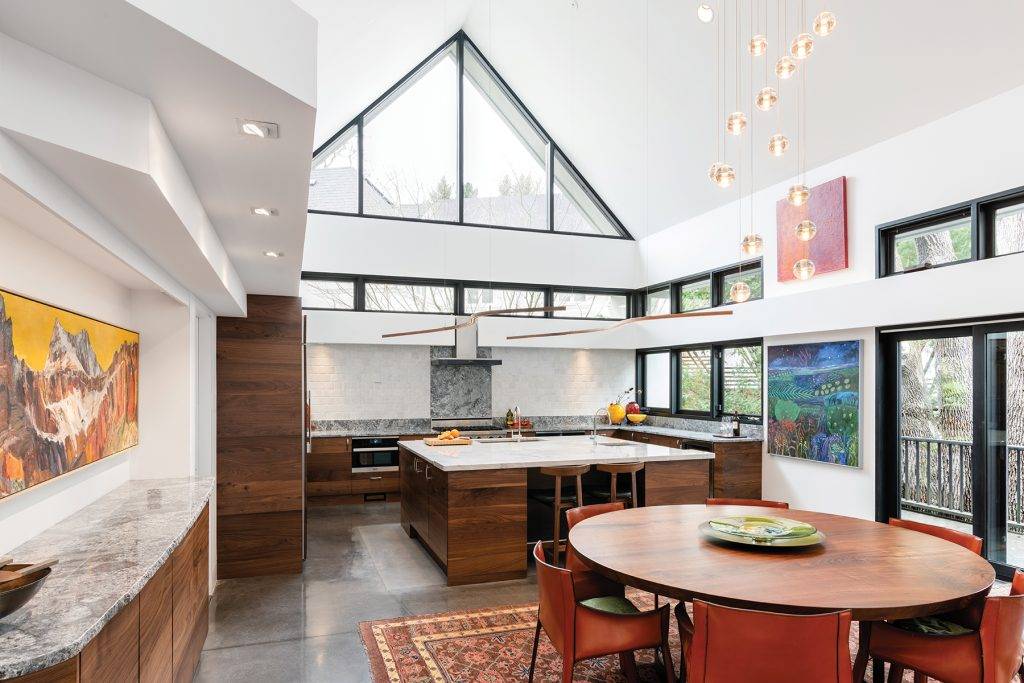 ---
An artful renovation transforms a stark Uplands home into an epicentre of creativity.
BY DANIELLE POPE
When designer Ann Squires Ferguson walked onto the site of a renovation in a prestigious home in Victoria's Uplands district, she knew it needed transformation. While it was beautiful, there was something off about it.
"The home didn't represent the client's appreciation of natural beauty. It was stark to the point of being austere," she says. "The bones of the house were really like a skeleton; it was bare, and it needed flesh."
The house was built in the 1990s by an architect firm from San Diego, but the iconic modern geometric structure was defined by sharp edges, triangular shapes and a sombre colour palette. High-gloss grey cabinets paired with vaulted windows, concrete flooring and minimalist touches.
"The homeowner said to me, 'Why don't we make changes so I can sell it?' " says Squires Ferguson, CEO of Western Design+Build and Design District. "I told her, 'We're going to make changes so you fall in love with it, and you'll never want to leave.' "
In an effort to reclaim the space, Squires Ferguson drew inspiration from an unexpected place: her client's wardrobe. The woman loved the arts; she was inspired by creativity and championed it for many venues. She was also a respected professional and at the helm of a large family. Her personal style reflected elegant textiles and natural fabrics.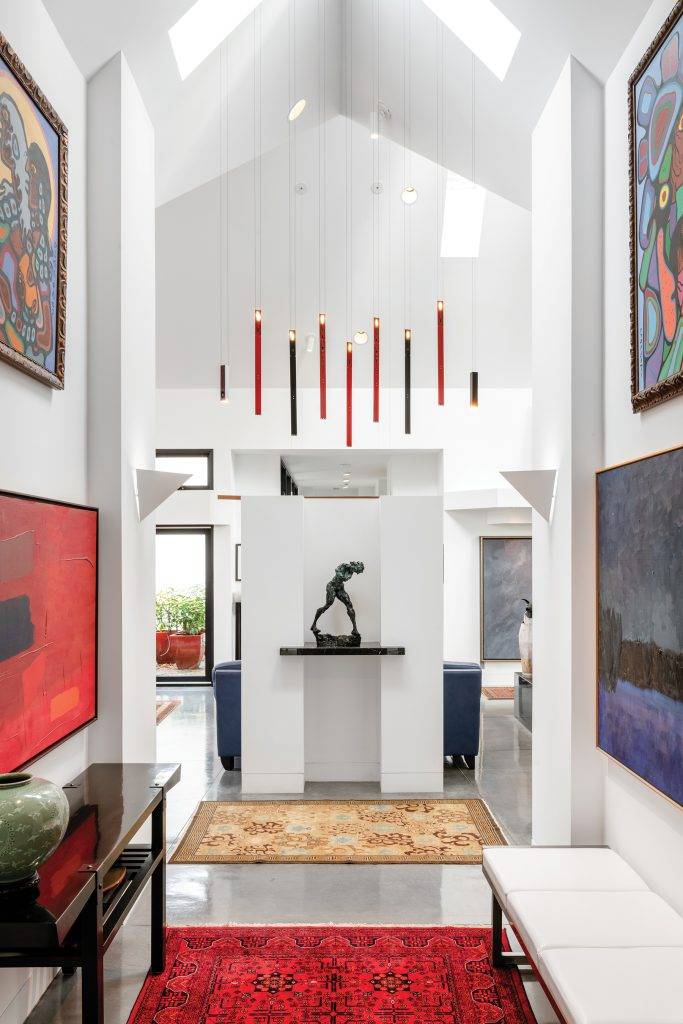 ---
"We can learn a lot about someone by what they choose to put closest to their body. A question I will sometimes ask is 'What do you love to wear?' " says Squires Ferguson. "This client had a refined esthetic and knew what she liked. We wanted to bring in an organic sensuality to the space: curves, textures and natural movement."
Art and texture were the anchor of this project, starting from a unique circular walnut table the homeowner acquired from Live Edge Design's OneTree Exhibition — an event that celebrated the value of a single tree by creating as much beauty from its wood as possible.
The owner was so moved by the design, she asked Live Edge to complete her kitchen with the same mission, using a single slab of walnut. Squires Ferguson and her team were drafted onto the project to assist in the design, and today the cabinetry displays the unique growth of a tree across the entire kitchen.
"Most cabinet makers would say there are a few things that make it impossible to make solid slab doors like that," says John Lore, owner of Live Edge Design. "For one, it is virtually impossible to purchase wood long enough to have the grain match horizontally around the entire kitchen. As well, humidity changes cause too much wood movement to have large expanses of wood in that orientation without having the doors shrink or warp. For these reasons, saner cabinet makers would use a thin veneer to achieve this look, but we like to create something that will last generations."
To bring more natural movement into the space, Mike Randall, principal designer of Mike Randall Design, was brought in to create his sculptural lighting, with two custom 10-foot black walnut S-Lights installed over the island. These paired with twin six-foot black walnut S-Lights over the couches in the living area to bring cohesion to the large space.
"The biggest challenge was making the custom 10-foot lights," says Randall. "Every step of the process, from shaping the 12-foot blanks to the glue-up, balancing and wiring, was a challenge because of their size. However, in a space like this, where the added organic feel of the shape fits perfectly with the overall design, they are ideal."
Natural textures were amplified by the use of three distinct stones — a tumbled white marble backsplash, granite on the perimeter cabinets and a single slab of stone on the oversized eight-by-eight-foot island, which is subtly seamed with a raised bar top. Intricate touches, like the rough-hewn edge on the side table, bring the hint of a mountain range into the space.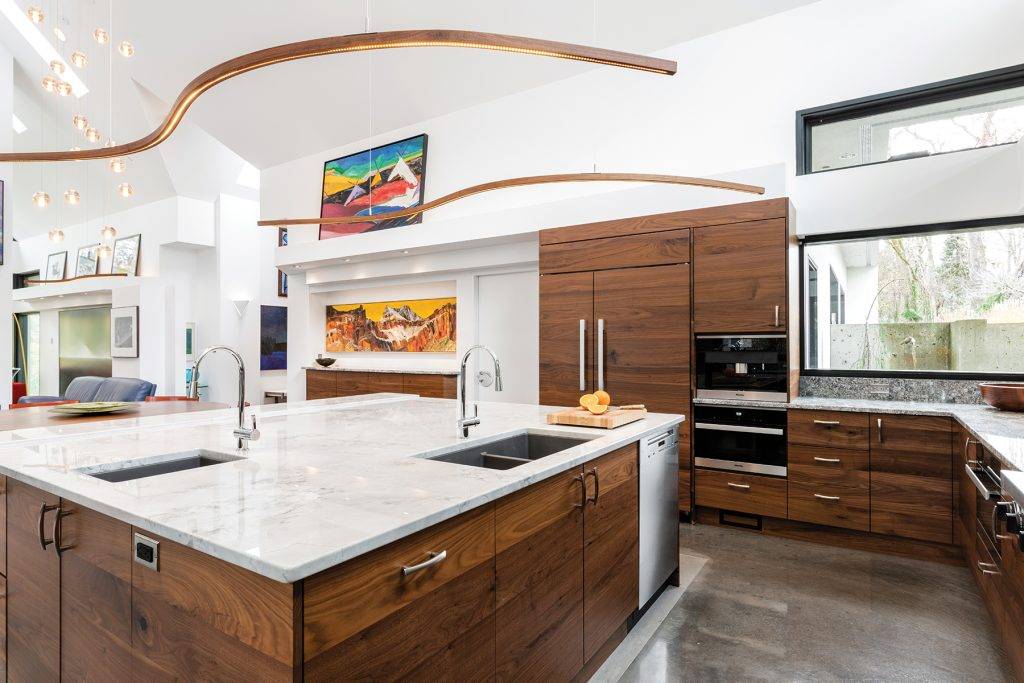 ---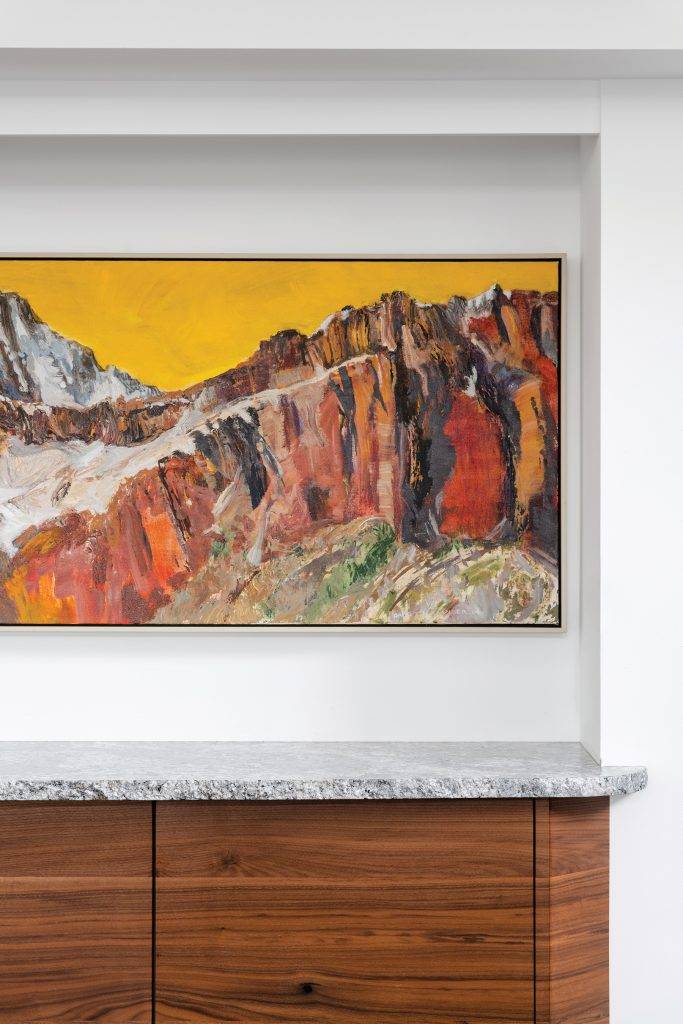 ---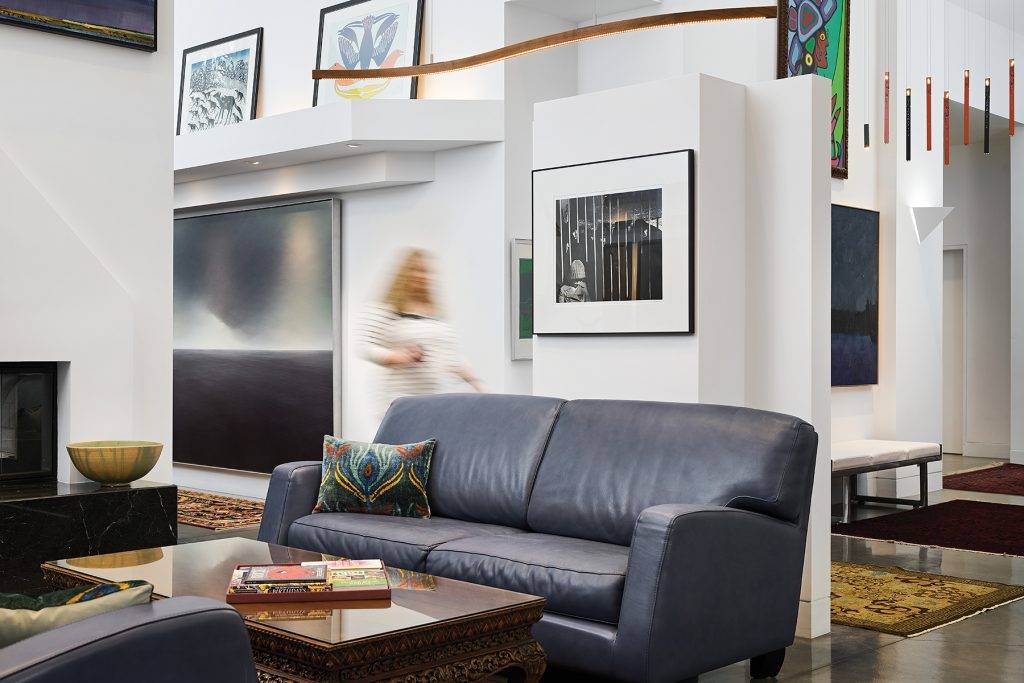 ---
"It's like you're having a picnic every night, gathered around this epic stone in your home," says Squires Ferguson. "It has this velvety, rich texture, which you don't usually get to say about stone. It really speaks to the homeowner's elegant sense of style."
While much of the kitchen was re-visioned, some signature pieces stayed, like the pre-existing gas range and wine cooler. For a large, close-knit family that loves to cook, Squires Ferguson says this area is the epicentre of the home. Kitchen projects often include at least two workstations, but this project required six work centres to accommodate grown children and their partners.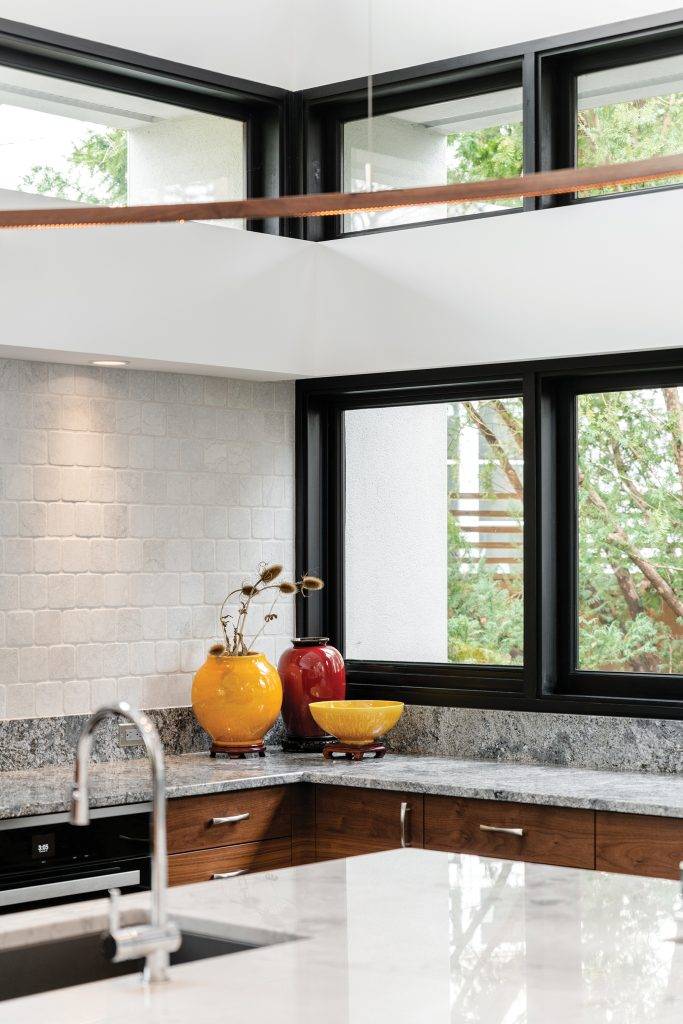 ---
The design also welcomed modern conveniences, such as a motorized lift cupboard for storing an out-of-sight mixer, integrated touch panels for the dishwasher and fridge drawers, pull-out wine glass storage and technology to keep items hidden but accessible.
"The design for this project was really functional, feminine and sensual without being ostentatious," says Squires Ferguson, reflecting on the homeowner's personal approach. "Understated elegance is her in every way."
"We wanted to bring in an organic sensuality to the space: curves, textures and natural movement."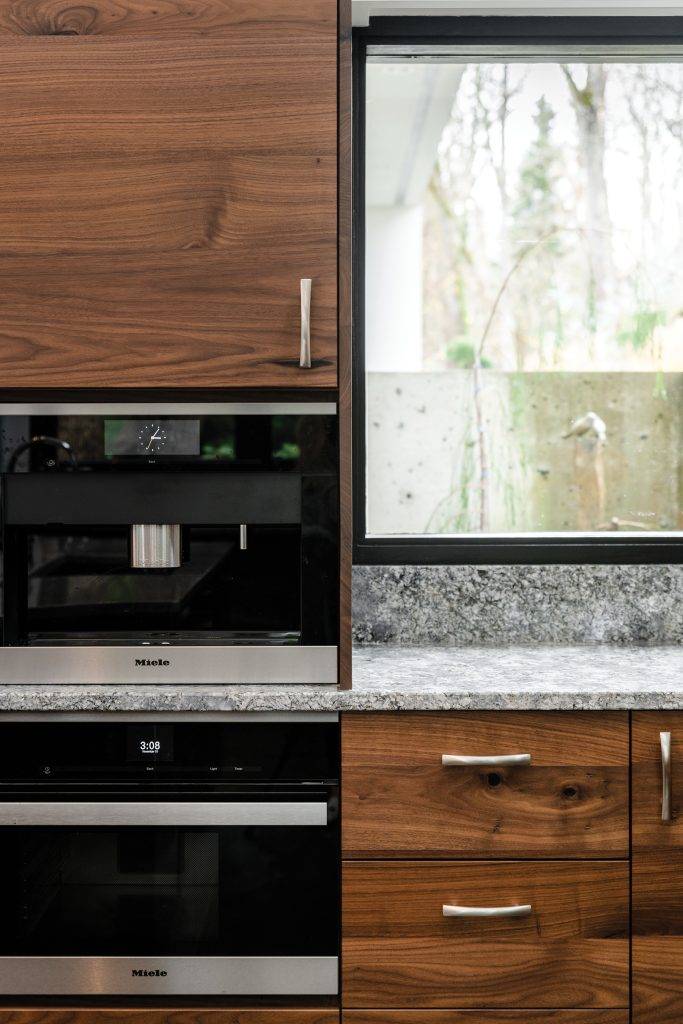 ---
"The design for this project was really functional, feminine and sensual without being ostentatious."
When it came time to redo her kitchen, the homeowner asked John Lore of Live Edge Design to warm up the contemporary-styled concrete with walnut to match the centrepiece round table. To achieve this, Lore used solid walnut wood slabs, all made from the same tree, with its grain running horizontally to align from door to door.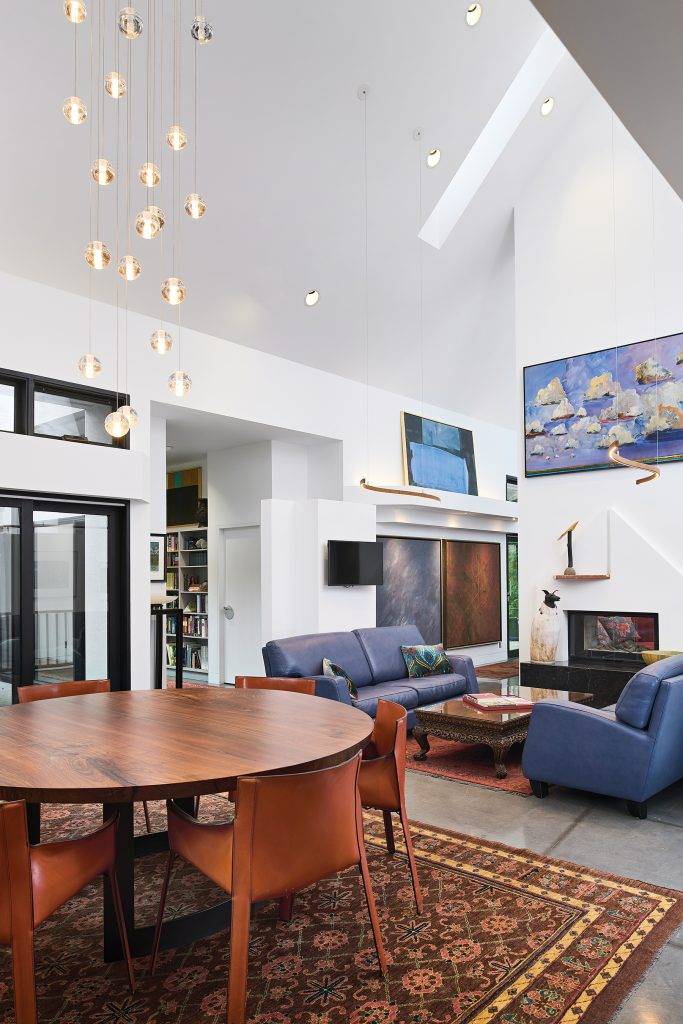 ---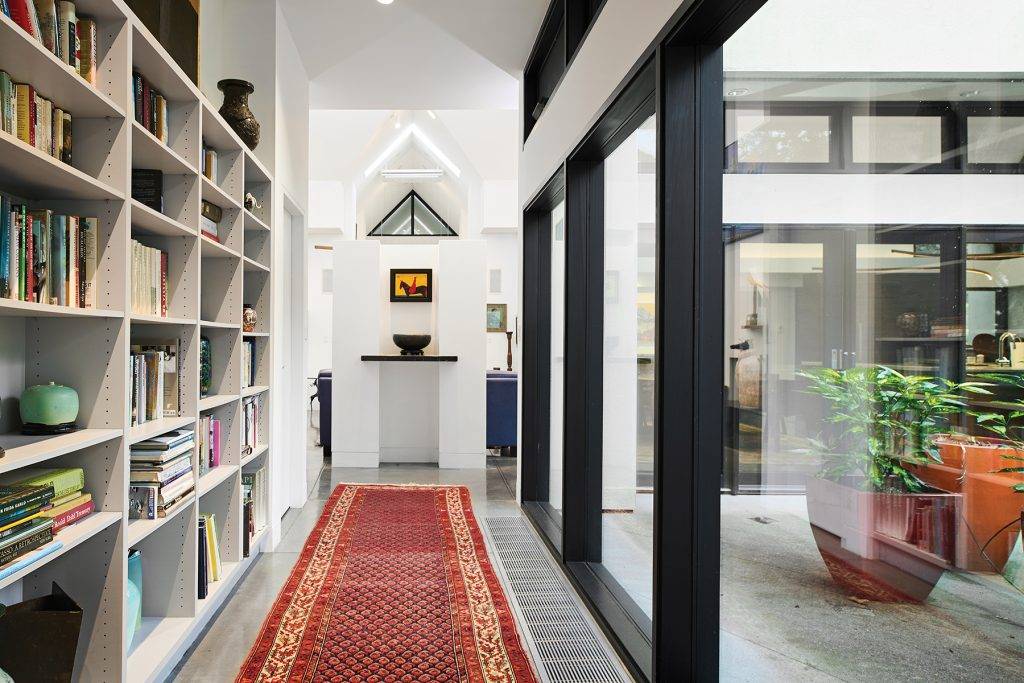 ---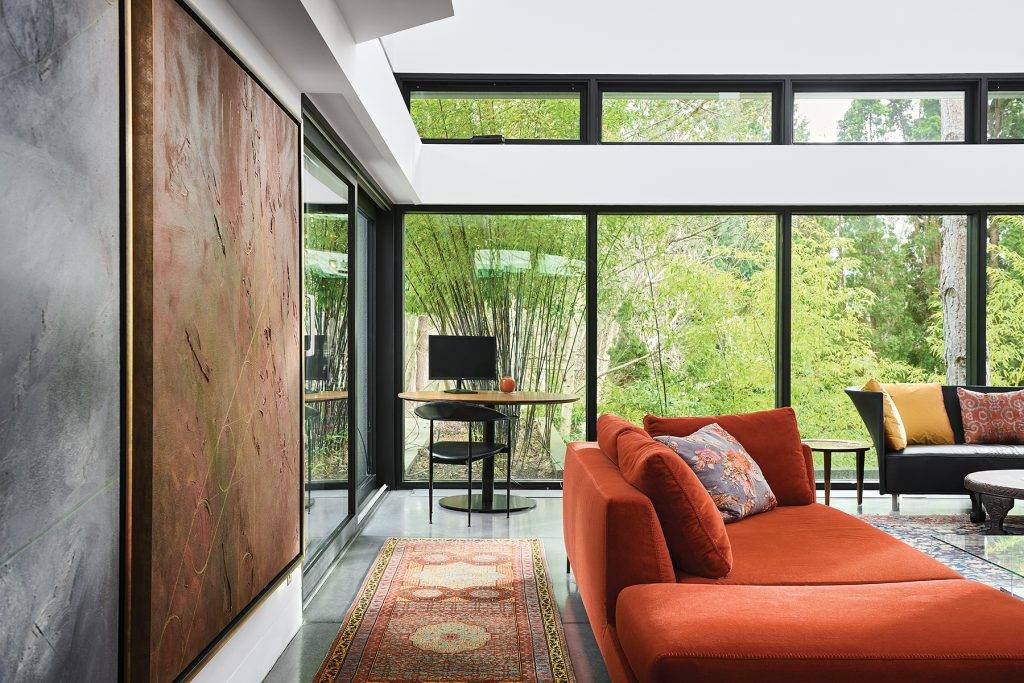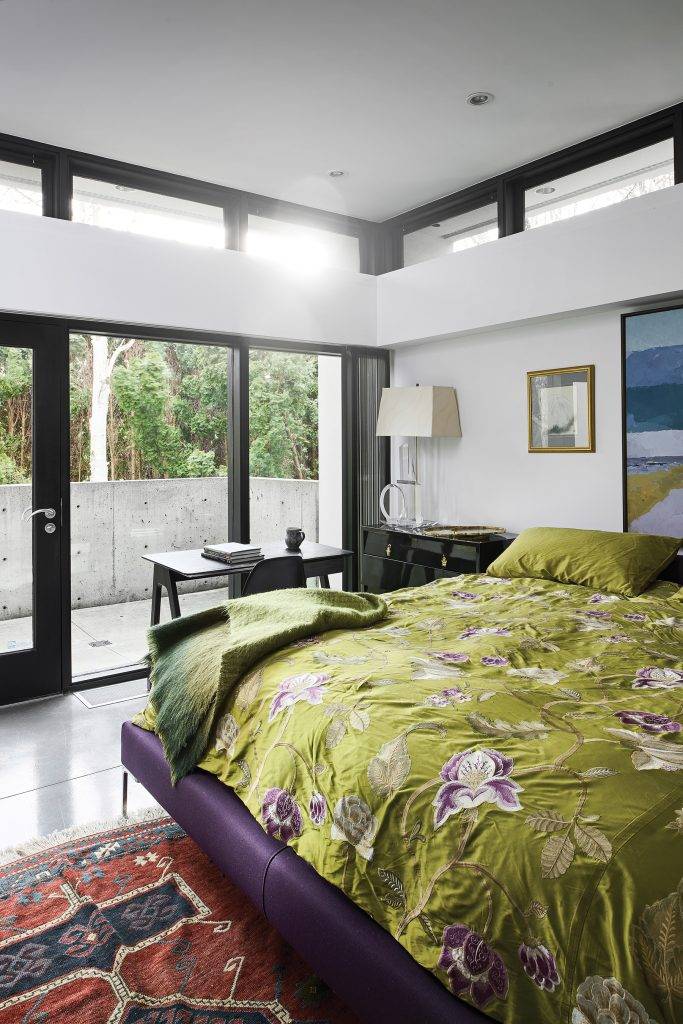 ---