A full renovation turned this 1913 heritage home into a masterpiece fit for a family. Take a tour through this charmed, elegant home.
By Danielle Pope | Interior Photos by Janis Nicolay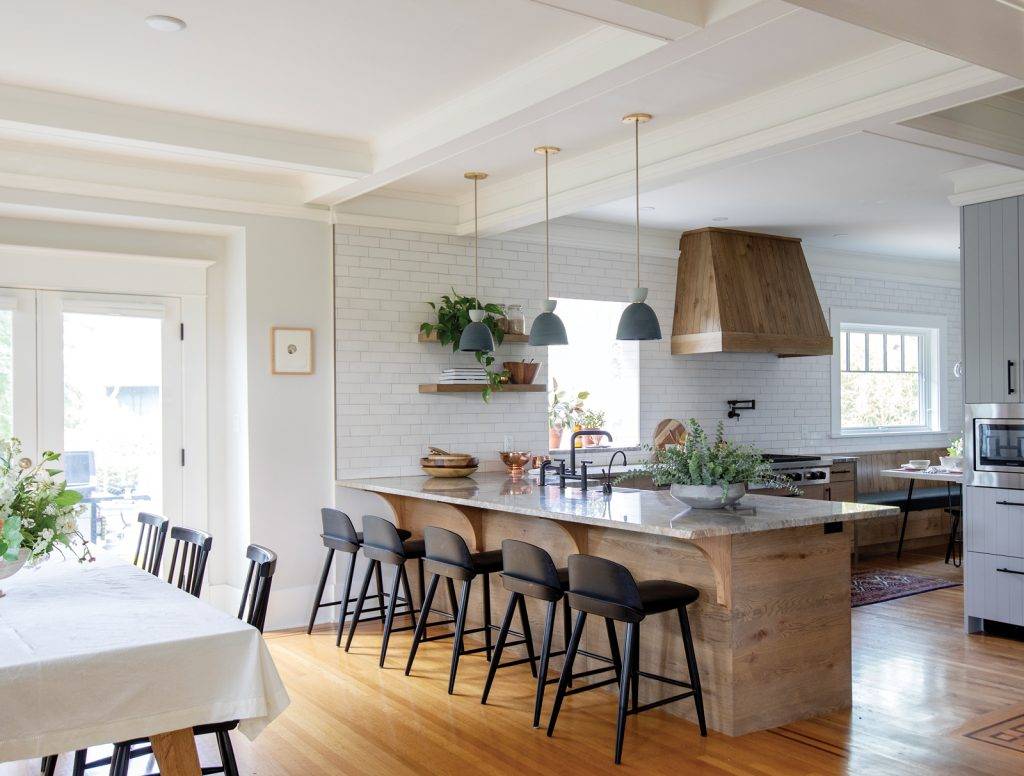 When Susan Hollis and her family moved back to the Island, they knew they were coming home, but she didn't realize how close to home it would actually be …
After staying with Hollis's parents, the family discovered a house available down the street. It was a place Hollis had been before; she used to babysit there as a teen and would pass by on walks, sometimes stopping at the lemonade stand out front.
"The house I grew up in was only six doors down, and my oldest brother lives just behind it," says Hollis. "Right away when we walked in, it just felt like home, even with the office-grade finishings and a style that didn't really work. The bones were beautiful."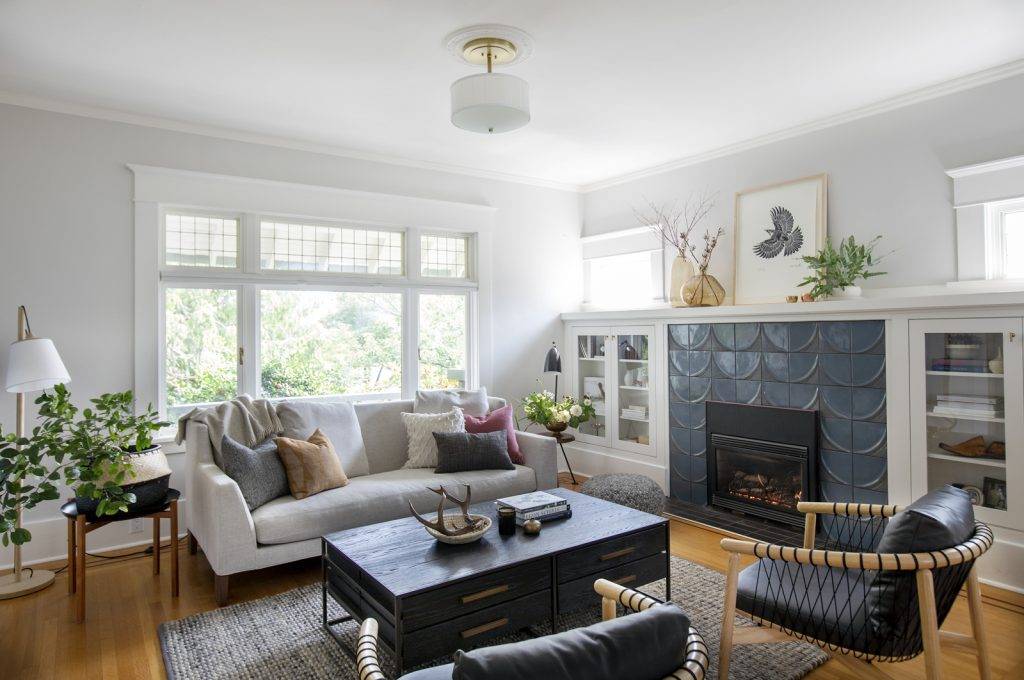 The living room, off the entry, acts as the showpiece of this house, destined to enchant visitors with the Ann Sacks Ribbed Moon tile elegantly surrounding the fireplace. The Salari rug brings texture and durability to this room, while the Herman Miller Crosshatch lounge chairs by Gabriel Ross keep this space looking fresh.
---
Hollis was enchanted by the 1913 craftsman style, the coffered ceilings, the vintage stained-glass windows and the way the light welcomed visitors into the space. She could see challenges: despite the home's generous 3,756 square footage, there was very little storage, and an awkward water closet in the office presented logistical problems for their growing family.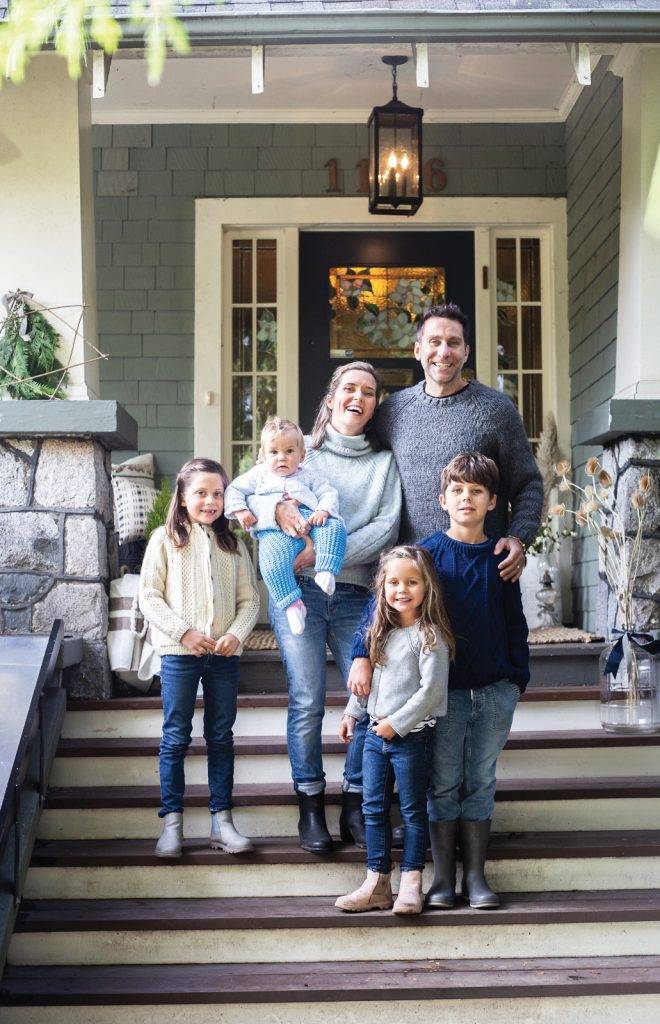 After purchasing the property and living there for a year, Hollis crystallized her vision for a space that could last them for decades to come — and she enlisted Bidgood + Co. Interiors to help.
"This is a very active, vibrant family, and we got a good taste of their lifestyle and how they needed to use the home," says principal designer Kyla Bidgood, who worked with then-colleague Kris Hageland on the home. "We wanted to keep the character and create a modern family home without losing the charm.
Considerations ranged from restoring the ceilings and heritage features to restructuring the traditional dining area, so Hollis could watch the kids while cooking.
"It was important we didn't design something too precious — we wanted rustic and hard-wearing, while still being elegant," says Bidgood. "It's a nice challenge to create something that works for a modern family and holds deep respect for architecture of the past."
Hollis wanted a kitchen that would allow her to keep eyes on the kids while preparing meals. The traditional breakfast nook doubles as a craft table, keeping everyone entertained and together. The fireclay Ceres brick tile feature wall and the natural quartzite countertops from Aeon Stone + Tile are made to endure long- term wear. The central cabinetry tower offers storage, complete with a coffee nook, while the kitchen's modern style is elevated by Hazel Small Beaded Bell pendants from Rejuvenation.
---
Today, the home is a haven for Hollis, her husband and their four kids. A collection of ducks greets visitors passing by, and the entry is punctuated by equal parts charm and childhood wonder — from the cast-iron gate and manicured lawns to a hidden playhouse and stair slide that inspires getting to school on time.
The front door opens to expansive red oak floors, with original decorative perimeter inlay, and vaulted ceilings, lift to bright, stained-glass windows. The space exudes heritage beauty, yet modern accents offer a rustic, mid-century flair.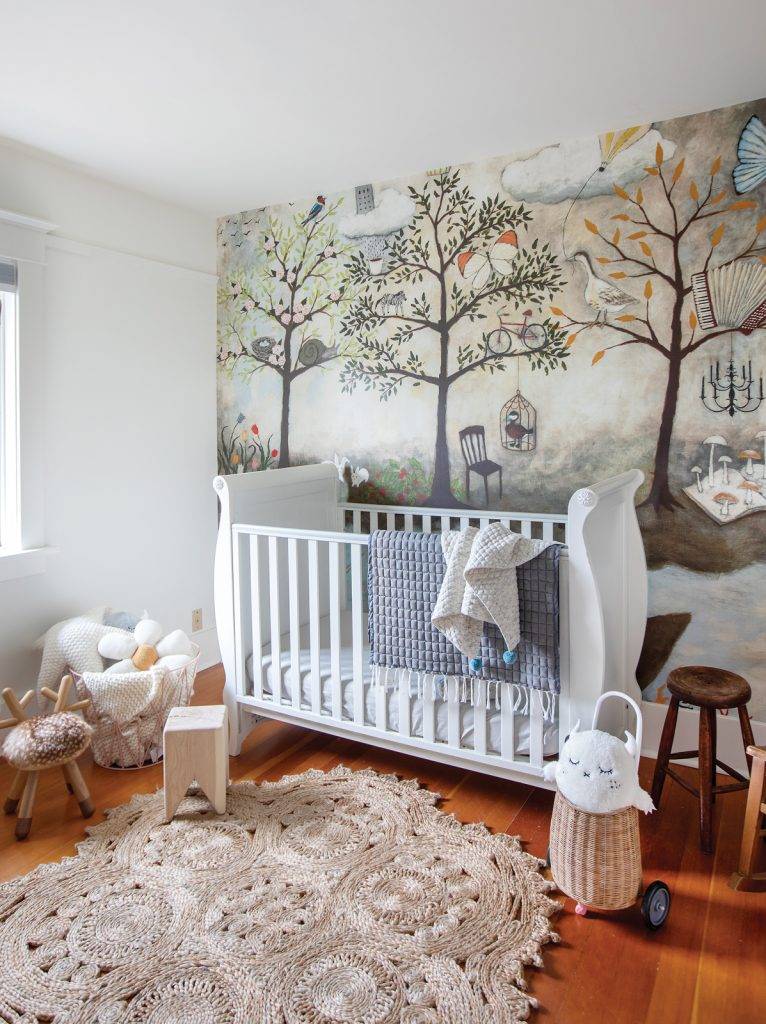 The nursery is now occupied by nine-month-old Fraser, the "celebrity" of the house but has gone through its own iterations since daughter Lise was in her small days. The wall mural by Anthropologie creates a sense of enchantment in this space, and a macramé rug by Maude Kids, as well as the Bambi Children's chair adds delightful flair.
---
One of the home's biggest transformations is the kitchen's floor-to-ceiling cabinetry tower, offering pantry storage, refrigerated drawers and a powder room (around back) to avoid people running through Hollis's office.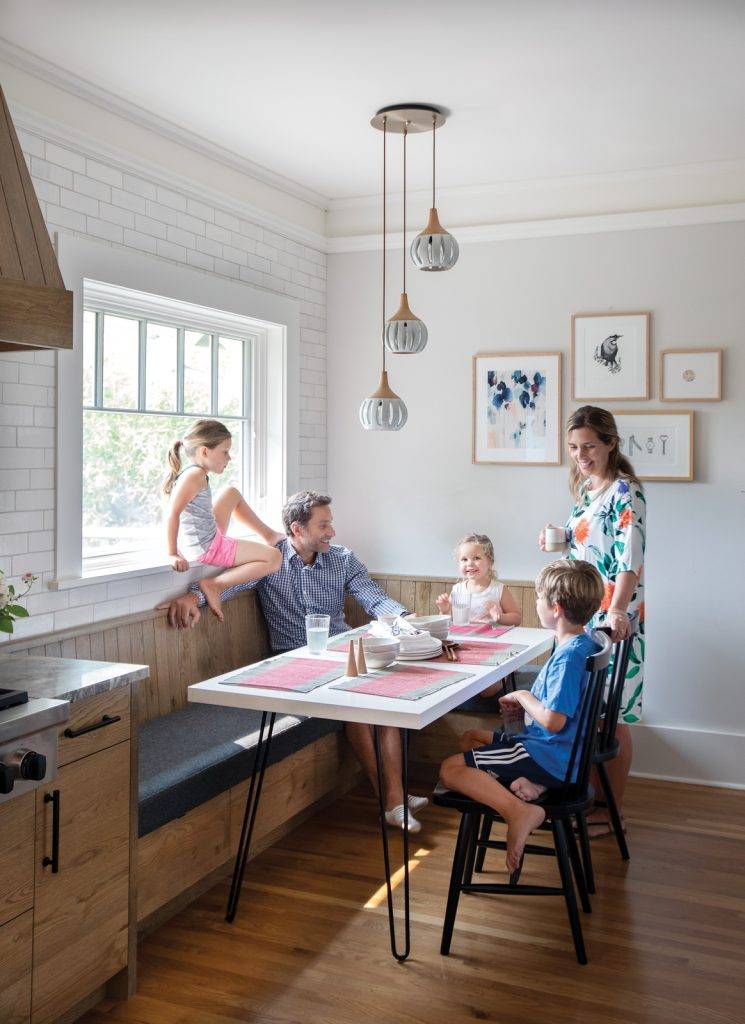 Natural wood cabinetry and vertical beadboard gives the kitchen its rustic appearance, partnered with sophisticated fixtures, natural quartzite countertops and hand-painted tile. The breakfast nook acts as the kids' craft area, as the family usually dines at the expansive island, and the dining area is used for playtime or feasts for their [pre-COVID] 20-plus extended family gatherings.
"The main floor is perfect for us," says Hollis. "As a mother of four, I spend a lot of time in the kitchen and preparing food, so having a space to visit and have eyes on the kids means everyone can be in one space and enjoy themselves. It's really a free-play, creative zone."
The master bedroom also went through a conversion, enclosing a pre- existing sunroom to expand the space for a larger bed and closet. The upper floor now accommodates four bedrooms, including a shared bunk room for sleepovers and sibling time.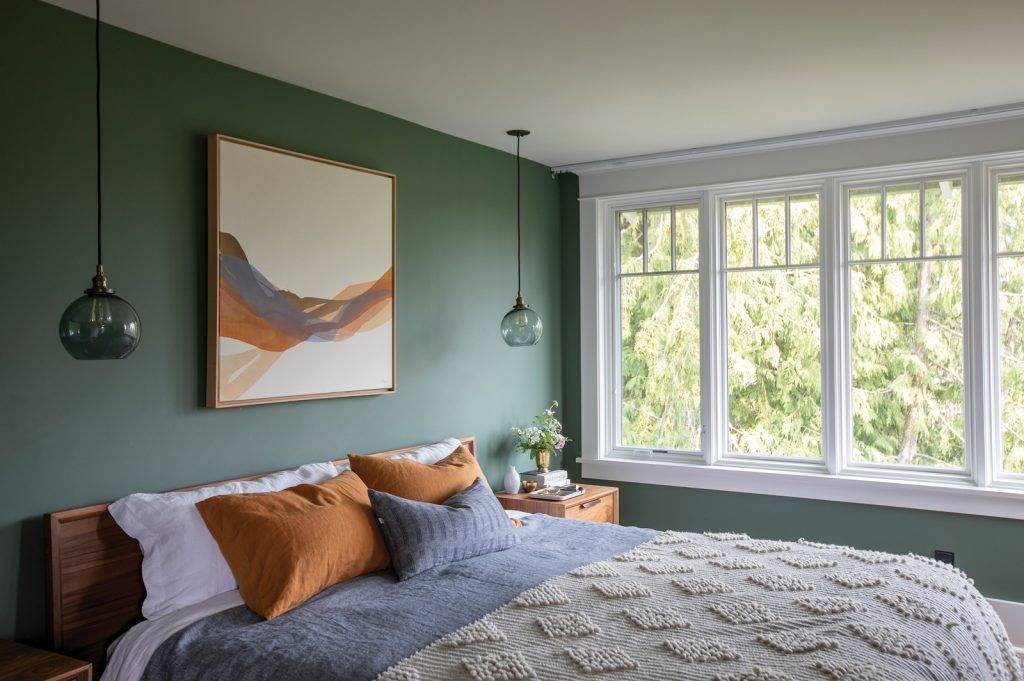 The master bedroom acts as a retreat for Hollis and her husband. The room was enlarged by enclosing the sunroom and expanding the usable area to accommodate a larger bed for family snuggles and closet space for storage. The Benjamin Moore Cushing Green wall paint and the Lauren Mycroft original art piece adds a sense of calm to this room, and a heritage dresser holds Hollis's beloved typewriter.
---
As the youngest of four myself, I've always liked the idea of kids sharing bedrooms, even if they don't have to," says Hollis. "We wanted to encourage their friendships and make sure there was space for chatting and reading and having pillow fights together. At night, we lay in bed listening to their quiet talks, and I love that."
Even with a durable focus, elevated features enliven each space — from the Ann Sacks stoneware tiles around the living room fireplace to the enchanted Anthropologie mural in the nursery. Every element is designed to wear in over time.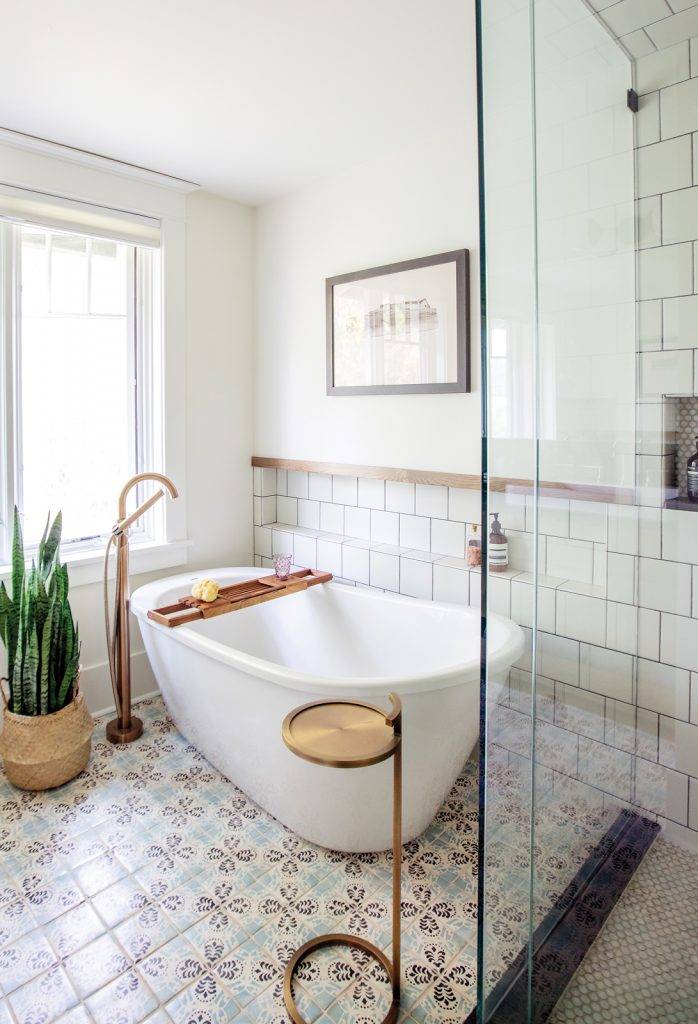 While stealing away for a bath may seem an uncommon luxury for Hollis, the master ensuite is designed with rest in mind, featuring Ann Sacks Tabarka Series floor tiles and a Maax Ariosa free-standing tub. The champagne bronze tub filler from the Delta Trinsic Collection pairs with the West Elm side table, perfect for holding glassware during those rare stolen moments.
---
"The best part of my job is seeing how a renovated space impacts the family," says Bidgood. "You want a home that becomes a natural fit, like your favourite pair of jeans. This home has become an extension of Susan and her family, and it's beautiful to see that come to life."
RESOURCES
DESIGNER: Bidgood + Co. Interiors
BUILDER AND FINISHING CARPENTRY: Strong Construction Group
COUNTERTOPS: FloForm Countertops Victoria and Aeon Stone & Tile
TILE: Hourigan's Flooring and Ann Sacks FLOORING: Hourigan's Flooring
DOORS AND HARDWARE: Slegg Building Materials
CUSTOM MILLWORK: Island Custom Cabinetry | Strong Construction Group
GLASS: First Response Glass
PAINTING: Coastal Painting
PLUMBER: H.I. Mechanical
ELECTRICIAN: Capson Electric