By Erin Renwick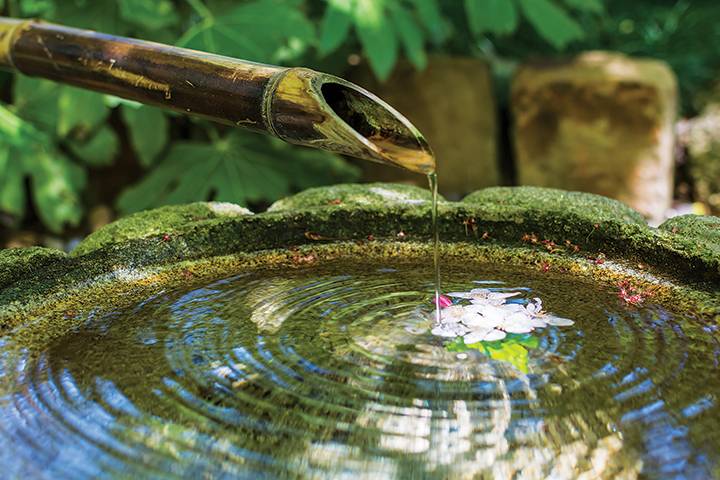 ---
I remember the first time I felt that punch-in-the-gut awe that a successfully artistic landscape delivers. It was the same feeling that great art evokes in many of us — my limbs tingled, my heart sped up, my breath caught in my throat.
It was in Berlin many years ago and I was with my husband and not-yet-one-year-old son. We had walked and walked that day with our little baby in his stroller, and as we wound our way back to the hotel in the afternoon, we came across these landscapes sculpted in a way that I had not seen before — serpentine rusted steel fences made only of slender vertical posts, so that you could imagine slipping through, but of course you never could, huge tilted blocks of concrete, unexpected and whimsical changes in grade, expansive urban ponds just a few inches deep with smooth swaths of concrete for walkways, and spaces that paid homage to the history of their sites through the repetition of shapes and materials.
The landscapes I was seeing looked like they had been played with, re-imagined and newly defined. There were no petunias spelling out Willkommen in Berlin in a flash of hot pink, that's for sure.
Yes, I thought, or rather, felt. This is art.
There is a question that sometimes hangs over landscape design: is the product a work of art? What we do know is that art in general can be defined as human creativity expressed in a visual form, to be appreciated for its power or its beauty. We think of paintings, sculptures or photographs, for example, but we don't often think of the built landscape as art — it is, simply, a garden. And sometimes it is just that, and of course a garden is a lovely thing, but I believe that, yes, a designed landscape can also be a work of art. The take-your-breath-away kind of art.
And what makes good, breathtaking art? None of us really seem to be able to put that into words, exactly, though we know it when we see it. Like most art, there is an unknowable quality to what will and will not be successful in artistic landscape design, and there is a certain risk in reaching for something unique. There are, however, a few ground rules and techniques to help us along the way.
First, before a shovel is put in the ground or a pencil is put to paper, creating an artful garden begins with inspiration. Explore your own passions by thinking back to any form of art that has inspired you. Can you translate that inspiration to your own garden through form, shape or colour?
For example, Victoria landscape architect Bev Windjack talks about gaining inspiration from modern dance, in which the body is seen as form. She says that she is inspired by the "juxtapositions of voids and solids … and some of the abstract geometries," and inserts some of those elements into her own designs.
Victoria-based landscape designer Jonathan Craggs sees things from a more practical standpoint, and his position is also an essential early step: an artful garden must take cues from the architecture of the existing home. It cannot be seen as a separate piece, but instead as a cohesive part of the whole. If the style of the home is contemporary, for example, a picket fence or traditional pergola will look out of place, and will essentially take the viewer out of the experience. As another locally based landscape designer, Duane Ensing says, when you are walking through a cohesive landscape, you're not picking out certain elements that you like or dislike, but you notice instead that the garden "feels right, and it feels successful."
---
Homeowners can take some of their best inspiration from landscape architects who work on commercial buildings — this is often where the cutting edge ideas are. A good example of cohesive landscape architecture here in Victoria is the landscape design at the Atrium (by D'Ambrosio architecture + urbanism and Murdoch de Greeff), especially in the courtyard.
Just like the warm wooden waves of the floors above, the rounded wooden benches and tables are contemporary and inviting in style, and seem to fit perfectly together. Imagine how this space would look if the benches were traditional in style, and the tables and chairs were plastic, like those of a food court in just about any mall you can name … well, it becomes not just an unremarkable space, but an uncomfortable one as well.
Not only should your chosen style and materials be consistent with existing architecture, according to Ensing, successful artscapes should also draw the visitor outside and through the garden in a thoughtful, specific way. He says that "there are architectural elements that you see from the patio, there's maybe a small informal seating area somewhere else, so what I always try to do is have something that draws you into the yard, so you're actually invited to go out into the space and then from that space, you're going to see something different." Creating smaller spaces within the garden sets up specific views and experiences that allow emotions and feelings that are like those felt when viewing a beautiful painting, for example.
---
This kind of controlled experience plays itself out in the beautiful Japanese Gardens at Royal Roads University, designed in 1909 by Isaburo Kishida. Each turn of the path opens a new view; here is the lake, and now here is the bridge, and then we are drawn to the pergola, and beyond, as one view after another is exposed. Even though, as head gardener and unofficial historian Barrie Agar explains, the garden is not strictly traditional, it is still a wonderfully calm place to be, and can most certainly be viewed as an artscape.
Another element of successful artistic design is seen in landscapes that "have a particular twist on them" that make you "pay attention," says Bev Windjack. She describes the landscape that her firm, Ladr, designed at Ship Point Plaza in downtown Victoria: "We have the five oceans represented and the brass from the ships, and the more you look and the more knowledge you have about ships, the more you'll get out of it."
Perhaps the most poignant of Ship Point's elements are the red honour bricks, which are inscribed with names of members of the Canadian Navy. This site is successful as an artscape because of the subtle way it represents and honours its site and its subject.
In a home garden, similar elements can be incorporated into the site by researching the history of your neighbourhood and taking cues from what you find there. Alternatively, your garden may also reflect elements of your own personal journey, giving the landscape a deeper meaning.
---
Not only do artistic gardens express personality through their unique sites, they can also express energy and mood through movement, light and colour. Artful garden design will always take advantage of plantings that bend and sway with the wind, for example, such as the mass of sedge grasses in the expansive rain gardens at Murdoch de Greeff's renovation at Fisherman's Wharf Park in James Bay. When the wind blows through this large swath of grasses, the blades move and seem to dance together, visually expressing the patterns of the wind, and adding another element to the richness of the landscape.
Designing a successful artscape is a complex and mysterious process, but the results can be worth all of the thought and effort involved. After all, the kind of richness, beauty, meaning, and inspired creativity that went into those oh-my-goodness landscapes that I saw in Berlin so long ago has stuck with me, and I can see those spaces still, all of these years and gardens later. This is where we experience the true power of the artful landscape — it enters our imaginations and stays there, changing us for the better.