More and more of us are skipping alcohol these days. These spirit-free sips make it easy.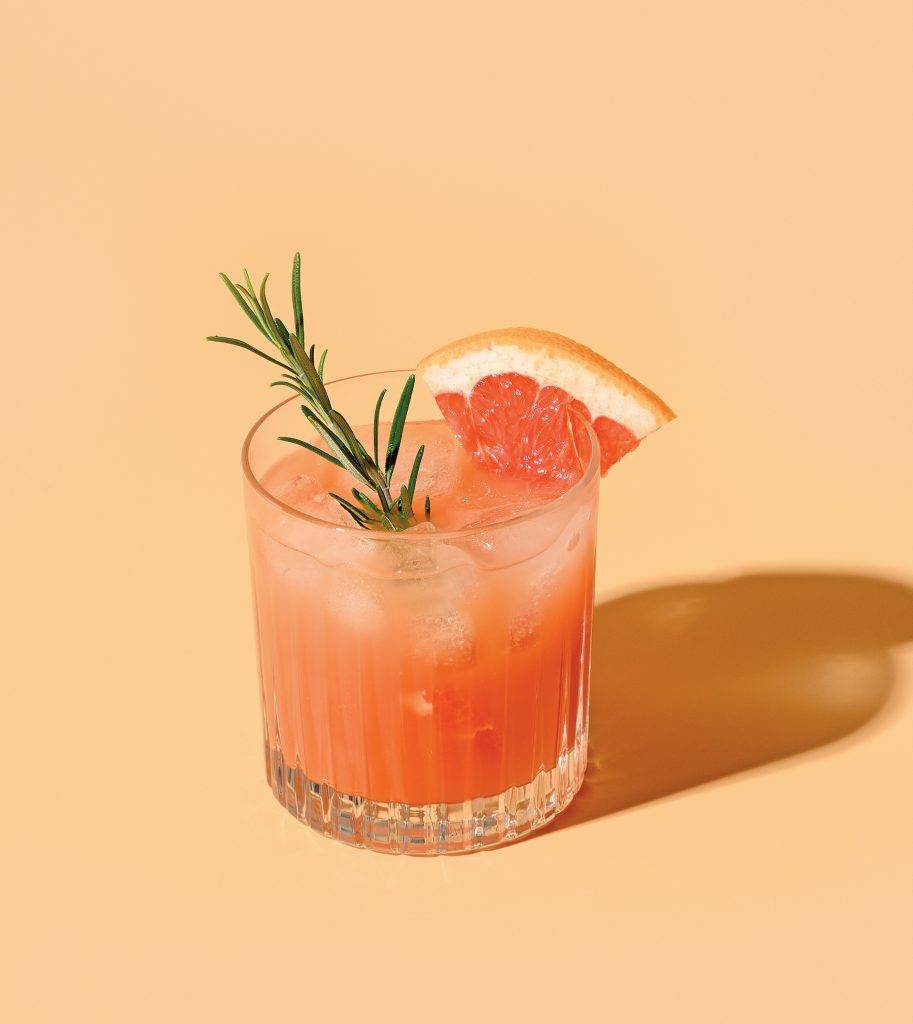 Time was, and that time was not so long ago, that if you chose not to drink alcohol on a night out, your beverage options were limited: sweet pop, plain sparkling water or (sigh) boring old cranberry-soda. And if that wasn't insulting enough, your decision not to imbibe would raise eyebrows and the kind of questions you might not want to answer in a social situation.
But not these days.
These days, more and more of us are choosing to skip the booze for any number of reasons. We may do it for one night, a few days or forever. Or, after a period of overindulgence, we may just choose to reset during, say, Dry January or Sober October.
This new sober-curious movement is not the all-or-nothing teetotalism of the past. Rather, it's about choosing to indulge — or not — wisely, mindfully and in moderation. And the sober curious now have a world of beverage options to enjoy, from non-alcoholic beer, wine, cider and spirits to carefully crafted cocktails.
"We have seen huge demand," says Shawn Soole, general manager of Clive's Classic Lounge, which offers nearly a dozen sophisticated non-alcoholic cocktails like the Amaretto of Sorts.
"Zero-proof cocktails are more important than ever, with sober-conscious guests expecting more than 'juice, syrup and soda.' We wanted to try our best in mimicking classic cocktails in a non-alc way so that the guest doesn't feel ostracized from the rest of the group. It's helped to bring all drinks to the same level in these social settings."
It's the same over at the Fairmont Empress's Q Bar, where care, creativity and quality ingredients go into crafting "mocktails" like the herbal Secret Garden (see recipe on this page). "They provide plenty of flavour without the punch," says Doug Chant, the hotel's assistant food and beverage director, adding, "Whether it be Dry January or another reason a guest abstains from drinking alcohol, inclusivity is key at Q Bar."
Taking a break from alcohol, or at least consuming less of it, can be a wise move for many of us, especially in the wake of the pandemic. According to Health Canada, nearly a quarter of Canadians over the age of 15 drank more during the worst of the pandemic — a lot more. Blame social isolation, stress, a lack of structure and, above all, boredom.
Home mixology may have been a fun hobby while we were all stuck at home, but now comes the reckoning, all those extra pounds, the disrupted sleep, the poor decisions, the health consequences, the shockingly high bar bill.
Luckily, while you were perfecting your Negroni, others were perfecting their non-alcoholic beverages. Here are some of the best options, many of them from right here on Vancouver Island, to quench your sober curiosity.
Spirits
Internationally, the U.K.'s Seedlip was the first non-alcoholic spirit to hit the market (in 2015), followed by Australia's Lyre's (which produces alcohol-free versions of everything from absinthe to vermouth) and California's Free Spirits Company.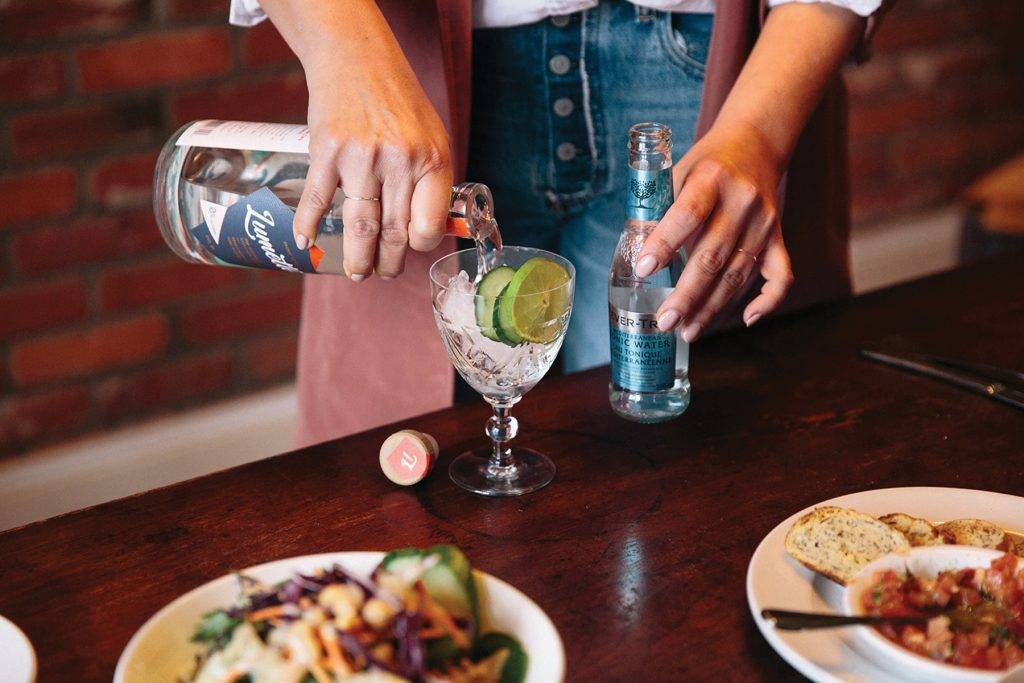 In Sooke, the award-winning Sheringham Distillery has its own non-alcoholic project called Lumette!, which offers three excellent spirits: a contemporary "gin" called Bright Light, a classic gin expression called London Dry and a spiced rum-style spirit called Lumrum.
All of these spirits can be enjoyed on their own, but are best mixed into cocktails.
Wine
Wine lovers are the ones most likely to be disappointed by the non-alcoholic choices on the market. It might be better to switch to a lower-alcohol type of wine (say, an 11 per cent ABV rosé rather than a 15 per cent ABV California Cabernet), and drink less of it.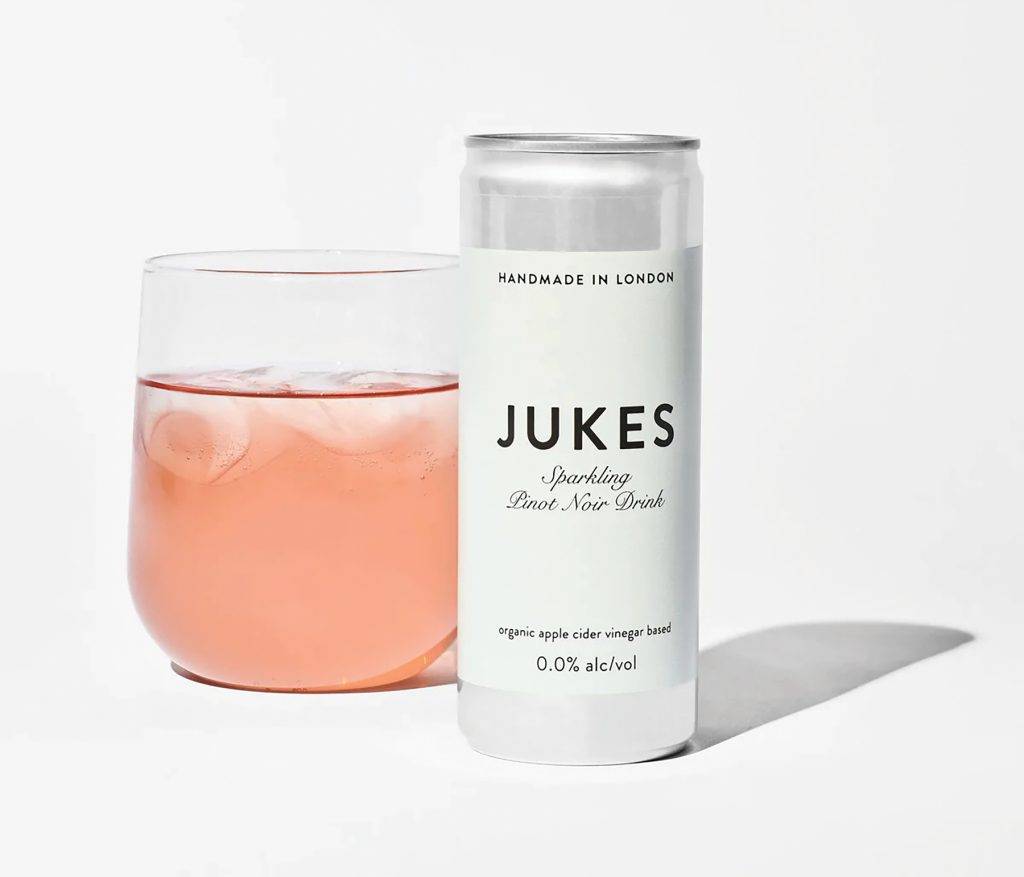 The closest product to mimicking the complexity of wine is Jukes Cordialities, "a wine taster's style of drink," created by one of the U.K.'s best-known wine writers, Matthew Jukes. They are a modern version of traditional drinking vinegars like shrubs and switchels, available in red, white and rosé flavours. Jukes Cordialites were recently introduced in Canada, and are available online through Tre Amici Wines.
Beer and Cider
Victoria's Phillips Brewing & Malting Co.'s iOTA line of non-alcoholic beers includes a hazy IPA that is juicy, citrusy and smooth with tropical flavours, as well as a light, refreshing pilsner and a well-balanced pale ale.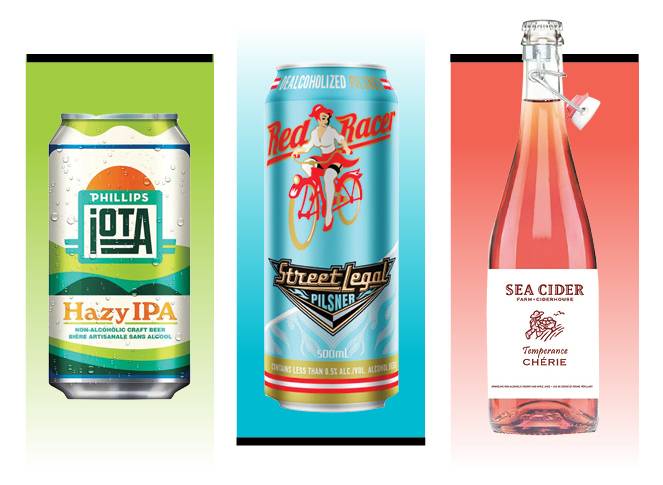 Over in Vancouver, Central City Brewers + Distillers serves up a de-alcoholized line of beers called Red Racer Street Legal that includes niche products like nitro stout and mango wheat ale.
Meanwhile, the Temperance Series from Sea Cider Farm & Cider House on the Saanich Peninsula offers the flavour and fizz of regular hard cider, without the booze. Each juice has an apple base, some with additional fruit flavours like raspberries, cherries or blackberries.
Canned Cocktails
Even better than low-ABV hard seltzers like Nütrl and White Claw are the new generation of canned, premixed zero-proof cocktails
In Vancouver, bar star Nick Devine has launched an exceptional line of alcohol-free cocktails called Edna's, which comprises a Moscow Mule, Paloma, Collins and Mojito. Another bar star, Christos Kalaitzis, has created Opus, a line that includes alcohol-free Gin & Tonic, Peach Bellini and Aperitivo Spritz.
And on this side of the strait, Phillips serves up its Sparkmouth non-alcoholic canned cocktails including a Mimosa, Margarita and Moscow Mule.
No matter when, where, why or whether you choose to go dry, there is something delicious for you to enjoy.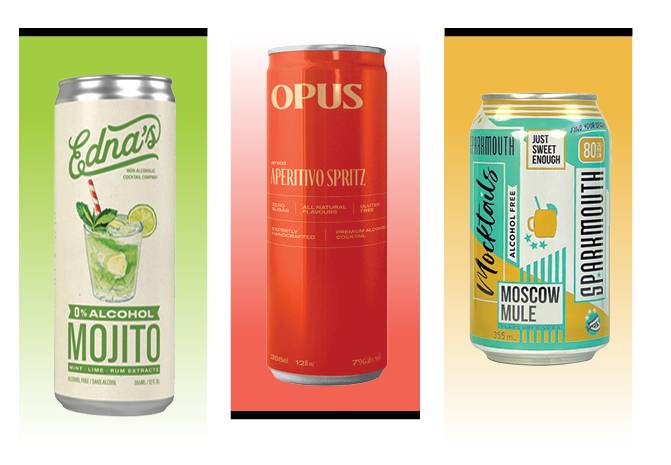 Secret Garden Recipe
This refreshing herbal cocktail comes from the team at Q Bar at the Fairmont Empress.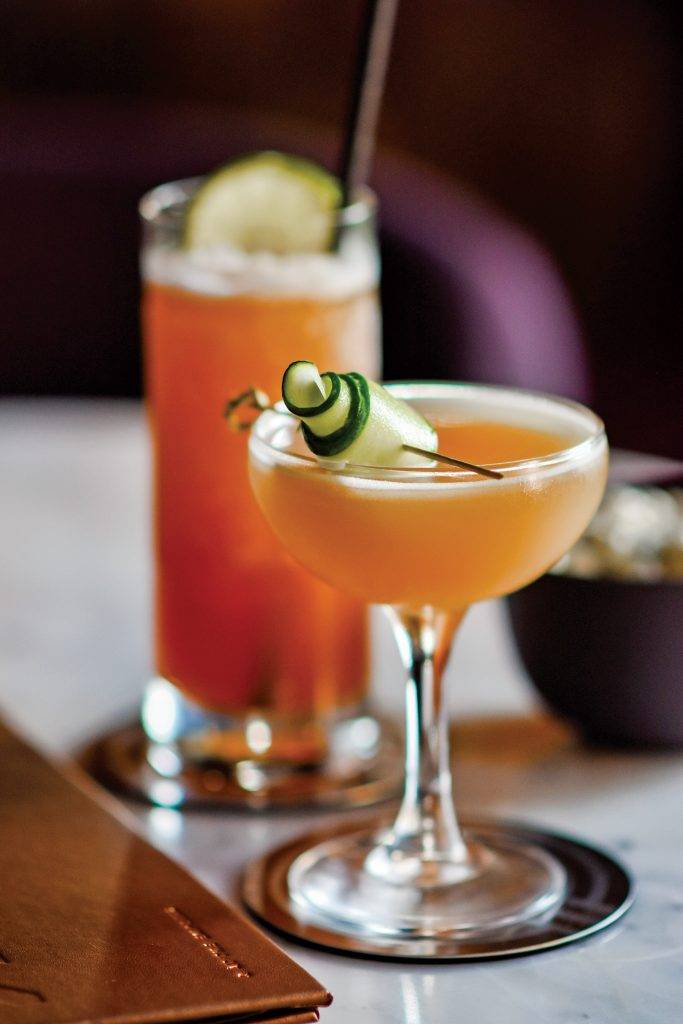 • 3 cucumber slices
• 1 oz lemon juice
• 2 oz grapefruit juice
• 1 oz chamomile syrup (see note)
• Garnish: rolled cucumber slice
Place all the ingredients (except garnish) in a cocktail shaker. Add ice and shake well. Fine-strain into a chilled coupette. Garnish with rolled, skewered cucumber slice. Serves 1.
Note: To make chamomile syrup, bring 1 cup water and 1 cup sugar to a simmer, stirring frequently, until sugar is fully dissolved. Add 3 chamomile tea bags, remove from heat, and steep for 10 minutes. Remove tea bags and chill before using. Makes about 1 cup.
Amaretto of Sorts Recipe
This recipe from Clive's Classic Lounge mimics the traditional Amaretto Sour.
• 1 ½ oz Lyre's Amaretti
• ½ oz Free Spirits Company's The Spirit of Bourbon
• ¾ oz simple syrup (see note)
• ¾ oz lemon juice
• 1 egg white
• Garnish: lemon twist
Place all ingredients (except garnish) into a cocktail shaker without ice and shake vigorously. (This is known as a dry shake and will create a more voluminous foam.) Add ice and stir, then fine-strain into a chilled Nick and Nora glass. Garnish with lemon twist. Serves 1.
Note: To make simple syrup, bring 1 cup water and 1 cup sugar to a simmer, stirring frequently, until sugar is fully dissolved. Chill before using.