Welcome to the Comox Valley Ale Trail: Adding Craft Beer to the Comox Valley's idyllic mountain, farm, and ocean ambiance.
By Andrew Findlay | YAM Magazine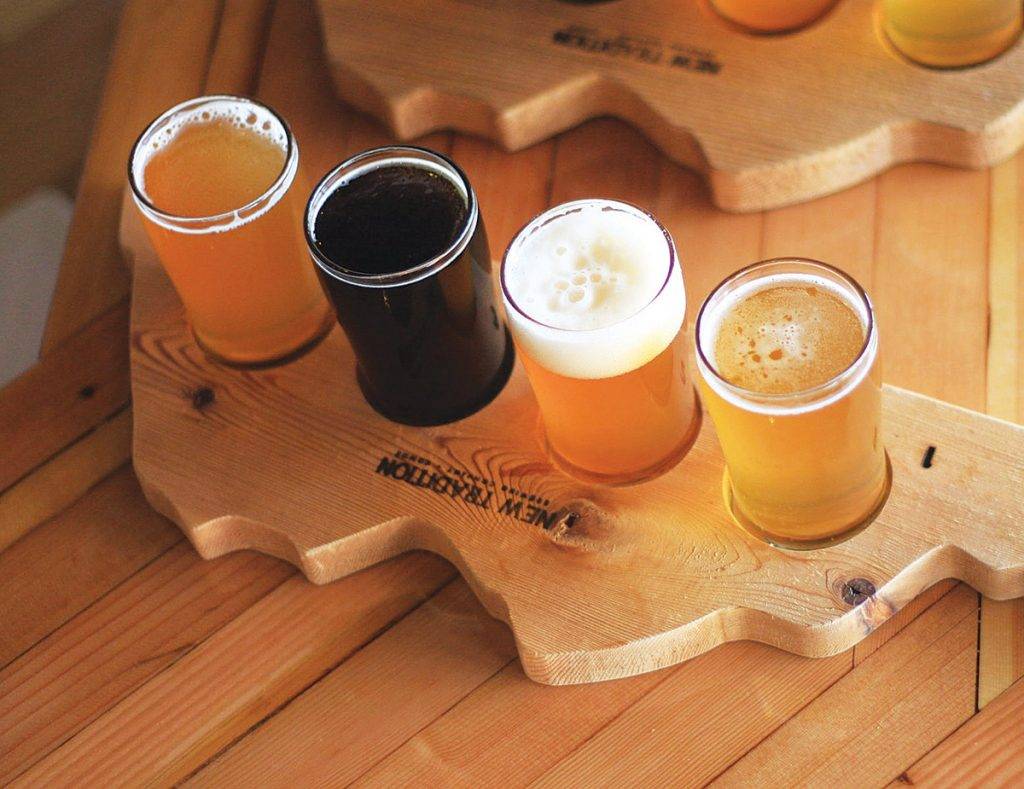 The cult of Lucky Lager had roots as deep as an ancient cedar. Craft breweries were something mysterious and exotic. Six years ago, that changed when Cumberland Brewing Company (CBC) and Gladstone Brewing Company opened within weeks of one another.
Now this happening east coast of the Island community has five breweries, enough to fill a few days of sampling.
First stop for me is Gladstone in downtown Courtenay. A guitar player sings an on-point version of Hallelujah, a perfect soundtrack as I cut through the outdoor patio prepared to seek salvation with the taps inside.
I pull up a chair at one of the long banquet style tables hewn from a massive slab of fir, before sipping a sleeve of Belgian Single, an uncomplicated ale with a subtle floral hoppiness.
"This my own recipe from the homebrewing days," says owner Daniel Sharratt who was a provincial government health economist living on Victoria's Gladstone Avenue before he and his family uprooted to the Comox Valley with a business plan for a brewery in a town yet without one.
The easy drinking Belgian Single is a staple on Gladstone's menu, which also features seasonally rotated beers, such as a heavier porter and
Czeck dark lager for the colder months, and a refreshing Kolsch come summertime. Though it was an auto dealership in a past life, among other things, the high-ceilinged space with glass bricks in the corner that give it an art deco flare, seems to have found its true calling as a brewery.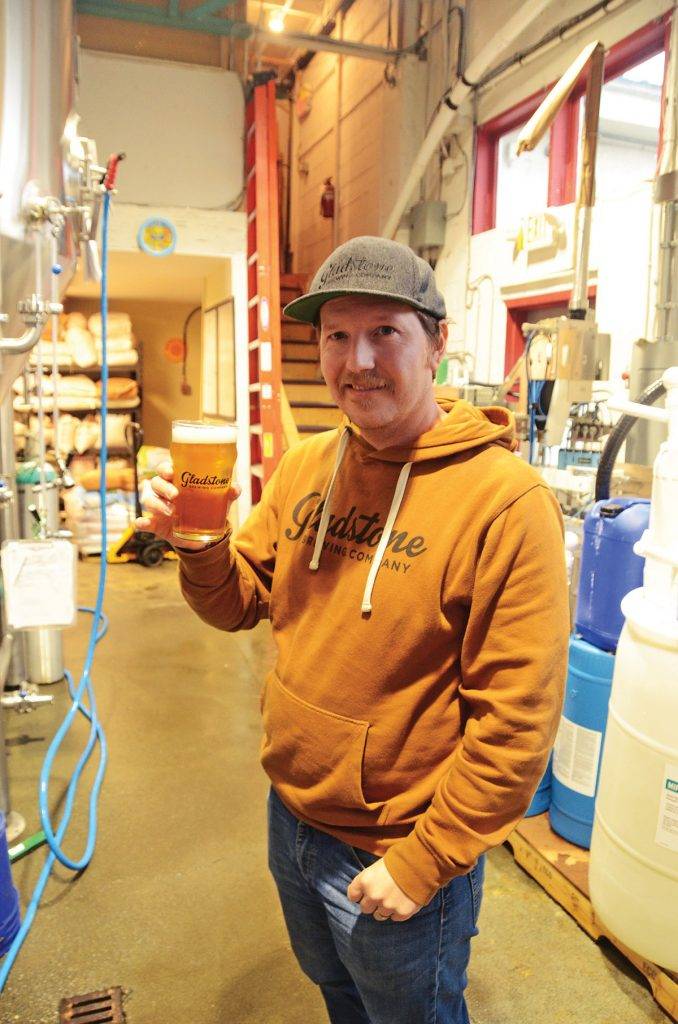 Since its founding, Gladstone has been the brewing yin to Cumberland Brewing Company's (CBC) yang — friendly competitors in adjoining towns. Cumberland, one C in the three C's of the Comox Valley triad — Courtenay, Comox, Cumberland — is my next destination. This old coal mining town is tucked up against the Beaufort Range, a 10-minute drive from Courtenay, and has cultivated a perfect marriage — between beer and biking. As per normal on a fall weekend, a small fortune in mountain bikes is padlocked to the fence outside the brewery.
A group of women, whose faces are more mud than skin, huddle beneath the heat lamps and raise post-ride pints of Forest Fog Unfiltered American Pale Ale, while grazing a charcuterie platter that could nourish a small army of cyclists.
I head inside and grab a stool at the bar, next to the "beer it forward" chalkboard crammed with names (patrons can pay a tab upfront as tribute to their favorite handyman, lover, biking partner, or whomever.) I'm in the mood for a pale ale, so order up a Red Tape, so named perhaps for the slicing of red tape years ago that made way for BC's flourishing craft beer scene — and the Comox Valley's.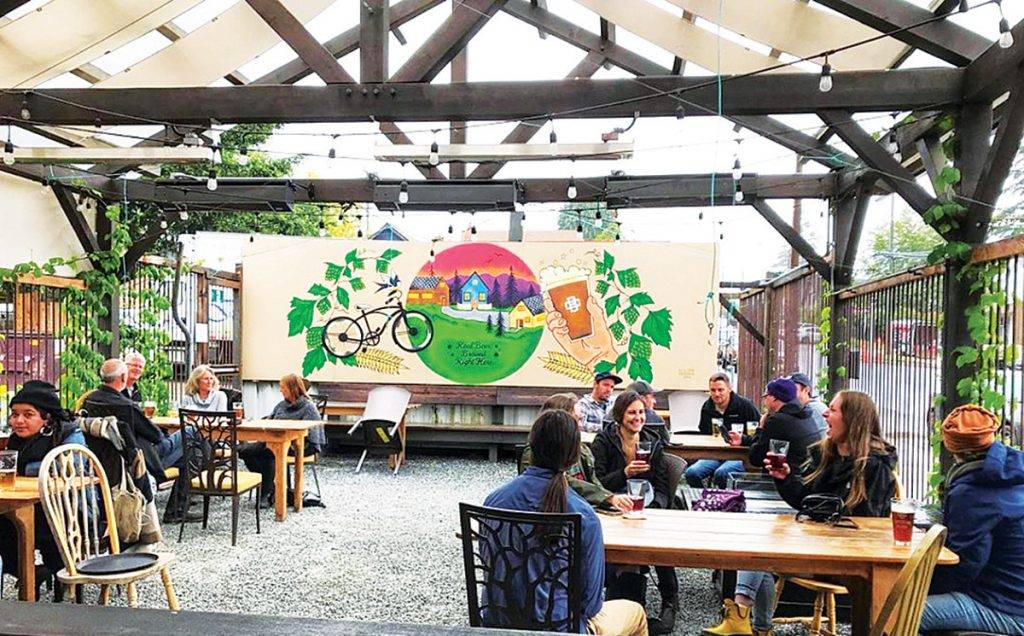 CBC and Gladstone, which opened within weeks of one another in 2014, have been joined in the last two years by three other local breweries, Ace in Courtenay, along with Comox's Land & Sea and New Tradition, to form a tasty ale trail of five unique Comox Valley breweries.
I leave Cumberland, head back to Courtenay and across its namesake river to the other side — that formerly placid little seaside town where retirees went to golf and pickle ball their days away. Well, that still happens, but Comox's beer and hospitality scene is on fire.
"I love our community and I love craft beer. We wanted to make Comox cool again," explains Jason Walker, general manager and owner of Land & Sea Brewing Company, located smack in the heart of suburban Comox.
Walker pours me a glass of brew master Tessa Gabiniewicz's signature Estuary Session IPA, a spruce tip-flavoured ale that she showcased at an invitation-only, all-women brewing collaboration event in the U.K. hosted earlier in 2020 by the massive British pub chain JD Wetherspoon. As recommended by friends, I also order Street Corn Nachos, made delicious by a blend of charred corn, chipotle mayo and cilantro lime drizzle.
Land & Sea's tall order to make Comox cool again has been aided by New Tradition Brewing Company, a small family-owned operation in the renovated Comox Mall, and the Church St. Taphouse next door to Church Street Bakery (with its impressive pizza menu) and Coast Range Cannabis — a trifecta of coolness in this seaside town's core.
My sampling is complete for the day, but the local beer culture experiment is ongoing — Comox Valley is proof positive that craft beer can indeed change a community, for the better.
Continue reading… Take a weekend getaway to Sooke B.C.