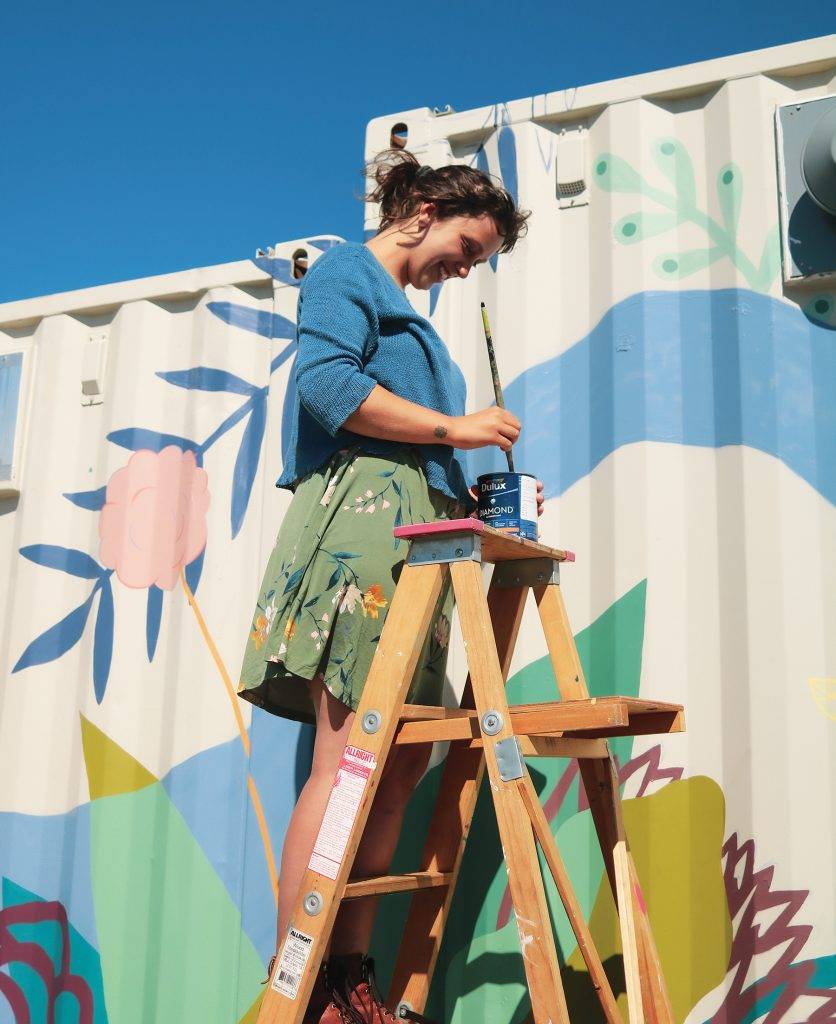 They may be different, but they all have one thing in common: They love our city.
BY JENNIFER HARTLEY
As a newcomer to Victoria, I am fascinated by every detail about our city. I am mesmerized by the snow-capped mountains, the ocean, the clean air, our deep respect for fresh, locally grown food and the eclectic and unique feel of each neighbourhood. I can't get enough. Wandering around town, people watching, I always wonder about the faces I encounter who not only smile but actually
say hello as they walk by — which at first can be off-putting for someone from stuffy Ontario.
I wanted to dig a little deeper and find out what makes people smile — what is it they love about our city. I reached out to a few who contribute to the social fabric of Victoria in different ways. Here is what they had to say.
KAY GALLIVAN: Concrete Canvas
Wherever you roam around town, you will have seen her handiwork. Kay Gallivan is a young, vibrant mural artist whose paintbrushes have left their mark on walls, façades and side walls of buildings across our city, and in North Park and Quadra Village in particular. "They have ended up being an artistic hub for the city. The price of living is affordable and the food is great. They are ethnically diverse neighbourhoods as well," Gallivan says.
Originally from Hinton, Alberta, she moved to Victoria when she was 19. "There was the biodiversity and the ability to be in nature while living in a city that I initially loved. However, when I was in my undergrad [she studied history and Spanish], I assumed that when I finished, I would move to a bigger area. I did my undergrad preparing to be a social studies high school teacher."
However, along the way, she met many painters. She picked up a brush and never looked back, but she left Victoria, thinking a life in the arts meant she would have to live elsewhere.
"I briefly moved to Mexico City, but one thing I learned is how to appreciate everything in Victoria. Even though it is on an island, it is a mutually supportive arts scene. Street art isn't as developed as other places, and so being part of that experience and to see the community support for it is touching. That is important to me." It was also instrumental in encouraging her.
"At first, I worked on abandoned buildings, backs of buildings, but I started offering my services to social justice and non-profit organizations that resonated with me. They started paying, and, as I developed, private organizations started offering me work. That is how I grew." And while she does work in other countries, Victoria remains her home base. Lucky us.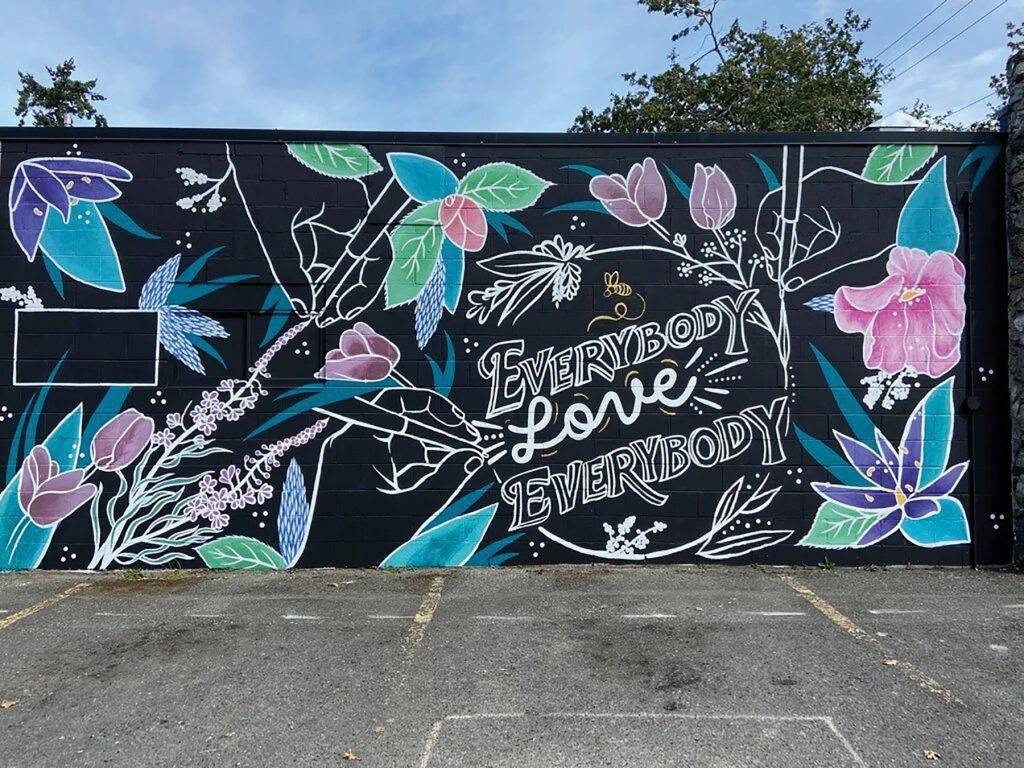 ---
SURJIT DHANOTA: Lighting the Legislature
Its majestic architecture, rough-hewn stone, copper domes and beautiful grounds dominate our downtown landscape. At night, its iconic Jubilee Lights, all 3,450 of them, brighten our skies. Have you ever wondered who makes everything sparkle at the legislature?
Surjit Dhanota is the magic maker. He is the facility manager, legislative facility services, and he is in charge of ensuring things run smoothly.
A kind, soft-spoken man, he moved to Victoria from Punjab, India, in 1992 with his parents. He never left. "The weather, the friendly people, the pace of life were all reasons to stay. But what I love most is the quiet, peacefulness and the sense of community."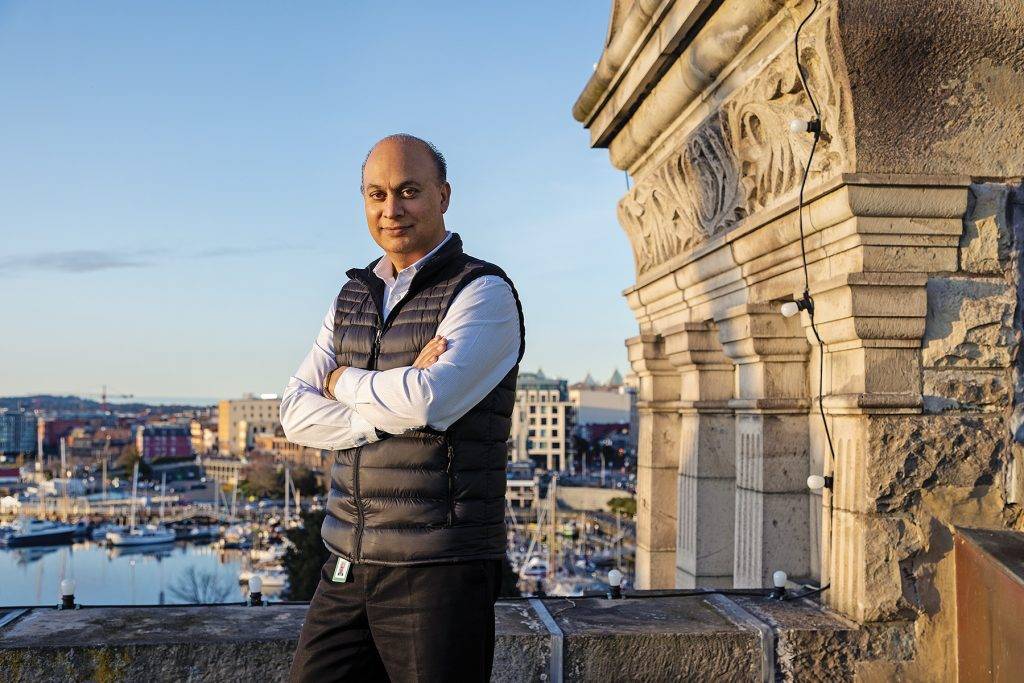 He joined the legislature in September, 1996 as a cleaner. "A lot of doors opened for me, and, after a year, I was transferred to Government House. From there, I served three lieutenant governors and then came back in 2004 to the legislature, and I worked my way up. In 2017, I became facility manager."
As an immigrant from a country with a very different political culture, he says it is nice to meet politicians and MLAs who are so humble and welcoming. "Everyone is held to the same standard and treated with the same amount of respect, which is very different than what most people would experience in India."
So, how many people does it take to change the legislature lightbulbs? It turns out there is actually a team of seven. "We help each other do the job and we bring in a crane."
The original lights were installed in 1897 in honour of Queen Victoria's Diamond Jubilee. Back then, there were only 350 of them, and Dhanota says they were described as "two-candle power" carbon lights.
When things progressed to incandescent bulbs, they were changed twice a year. Thanks to LED technology, today the bulbs only need to be changed every two years. However, the lights in the fountain twinkle different colours more often, for events or occasions. "We recently displayed the Ukraine flag in the fountain in blue and yellow," Dhanota says.
The next time you are awed by our legislature grounds, you can thank Dhanota and his team.
---
OSARO EZOMO: Warmly Welcoming New Canadians
Relocating to a new city is difficult, even when it is to a beautiful location like Victoria. The situation is even more complicated when that move is from a country in conflict or there are language barriers.
The Victoria Immigrant and Refugee Centre Society (VIRCS) helps newcomers settle into their new life, and the board is led by the warm and welcoming Osaro Ezomo.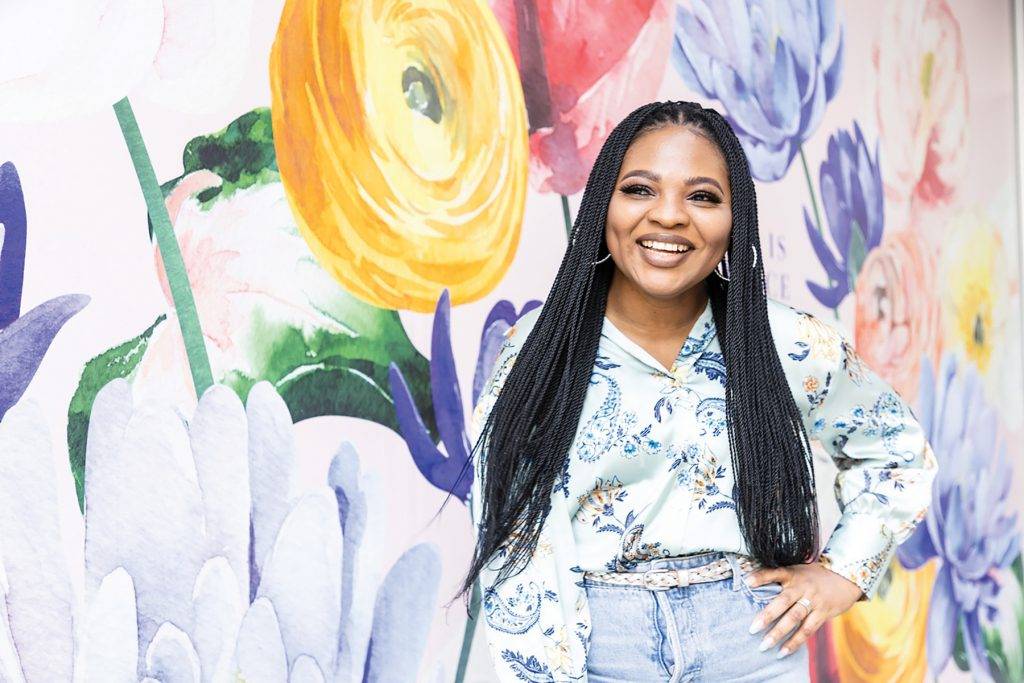 As a first-generation Canadian, she understands the challenges they face. She arrived in Canada in 2012 from Nigeria to study at Royal Roads University, where she earned a master's degree in global management — which is similar to an MBA but takes into account the cultural lens.
Her experience in Victoria was so positive that she decided to stay. "I fell in love with the city and I never left. I guess the universe wanted me here." She lives here with her partner and two children.
What is it she particularly loves about Victoria? "Would it be weird if I said I like everything about Victoria? Accessibility to trails and green space is one of the things I enjoy most about living in Victoria. Having spent a significant part of my adult life in a concrete city, I am constantly in awe of the beauty and the closeness to all things nature.
Another wonderful aspect of our community is its openness and friendliness. One piece of advice I have for people is to keep an open mind and say 'yes' to invitations for coffee or tea, as long as you feel safe doing so."
A provincial public servant, she wanted to give back to the community in other ways.
While starting over in a new country made her resilient, it also fueled her wish to support others. She shares her expertise and wisdom with VIRCS on the governance side of the organization.
"When you see and hear how people settle into a new community, it is heartwarming." (The staff at VIRCS serve an average of 3,000 clients from all over the world every year.) "Hearing about the difference VIRCS makes in the lives of new immigrants and newcomers to Canada is truly inspiring," she says. "We have an amazing team."
---
CHARLES BAILEY: Bagpiping on Belleville
If you visit downtown regularly, no doubt you have seen him and heard him. With his bright red kilt and beautiful bagpipes, he has been a fixture downtown at the corner of Belleville and Government, regaling all passersby for over seven years.
The City of Victoria has a peculiar, wonderful bylaw that specifically allows for bagpiping at that corner, and pipers are able to be there, on a first-come, first-piper basis.
Currently, there are two regulars, and, thankfully, Charles Bailey is one of them. Bagpiping is almost like a mission for him, and the talent is one he inherited from his father. His dad was a Calgary Highlander and piped the troops to Hill 67 and into Caen during World War II.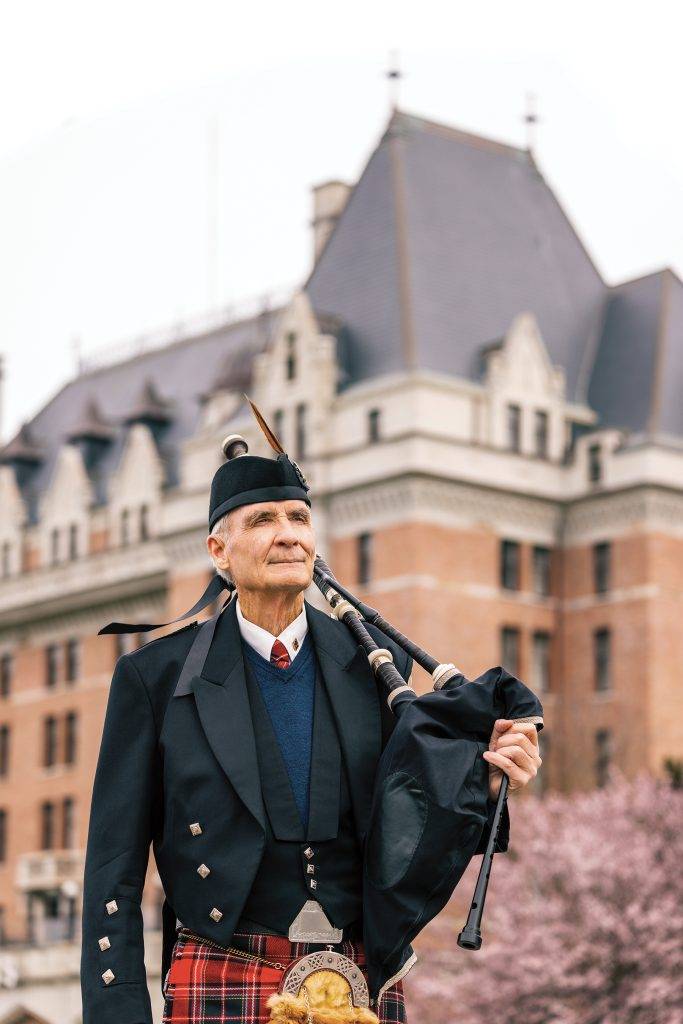 "Piping is a way of communicating. In the war days, it was a tool for the army — one tune meant 'go here' another meant 'go there,' " he explains. It is also a great honour. His dad played for Queen Elizabeth's father, King George VI, three times.
"You know our kilts? They were practical back in the day. They are four metres long and were used as a bed roll." Today, amid tulips and what he calls "the best spot in the world," he delights audiences with his music and his deep respect for his art.
He loves everything about Victoria, having moved here from Calgary over seven years ago to retire. "The weather and the people. No place like it."
And with nine little notes from his bagpipes, he thrills passersby. "It is quite something, really," he says. "From shepherd boys with small flute bags in the Middle East to war fronts to here in paradise, it has been quite a journey for the pipes."
---
LINDA EVERSOLE: Chronicling Victoria's Racy Past
One of the great things about Victoria is our fascinating past, and author and historian Linda Eversole knows all about it. Her journey started when she met Ainslie Helmcken (of the pioneer Victoria family) in the 1970s who had a love of local history.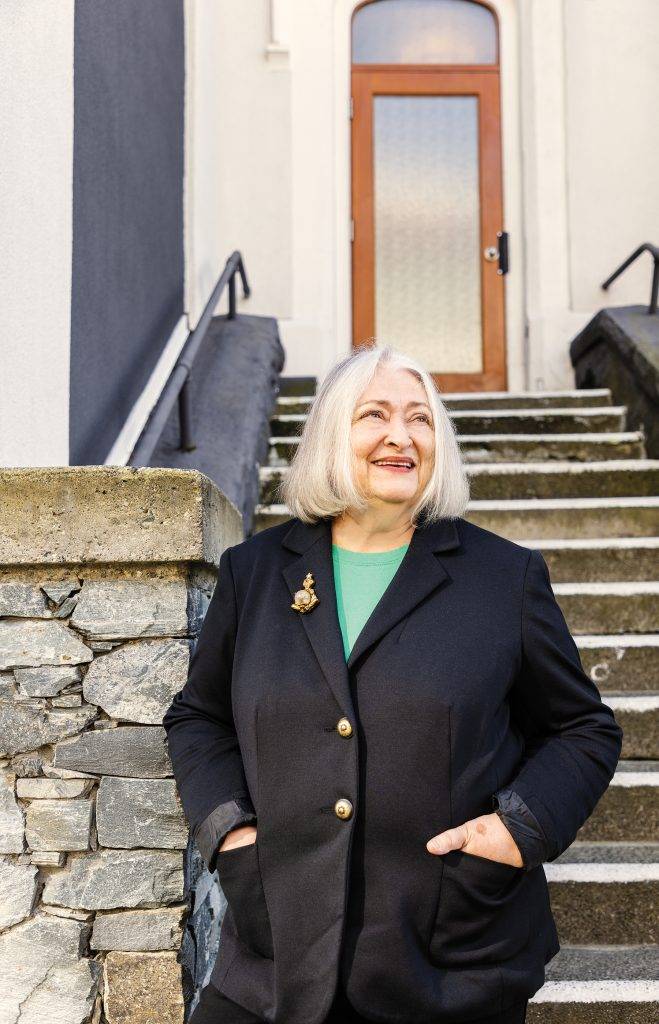 He established the city archives and brilliantly hired her, and the rest is, well, history. She went on to pursue a lengthy career in museums and heritage conservation.
"I was very interested in older buildings but then discovered I loved learning about normal people. I somehow got into criminal history and women's history. That sort of thing we didn't find in records in those days. Ordinary people and their challenges intrigued me."
One of the people she came across was Stella Carroll, who ran "parlours." Broad Street between Yates and Pandora had an area of small brothels and saloons. (Chatham Street later became part of Victoria's red-light district as well.)
Carroll's life was tumultuous. Her leg had to be amputated after having been 'accidentally' shot by a lover. When the police charged him, it was Carroll who hired a lawyer to defend him.
Eversole wrote a book about Carroll's extraordinary story, entitled Stella: Unrepentant Madam. (She wrote another book that offers insight into that era, called Victoria Unbuttoned: A Red-Light History of BC's Capital City.)
It is not only historical Victoria that intrigues Eversole. A fan of today's urban setting, she has a special spot in her heart for James Bay. "I have lived here many times over the years. It has a wonderful spirit and creativity. However, I also love that the natural world is all around us. I hike and I see bears (from a healthy distance), otters, eagles. It is wonderful that they are out there. And, of course, there is the seashore."
As do many Victorians, she says she likes living on an island. "I love it when I travel and come back and it feels like home."