By Athena McKenzie | Photography by Jeffrey Bosdet
Ethically minded clothing has evolved far from its clichéd origins of patchwork skirts and burlap overalls. Looking globally, superstar designer Stella McCartney is known equally for her ultra-luxe runway creations as for her eye to sustainability. Closer to home, Vancouver has its own Eco Fashion Week with its mandate to push the trade towards practices that balance ecology, society and culture.
---
Luckily for those of us here on the Island looking to be more mindful with our fashion choices, the area is home to several designers who make buying socially conscious style a sartorial win. Let's call it the 100-Mile Wardrobe.
What's In A Label?
Of course, the term "ethical fashion" can mean a variety of things, depending on whom you're talking to, especially if it's a designer. The description can cover a range of issues including environmental considerations, working conditions, production locations, child labour, fair trade and sustainability.
"I think everybody has a different view of what they think ethical is," says Trish Tacoma, owner of Smoking Lily. "If you're producing everything in environmentally friendly or sustainable fabrics, or your impact on the environment, or how you treat your employees. Often it's determined from the consumer's point of view and whatever they think the important ethical choices are."
Now approaching its 20th year in business, the Smoking Lily label has developed something of a cult following for its original designs and unique silk-screened prints. It's known for mixing whimsy with functionality: the brand's new fall line was inspired by the 85th anniversary of the Nancy Drew mystery series and used the sleuth's sidekicks — the voluptuous Bess and the tomboy George — as its muses.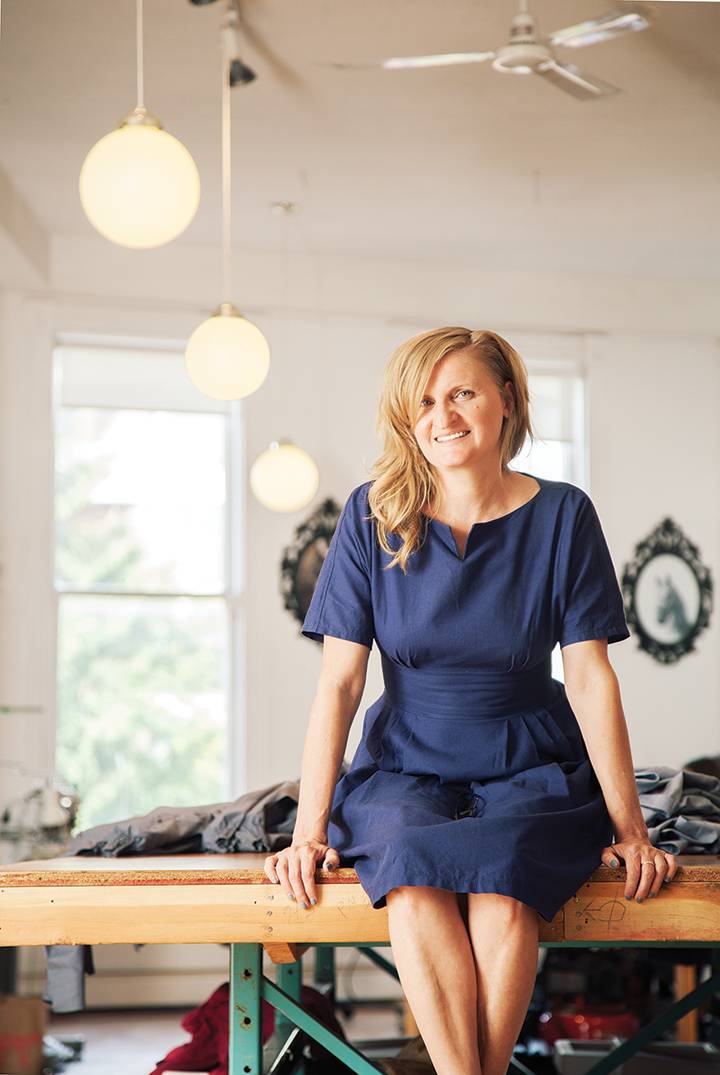 ---
For Tacoma, making decisions about the direction of the brand — be it using only environmental fabrics or where to source material — balance is key.
"I find it really hard to be hard-nosed about something or to decide that I'm only going to be one type of thing," she says. "It's just doing what you can."
That said, the values listed on the creative board in her light-infused office overlooking Wharf Street include the mantras: "Minimize impact on the environment by using bamboo, organic and industrial ends when and where we can" and "Source close to home."
Surprisingly, "ethical" is a description that can raise some objections, and not only because of its historical associations to "brown and stretchy." Designer Eliza Faulkner, known for her eponymous line of women's wear, confesses to not loving the term.
---
"It's in use so much that it has lost its weight and doesn't really mean anything anymore," she says. "All of these big companies might say they're ethical and eco and their fabric might be organic, but you know they're having it made in India and then shipping it across the world. The only way to truly be eco is if you're shearing the sheep and then weaving the wool and then sewing it from scratch. It's a tricky industry."
Faulkner, who was born and raised on Vancouver Island, studied fashion design at the famed Central St. Martins School of Design in London. She uses natural fabrics whenever possible in her elegant and feminine line, which is produced in a workshop right here on Vancouver Island.
She describes her fall collection as "sumptuous, vibrant, and playful," calling a pink Moto jacket and a red silk Tyg dress her favourite pieces — something she would pair together for a Christmas party.
To her mind, the ethical considerations should be built into fashion, not be the selling feature; rather the design of the clothes should be what draws customers.
"I think it's more important to create something that's really beautiful, so people just love it and have to have it, and then the ethical stuff is a bonus," she says.
Gabriel Conroy, the designer of the Gabriel and Gabe Ruth lines, agrees that the clothes should come first.
"I don't want people to visually see that my clothing is eco — it should be an afterthought," he says. "You should like the clothing, it should be comfortable, it should fit well and look good and the whole eco part is invisible."
---
Made in Canada
Conroy brings some big-city couture-cred to his small studio off the main street in Shawnigan Lake. The designer, who also studied at Central St. Martins and then the Art Institute in Colorado, spent several years in New York working as the assistant to designer Victor Costa, creating couture spin-offs for Neiman Marcus and Saks Fifth Avenue. The next 15 years in Denver were busy designing custom high-end gowns under his line Gabriel.
Since moving to the Island with his wife and family three years ago, he has enjoyed collaborating with Hemp and Co. and has launched the Gabe Ruth label with his wife. Their e-commerce site for the Canadian-made line will go live this fall.
"I was longing to do something that was a reflection of our life," he says. "The Gabe Ruth aesthetic is basically a reflection of what we like and our lifestyle here on Vancouver Island. We aren't trying to be trendy or over designed. We are really focused on comfort and relaxed style. Some of the pieces are very chic but could be worn to a fancy cocktail party or the beach."
For Conroy, the where and the how of the manufacturing process are the most important aspects of ethical fashion.
"I think made in Canada is more important even than using eco-fabric," he says.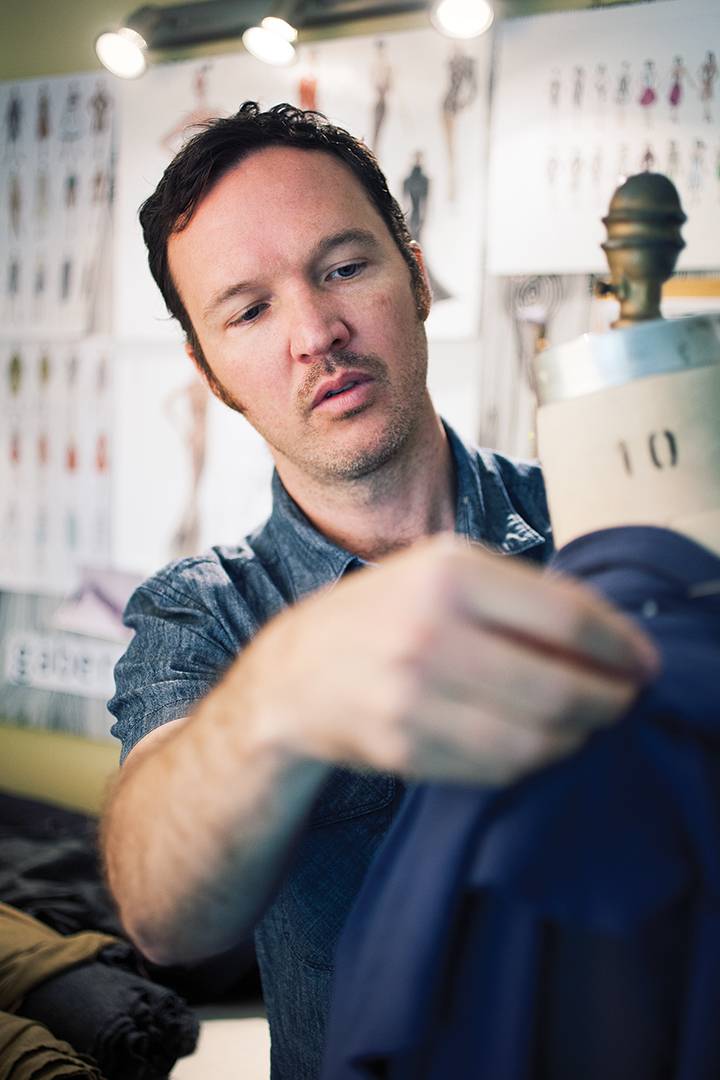 ---
Locally made and small scale is a concept that's gaining traction in the fashion world. This past spring, in honour of Fashion Revolution Day, Tacoma posted pictures on Smoking Lily's Instagram of all the women that work in her studio here in Victoria. Each was simply captioned with, "I made your clothes."
Fashion Revolution Day, a global awareness campaign, came on the anniversary of the tragic factory collapse in Rana Plaza in Bangladesh that killed 1,133 workers producing clothes for many brands we all know (and probably have hanging in our closets). The campaign's goal was to raise awareness of the true cost of fashion, to show the world that change is possible and celebrate all those involved in creating a more sustainable future.
"I think it's important to get to know who actually makes your clothes, and that here it's your neighbours, as opposed to someone anonymous overseas," Tacoma says.
The Thrill of the Deal
In recent decades, the price of clothes has plummeted and many of us treat our wardrobes as disposable commodities. But we're learning the instant gratification of that inexpensive new skirt, no matter how cute, is far outweighed by the more far-reaching consequences. The human cost, highlighted by the factory collapse in Bangladesh, is just one of the issues facing the traditional fashion industry. Poor working conditions, environmental violations and child and slave labour are commonplace in the $1 trillion fashion business.
So what is stopping people from making more ethically minded choices when it comes to their wardrobes?
"The price point," Faulkner says. "I think people that want ethical don't want to pay what it costs. Having things made locally in Canada definitely costs more than it would to do it abroad. [Shoppers] are so used to these low prices now that competing with that level of fast cheap fashion is probably the toughest part."
In her book Overdressed: The Shockingly High Cost of Cheap Fashion, author Elizabeth Cline argues that the reversal of our fast-fashion culture is in the hands of the consumer — that's you and me.
"Clothes could have more meaning and longevity if we think less about owning the latest or cheapest thing and develop more of a relationship with the things we wear," Cline writes. "Building a wardrobe over time, saving up and investing in well-made pieces … they're also a deeply satisfying antidote to the empty uniformity of cheapness."
Naturally, part of Cline's solution is for people to look to local suppliers; an answer that comes with many benefits, not the least of which is a chance for us be original.
"We have lost individuality because there are 50,000 pairs of the same thing," Conroy says, referring to the mass-market mentality of fast fashion.
"For me, the creation is a conversation between the designer and the client," he says. "I love when I get the chance to hear feedback or if somebody has an idea for something.
"Whatever it is people want, can be created in an ethical or sustainable or eco way."
Unlike the wardrobe transformations on reality television or the cheap fix of disposable fashion, an ethical fashion make-over isn't an instant overhaul. Your short-term goal should be progress, not perfection.
"It's about buying less but buying better," Faulkner says.