Whether you give the cookbook itself or one of the creations inside, Handmade Gifts from the Kitchen: More than 100 Culinary Inspired Presents to Make and Bake by Alison Walker offers plenty of gifting inspiration.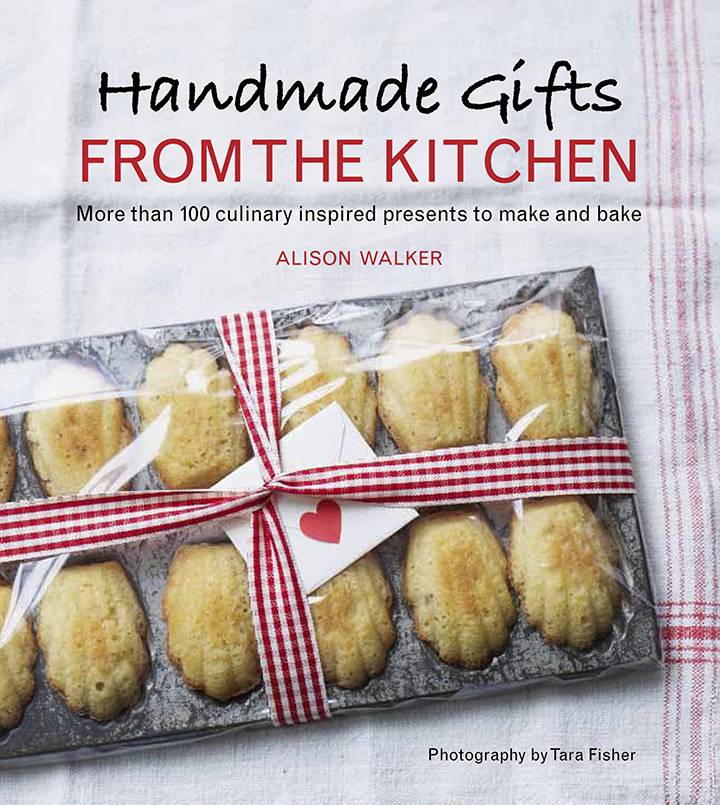 This Stollen Wreath is so tasty you may want to keep it for yourself.
Stollen is traditionally shaped into a flat loaf but here Walker has opted for a wreath—it would make a stunning centerpiece for a Christmas table.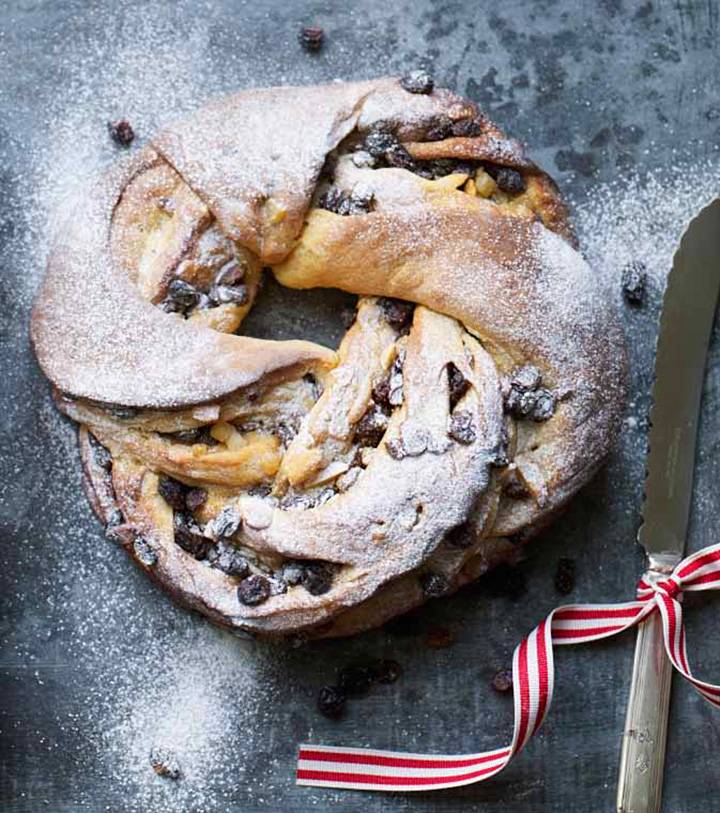 STOLLEN WREATH RECIPE
PREPARATION: 45 minutes, plus macerating and rising
COOKING: 40 minutes
SERVES: 10 to 12
2⁄3 cup each of raisins and golden raisins
2 tbsp rum
7 tsp active dry yeast (or 1⁄4 cup fresh yeast)
scant 1⁄2 cup lukewarm milk
3 cups white bread flour
1⁄4 tsp ground coriander
a grating of fresh nutmeg
1⁄4 cup superfine sugar
1 tsp salt
1 stick plus 1 tbsp soft butter,
diced
1 medium egg
sunflower oil, for greasing
3 tbsp candied peel
2 tbsp blanched almonds, split
lengthwise
finely grated zest of 1 lemon
1⁄3 cup unsalted butter, melted confectioners' sugar, for dusting
1 Put the dried fruit into a non-metallic bowl with the rum. Let stand overnight.
2 Mix together the yeast and milk then stir in 3⁄4 cup of the flour. Cover and let stand for 2 hours—the mixture should bubble.
3 Mix together the remaining flour with the spices, sugar, and salt. Make a well in the center and add the butter, egg, and the yeast mixture. Bring together with your hands—don't worry, it will seem crumbly to start with but that will change once you start kneading.
4 Turn out onto a counter and knead until smooth and elastic—as the butter is worked into the dough it will become smoother. (Alternatively, use the dough hook attachment on a stand mixer and mix for 2 minutes at the lowest speed, then 5 to 7 minutes on medium speed until the dough is stretchy and elastic.) Turn into a lightly oiled bowl, cover with plastic wrap and let rise for 2 hours till doubled in size.
5 Turn out the dough onto a lightly floured counter and press out flat into a rectangle 153⁄4 inches x 11 inches. Sprinkle with the soaked dried fruit, candied peel, almonds, and lemon zest. From one long end, roll up the dough into a jelly roll shape. Cut in half lengthwise, carefully turn the cut sides uppermost, then braid like a rope. Transfer to a greased cookie sheet and shape into a ring, twisting the two ends together and tucking underneath to hide the join. Cover loosely with oiled plastic wrap, and let proof for an hour until doubled in size.
6 Preheat the oven to 350°F. Bake for 35 to 40 minutes; when it's ready, the bottom should sound hollow when tapped. Remove from the oven and cool on a wire rack for 20 minutes, then brush the top and sides with the melted butter, allowing each coat to dry for a few seconds before adding the next one.
7 Just before serving or wrapping, dust heavily with confectioners' sugar. This sweet bread keeps for up to a week in an airtight container.
Recipe excerpted from Handmade Gifts from the Kitchen. Copyright © 2014 Alison Walker.  Published by Appetite by Random House, a division of Random House of Canada Limited a Penguin Random House Company. Reproduced by arrangement with the Publisher. All rights reserved.