In this exclusive Q&A, Kristina Tsiriotakis, National Learning & Development Manager at L'OCCITANE Canada, shares her expert tips on keeping your skin and hair healthy and beautiful through the summertime months.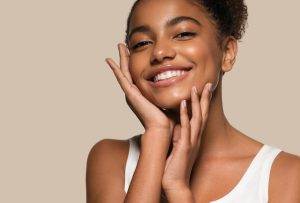 1. Are there special facial skincare concerns in the summer?
The primary concern for skin in the summer time is Sun Protection. While enjoying the sun's rays during the summer months is a treat, it can wreak havoc on the skin. In fact, 80% of aging can be attributed to sun exposure and sun damage. Using sunscreen that will protect against this is a must. My personal favourite is our Immortelle Brightening Shield SPF 40. This lightweight texture melts into the skin like a veil, leaving no greasy residue or white hue on the skin.
It is also enriched with the anti-ageing benefits of our signature Immortelle Flower, which firms, regenerates and protects and the anti-spot action of daisy extract which will help diminish existing sun and age spots as well as prevent future spots. This means you can protect the skin against sun damage and treat it against current damage all at the same time.
For an all in one solution, I recommend our Immortelle Precious BB Cream or our Pivoine CC Creams. These combine SPF with your daily moisturizer and a tint or natural mineral pigment to perfect the skin tone and complexion. These are ideal for travel or for anyone looking for a way to achieve SPF without adding too many steps into their routine as they combine sun care, moisturizer and make up all into one step. Sun care is an absolute must and it is critical to find the right sun product to keep your skin looking and feeling its best.
2. Why is hydration still important in the summer and what products would you recommend? 
Hydration is extremely important during the summer time as the summer months are extremely dehydrating for the skin. Dehydration is the loss of water from the skin, and weather is a key contributor to dehydration, particularly sun exposure. Moreover, air conditioning can be very dehydrating on the skin as well and many of us turn to our air conditioner for relief from the summer temperatures. 
Using a moisturizer high in hydrating ingredients is the most important step to help combat this, as it will add necessary water back into the skin.
Ensuring your moisturizer contains Hyaluronic Acid, a natural substance found within the body that acts as a water magnet and can hold 1000 times its weight in water, is the very best way to re-hydrate your skin effectively. I recommend our best-selling anti-ageing face care, our Divine Cream. This complete care moisturizer is enriched with the anti-ageing power of our Immortelle flower, as well as the hydrating benefits of hyaluronic acid. For a lighter texture, I recommend our Pivoine, which will also deeply hydrate thanks to the hyaluronic acid, as well as perfect the skin tone while remaining lightweight and breathable on the skin.
To hydrate the skin on an even deeper level, I encourage adding in a hydrating serum. Serums are applied before moisturizer and offer a deeper boost of hydration to the skin. Both the Divine Extract and the Pivoine Sublime Essence to deliver the hydrating benefits of hyaluronic.
3. What are cleansing oils and why are they beneficial to skin?
Cleansing Oils are plant oil based on plant oils that help to nourish and balance the skin, without stripping. They act on the principle that like cures like, or that oils balance oils in the skin. Unlike soap based cleansers that can be too harsh on the skin and leave it stripped, oils are balancing and very gentle. They are ideal for all skin types and also make an easy make up removal solution.
Some people worry that they will be too greasy for oiler skin but in fact good oils help to balance sebum without over-stripping. They will leave the skin even more nourished than milks or cream cleansers.
I would recommend the Shea Cleansing Oil for all skin types,which is enriched with 5% Shea Oil and sunflower seed oil, to nourish and rebalance the skin, or the Immortelle Cleansing Oil, enriched with Organic Immortelle Essential Oil and Apricot Oil, that will also help to deliver the anti-ageing power of the Immortelle flower and nourish and rebalance the skin.
Both of these choices will prepare the skin to receive the benefits of the rest of your skin care routine, and are an absolute pleasure to use.
4. In terms of bodycare, what steps would you add in the summer?
Just like the face, the body experiences dehydration during the summer months that can be quite tough on the skin. The first way to combat this is to ensure you are using a body scrub during the summer months. This will ensure that you remove the dead skin cells that accumulate with dehydration, allowing your body moisturizer to more easily penetrate.
My favourite during the summer time is our Verbena Body Salt Scrub, as it contains the refreshing and invigorating extract of our Verbena, which gives energy and freshness in the summer heat. It is enriched with the gentle yet powerful exfoliating action of Mediteranean Sea Salts, which naturally soften the skin. Finally, thanks to the grapeseed, apricot and sweet almond oil it is enriched with, it will deeply soften the skin, leaving it silky smooth and ready for your short shorts and summer dresses.
I would also recommend a light weigh moisturizing gel, that will hydrate the skin without leaving it feeling sticky or uncomfortable. My favourite is our Verbena Icy Gel which hydrates and refreshes with a light weight and cooling formula. You can even leave this in the fridge for extra hydration.
Finally, if you want to show off your new tan, the Almond Milk Veil is the perfect product to help you do so. It is enriched with our nourishing and beautifying Almond extract and a natural shimmer that will give your body that Hollywood airbrushed glow.
5. What special attention does one's hair need in the summer?
The summer months can be very damaging on the hair as well. The sun can both dry the hair as well as strip it of colour. The salt water and chlorine that the hair can be subjected to during swimming and summer activities can leave the hair very dry and stripped of colour as well.
As such, I would recommend hair care that is colour preserving, protecting and restorative, such as our Radiance & Colour Care Shampoo. It is enriched with UV filters that will help protect the hair from the drying and stripping effects of summer sun, and will preserve and restore it with the complex of plant and essential oils, that will repair and protect the hair, leaving it soft and healthy looking.
Additionally, a deep treatment mask can go a long way to ensuring that the hair is deeply restored and repaired. It can be applied once or twice a week in place of your conditioner to really boost the moisture levels of the hair. I would recommend the Aromachologie Repairing Mask, which is enriched with our patented repairing complex of essential oils, as well as nourishing Shea Butter and Glycerin to deeply nourish and repair the hair, leaving it softer and more lustrous during the summer months.
In Victoria, find L'Occitane En Provence boutique in Mayfair Shopping Centre.