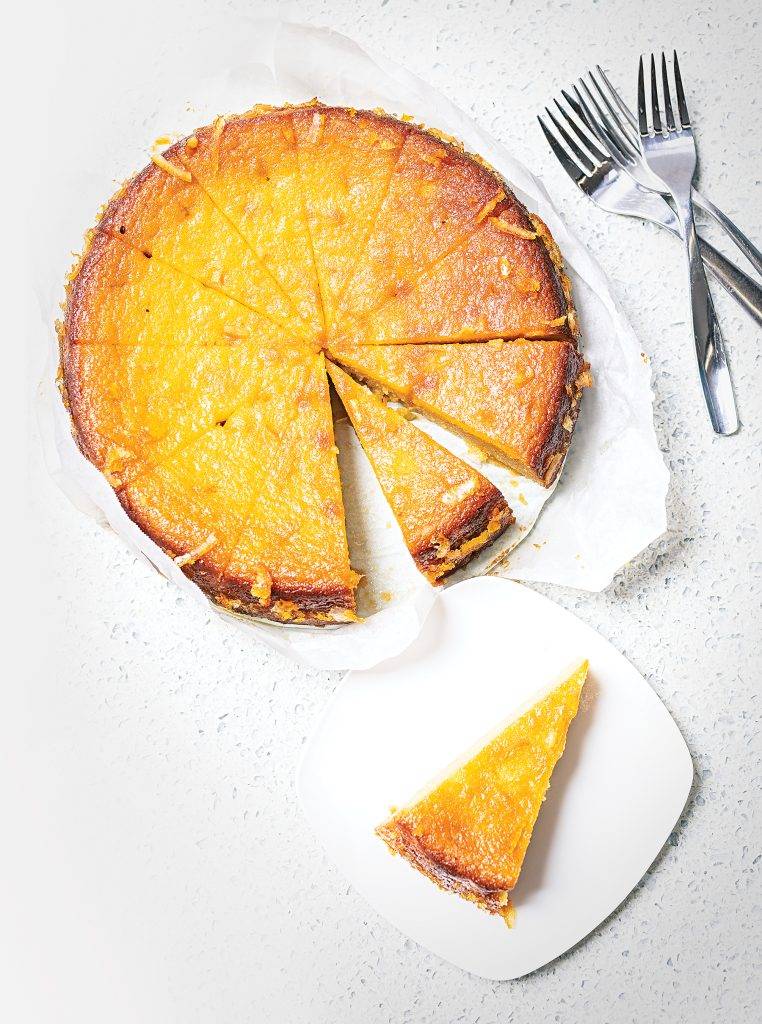 Tom Moore of Crust Bakery shares this recipe for a dense, gluten-free cake that's loaded with sunny orange flavour and colour. Moore likes to serve it "with plenty of whipped cream and warm, runny, dark chocolate ganache."
Cake:
• 3 large navel oranges, scrubbed
• 1 cup sugar
• 6 large eggs, lightly whisked together
• 1 cup almond flour (ground almonds)
• 2 teaspoons baking powder
Syrup:
• 1/2 cup marmalade
• 1/2 cup orange juice
• 1/2 cup sugar
• 1/4 cup corn syrup
Place the oranges in a large pot and cover with plenty of water. Bring to a boil and boil for 2 to 3 hours, until oranges are very soft (or until they start to crack). Check regularly, adding more water as needed. Remove from heat and drain.
Place oranges in a colander set over a bowl and break them open carefully, using tongs, to release excess juices. Cool to room temperature.
Preheat the oven to 350°F.
In a blender or food processor, blitz the oranges and sugar in batches (each orange with about one-third of the sugar), to create a smooth, creamy purée (like a smoothie).
Add the almond flour and baking powder to the orange purée, then add the eggs, whisking to combine well.
(For a slightly lighter cake, separate the eggs and beat the egg whites until stiff. Add the yolks to the batter, whisking to combine, then fold in the beaten egg whites.)
Grease an 8- or 9-inch springform pan and line the bottom with parchment. Pour the batter into the pan and smooth the top. Bake in the middle of preheated oven for about 60 minutes, until brown and pulling away from the pan. (Check the cake using a skewer after 45 minutes.)
Meanwhile, prepare the syrup. Bring all ingredients to a boil and cook for 5 to 10 minutes until fairly thick. Test the viscosity by drizzling a teaspoon of the syrup on a cool plate — it should be sticky, like honey, when cool. If not, continue cooking.
When the cake is done, remove from the oven, and carefully pour the boiling syrup over the cake while it is still in the pan, ensuring that the syrup gets into and around the sides of the cake. Let the cake cool thoroughly, and then refrigerate for 2 to 3 hours (preferably overnight) before removing from the cake ring and serving.
Serves 8 to 12.
You might also like Crust Bakery's recipe for Marshmallow S'Mores.