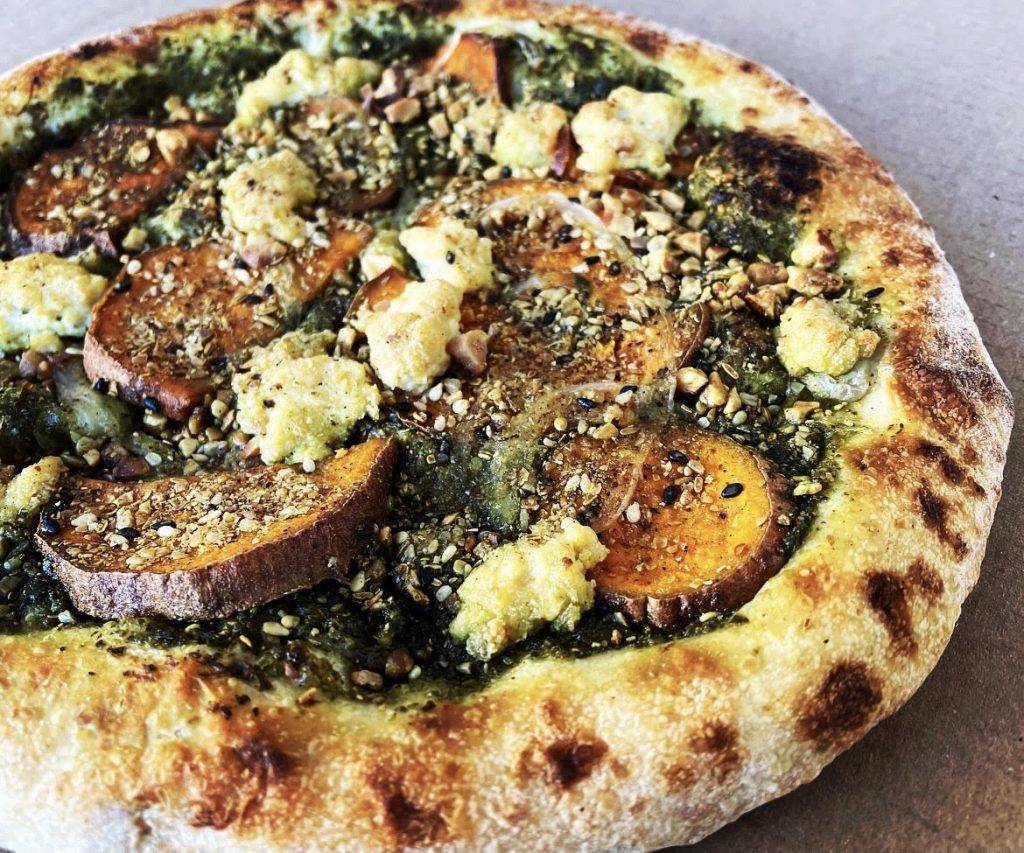 By Aldyn Chwelos
Devon Thor of Vagabond Pies can remember the exact moment seven years ago when she fell in love with Sourdough. She was watching the air episode of the Netflix series Cooked and it was all about breath. Something in the episode, and in the process, hit her emotionally.
"There's this simplicity, this ancient quality of bread" says Thor. "So much of our human history is bread and especially the traditional production of it, which is sourdough."
"The whole process of bread is pretty magical. I know there are scientific explanations for everything but, to me, it's still magic. These little enzymes coming together to create this beautiful thing."
From then on it became Thor's goal to learn everything there is to know about sourdough. She packed up her life in Vancouver and moved to the Island to study in the baking program at VIU. Learning and experimenting with the school's wood-fired oven, her love of bread solidified in the form of pizza.
"First love was bread," says Thor, "And then the runaway love was pizza. It's just so dynamic."
Thor dreamed of opening her own pizzeria but the jump from baking student to restaurant owner is a big one. She decided to focus her pizza passion on a market she felt could use improvement: frozen pizzas.
"There's not much to choose from right now," notes Thor of the storebought options.
Still loyal to her first love, she makes all her pizza crusts with sourdough. Thor makes all the toppings by hand from her chimichurri sauce to her plant-based chorizo. She gets the ideas for her pizza flavours while she's driving around on country roads picking up her fresh produce. Though not the original plan, the majority of her pizzas are vegan due to them being her most popular sellers. Her biggest hit is the roasted yam and pesto pizza which features ingredients such as her cashew-based ricotta and pepperoni-esque yam medallions. It's then topped with a cilantro, parsley and lemon zest herb pesto and finished with an Egyptian spice blend called Dukkah.
"It's been so eye-opening, the need for plant-based options," says Thor. "They're like a godsend for a lot of people who are vegan."
Right now, Thor crafts her pizza in the kitchen at Neighbourly, using the equipment during the staff's off hours.
"Basically, I'm there when they're not," says Thor. "It's been a really great setup. It's such a beautiful space and it's been really good to have the support."
Though Thor mostly sells her pizzas frozen in locations such as the Old Farm Market, Coco's Provisions, and Belle General, recently she's partnered with local businesses like For Good Measure to do a fresh pizza pop-up.
"It's been such a great opportunity to get to know the neighbourhood," says Thor. "I have regulars come now. It's pretty cute."