YAM goes foraging with the founders of Gather to discover the wild flavours of conifers, perfect for your Yuletide recipes.
By Cinda Chavich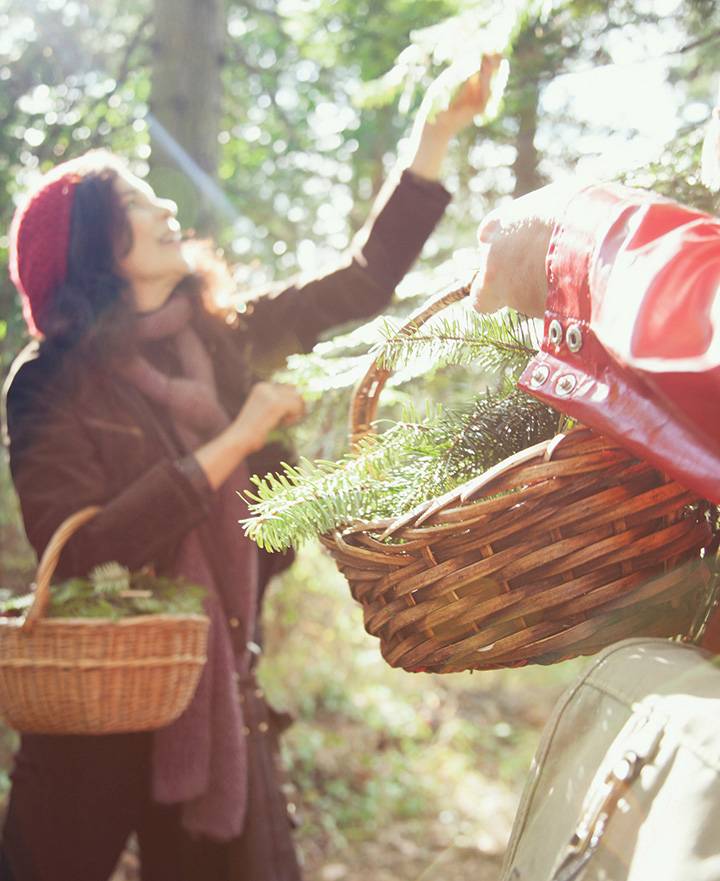 Danielle Prohom Olson, pictured here, of Gather, which offers foraging workshops, recipes and lots of information about gathering wild foods at gathervictoria.com. PHOTO:
DARRELL LECORRE.
---
The aroma of freshly cut forest greenery around the house is a sure sign that the holidays are approaching. Wreaths and boughs of spruce and cedar, and a towering fir or pine draped in glittering lights and baubles, all help to make the season bright. But beyond their beauty, these aromatic evergreens are delicious — and healthy — when infused into holiday dishes and drinks.
Women Go Gathering
For Jennifer Aikman and Danielle Prohom Olson, the women behind Gather, a local business focused on foraging and wild-food cuisine, collecting food in the wild connects them to the seasons and the earth, a spiritual endeavour that "enhances personal and planetary well-being." In the waning days of December, that means Yuletide Walks to collect conifers.
"The flavour of evergreens is really beautiful," says Aikman, guiding me through Wark Street Commons and The People's Apothecary, public gathering grounds where she fills a basket with spruce tips, elderberries and dandelion greens.
"Conifers are always great with cream and sugar, or you can mince needles and combine with salt or butter to rub on meat or salmon."
At last year's Yuletide Walk, they set out to forage conifers, then shared a Grand Fir Tea with spruce shortbread and scones, and taught participants how to make fir-flavoured sugar, spruce finishing salt, healthy winter tonics and syrups.
Danielle Prohom Olson (L) and Jennifer Aikman of Gather. PHOTO:
DARRELL LECORRE.
---
Foraging in the city's backyards, forests and designated "common ground" gardens, these gleaners are committed to teaching others that wild plants — many that we consider invasive weeds — are a healthy and sustainable alternative to commercial crops. From nettles and lamb's quarters to dandelions, chickweed and those ever-present conifers, there's much to eat beyond today's "depleted, domesticated foods."
"Many of these are the same plants eaten by our ancestors," says Prohom Olson, noting that candles, wreaths and greenery are part of both Christian and ancient Celtic mid-winter celebrations.
Gather started with a solstice party to toast the season with traditional foods and has grown into a passion project, dedicated to helping people put nature back in their lives, especially at the table.
"Ancestral food wisdom reconnects us to a vital truth; it sustains us," says Aikman. "Gathering brings nature and magic back into everyday life."
Chefs, Conifers and Cocktails
The local grand fir, with its citrusy notes, is also a favourite for A.J. Thalakkat, the creative executive pastry chef at the Fairmont Empress Hotel. It is infused with cream in his Grand Fir Crème Brûlée, an impressive presentation with its chocolate twig and "reindeer moss" garnish.
"That's Vancouver Island on a plate," says Thalakkat, who forages with his team to uncover wild edibles for the sweets kitchen. "The fir gives it a lovely, subtle aroma of the forest."
Conifers make great infusions for cocktails, syrups and even beer — think the "rainforest botanicals" that flavour Phillips' STUMP Gin or the Foraged and Found cocktail on the menu at OLO, garnished with a sweetly pickled spruce tip.
Pine and spruce tips are rich in vitamin C, and First Nations taught early explorers how to brew spruce beer to ward off scurvy. The original recipe is made with sugar, yeast and spruce oil, and now microbrewers are revisiting the idea with spruce beer made with molasses and hops.
At La Belle Patate, sweet spruce beer soda (a traditional French-Canadian specialty) is served alongside poutine. But you can take a page from early Canadian history and brew your own at home too.
In his book The Deerholme Foraging Book (TouchWood Editions), chef Bill Jones offers lots of tips for collecting and cooking with Douglas fir, grand fir and Sitka spruce, whether it's his grand fir-infused honey, jelly, salt, spruce-scented vodka or a conifer-flavoured chocolate hazelnut tart.
Edible conifer flavours range from citrusy lemon and bitter grapefruit to herbaceous rosemary and woodsy pine, Jones says.
"Grand fir needles were traditionally used by West Coast First Nations as a flavour agent for food and as a medicinal herb," he adds. "Traditional firepit cooking used fir boughs to smoke and flavour a wide range of seafood and meats, including salmon."
Or you might consider making Éclade de Moules — mussels cooked in smoking pine needles. It's a historic dish that French explorer Samuel de Champlain first served his men in 1605.
The dramatic technique calls for arranging mussels tightly together, upright, on a tray or wet plank (hinges pointing up to keep the ash out), then burying them in a pile of dried needles that's set alight (outdoors, of course) to simultaneously cook and smoke the shellfish.
Collecting and Cooking
While you must avoid all yew — ingesting it can be fatal — and cedar should only be eaten in small amounts, most conifers are perfectly safe to eat. It's best to choose trees in your own backyard or from a wild forest for harvesting. Stay away from trees that might be sprayed (that includes those on parks and golf courses, and also avoid commercial Christmas trees or ornamental balsam from florists and garden centres).
If you're trying to identify your conifers, there's a simple test — lightly grab a branch and run it through your fingers. Spiky spruce needles are hard and pokey, while friendly fir needles are softer. Pines usually have much longer needles and are easy to spot.
Individual trees have unique flavours, so taste a few before harvesting. When the first electric green tips emerge in spring, they're tender and citrusy, perfect to eat raw in salads or pickle for "Canadian capers" to garnish grilled salmon or cocktails.
Later in the season, the needles are more intensely flavoured, sometimes even bitter, so they're better for teas and infusions. Pick only the new growth (tips) and discard the stems. Finely chop needles in a blender or food processor to add to baked goods like shortbread and scones or to make finishing salts and scented sugar.
You can vacuum-pack and freeze the needles and preserve the tender tips in vinegar. Salt also acts as a preservative.
Steeping grand fir, Sitka spruce or pine needles in vodka for a week or two draws out the flavour and the emerald green colour. Dried needles can be powdered in a spice grinder to create medicinal tinctures. You can also use this technique to infuse vinegar and oils. Just strain and bottle for longer storage.
Prohom Olson says fir and spruce powder, combined with rosehip and hawthorne berries in a honey syrup, makes a medicinal tonic to ward off winter colds, but can also be added to seasonal cocktails.
"Its antimicrobial and antiviral — and it tastes like Christmas!"
---
A Quick Guide to Forest Flavours
Each conifer offers its own unique flavour, and the flavour may be milder or stronger depending on the time of year it is harvested.
Grand Fir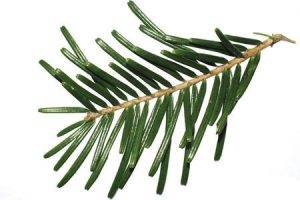 Citrusy, with hints of grapefruit or tangerine.
Pine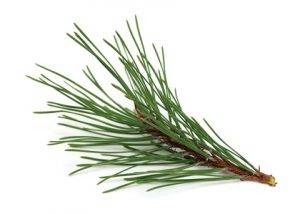 Bright and citrusy, with notes similar to its piney aroma.
Hemlock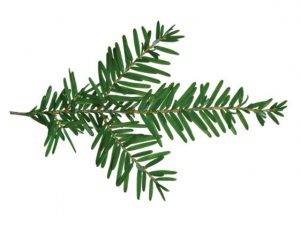 Minty, often described as "tasting like Christmas."
Spruce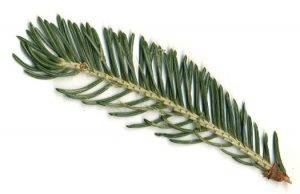 Soft lemony flavour with a woodsy aftertaste.
CAUTION: Cedar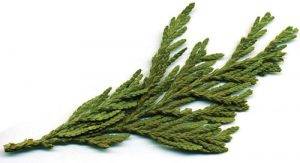 Can be used to make a woodsy tea but should only be consumed in small amounts.
DO NOT EAT: Yew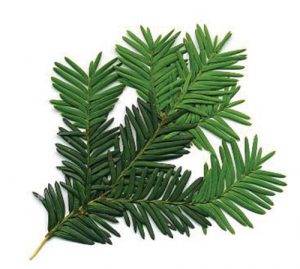 This article is from the November/December 2017 issue of YAM.