Whether for the holidays or any other occasion, think outside the boring old box and tie your presents up with sparkle and imagination.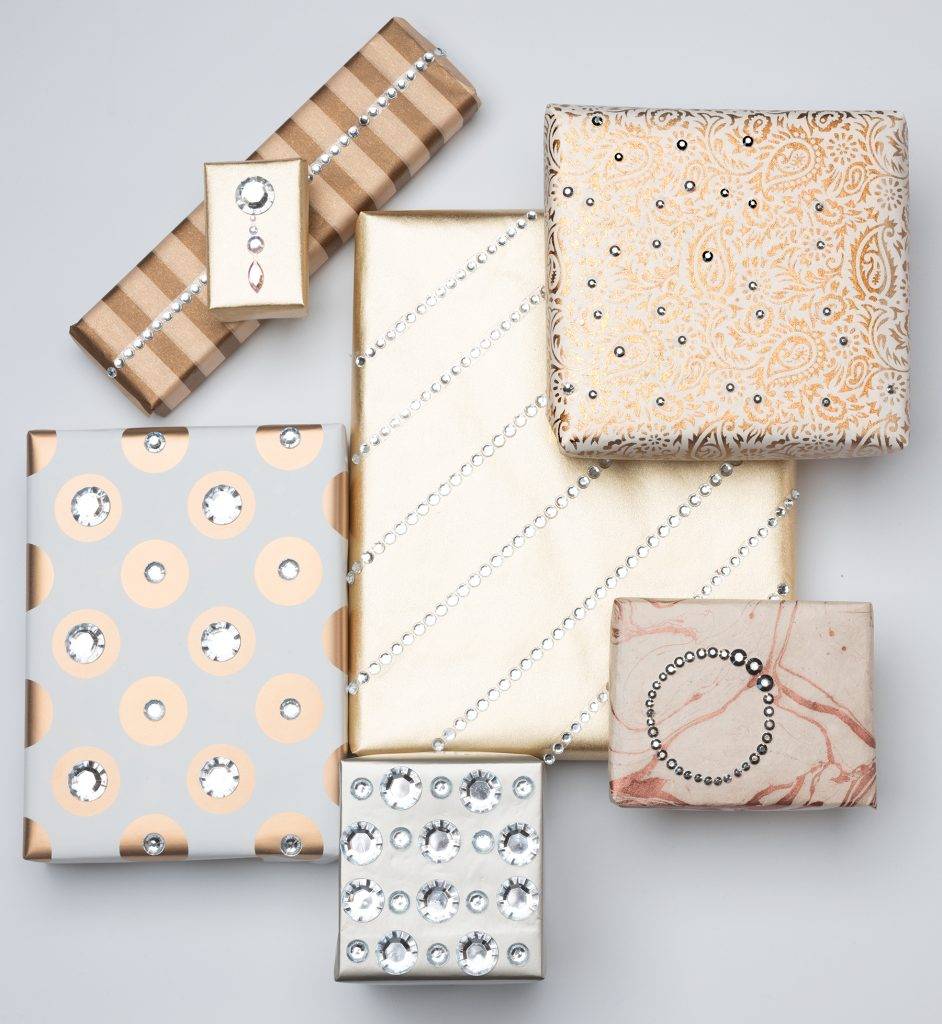 BY WENDY MCLELLAN
Remember last Christmas, when you promised yourself that next year would be different? That you wouldn't be frantically wrapping a hostess gift while putting on your coat and rushing to a holiday open house? That you wouldn't be up in the early hours of Christmas morning, juggling tape and rolls of paper, searching for matching bows and gift tags to finish the wrapping before the family wakes up?
Yet here we are again. The holidays are just a few weeks away, but you can still keep that promise. There is time to organize the gift wrapping — and get help from experts — if it's one of the tasks you dread at Christmas. And if wrapping gifts is your favourite creative outlet, it's time to bring out the colourful ribbons, pretty paper and stick-on rhinestones and follow along with YAM's guide to giving your presents real presence.
Fancy that
Ashley Stelck, co-owner with Patricia Pearson of Hansell & Halkett Vintage Home Decor in Sidney, loves to make holiday gifts look beautiful. "We're not super fancy," says Stelck. "The signature to our look is pretty, but not fancy. Not glitzy — it's more muted and natural, but says something special."
To wrap gifts, Stelck uses kraft paper and gift bags, tied up with wide ribbon in rich green or gold. She adds a bit of eucalyptus — or a sprig of cedar if it's a last-minute gift — and tucks in a slice of homemade dried orange strung on natural jute.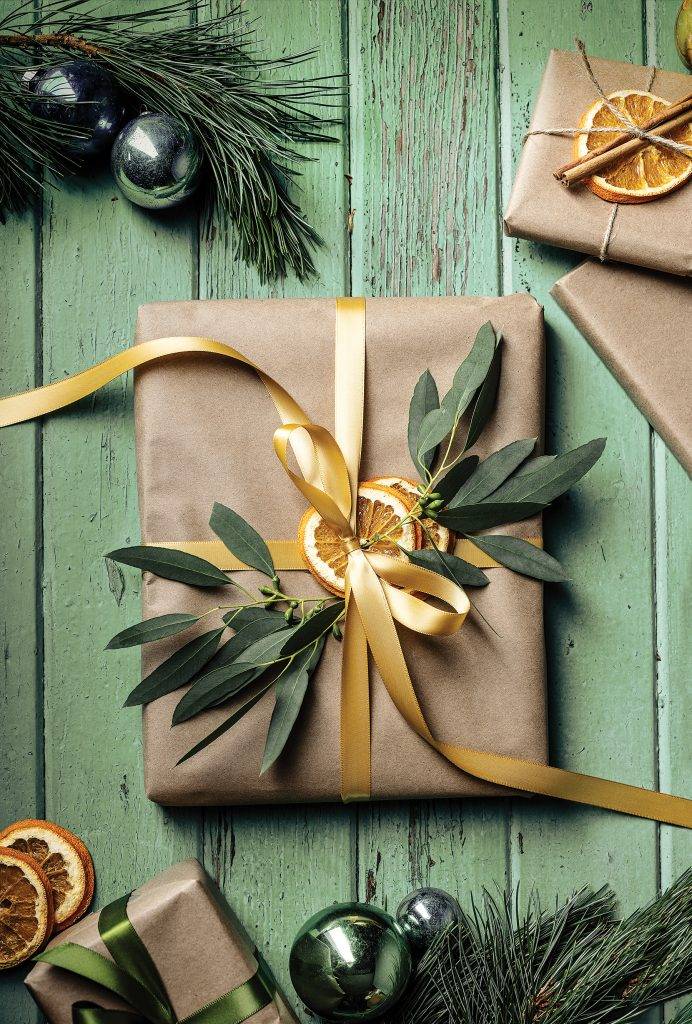 "Charcuterie boards are really awkward to wrap — they definitely aren't my favourite," she says.
"If you can lay them flat they look really pretty, but in a bag, they just slump."
For tissue, and to wrap fragile items, Stelck searches out sewing patterns at thrift shops. She upcycles the paper sewing instructions for wrapping fragile things such as candles, and the tissue patterns to tuck into bags and boxes. "Our store motto is environmental, recycled and minimal impact," Stelck says.
For customers who prefer to wrap gifts themselves, the shop sells furoshiki, traditional Japanese wrapping cloths. The cloths are pricey ($17 to $26), but she knows of friends who exchange gifts each year and wrap them with furoshiki so they can trade the cloths back and forth as part of their holiday traditions.
For more fabric gift wrap ideas, check out the bold and colourful line created by Victoria artist Jennifer Playford, who is also the author of Wrapagami, the Art of Fabric Gift Wrap (Macmillan NYC).
Elegantly simple
Carolyn Stobbart, manager of The Papery, expects nature-themed gift wrap and embellishments to be popular again this year. The shop on Fort Street sells ribbon by the yard, paper, tags and gift-wrapping items that are co-ordinated to make presents look professional. There are also some off-the-wall collections (Hawaiian-themed holiday paper, for example) for the right person.
Muffet Billyard-Leake, owner of Muffet and Louisa on Beacon Avenue in Sidney, prefers a classic look for wrapping Christmas gifts.
"My favourite store in the world is Hermès, and I love the simple, elegant way they package gifts in orange boxes with brown grosgrain ribbon. I decided to go the same way," she says.
Billyard-Leake buys holiday wrapping paper from The Papery and orders 5/8-inch grosgrain ribbon with her store's name printed in gold. Customers can choose from red or cream ribbon, which co-ordinates with the holiday papers that don't have typical Christmas prints. No Santas or nativity scenes, but instead rows of white owls on dark red and green, or other bold patterns.
Handy Tips
"I've wrapped just about everything over the years," says Jane Tice, a personal gardener whose last role before she moved from retail to horticulture was general manager of Victoria's Chintz & Company. But her first job as retail manager many years ago was at a kitchen store in Montreal. "We gift-wrapped everything — we got good and fast at wrapping crazy shapes."
Over the years, she learned many tricks for making gifts look special, and her family always looks forward to seeing how Tice will wrap their presents. One Christmas, she mailed her sister a parcel filled with small, individually wrapped gifts all tied together. When her sister lifted the first present from the box, the others followed on a long strand of ribbon.
Here are few of Tice's ideas for wrapping gifts that are as much fun to open as to receive:
• Buy good paper or use kraft paper if you can't afford quality gift wrap. "Good quality paper makes sharp corners," she says.
• Measure paper before you cut.
• Have the tape ready: Cut small pieces and tack them gently to the edge of the table so they are lined up to make it easier to keep the paper tight.
• Fold the cut (rough) edge of the paper first, then tape the nicer edge on top. Neatly fold in the sides.
• Buy ribbon at fabric stores; it's less expensive and the selection is usually better. Thrift shops are also a good place to scout for ribbon.
And if you can, upcycle. Tice reuses paper and ribbon, just like her mom did, adding a second short piece of ribbon to a bow in a complementary colour to use up bits and pieces.
To reuse gift wrap, she tapes together several smaller pieces and turns the paper into a Christmas collage. If using kraft paper, she might cut out a few images from magazines — such as flower or tool photos for a gardener — then hot glue them to the paper after the gift is wrapped.
"If you're not reusing, it's so expensive now to wrap gifts," she says. "It was more fun when it was less expensive."
That's a Wrap! 12 Creative Ideas with Real Presence
Sometimes you just want to put your gift in a pretty bag and be done with it. Other times you want to create a work of art as beautiful as the gift inside. Here are 12 ways to do just that.
1. Holiday Ornaments
Add a whimsically festive touch by tying a small ornament to your bow or tucking it under the ribbon. Think: candy canes, wooden cutouts, tiny jingle bells or vintage-style glass ornaments in cheeky motifs like Champagne bottles, sports cars or oysters on the half shell.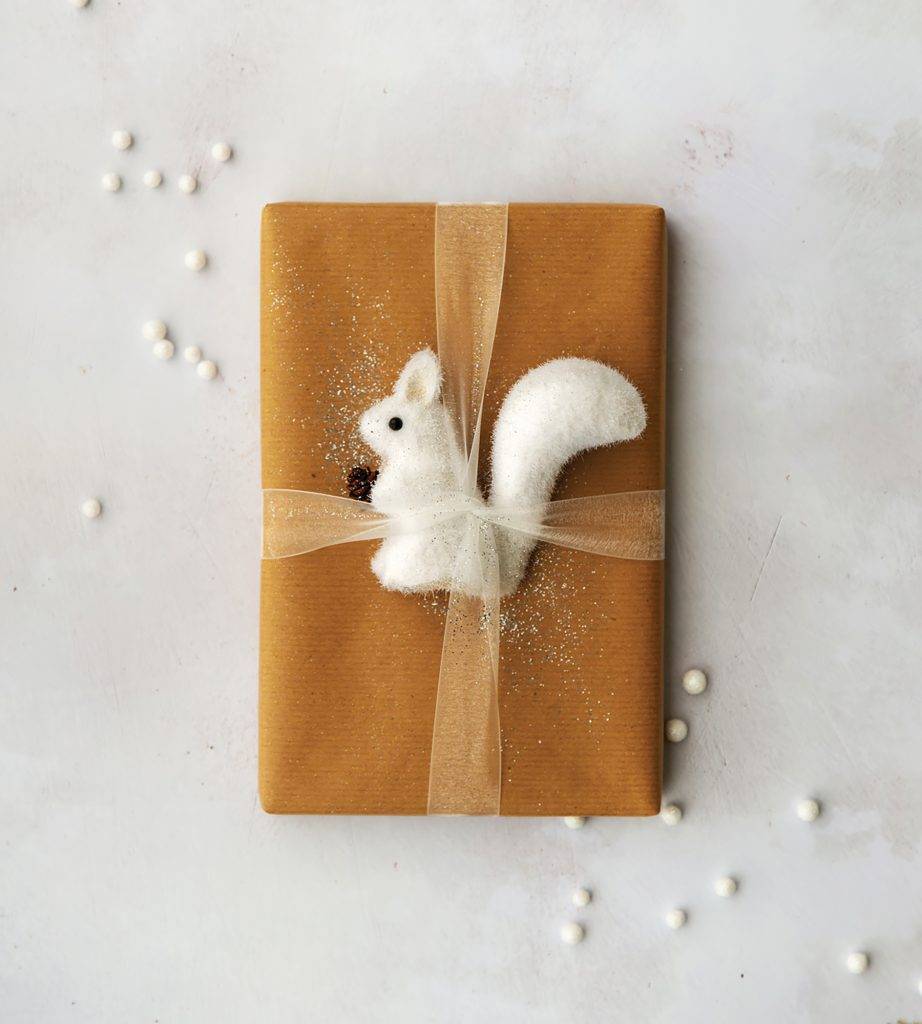 2. Take a Bow
If you're handy, you can design bows out of origami paper or fabric, or fashion pom poms out of yarn and tie them to your gift. Or how about adorning your parcel with a bouquet of faux flowers instead?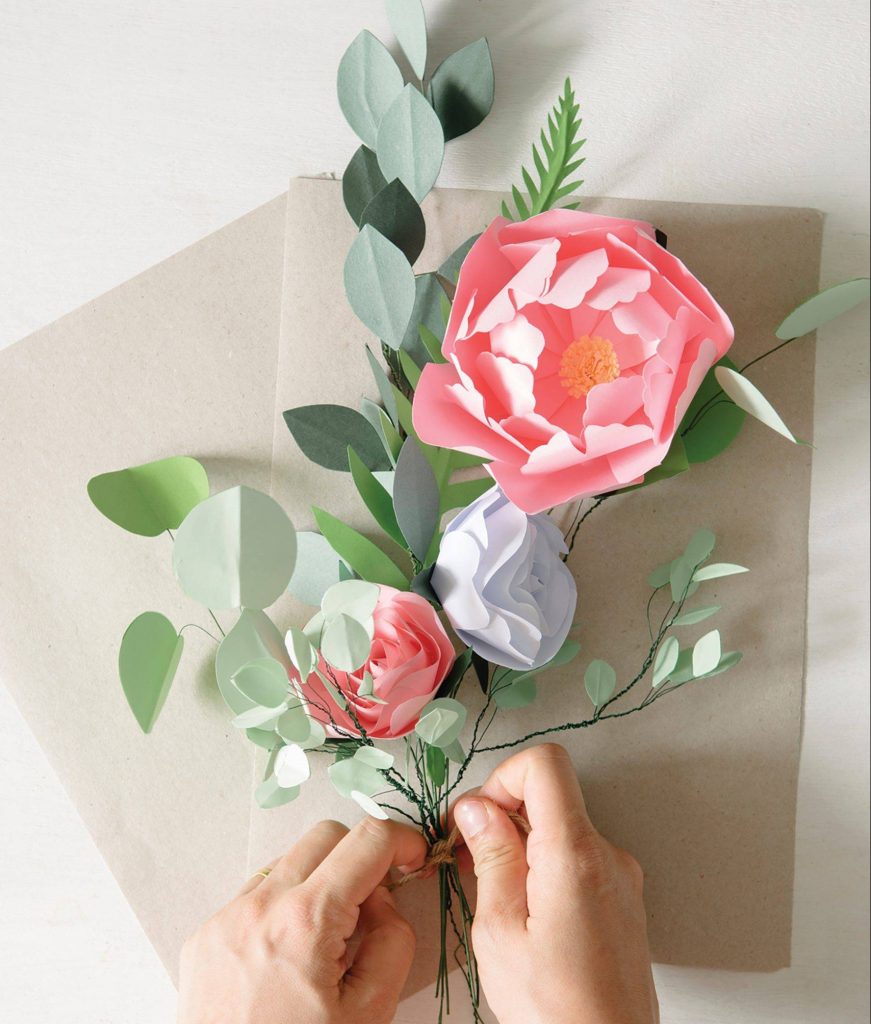 3. Ribbon Cuttings
Those cheap, plasticky spools of ribbon are fine, as far as they go (and not actually all that cheap). But why not try something more beautiful? Real fabric ribbons are elegant and so much easier to tie nicely. Raffia or twine can add a cheerful rustic touch.
A vintage scarf creates a luxe, fashiony note. And don't feel tied to traditional holiday red or green — consider metallics, pastels, even black, which is surprisingly elegant against brown kraft paper.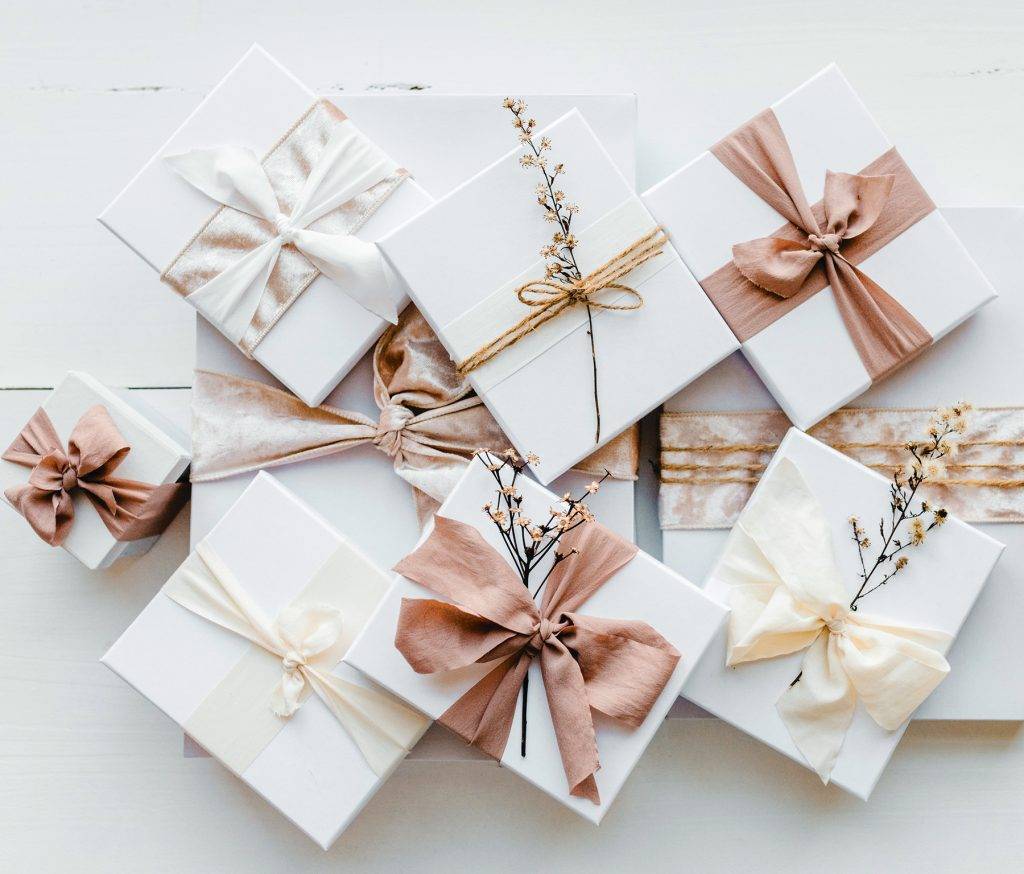 4. Jewel Tone
Take inspiration from precious jewelry and glue rhinestones to your gift wrap. Arrange them in rows, circles or patterns that mimic holiday ornaments for the glammest of gifts.
5. Feed Your Senses
Wrap a gourmet gift in a beautiful tea towel, then tie it with a ribbon or kitchen twine and tuck an olive-wood spoon or colourful silicone spatula under the bow. Add a rosemary sprig or cinnamon stick for some festive fragrance.
6. Pretty in Ink
Wrap your gift in kraft paper, then use a silver felt-tip pen to draw lines, squiggles, snowflakes or other personalized patterns. You can also use other colours of ink or paper, if you prefer, but we love the elegant sheen of silver against the rustic brown paper.
7. Box Up Your Baked Goods
If you go to all the work of making cookies or candies for the people you love, make a point of packaging them in professional-looking bags or boxes. Companies like Creative Packaging have a good selection available online — all you need then is a pretty ribbon to tie it all up.
8. Natural Elements
Create a festive winter motif by adorning plain-coloured wrapping paper with a simple cedar or spruce branch, a pine cone or two, a holly sprig or even a small wreath.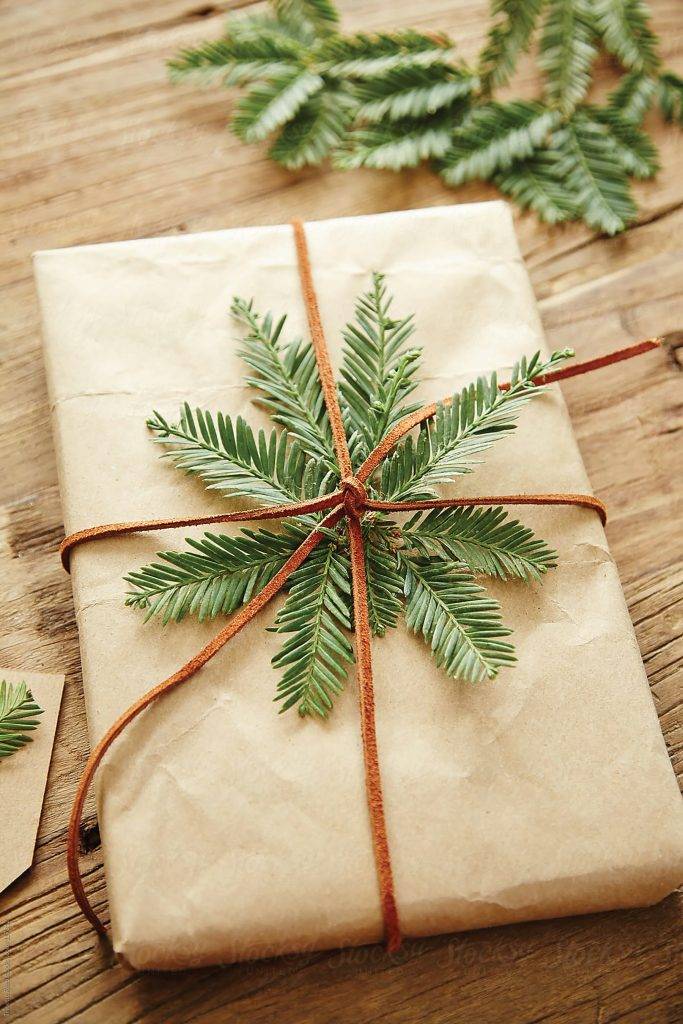 9. Word Has It
Use stick-on letters, stencils or stamps to write a thoughtful message for those you love best — right on the wrapping paper. Or create a chalkboard effect, either by using white marker on black paper, or using chalkboard paint and writing a note in chalk.
10. Artful Paper
Instead of commercial wrapping paper covered in Santas and snowpeople, think outside the (gift) box. You can use stamps, stencils or paints to transform basic kraft paper into something unique. Or grab a roll of white butcher paper and use watercolour paints to create abstract designs.
Or try your hand at collage or découpage — glue paper cutouts onto your gift wrap and add special paint effects or gold leaf — for something that's truly one of a kind. Even better, let your kids join in the fun to create their own works of art.
11. Washi Tape
Another option is to replace ribbon with easy-to-use washi tape, which comes in pastel, glitter, floral, vintage, metallic, natural and brightly coloured designs. You can even create a layered effect by weaving the tape horizontally and vertically in an alternating pattern.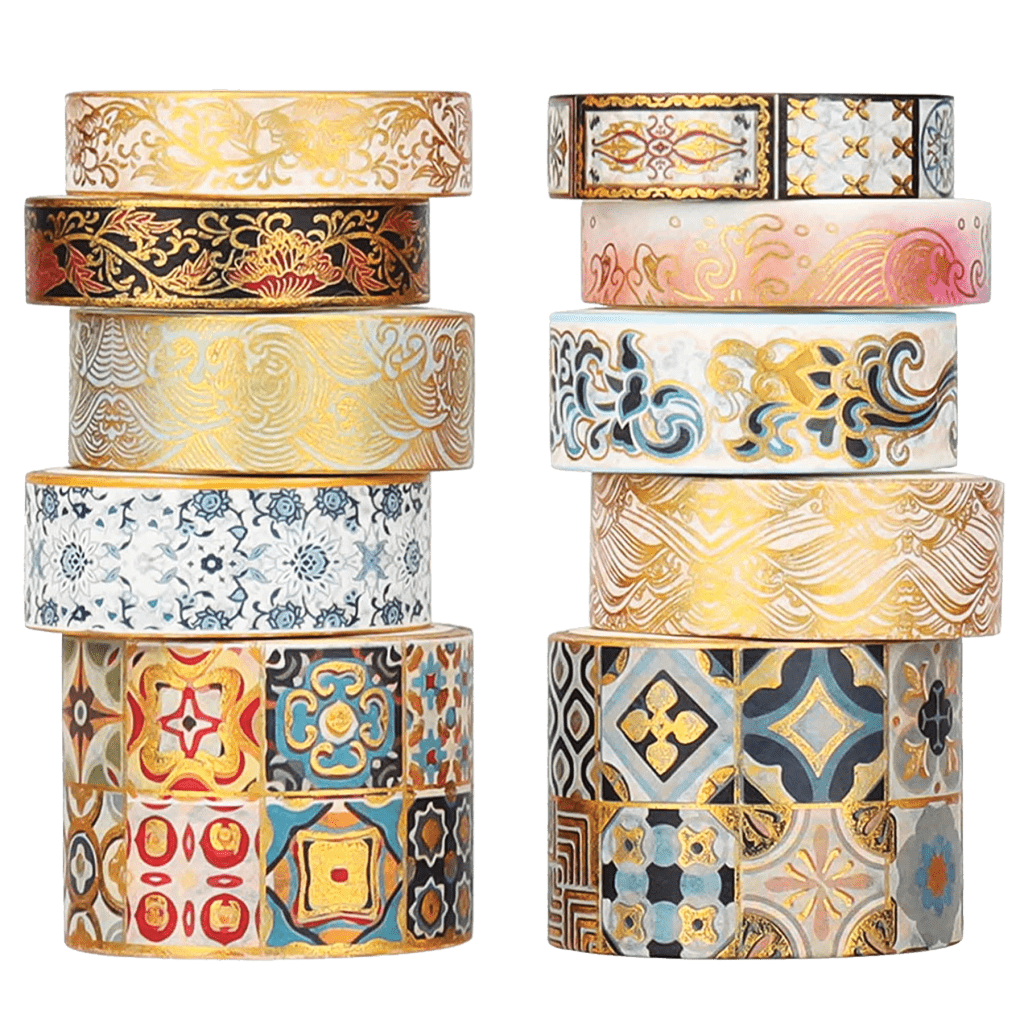 12. The Practical Stuff
Before you start, make sure you have all your supplies. In addition to wrapping paper, ribbon and accessories, you will need: scissors, tape (double-sided tape is the way to go), gift tags and something to attach them with, a ruler, tissue for gift bags.
Outsource the Work
If you would rather drink eggnog and decorate sugar cookies than wrap presents, The Mustard Seed is ready to help.
This Christmas, for the first time since 2019, volunteers will wrap gifts for a donation to the non-profit's food bank, December 1 to 24 at Mayfair Shopping Centre. The Mustard Seed is also looking for volunteers who have a knack for wrapping and decorating presents. To volunteer, visit mustardseed.ca.