By Athena McKenzie | Photos by Jeffrey Bosdet
Sometimes the spaces in which we live, work and play are a direct reflection of ourselves. Gwen Howey's greenhouse ceramics studio is connected to nature and the serenity necessary for her art.
During the day, natural light floods Gwen Howey's greenhouse studio, its generous black-framed windows forming the walls and ceiling of the small structure. Splatters of white clay turn the black wooden slats of the wall adjoining the house into a striking monochromatic work of art.
It's a small space, but it contains almost everything Howey needs to create her minimalist and functional ceramics.
"We upgraded it last year — we double-glazed it and poured a concrete floor — but I didn't want any more space," she says. "I like having a small space that's really organized."
---
"There is a kind of legacy. A lot of Japanese potters work in a very indoor-outdoor kind of space. In the summer, both of the greenhouse's doors are open, so I'm essentially outside with just a bit of shelter and the roof." — Gwen Howey
---
When Howey first took a pottery class 20 years ago with friend Malene Foyd, both knew immediately that it was something they wanted to do forever.
"I felt I just needed to do it and self-learn, so I bought a wheel right away and went in with Malene on a second-hand kiln — and we just took off," Howey says.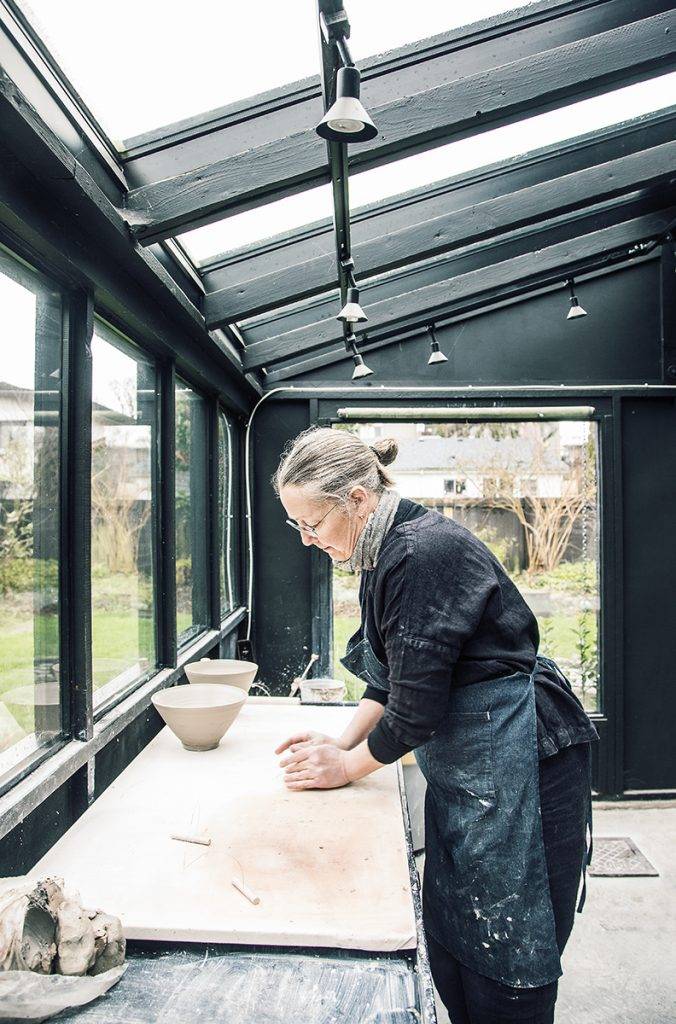 The greenhouse was a natural fit for her studio, with the kiln across the yard in a converted shed. Howey can sit at her wheel, taking in her little pond and bamboo tree, and all the birds. When she's in town, she's in the studio every day, clad in merino layers in the winter.
"I like that the kitchen window goes directly into the greenhouse because I love to cook," she says.
"So I can put something on the stove and leave the window open. It's very connected with my domestic life."
Sometimes her husband, architect Franc D'Ambrosio, brings her buckets of local clay from his building sites. The clay often contains bits of seashells and brings the smell of the ocean into the small space. The constant connection to nature that the studio provides is vital for Howey and her practice.
"The creative process is very interior and I love the focus," Howey says. "When I'm [shaping the clay], the rest of the world is absolutely gone. Even my thoughts are gone. It's meditation. It's just you and the clay — then at some point physics rears its head."
Her favourite part of the process is when a pot is freshly thrown, when it's wet and transitional.
"I could go like that," Howey mimes flattening something with her hand, "and it would be gone.
"I love that delicacy, that vulnerability it has and its freshness of just existing."
---
This article is from the March/April 2020 issue of YAM