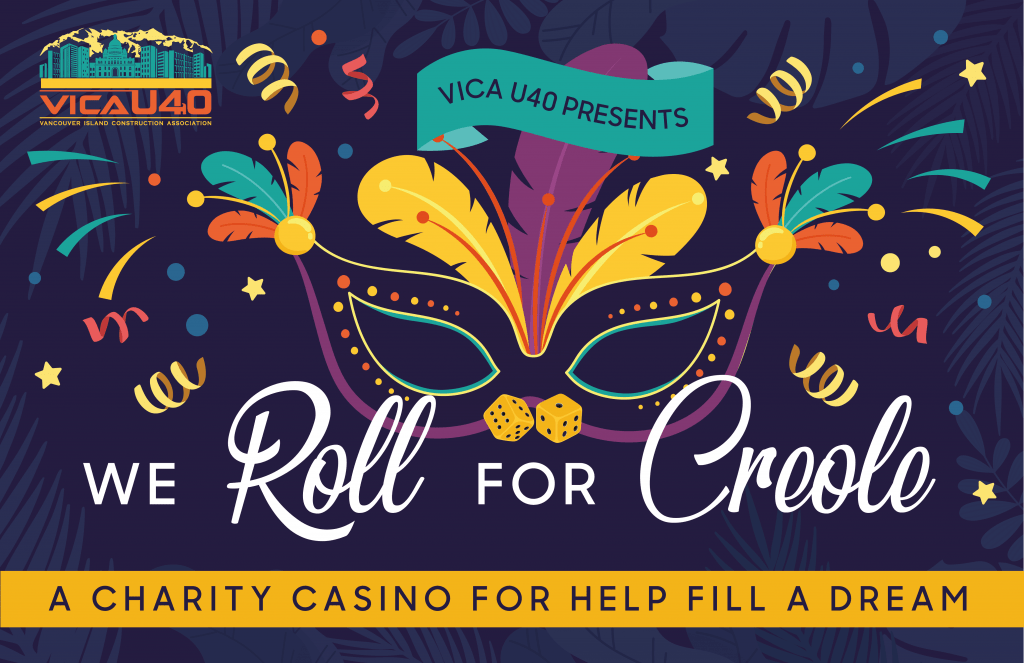 The Vancouver Island Construction Association's U40 Group is hosting their 6th Annual Charity Casino – We Roll for Creole for Help Fill a Dream foundation. This year be prepared for a "Ragin Cajun" good time as they are taking you on a trip down Bourbon Street with their Mardi Gras themed Charity Casino.
VICA U40 started in 2010 with a handful of young and motivated individuals looking to network in the construction industry as well as volunteer in the community. Nine years later the group hasn't changed its philosophy but it has grown tremendously. This group of young construction professionals has raised a total of $367,000 and given back to the community through a variety of events and community projects. They meet every third Thursday at Swans Brew Pub where their executive team will sit down over a cold beverage to discuss upcoming events such as their Speaker Series, St. Patrick's Day Social, Builders on the Barge Music Festival and most notably their Charity Casino for the Help Fill a Dream Foundation.
This year's Charity Casino will be taking place Friday, February 21, 2020 at the Delta Ocean Pointe Resort with doors opening to VICA U40's famous Midway Games at 5:30PM. Guests will have an opportunity to walk the red carpet where they will be greeted by a paparazzi style photographer to capture everyone's arrival in their Mardi Gras theme attire. Each guest will be given a stack of "funny money" which they can use to play their favorite casino games.
"It is pretty surreal to sit down next to the CEO of a large construction company and go all in and have a bunch of laughs, all while raising money for Help Fill a Dream Foundation"

A.J. Winters, U40 Victoria Vice-Chair.
Guests are encouraged to participate in the midway games such as Plinko, Ring Toss, Bean Bag Toss; where they can try their luck to win more funny money. Funny money can then be used to win some pretty amazing raffle prizes that have all been donated. This year's raffle prizes include a 65" LED TV, Nespresso Machine and Coffee, Royals Tickets, Jewelry and more!
There will also be a live band performing so guests can dance in between their favorite casino games. Cajun inspired canapés will be floating around the room and of course a cash bar with proceeds from each drink going directly to Help Fill a Dream Foundation.
Proceeds from ticket sales, midway games, and auctions go to support the foundation. Last year this event raised $18,000 for the Help Fill a Dream Foundation and VICA U40 is looking to aim even higher this year.
"​The annual charity casino night is one of our committee's most impactful events of the year.​ ​The event is driven by volunteer U40members and really showcases our membership's diverse talents, skills and their passion for supporting the community they are a part of. We look forward to showing Victoria more of what we can do together at this year's event.​"

Douglas Paterson, U40 Victoria Chair.
Tickets are $100, plus tax. Get yours today at http://www.vicabc.ca