By Danielle Pope
This spectacular renovation of a 1903 heritage home breathes new life into a Samuel-Maclure-designed Rockland masterpiece.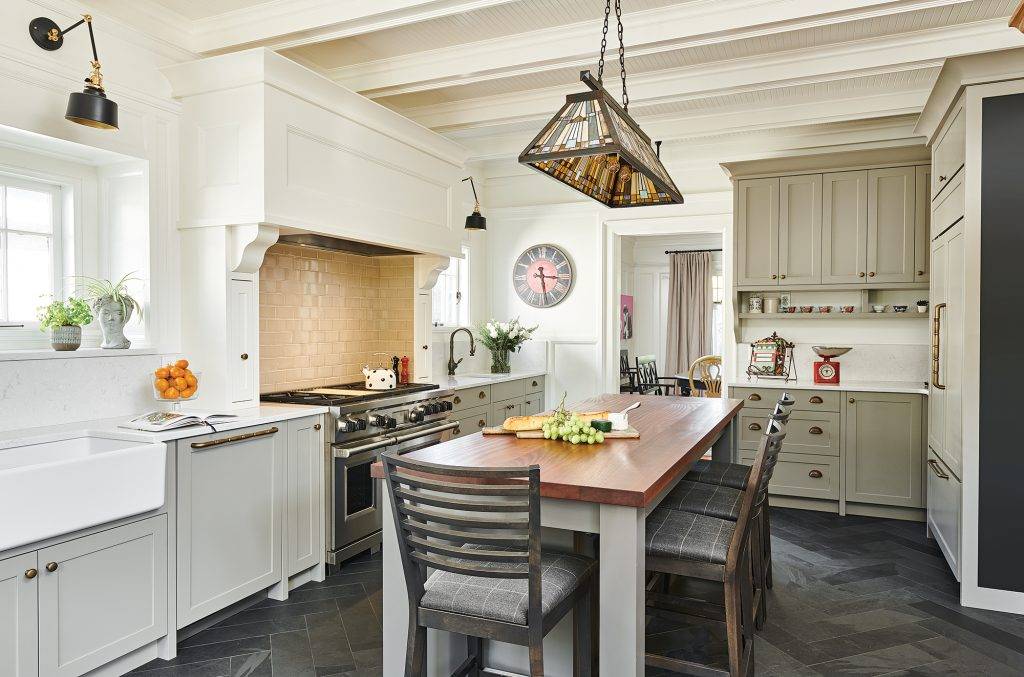 On any given holiday morning in a heritage home in the Rockland neighbourhood, family members gather around the kitchen island. Laughter can be heard through the windows as Brad Erickson and a neighbour sip coffee and discuss the day. One of the kids, back from college, helps a friend whip eggs while her brother practices his pancake flip on the oversized range stove. Brad's partner, Megan Stone, is telling an aunt about upcoming travel plans. The room smells like warm cinnamon, and the sun shines through the stained-glass window, creating colourful patterns on the floor.
It's days like this that remind Stone and Erickson that they found their perfect match when the 1903 registered heritage house that would become their home first appeared on the market. They'd had to act fast — so fast, in fact, they bought it sight unseen, with only a nearby relative to verify its condition. It needed work.
The Ericksons were living in the U.K. at the time, and the traditional British-themed architecture promised what they were looking for: an anchor for their dynamic lifestyles.
"When we stepped into this home for the first time, we were still waiting for our furniture to arrive from London, but the warmth of the house was overwhelming, and we were greeted by these beautiful dark wood ceilings," says Stone. "I knew this was going to be home."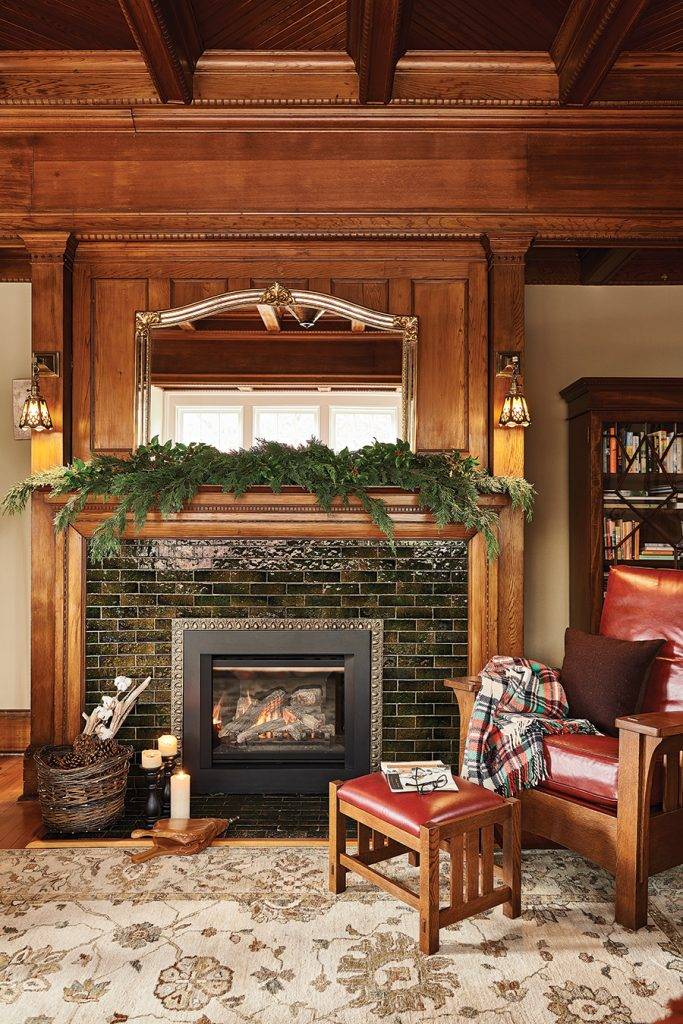 ---
Stone and Erickson, and their college-age children, Ryley and Brynn, join a line of families who have called this house home. When they discovered it, the structure had been converted into nearly a dozen rented suites. The divided lower level and 60s kitchen would require a complete overhaul, and the upper-level rooms needed a functional makeover. None of this caused Stone or Erickson to pause.
"It's rare to find a client willing to reinvest in the history of a home, and part of that comes down to the complexity and expense of working with old-form materials," says contractor Paul Hofmann, who headed the kitchen construction — a section that had to be entirely re-levelled. "In the old days, things just didn't cost what they do now."
The house was built by acclaimed Victoria architect Samuel Maclure, who designed more than 80 local homes, a good many of which are still standing, so revered are they for their beauty, inside and out. As a Maclure masterpiece, the three-level home was created as a front-gabled, Arts and Crafts-style house on a stone foundation. The original occupants bought the property in 1902, and the house changed hands a number of times over the years, with history leaving scuffs (and multiple renovations) in its wake.
---
A Room for Everyone
"My wishes for our home were simple: Everything had to be usable — there could be no precious places, as this is a home, not a shrine," says Erickson. "And I wanted every room in the house to be a 'zone' that had a different use, depending on one's mood or activity."
With a busy lifestyle and a constant stream of visitors, Erickson wanted an environment where each family member, and their guests, could enjoy the home as it suited them — whether they were seeking study, work, play or privacy. That's where registered interior designer Jodi McKeown Foster came in. Foster brought her expertise in working with complex traditional buildings to help the family create the home they desired.
To accommodate schedules, renovations of the 5,500-square-foot home happened in three stages over five years: first, the lower level, then upper and finally the kitchen. While the builders changed, Foster's design kept consistency intact.
"My favourite part of [this project] was getting the opportunity to work on a truly beautiful heritage house," says Foster, "and designing it for the current homeowners to reflect their lifestyle, yet letting the home's history and vintage inform the overall direction."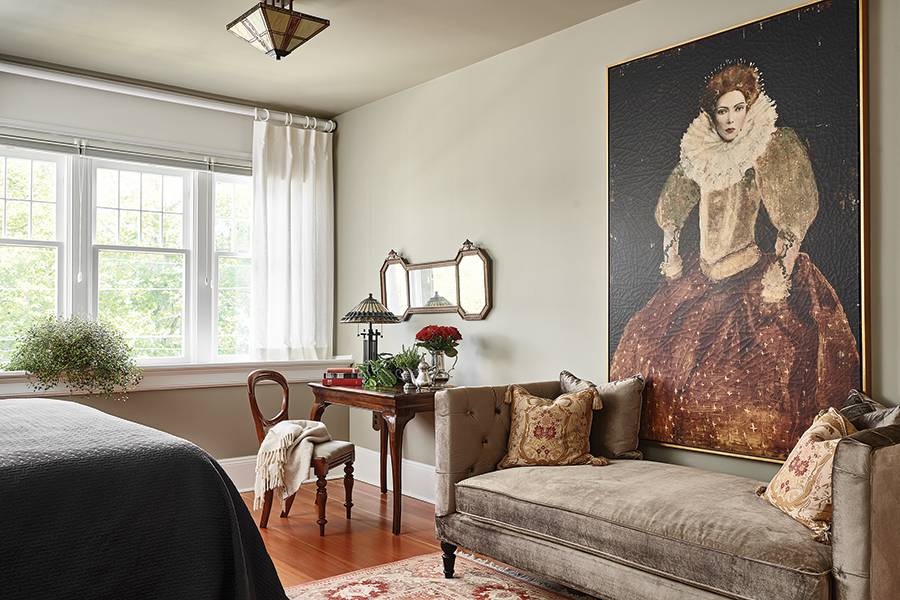 ---
Heritage and Hopes
There were challenges from the onset. Due to the heritage designation, the design could not impact the building, windows or exterior doors — and the homeowners wanted to preserve what they could of the original woodwork, trim, moulding and ceiling. However, some structural additions, like a staircase to the lower level, were unavoidable.
"Often with renovations of this scope, we are able to look at the 'big picture' and assess how the floor plan could provide more functional spaces and flow throughout the home," says Foster. "With this project, we needed to plan the updated spaces within a restricted envelope."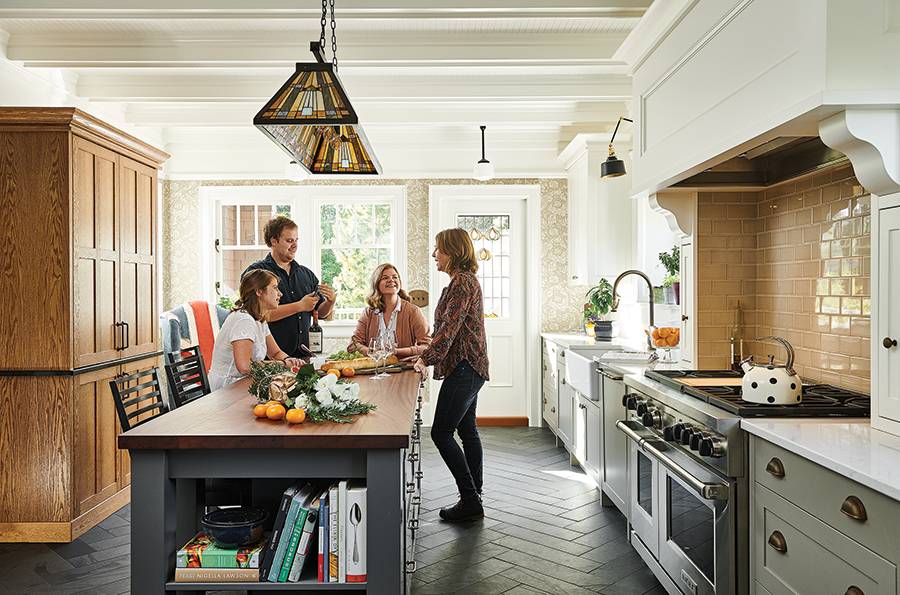 ---
Even with restrictions, the new interior enhances what the family — and likely Samuel Maclure himself — wanted for the home. The fully renovated, purpose-built kitchen was crafted in the style of unfitted English kitchens. Herringbone-patterned slate floors, panelled walls and a raised, coffered tongue-and-groove ceiling reinstate the traditional look, complete with wallpaper from Arts and Crafts notable William Morris.
The upper level reno improved the existing floor plan by renegotiating an additional bedroom and creating a larger master with walk-in closet and ensuite. The bathrooms were designed with functionality and style in mind: classic penny tile flooring maintains the British feel.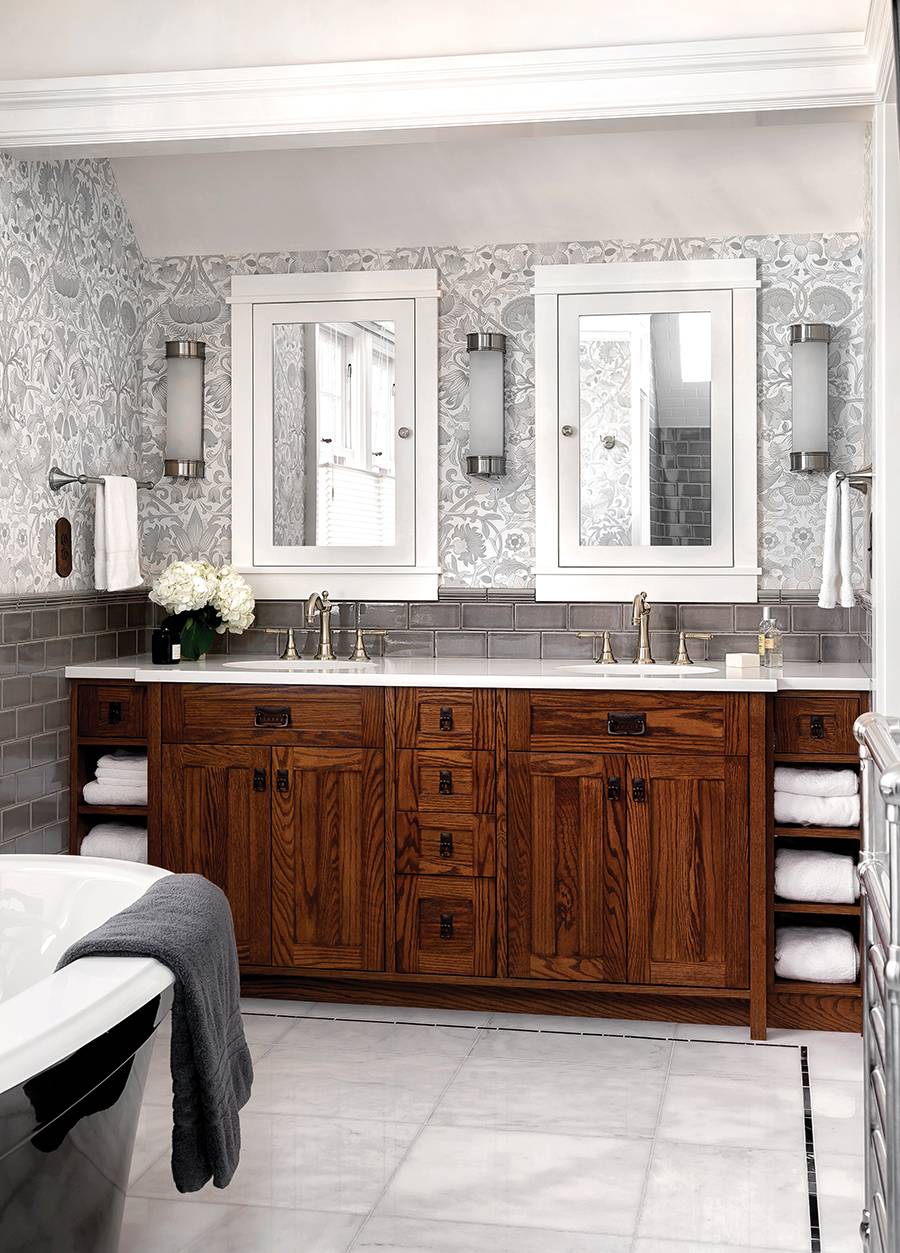 "It was an accomplishment to see the lines of the shower, tiles and skylight match up perfectly in the ensuite," says builder Glenn Turner, of Glenn Turner Contracting, who completed the upper-level renovation. "Older homes are fantastic to work on. One of their greatest challenges is how much they settle. As a renovator, much of making a house new again comes down to straightening its lines."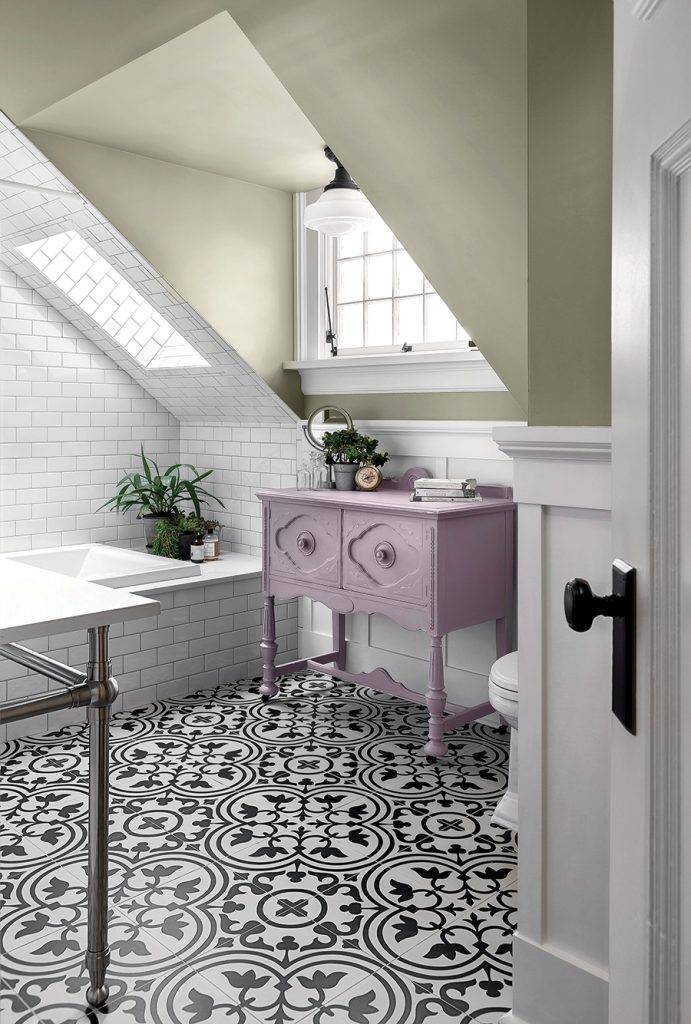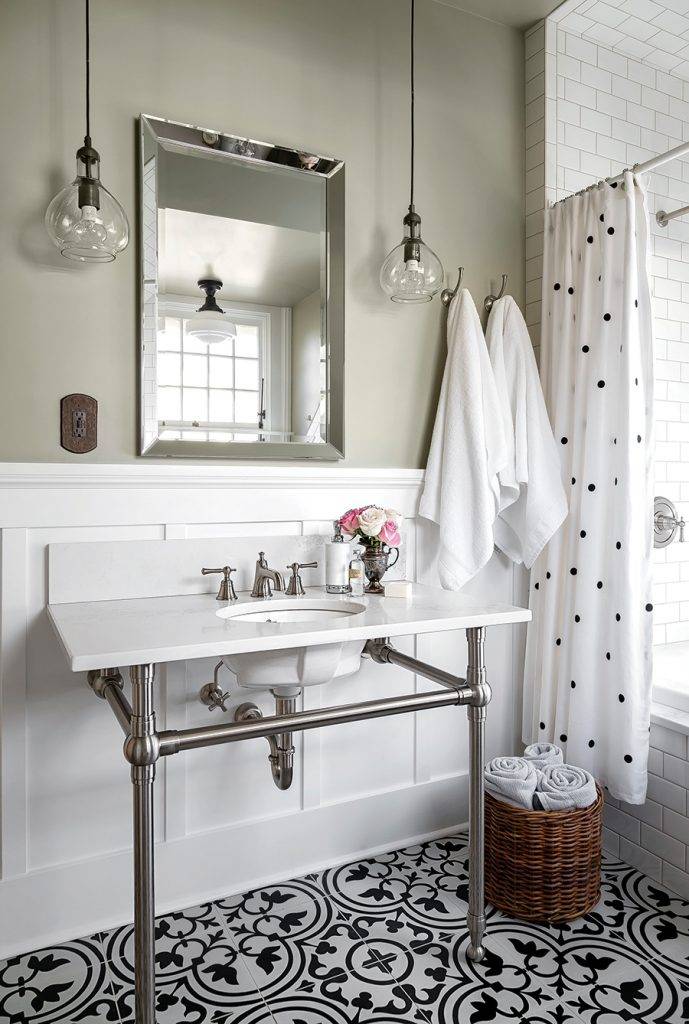 ---
One of the most remarkable spaces in this home is its lower level, converted from a row of suites into an old industrial British pub-style rec area, by builder Maximilian Huxley. "The one thing we didn't have before was a family fun area," says Stone. "We wanted a space we could enjoy together, where people wouldn't worry about putting a glass down without a coaster."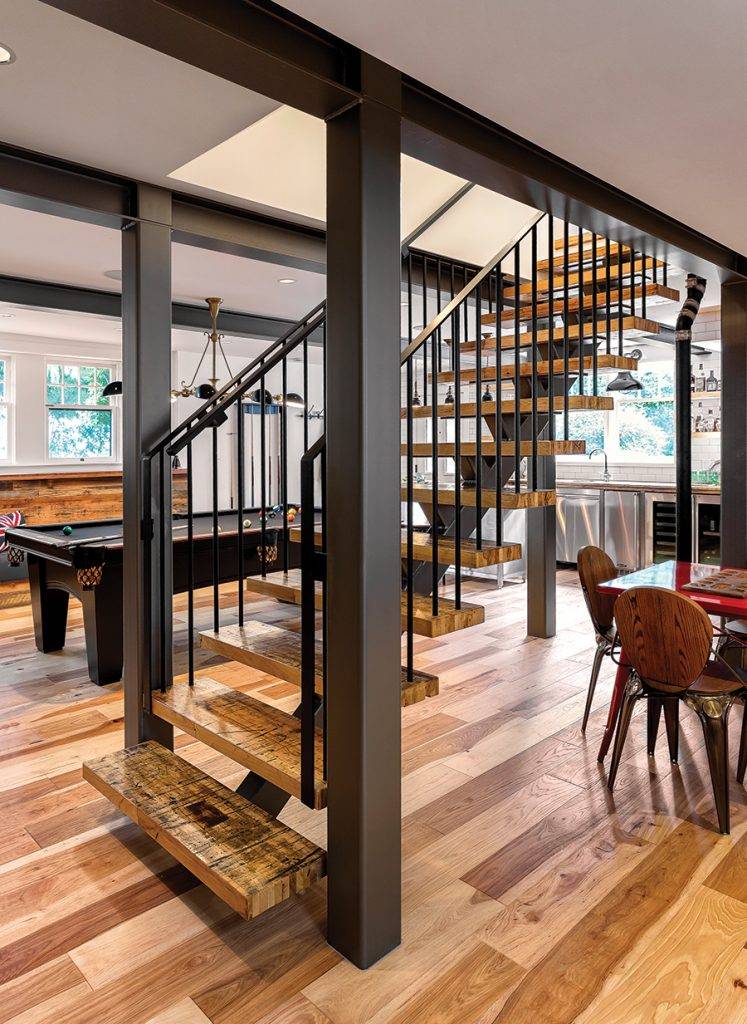 ---
The level contrasts exposed steel beams and brickwork with countertops and stairs made from boxcar planks, barn siding on the walls and hickory flooring. It offers room for gathering, lounging, TV, darts, pool and shuffleboard. A full bar, guest room, gym, bath and pantry completes the area. This level is the official headquarters of the family's annual Christmas and Super Bowl parties. It's also the kids' preferred area to hang out with friends. Stone's favourite feature is the reuse of the original fir joists, which were sanded and transformed into decorative structural posts, still showing embedded hand-hewn nails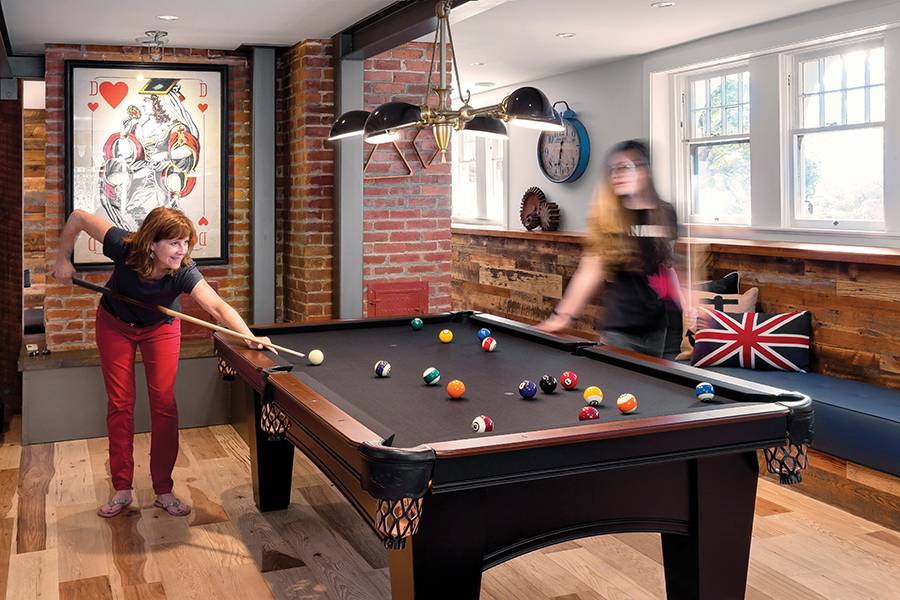 ---
All and Sundry
Stone says she imagines carrying on a tradition of past families who celebrated in this house. She believes that 100 years from now another family will be doing the same. "Now, this home fits our family perfectly," says Erickson. "There are acres of space so we don't trip over each other, and multi-functional areas for all of us. The bottom line is that our house has been designed to be a place for all and sundry to be comfortable."