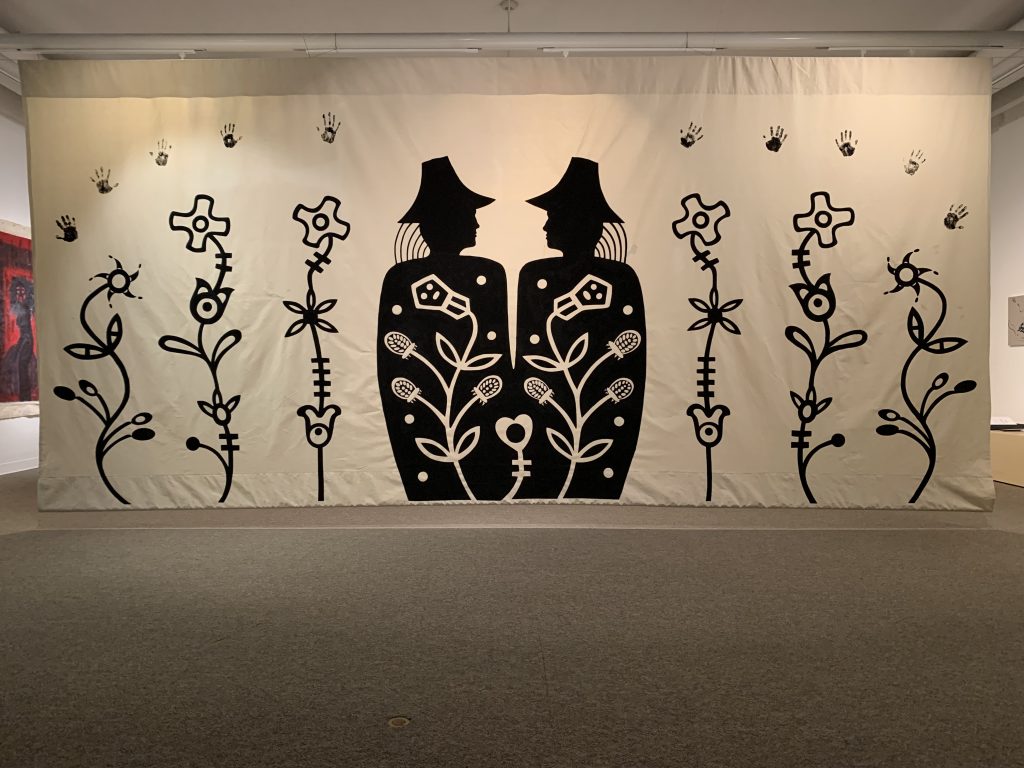 Holding Ground – the apex of months of dialogues held through the hosting of the Indigenous Intergenerational Exchange – opened this summer at the Art Gallery of Greater Victoria.
Members of the Indigenous Intergenerational Exchange are contributors to social justice and frontline activism in their own communities. The group held virtual gatherings bi-weekly from February to May, 2021, sharing and exploring cultural teachings, critical understanding, and creative processes within a healing space.
Through Holding Ground, they offer viewers an opportunity to look into the continuum of intergenerational Indigenous resistance.
The exhibit is built around a curtain collaboratively made by the group. Traditionally these curtains hang in the Big House for ceremony such as Potlatch and act as a liminal space between the physical and spiritual realms.
"We created a curtain to transform our space at the AGGV. This anchor allows us to create our own microcosm of the universe. Within this we can re-enact the nature of our inter- relationships with each other and to the land. In community, each generational role is necessary. Isolated we are vulnerable. But in formation we have great strength in the diversity of our offerings," said artist and leader Marika Swan.
The exhibit opened with the curtain in situ to hold space for the participants to share throughout the exhibition. Visitors are invited to observe the shifting space as it evolved in the coming months.
"We hold the space so that what is happening in the now will have a presence," said Marianne Nicolson.
The group consists of Nicolson, Swan and educator/media maker Nikki Sanchez, in collaboration with 12 invited participants: Gerry Ambers, Aya Clappis, Ace Harry, Lisa Kenoras, Laura Manson, Jessica Mayhew, Feather Nault, Ross Neasloss Jr, Stephanie Papik, Coral Shaughnessy-Moon, Nabidu Taylor, and France Trepanier.
Holding Ground includes works in a range of media: ceramics, painting, drawing, poetry, photography and more and runs until October 14, 2021 at the Art Gallery of Greater Victoria.
For more information visit aggv.ca