By Cinda Chavich
This is sure to be a favourite dessert – it's like a big butter tart but with the added zing of dried cranberries. The fresh orange and cranberry sauce adds another dimension and balances the sweetness.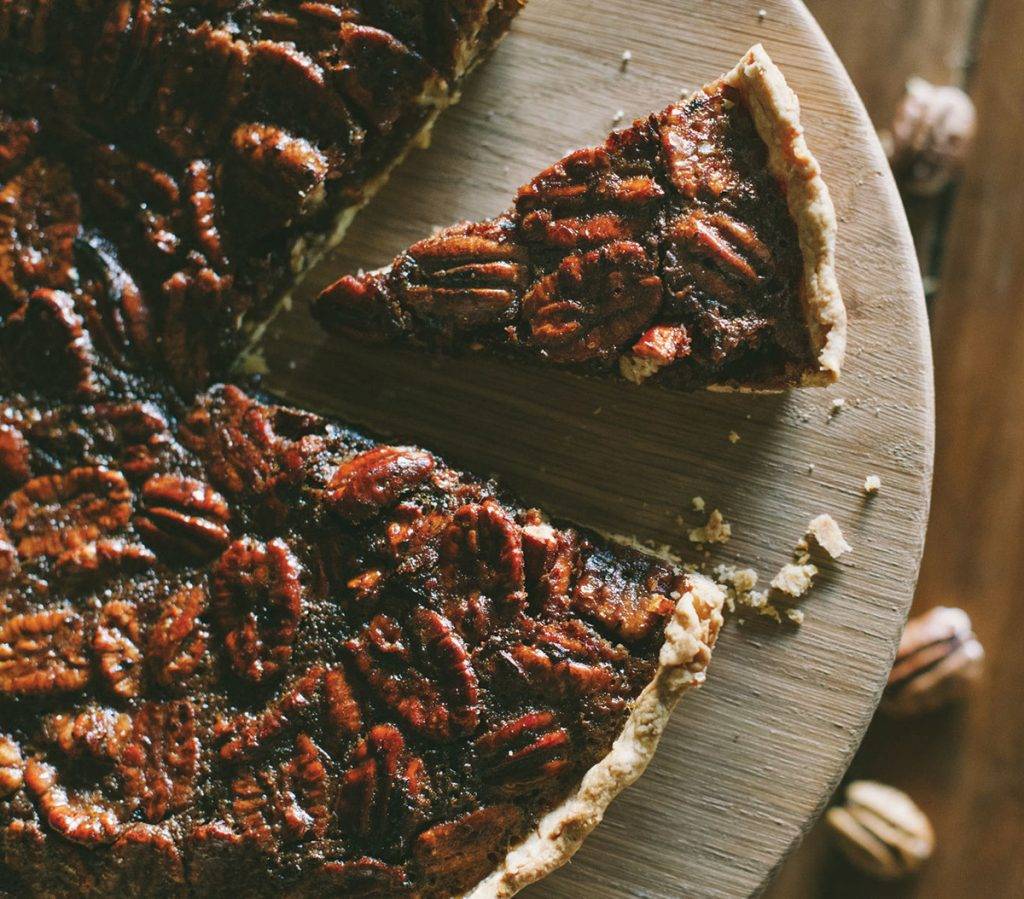 CRUST
• 1 1/4 cups all-purpose flour
• 2 tbsp brown sugar
• pinch salt
• 1/2 cup butter
• 1 egg yolk
• 1 tbsp milk
FILLING
• 2 whole eggs
• 1/2 cup granulated sugar
• 1 cup corn syrup
• 1/2 cup melted butter
• 1 tbsp all-purpose flour
• 2 tbsp orange brandy or frozen orange juice concentrate
• grated zest of 2 oranges
• 1 tsp vanilla extract
• pinch of salt
• 2 cups chopped pecans
• 1 1/2 cups dried cranberries
FRUIT SAUCE
• 4 oranges
• 1 cup fresh cranberries
• 1/2 cup granulated sugar
• 1/2 cup orange juice
• 1 tbsp orange brandy
To make the crust, combine the flour, sugar, salt and butter in the food processor and process until crumbly. Add the egg yolk and milk. Pulse until the dough forms a ball. Wrap in plastic wrap and refrigerate for 1 hour to chill.
Preheat the oven to 350ºF. Roll out the pastry and line a 10-inch tart pan. This pastry is totally forgiving, so don't panic — any rips or cracks can be repaired by pressing in extra bits of dough. Cover the pastry with foil and add some pie weights or dried beans (this helps the crust bake evenly) and bake for 20 minutes. Remove the foil and let the pastry cool.
To make the filling, whisk the eggs, sugar, syrup, butter, flour, brandy, zest, vanilla and salt together in a bowl. Stir in the nuts and dried cranberries. Pour into the pie shell and bake for 35 to 40 minutes, until the filling is set.
To make the sauce, start by sectioning the oranges. Using a sharp, serrated knife, cut a slice from the top and the bottom of each orange, exposing the fruit. Then, working over a bowl to catch any juice, cut away the rind and white pith. Cut between the membranes and the orange segments will fall out into the bowl.
Meanwhile, in a small saucepan, cook the cranberries with the sugar and orange juice over medium heat. When the berries soften and begin to pop, they're done. Remove from the heat and stir in the orange sections and brandy. Chill.
Slice the pie into thin wedges and serve with the fruit sauce on the side.
Serves 10 to 12.
---