By Cinda Chavich • Photos by Jeffrey Bosdet
Even if you're the only vegetarian in the family, you can contribute this nutty loaf to the feast, which pairs perfectly with holiday side dishes like mashed potatoes and cranberry sauce. Make it vegan by substituting olive oil for the butter. Even the carnivores in the crowd will be asking for this recipe!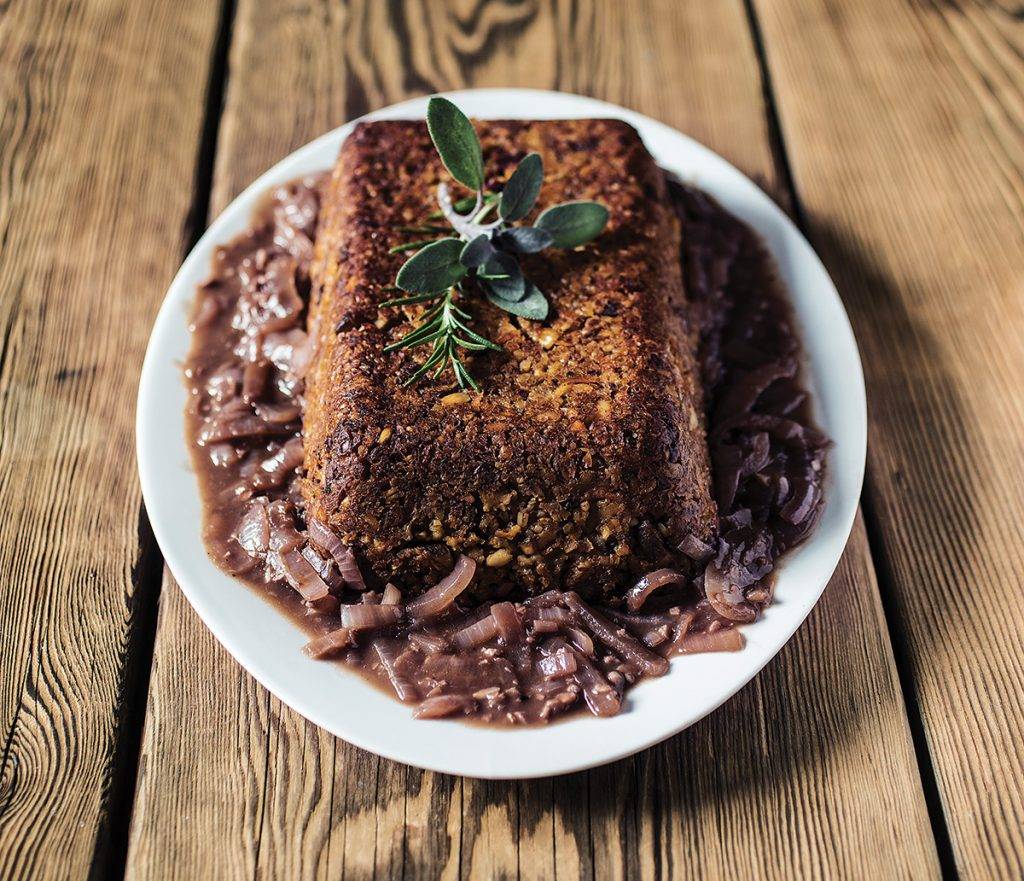 • 3 tbsp butter, divided
• 2/3 cup steel cut oats
• 2/3 cup rolled oats
• 2/3 cup finely chopped nuts (mix of almonds, cashews, hazelnuts, etc.)
• 2 tbsp butter
• 1 tbsp olive oil
• 1 large onion, finely chopped
• 2 medium carrots, shredded
• 2 to 3 cloves garlic, minced
• 8 large mushrooms, chopped
• 1/3 cup red lentils
• 2 1/2 to 3 cups vegetable stock (or water), divided
• 1/2 cup kidney or romano beans (canned/cooked), mashed
• 1 tbsp soy sauce
• 1/2 tsp dried thyme
• 1/2 tsp dried savoury
• 1/4 tsp celery salt
• 1/4 tsp cayenne pepper
• 1/2 tsp black pepper
• 1 tbsp fresh lemon juice
Melt 1 tablespoon butter in a large sauté pan over medium-high heat. Add the oats and nuts and toast together for 5 to 10 minutes, stirring often, until starting to brown. Transfer to a bowl and set aside.
In the same sauté pan, heat the remaining 2 tablespoons of butter and olive oil over medium heat. Sauté the onion until softened and starting to colour. Add the carrots, garlic and mushrooms and sauté 5 minutes longer. Stir in the lentils and 1 cup of the stock. Bring to a boil.
Mix another 1 cup of stock with the mashed beans and soy sauce, and add to the pan. Cover and simmer 10 minutes.
Stir in the reserved toasted oats and nuts and seasonings (thyme through black pepper), bring to a boil, then return the lid to the pan and simmer on low for 15 minutes.
Add another 1/2 to 3/4 cup of broth or water as necessary. This mixture should be moist, but not soupy.
Stir in the lemon juice. Taste and adjust seasoning. It may need salt, depending on what kind of broth you've used. Turn into a buttered loaf pan and bake at 375˚F for 30 minutes. Serves 6.
Caramelized Onion Sauce:
• 2 tbsp olive oil
• 2 tbsp butter
• 2 large onions, halved and sliced thinly (or chopped)
• 2 large cloves garlic, minced
• 1/2 cup red or white wine
• 1 tbsp flour
• 2 cups water or vegetable broth
• 1 tbsp soy sauce
• splash of Worcestershire sauce
• salt and pepper, to taste
---