By Cinda Chavich • Photos by Jeffrey Bosdet
This is a wonderful, rich, make-ahead meal which is perfect for a holiday dinner party. Tender and delicate fresh pasta makes the nicest lasagna. Try using no-boil lasagna noodles if fresh sheets are not available.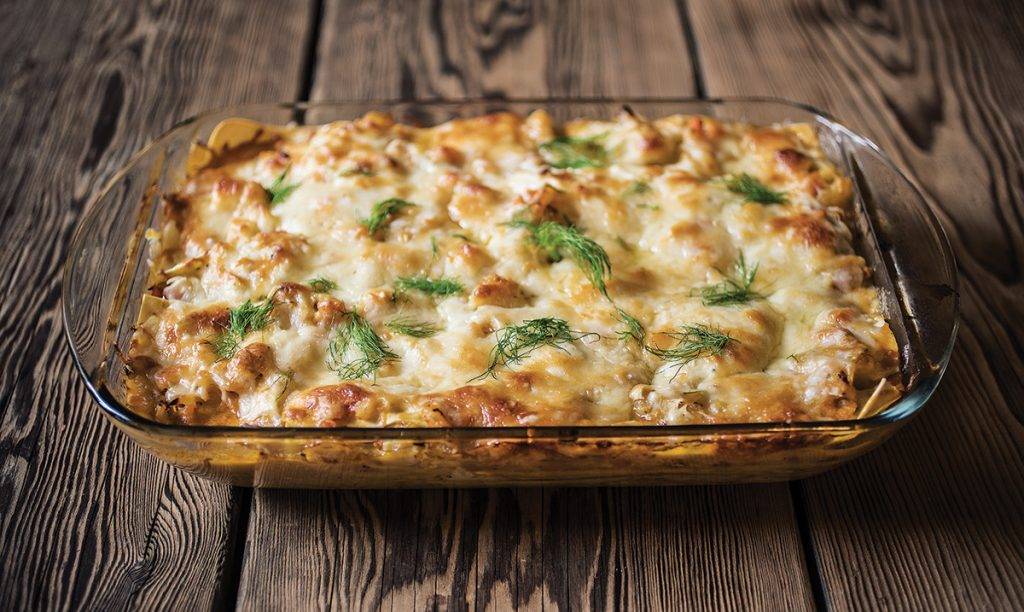 Seafood sauce:
• 1 medium fennel bulb
• 1 tbsp olive oil
• 1 tbsp butter
• 1 medium white onion, minced
• 1 medium carrot, finely diced
• 1 clove garlic, minced
• 2 tbsp Cognac
• 1 cup chopped fresh or canned tomatoes
• 1 tbsp tomato paste
• 1 cup fish stock
• 1/2 cup dry white wine
• 1/4 tsp saffron, crushed
• 1/4 cup heavy cream
• 3 cups cooked seafood (scallops, shrimp, crab and/or lobster meat), chopped
• salt and white pepper to taste
Bechamel sauce:
• 1 1/2 cups milk
• 1 cup heavy cream
• pinch white pepper
• big pinch nutmeg
• big pinch dried basil
• 3 tbsp butter
• 1/3 cup flour
• 1/2 cup grated Parmesan cheese
Assembly:
• 1 lb fresh or dried lasagna noodles
• 4 oz shredded dry Friulano cheese
• 2 oz shredded Parmesan cheese
To make the seafood sauce, cut off the long stems and fronds of the fennel and peel the bulb. Finely slice the fennel, reserving some of the fronds for garnish.
Heat the oil and butter in a deep skillet and sauté the onion, carrot and fennel for five minutes, until almost tender. Add the garlic and cognac and simmer until most of the liquid has evaporated. Stir in the tomatoes, tomato paste, stock, wine and saffron. Simmer until the sauce has reduced by half.
Add the cream and simmer 5 minutes longer, until the sauce is thickened nicely. Stir in the seafood, and season to taste with salt and pepper. Remove the sauce from the heat and keep warm.
To make bechamel, heat the milk, cream, pepper, nutmeg and basil to a boil, then remove from the heat and set aside. Heat the butter until foamy, stir in the flour and cook for 2 minutes. Gradually whisk in the hot milk mixture, raise the heat and simmer until thick and smooth. Stir in the Parmesan cheese.
Meanwhile, bring a pot of salted water to a boil and cook the pasta until just cooked through but still al dente, about 2 to 3 minutes. Drain and chill in cold water, then drain again. Combine the two cheeses.
Preheat the oven to 375ºF. To assemble lasagna, place 1/4 of the sauce in the bottom of a 9 x 13-inch rectangular baking dish. Top with a layer of noodles, a layer of the seafood sauce and dollops of bechamel. Sprinkle lightly with the cheeses and add another layer of pasta. Continue layering sauce, bechamel cheese and pasta until lasagna has four layers. Sprinkle the top with more cheese.
Place the lasagna in the oven and bake for 30 to 40 minutes, just until bubbling and beginning to brown. (If using no-boil noodles, cover with foil for the first 30 minutes, then remove to brown.) Garnish with the reserved fennel fronds to serve. Serves 4 to 6.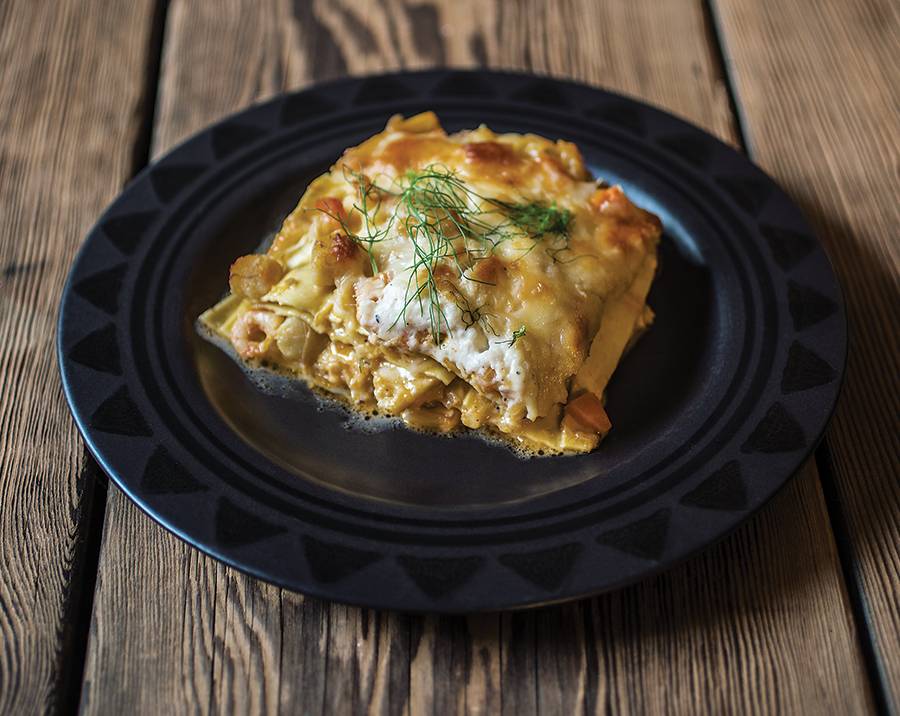 ---