A custom black-and-white build brings a contemporary approach to a classic Victoria neighbourhood.
By Danielle Pope // Photos by Joshua Lawrence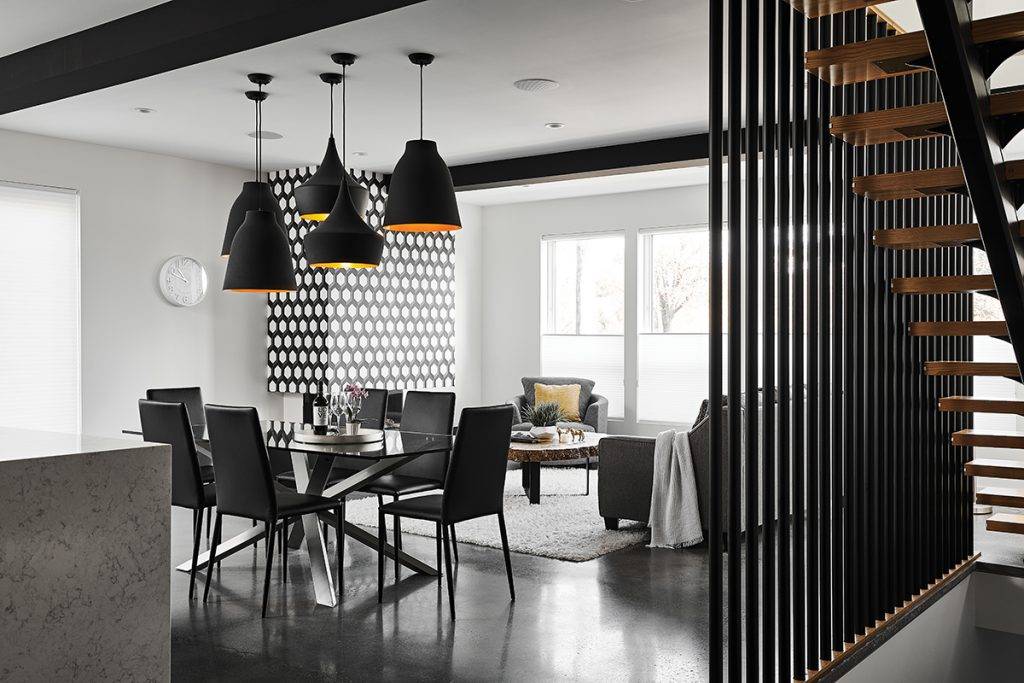 Fairfield has long been considered one of Greater Victoria's most desirable neighbourhoods, so when an opportunity opened for Alan Stewart to purchase a lot, he jumped at the chance.
Stewart and his family had big plans for the space, but it would take a great deal of work to get there — specifically, removing more than 300 dump-truck loads of rock from the site. Yet in just under a year, Stewart, a builder by trade, would work with interior designer Danisha Drury of Design District Access to create a decidedly fresh take on a classic neighbourhood esthetic.
"We've always loved Fairfield, and it's an area that's only going up in value, so we knew we were lucky to get in when we could," says Stewart, principal of Motion Construction. "I wanted to create a home unique to my tastes that my family would love, but one that would stand out and appeal to others too."
Stewart worked with the lot's previous architectural plans to put his own spin on the house — like the floating staircase with black powder-coated steel bars and LED strip lights, and the custom wood-panelled bar and wine wall. He ensured the home had a two-bedroom suite on the lower level and a detached sidekick garage, plus two bedrooms and an office (behind a hidden door) on the main floor.
The power of contrast.
Drury, meanwhile, brought a timeless black-and-white theme to the home, paired with geometric stylings to build a look as classic as it was modern.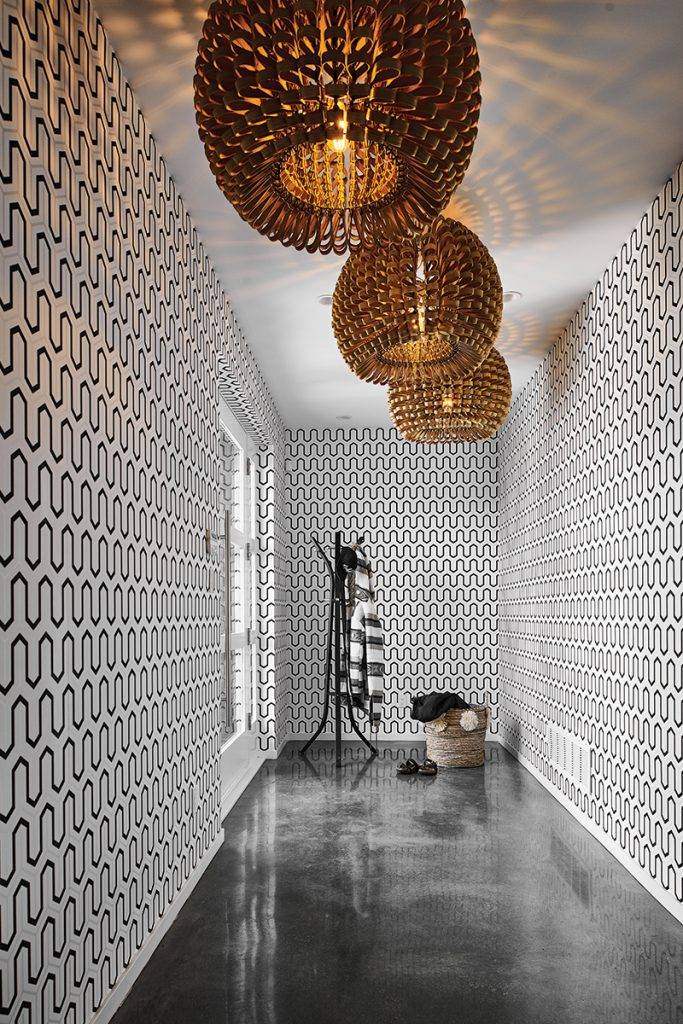 From cabinetry to wallpaper, black opposes white throughout. Striking white kitchen cabinets and stone countertops are offset with vertical, black Neolith Nero tile. The signature powder room is done entirely in a black, geometrically themed wall print, contrasted by the white stone counter, trim and toilet.
"This was the perfect project to use for a black-and-white look," says Drury, "and we did it before that scheme was really popular because we were creating something very new in an area that had a lot of classic charm. The rooms are stunning by themselves, but a family could choose to bring in an accent colour at any time, through furniture or accessories, and it would really pop."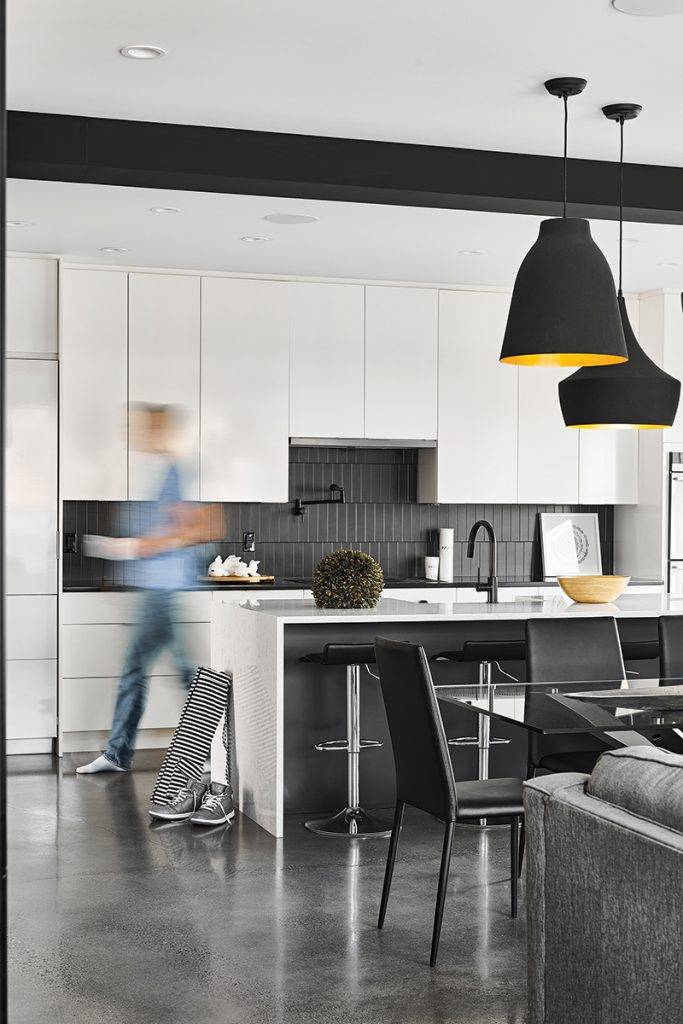 The home's features are rooted in natural elements, from the heated polished concrete floors to the offset black walnut and light maple wood panelling, to the stone countertops and glass balconies.
The black-and-white theme is carried through to the exterior too, where white stucco is partnered with blackened shou sugi ban (Japanese charred wood siding) and a bold cedar soffit with a gentle sunken entrance.
Compelling geometry.
Geometry modernizes the home's theme from the entrance, partnering geo-stylized wallpaper with a series of three cylindrical Palecek Beacon pendant lamps. The open-concept living area contrasts white walls with dramatic black beams, while the large-print, hexagonal 3D wallpaper stages the fireplace as the centrepiece of the room.
Above the dining table, a set of five black and bronze Zuo Modern ceiling lamps adds a dynamic edge. In the master bedroom, layers of multi-dimensional wood panels create a geometrically minded wrap-around feature wall, offset by Zuo Modern's oversized white bell Hope pendants.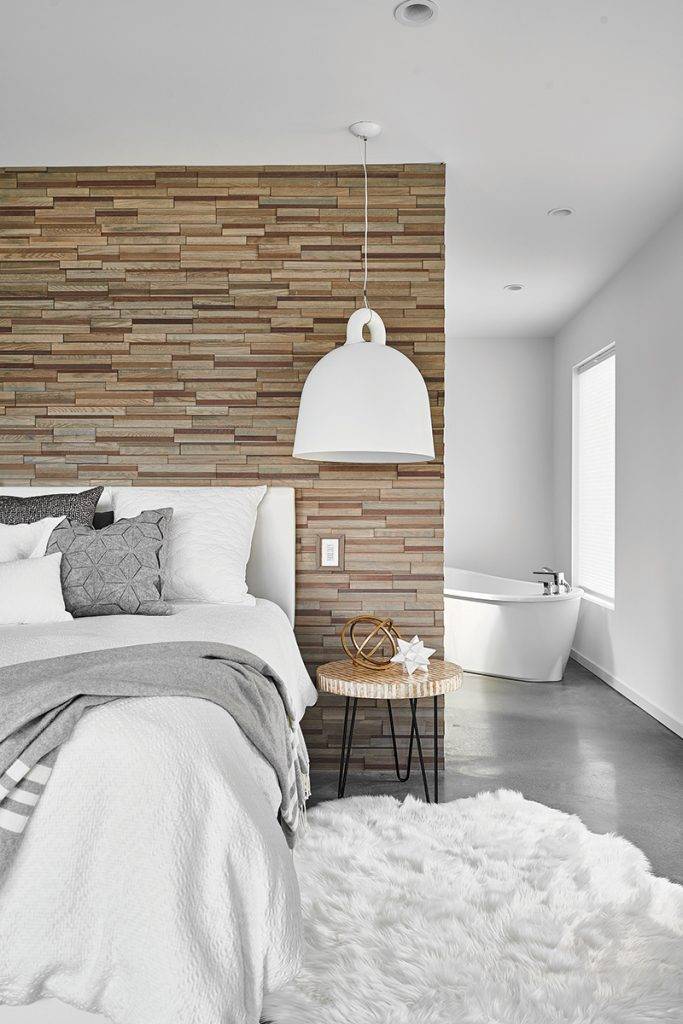 Stylishly Smart.
Design aside, one of this home's most outstanding features is its intelligence. Stewart created the house as a Smart Home, meaning all lighting, heating, sound and other features can be controlled from anywhere in the world by a phone — or by the control panel, covertly placed in the office.
"When you have the chance to build your own home, you really get to pick everything you like — and the house itself is pretty cool," says Stewart. "I've had people stop as they were driving by and tell me this home looks like a dream. For me, it really is."
The master bath links the natural elements of the home, from concrete and wood to unique stone tile. Stewart wanted to create rooms to encourage rest and relaxation for his family members to unwind from busy days, and the ensuite does just that. The counter and niche is outfitted in Stone Fusion from Julian Tile, and the shower is walled with Futura Nacar from Centanni Tile. The look creates a soft version of the black-and-white theme in this area and plays up the modern sheen of the house.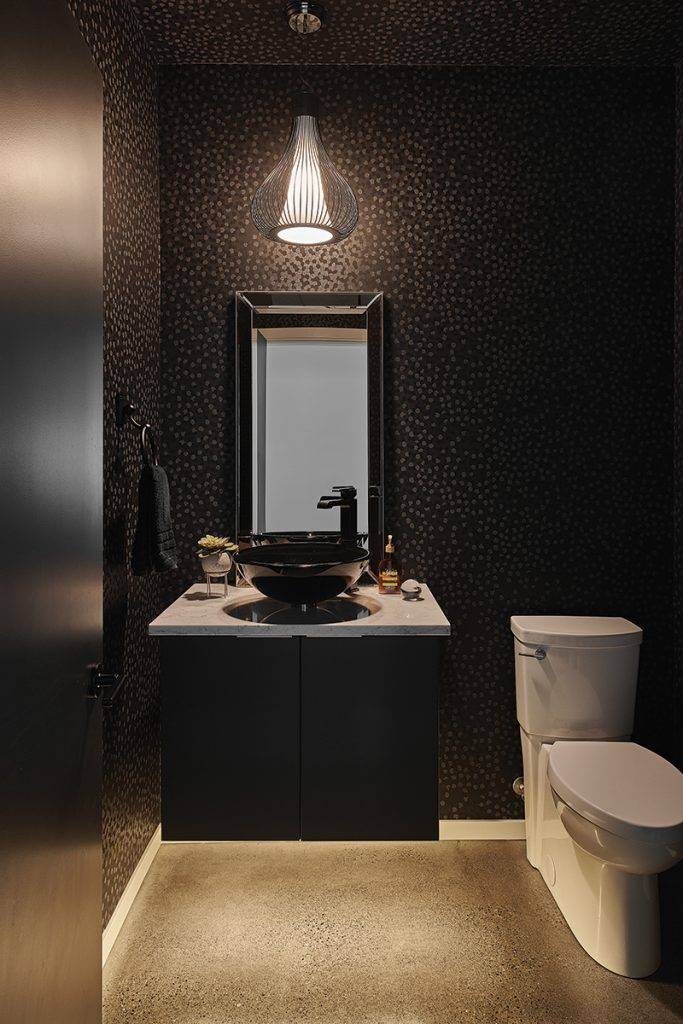 Outfitting a powder room in all black was a risky move with such a small space, but Stewart and Drury were committed to trying out something fresh for this house. The room is done in Sequins wallpaper from Black & White, contrasted with a white counter and toilet.
The modern effect of the master bedroom was created using a layered dark and light wood "friendly wall" feature sourced through a San Francisco company, paired with Zuo Modern Hope ceiling lamps. The room opens to a private master bath and upper level patio which Stewart says is the ideal place for watching evening sunsets.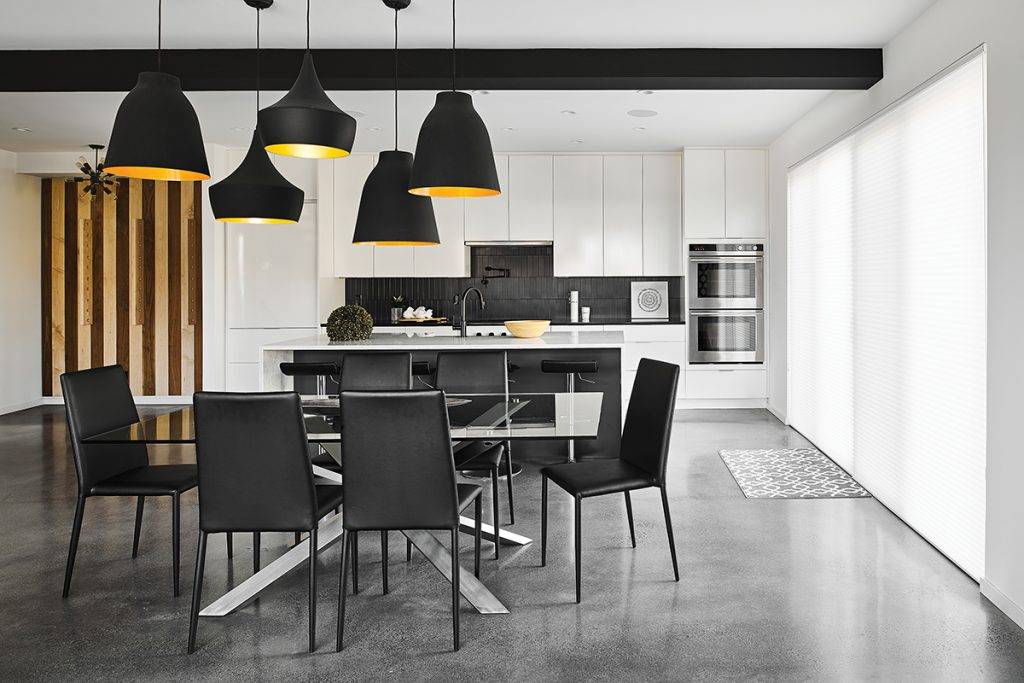 The kitchen is the gathering place of this home, with room for a growing family. Its clean lines create an easy beauty through simplicity. The polished concrete floors and bronze ceiling lamps from Zuo Modern highlight its classic modern look. Stewart loves taking on new projects and, as his own boss and a busy parent, he knows the value of space. The hide-away office, complete with its camouflaged door behind a wood-panelled wall, allows him an opportunity to sneak away for a quiet moment, or affords him time to get work done, sometimes unnoticed by little eyes. It also acts as the control centre for this home's smart features.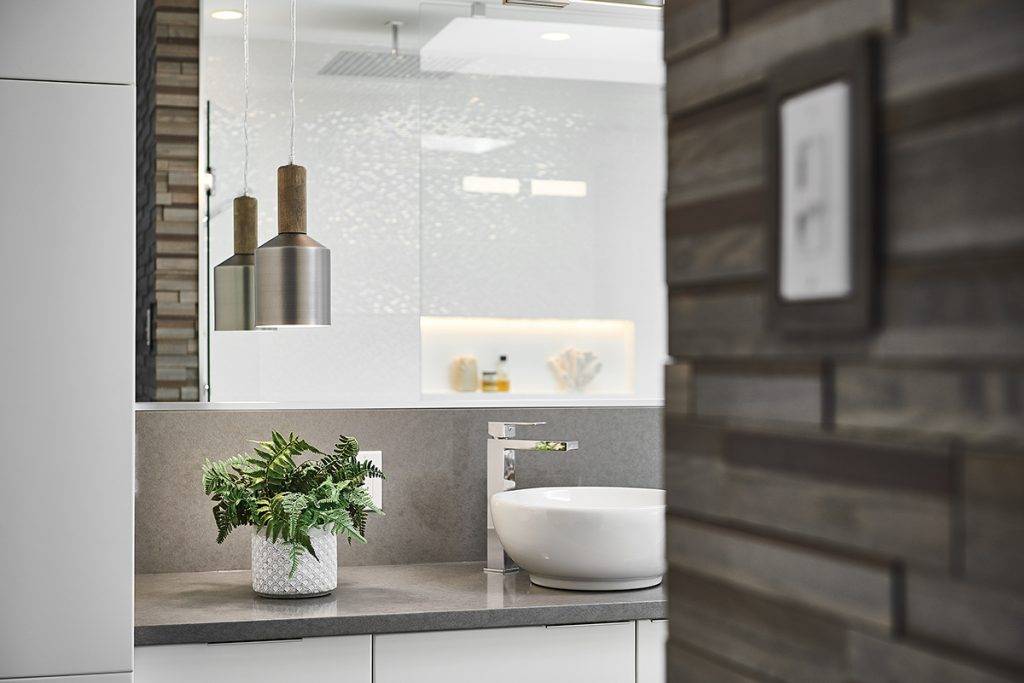 The floating staircase with black powder-coated steel bars and LED strip lights are elements of the home Stewart is most proud of — especially when he hears the feet of his kids pattering up and down the stairs. The bars create an interesting visual and represent the ingenuity Stewart had to work through to create his masterpiece. The fireplace counters these lines with thematic Hex Black Geometric wallpaper from A-Street Prints.
General Contractor:
Alan Stewart, Motion Construction
Interior Designer:
Danisha Drury, Design District Access
Countertops: TK's Granite
Finishing Carpentry:
Motion Construction
Tile: Versa-Tile & Stone
Home Automation and Electric:
Thorn Electric
Landscaping: Tico Landscaping
Shou Sugi Ban Accoya Siding:
Urban Timber
Front Door: Karmanah Wood Design
Lighting: Zuo Modern Contemporary
Wallpaper: Crown Wallpaper & Fabrics
---
This article is from the May/June 2019 issue of YAM.