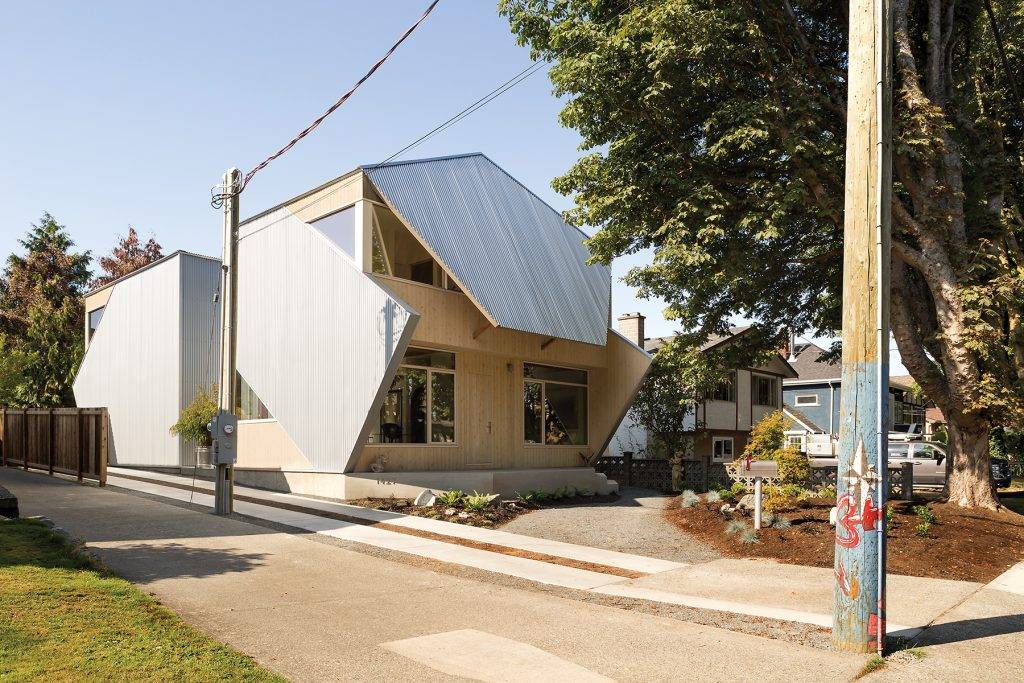 This modern, multi-generational family home brings big heart to its neighbourhood.
BY DANIELLE POPE | PHOTOS BY SAMA JIM CANZIAN
Some say the only reason a particularly angular, contemporary home is sitting on its tree-lined street in Fernwood is because of a family's love for one another.
The double-headed structure stakes out its claim in the neighbourhood, situated among more modest houses like a jewel box nestled in the grass. But, then, that was no accident. The multi-generational home was tailored specifically to serve the needs of three generations: a modest apartment for grandparents in front and a larger home for kids and grandkids in the back. Together, the revolutionary building forms a shapely "H," with a soundproof bridge linking the two.
"The conversation started because I had been caring for my grandkids — commuting each day from Sidney — as well as looking after an aging mom and aunt at the time, and I realized how much care was needed for this time of life," says co-owner Anne Heinl. "We started talking about renovations for my son's home, but we had a limited budget, and most builders said what we wanted couldn't be done."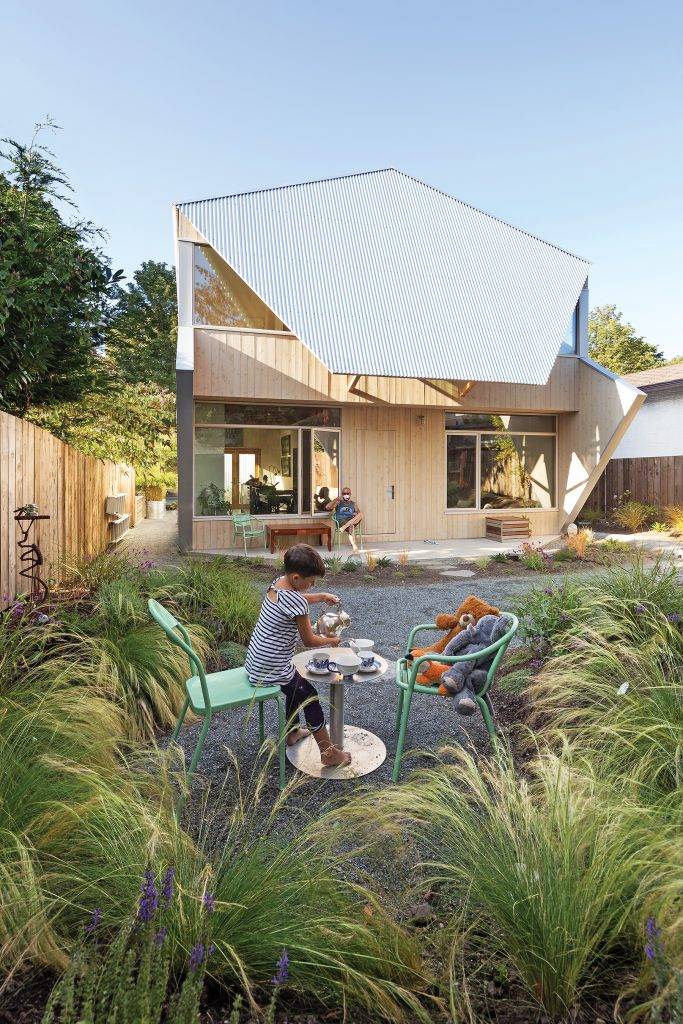 At the time, Heinl's son Matthew and his family were considering adding a suite to their three-bedroom house, but the foundation was crumbing and plans for repair were cost-prohibitive. Heinl says when the team from Aryze Developments met the family and heard about their dilemma, they wanted to see what was possible. 
"I can remember going to their existing home and thinking these are some of the most spectacular people I've ever met," says Matty Jardine, principal of construction for Aryze. "The family is a perfect balance of artists, people with massive hearts and some real funk mixed into the whole thing — right down to their hairless cat. They're a perfect microcosm of their neighbourhood."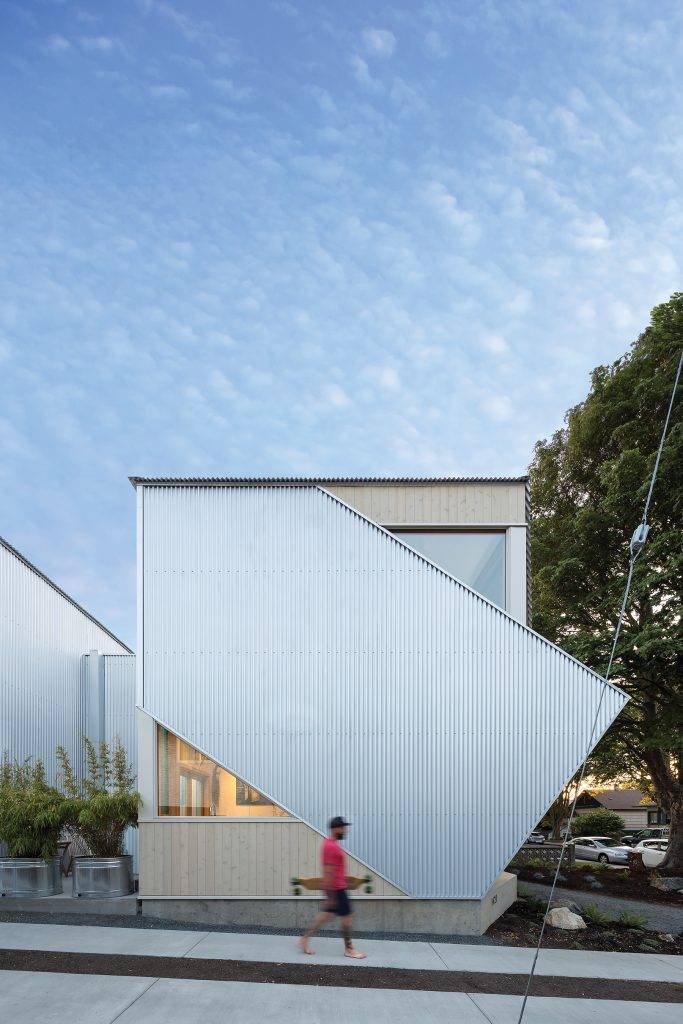 ---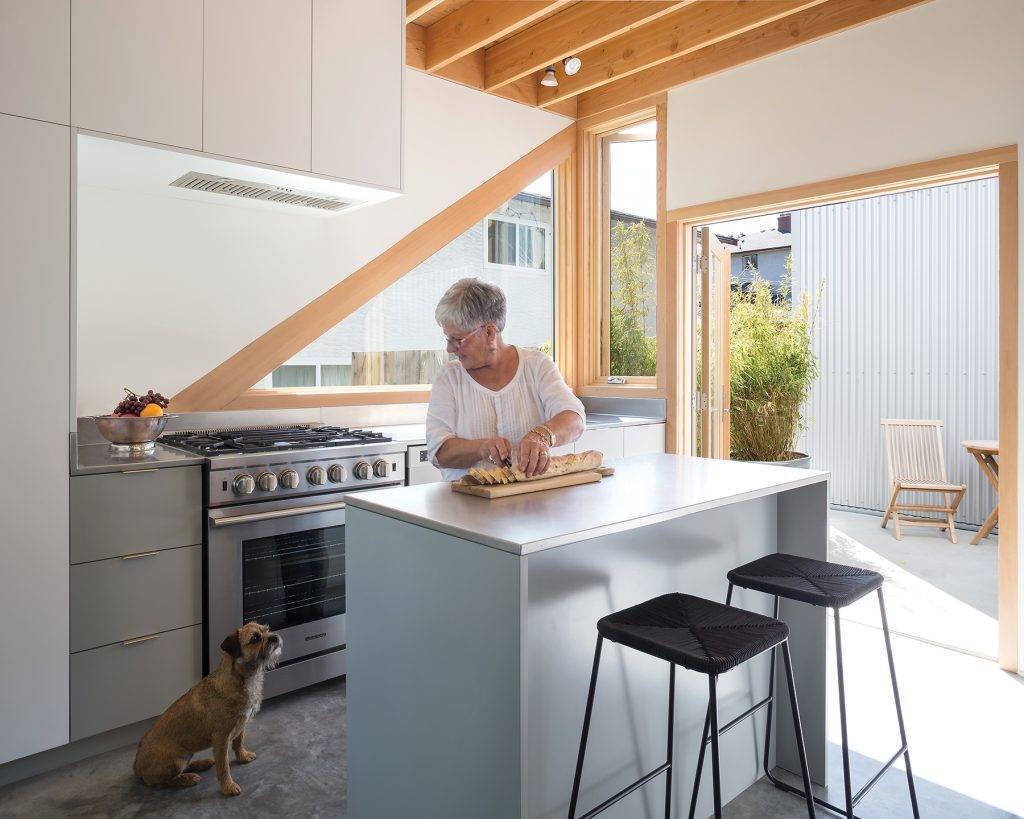 ---
Jardine says because a complete renovation would have been needed, the choice to start anew was made as much for financial reasons as practical ones. Vancouver-based architect D'Arcy Jones was drafted onto the project, and the concept went through multiple renditions before landing on the winner.
"I remember D'Arcy presented the other sketch, one you'd call a more typical home, but this one just jumped off the page, and everyone was so excited about it," says Jardine.
Jones's design shaped the house, in part, to serve zoning requirements — traditional duplexes were not permitted in this neighbourhood, and attached suites could not exceed 955 square feet — and, in part, to facilitate lifestyle needs for each family member.
The 955-square-foot, east-facing apartment suits the grandparents who are at home each morning, and the 1,446-square-foot, west-facing unit meets the needs of the younger family and their children, who return from work and school in the afternoons. The result lets each family retain autonomy, while being close enough to interact as desired.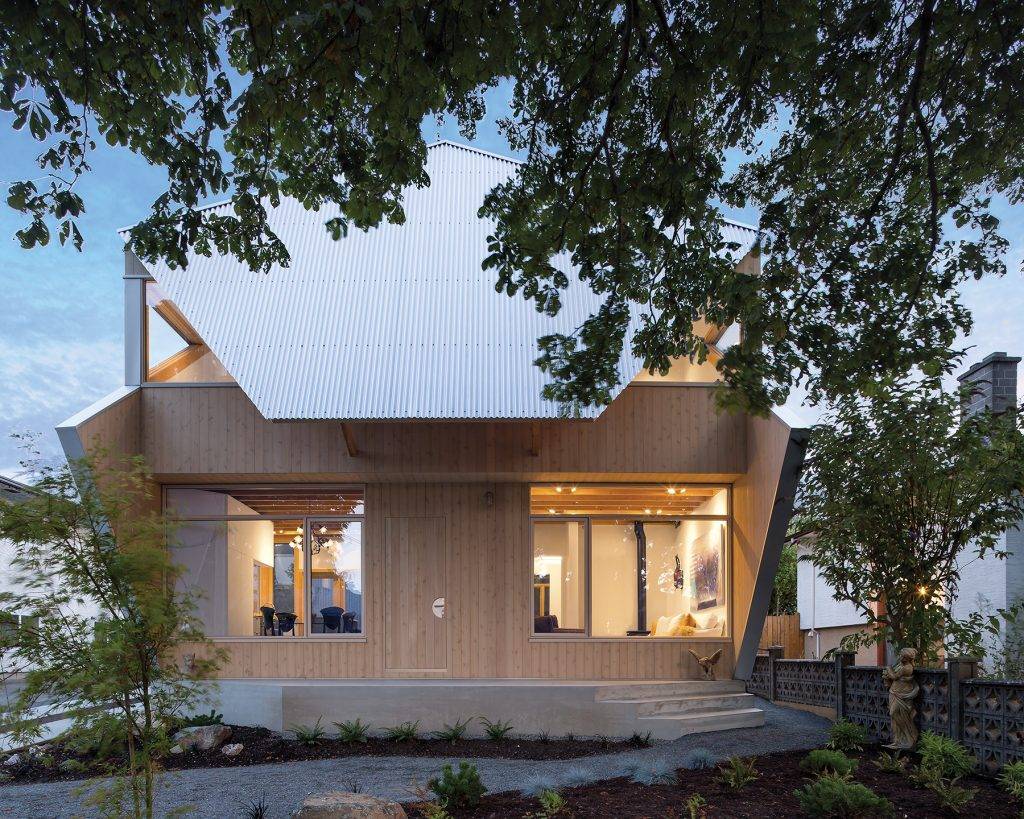 ---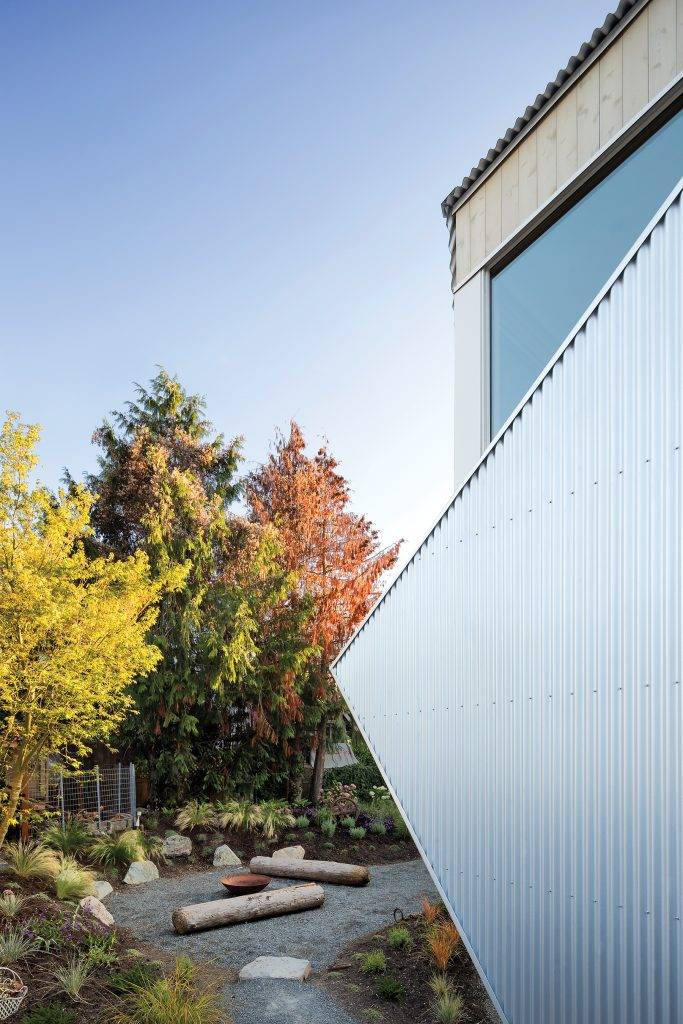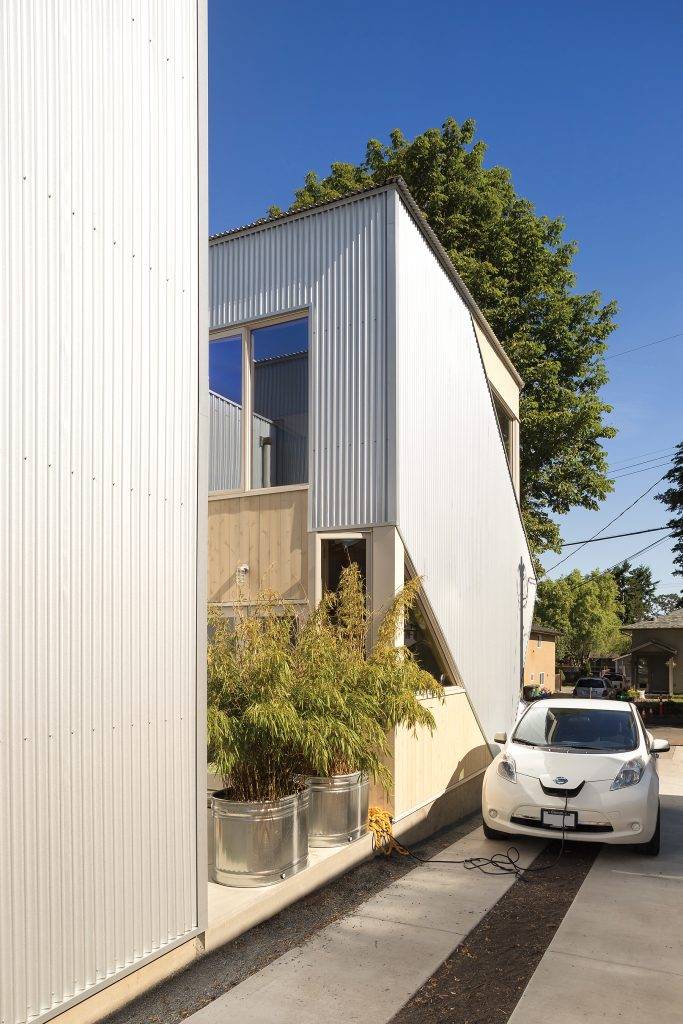 ---
"Initially, we were expecting the home would accommodate a suite, but what they came up with is amazing — it's like this little jewel box," says Heinl. "The 'H' shape gives you two little private patios on either side; the windows are huge and let in so much light, but the wings offer privacy.
The raw wood brings in this cozy cottage feeling, and the angles give a beautiful perspective. It's like a secret hideaway. You look out at the world and feel like you're wrapped in this little present."
The structural details and framing are bare throughout, exposing off-the-shelf fasteners typically hidden by drywall. While both suites' interiors are almost identical, Jones says the home's distinctive folded sculptural form was derived by fitting matching prefabricated truss roofs onto slightly different-sized units.
"We chose unpainted metal to reference the shipyards where the client works, but also because galvalume metal doesn't need any maintenance," says Jones. "The exterior cedar siding was stained to look like faded cedar, so when it inevitably does fade, it all looks consistent and unchanged."
Jardine says the stripped back approach became a design esthetic in itself — from the exposed tresses to the finished concrete floors and plywood interior.
"You can find beauty in construction materials without covering them up. This was the vision for the space. It's a hard target to hit, but the key force was amazing clients you wanted to bend over backwards for to bring it all together," says Jardine. "And their fingerprints were all over the project: Anne and Matt were there sealing the concrete and cleaning the floors alongside us."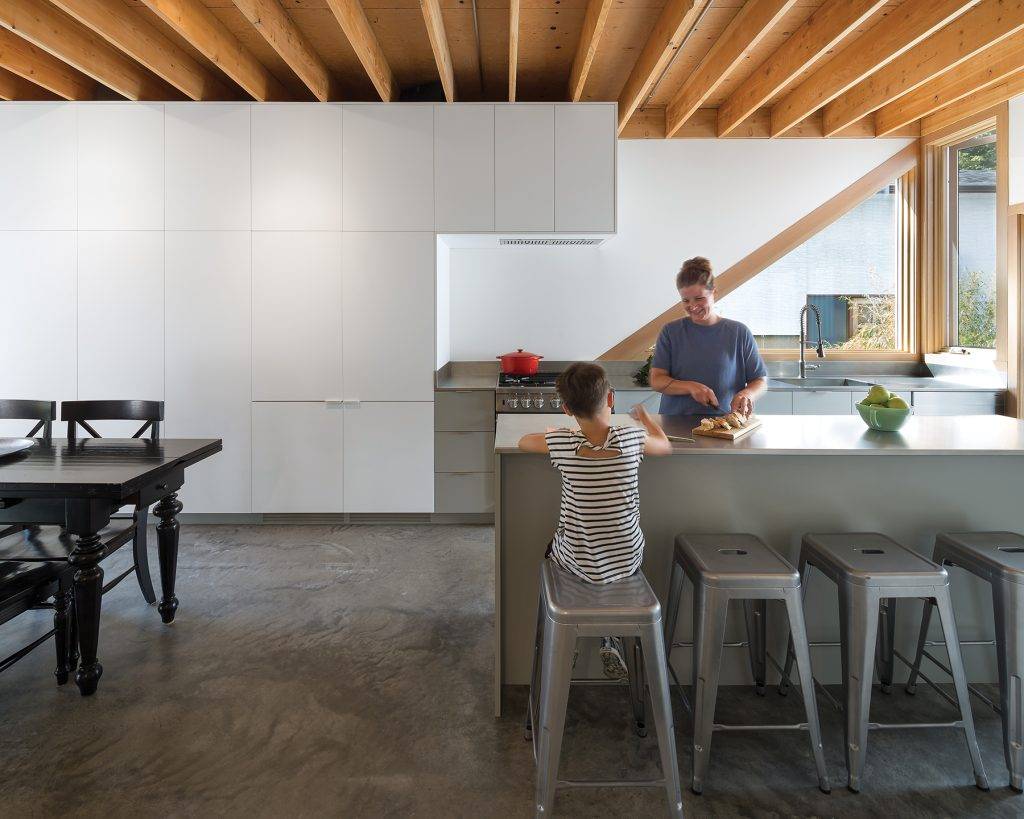 ---
Heinl says the family made it through some growing pains to create the structure neighbours see today.
"How did we get everyone on board? It just happened! The whole building process was like that," she says. "Of course, there were some tensions with two households trying to build something cohesive, but in the end we did, and it made us stronger."
---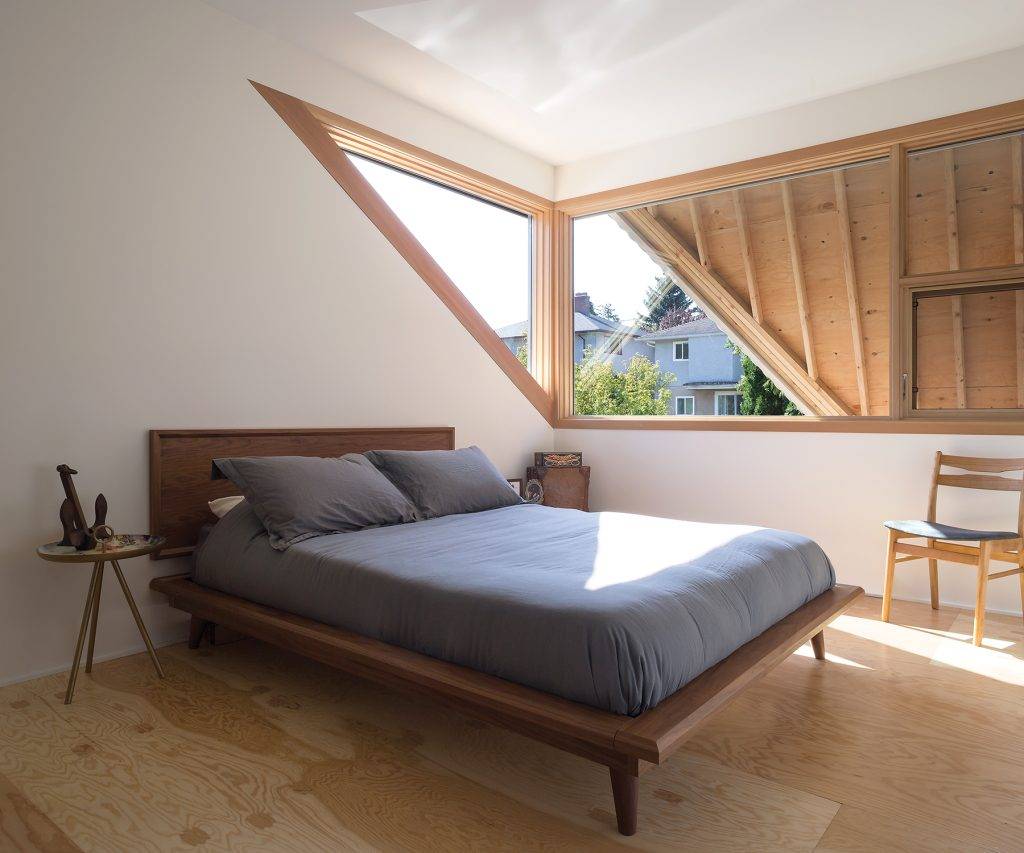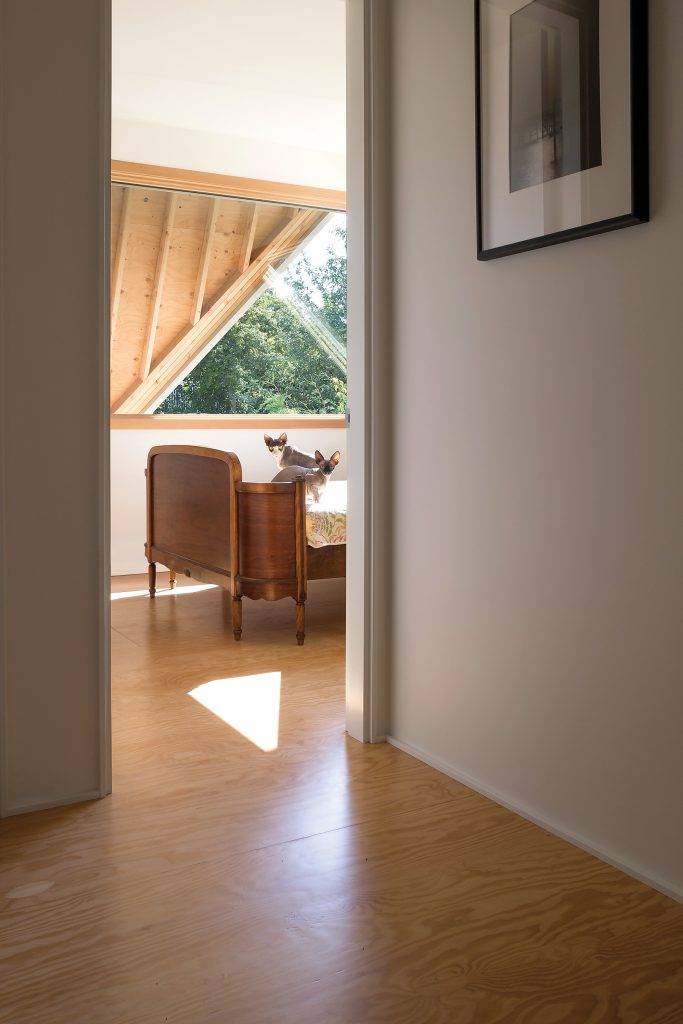 ---
The home now hosts Heinl and her husband, her son, her daughter-in-law and two grandkids, as well as one dog, one cat, a bearded dragon and a chicken.
"The convenience is just lovely," says Heinl. "I can look outside and see my grandkids growing up, and watch my granddaughter playing with her friends on the street. When I lived in Sidney, an invite for dinner would take the whole evening. Now, they come by for a drink. We have holiday dinners together. We have movie nights and sleepovers, where my granddaughter will come across the bridge with her blankie, then go back in the morning. We're all part of each other's lives, and we all still have our space."
RESOURCES:
Architect: D'Arcy Jones Architects
Builders: Aryze Developments
Framer: Aryze Developments
Plumbing and Mechanical: Solid Plumbing & Gas
Electrician: Greenlight Electric
Light Fixtures: McLaren Lighting; Home Depot
Doors and Hardware: Home Lumber & Building Supplies
Windows: Ply Gem Canada
Roofing: Coastal Roofing
Tile: Island Floor Centre
Kitchen Appliances: Coast Appliances
Countertops: Silver Fern Stainless
Plumbing Fixtures: Splashes Bath and Kitchen
Flooring: Greg Cutler; Aryze for plywood floor upstairs; Capital City Paving for the polished concrete slab on the main floor
Landscape Design: Biophilia Design Collective
Cabinets: Coast Cabinets