Mid-century style meets contemporary artistry in this Fairfield home.
By Danielle Pope
Photographs by Joshua Lawrence
---
Carol Tastad and her husband Garth wanted to downsize from their modern three-storey Victoria home, and had been searching for an ideal one-level in Fairfield when they found a townhouse, hidden just behind a hedge off the street.
Save for a few updates, the 70s-style building was everything they wanted, complete with space for a garden and a strata community that would ensure this home could last into their advanced years. Thanks to the work of Meade Design Group, the Tastads were able to bring the space into their focus.
---
"We needed a home we could look forward to aging in," says Carol Tastad. "Our previous place was very modern, with an open floor plan, and we needed more wall space for our growing art collection — plus, we wanted to pay tribute to the mid-century style we loved."
Tastad hoped to combine mid-century flair with a modern approach in the 1,800-square-foot home. She was excited to have separate rooms again, and the couple worked with principal designer Iván Meade and team to create adaptations around the building that would allow the home to evolve into their vision.
"There was a lot to change to make this home comfortable and functional, and also blend mid-century charm with contemporary style," says Meade. "We wanted the furniture and the art to be the stars of the space, which meant the rest of the house had to work around that."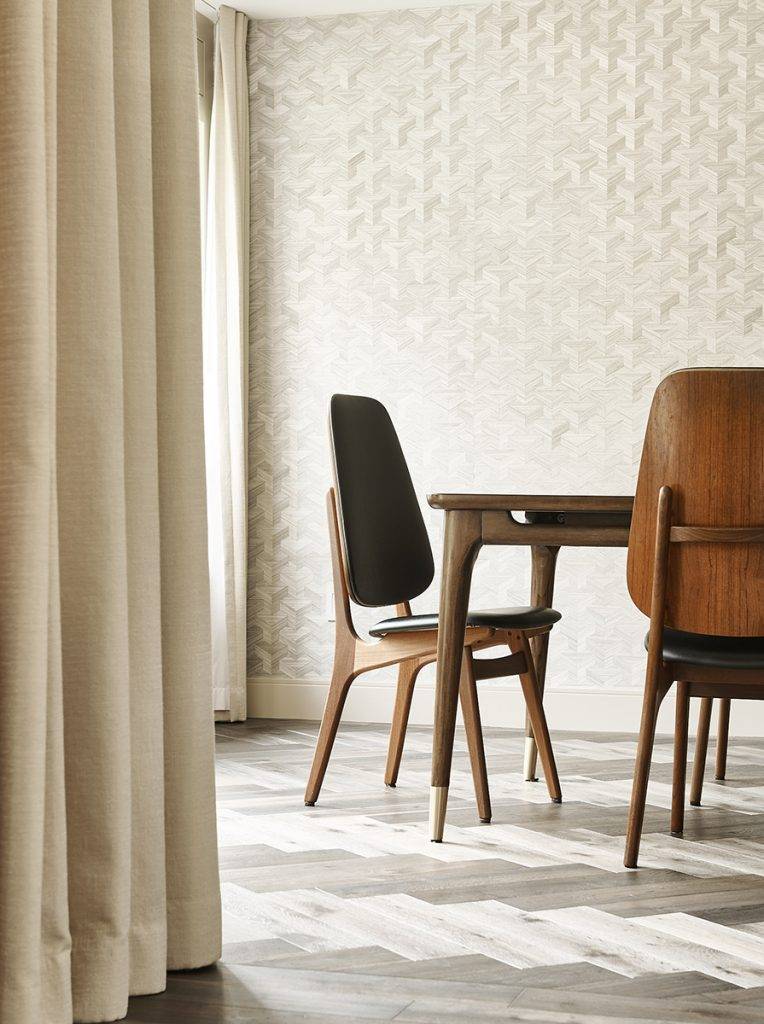 Meade's team made important alterations to the building, like removing the carpets and installing herringbone, brushed oak wood flooring, as well as trading the bathtubs for modern showers, adding doors to separate the kitchen from the dining area and installing waterfall cupboards.
The team also enhanced lighting by adding skylights and an extra window in the kitchen, as well as an array of pendant lamps. Finally, wall space throughout the hallway was maximized by changing the floor layout so it could be used as a gallery.
"We wanted the space to be homey and private, but also one that the clients could use to entertain," says Meade. "The art collection needed to pop, so we understated the other colours in the rooms in a way that would make each piece the focal point."
---
Meade used soft greys, creams and light blues, with heavy accents in black, glass and chrome. The effect makes the smaller space feel remarkably large. The dining area was also reconfigured to create movement in the home, thanks to the removal of a wall. A custom-designed quartz propane fireplace was added in the living area.
He tackled a few non-functional nooks and crannies, and repurposed them for built-in closets or appliances. The walk-in pantry in the kitchen became home to the refrigerator.
Stylish yet comfortable recliners were placed as centrepieces of the living area, with mid-century teakwood and walnut tables highlighting the space. Meade used fabric and texture as a way to bring a more dynamic nature to each room, including pillows and curtains from his own design collection.
"The way to create a real 'wow' moment is with texture, and we wanted fabrics that had a marbleized feel to them," Meade says.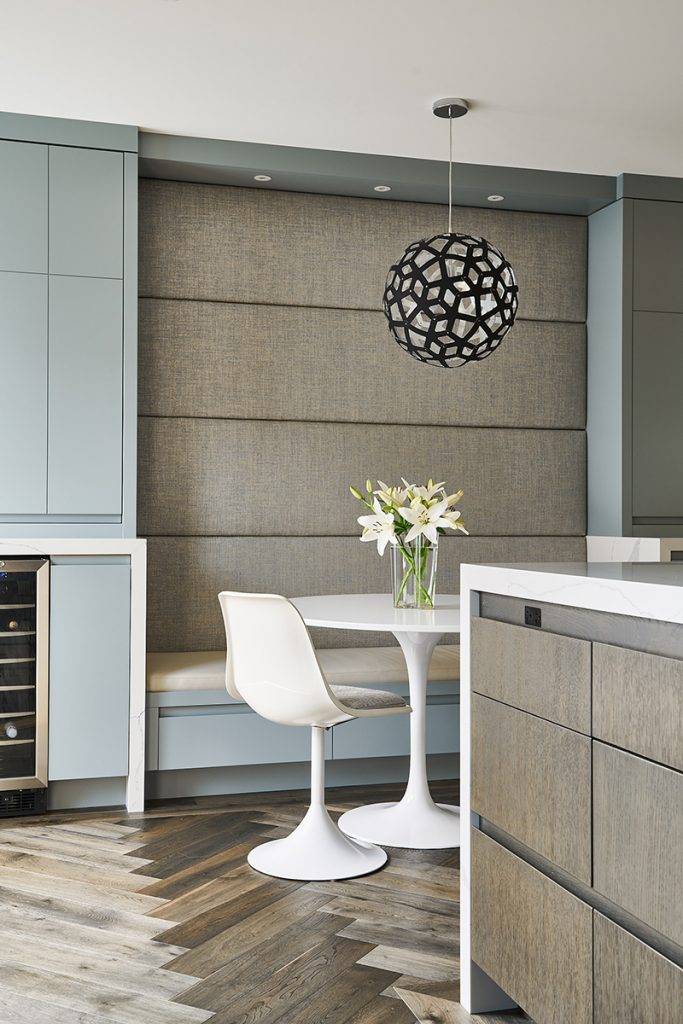 "The black-and-white fabrics tie all of the elements together but also create something different."
Tastad says she and Garth have a lot of new "favourite parts" about their home, from the 100-year-old walkway and heritage garden out back, to a particular chair in the living room that basks in the sun and offers a beautiful place to sit and read.
---
"All of our rooms are very functional, and it feels like we can really enjoy our place and our art. It's the centrepiece of our home — not just something that fits the room," says Tastad. "We wanted a space that was much cozier, and now that's what we have."
Designer:
Meade Design Group
Construction Manager:
Horizon Pacific Contracting
Custom Millwork:
Jason Good Custom Cabinets
Finishing Carpentry:
Horizon Pacific Contracting
Kitchen/Bathroom Millwork:
Jason Good Custom Cabinets
Countertops:
Stone Age Marble & Granite
Painting:
Amiras Painting
Tile Installation:
Creative Style Tile & Stone
Plumbing:
Good Grade Plumbing & Gas Co.
Electrical:
Amped Electrical Contracting
Hardware:
Emtek
---
This article is from the January/February 2019 issue of YAM.