How artist Alex Taylor-McCallum brings Indigenous stories to colourful life on Victoria's streets.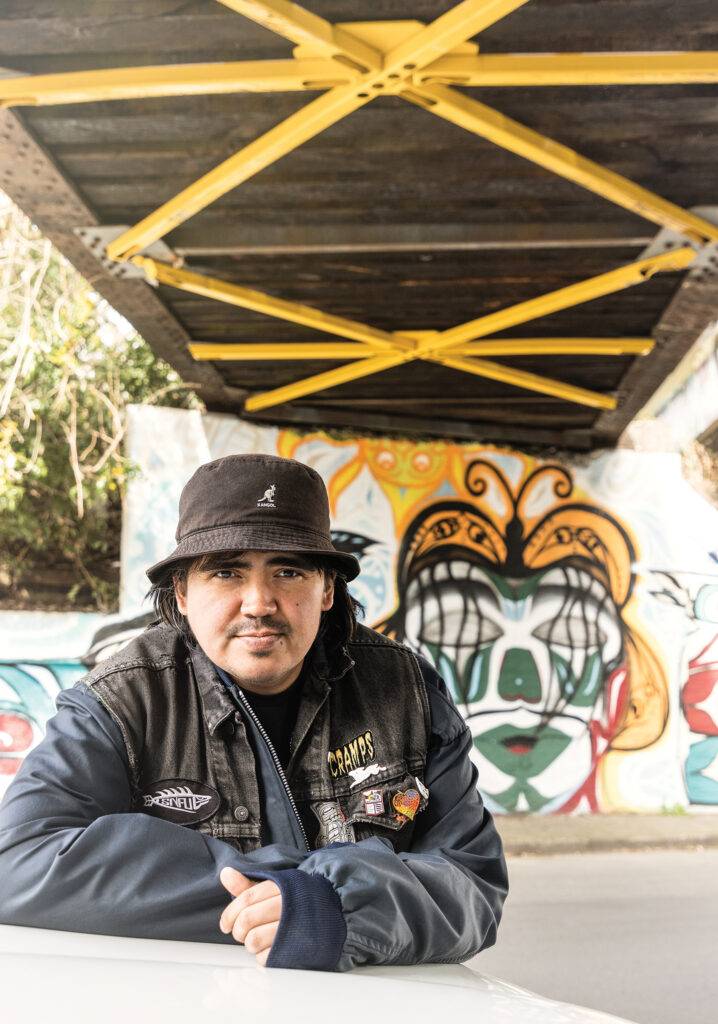 BY JOANNE SASVARI
Throughout history, the butterfly has been a symbol of metamorphosis, so it's only fitting that it's at the heart of the work artist Alex Taylor-McCallum is most proud of.
"That mural is very representative of where I come from in the Kwakwaka'wakw family," he says of the mural he painted as part of the East West Mural Fest. It also reflects his personal metamorphosis. In the last two years, he's found both sobriety and his calling as an artist. Now, he says, thoughtfully, "My vision is clear, my hands are steady and I am open to learning."
You have likely seen Taylor-McCallum's work around Victoria, on Pandora Avenue, at Wildfire Bakery, at Trackside Art Gallery, that butterfly under a bridge in Esquimalt. It's bold, colourful and haunting, capturing as it does in strong lines and vivid hues the west coast Indigenous experience, both good and bad. That wall on the 900 block of Pandora, near the tents housing some of the city's most troubled souls? It recognizes survivors of residential schools. The hummingbird he painted at Wildfire Gallery? An homage to his late grandmother Marilyn McCallum, who died when he was young.
Now in his early 30s, Taylor-McCallum grew up here in Victoria. "I am Kwakwaka'wakw and Nuu–Chah–Nulth so my family ancestry comes from the north and west coast of the Island. I grew up far away from my home territories most of my life," he says. "The one thing I remember clearly is always having art around my house."
His grandmother was a collector; one uncle was the famed Kwakwaka'wakw artist Beau Dick from Alert Bay, another the Nuu–Chah–Nulth printmaker and carver Patrick Amos. Although his family shared stories about their culture and heritage, they didn't teach him about art. It wasn't until he was in high school that he discovered books on the form line art of West Coast Indigenous people. "I really started teaching myself," he says.
His first paid commission was the mural on Pandora, the work that established him as an artist and convinced him that this was his calling. As with all his murals, it's personal — for one thing, the baby animals represent his two sons; for another, he says, "That mural there really documents a huge change in my life." Although he is in recovery, he was once haunted by some of the same demons that afflict many who live there.
"Pandora — I was hired by local residents to honour elders who went to residential school and the kids who didn't make it, and to honour the people on Pandora Avenue, who are down there for various different reasons," he says. "I really wanted to do something to bring some light to a place where there is so much darkness, and to show some Indigenous representation."
The artwork he is most proud of, though, is the one he did for the East West Mural Fest (which he's hoping to work with again) under that bridge in Esquimalt. Elements in the mural — the wolf, the butterfly, the baby thunderbird — represent different aspects of his family origin story.
The way it goes is that at the time of the great flood many, many years ago, his ancestor Numas fled the rising waters until he reached the top of a great mountain. There, a giant butterfly the size of an eagle floated down and landed on his head to share teachings of peace, humility, compassion, love and caring for others.
"The butterfly, to me at this time of transformation in my life," he says, "it means a lot to me."