By Athena McKenzie
No need to get away — the best of the season is right at your doorstep!
SHOW-OFF SPOTS
While there's good reason those out-of-province family and friends love to visit Victoria in the summer, sometimes it's easy to take for granted all the "fabulousness" that surrounds us. To help inspire you to get up and go — and for pointers on where to take those visitors — we asked three well-known Victorians for their hot spots.
"I grew up on the Saanich Peninsula, so Brentwood Bay holds a special place in my heart. Kayaking from the Brentwood Bay Resort and into Tod Inlet yields stunning views of the Malahat and usually some otter and jellyfish sightings. Appies and drinks on the Brentwood Pub patio while watching the sunset caps off the day perfectly."
— Lisa Perry, Host of StyleFile on CTV News at 5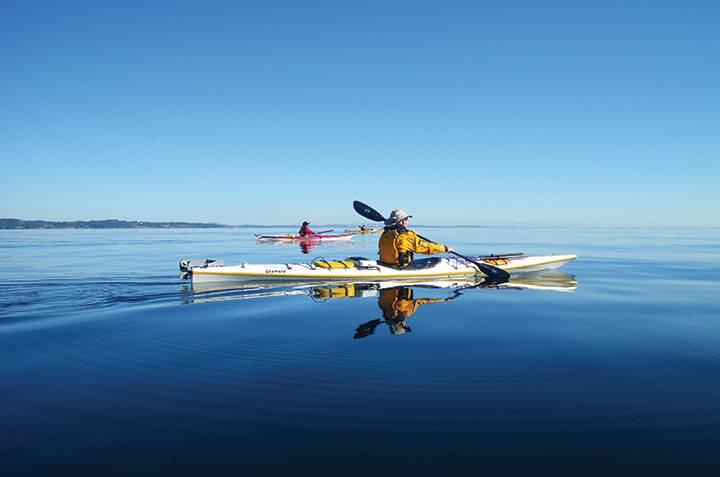 "I'd take my visitor to the Oak Bay Marina and put them on my spare paddle board over to the Chain Islets and in between Chatham and Discovery Island — show them the incredible place we live from the ocean side.  There is a current in the Strait so you have to be careful. You can honestly see 75 to 100 seals. Around the back of Discovery there can be sea lions. The wildlife is incredible."
— Simon Whitfield, Olympic Triathlon Champion
"There's a lovely place to bring a picnic lunch called Anderson Hill Park off the 500 [block] of Island Road in Oak Bay. It's romantic and peaceful with a rocky hill area, natural surroundings and ocean views."
— Artist Carollyne Yardley
No Table Required > Whether it's a basic picnic or a special occasion, Gigi Gift Creations will deliver portable sustenance for your excursions as part of their Panier Picnic service. gigisgiftcreations.com
---
New Traditions > High tea at the Fairmont Empress is always a classic outing, but for a updated twist, go for drinks on The Veranda at the hotel. While soaking in the incomparable view of the Inner Harbour, snack on truffled Empress honey popcorn, which uses honey from the hotel's own hives. And don't miss the lobster roll. (Insider tip: take note of the serving plates, many of which were created from upcycled Empress roof tiles.)
---
GOOD MOOD MINI-BREAKS
Feeling run down and stuck in your routine? Get in the proper summer state of mind with a holiday from the everyday. Whatever you're in the mood for, there's something close by — and uplifting.
In the mood to learn something?
Take a private cooking class at The Villa Marco Polo Inn. Considered a hidden gem, this luxury bed and breakfast is tucked down a shady street in Rockland. The Inn's new "From the Pantry to the Pillow" package combines a cooking class with Chef Castro Boateng with
a stay in one of their stunning suites.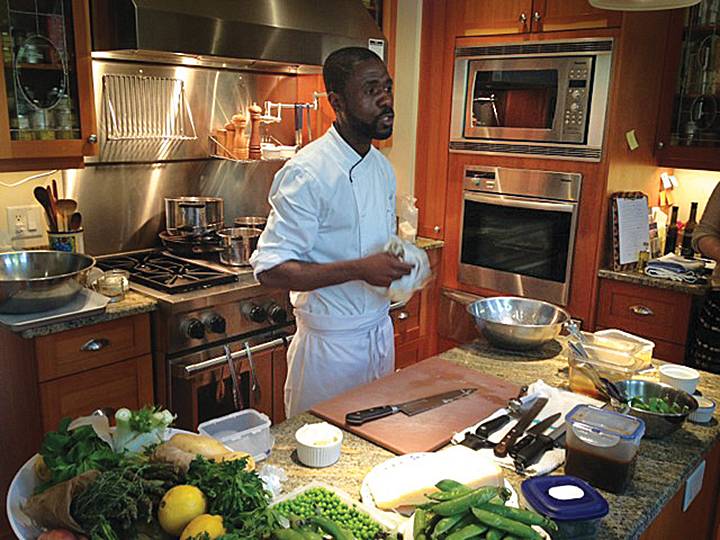 From creating pantry essentials, such as oil-poached garlic, to dinner-party-worthy entrées, Boateng guides guests through a relaxed, fun evening. Best of all? You get to eat your creations in the private dining room, you don't have to do the dishes and there's a gourmet breakfast waiting for you in the morning.
In the mood to get back to nature?
Take a trip to Parksville-Qualicum to experience one of the world's most mysterious, beautiful natural wonders: bioluminescence. Book your private tour with Coastal Revelations and venture into the Salish Sea by canoe with your scientist guide Patrick Walshe. You'll learn about bioluminescence and the local eco-system — and with stars above and stars below, you'll feel like you are in a starship. Best times to go: during the dark moon in July and early August.
In the mood to treat yourself?
Indulge in a spa escape at the Boathouse Spa and Baths at the Oak Bay Beach Hotel. There's a reason the land-locked flock to Vancouver Island in the summer: the restorative properties of the ocean. The spa's Power of the Sea three-hour therapy uses Pacific Seaweed as a key ingredient in its foot treatment, body scrub and wrap, massage, and facial. The nutrients in the fresh seaweed address dryness and aging in the skin and promote relaxation in the body and mind. Sound blissful? Imagine finishing off in the oceanside mineral pool — with freshly prepared sushi and a glass of prosecco.
---
DOG DAYS OF SUMMER
Do you want your four-legged friend with you on your summer adventures? Of course you do! Check out Luba's picks for the perfect summer day.
Harbour Ferries Tour > Dogs are welcome as long as the captain and other passengers say yes. Hit Fisherman's Wharf (where Luba loves to watch the seals) and the Swift Street Landing for a stroll up to the pet-friendly Capital Iron. (Don't miss the K9 treats at the cashiers.)
---
Butchart Gardens > This French Bulldog is a big fan of lounging in the shade at Butchart Gardens, listening to one of the daily open air concerts. Pets are welcome at the Gardens, on-leash (and the Visitor Centre can provide refuse bags). There are also five pet water fountains throughout.
Fabulous Fort > Even if you want to go shopping, there's no need to leave the pooch at home. While Luba says the Victoria Compounding Pharmacy has the "dog-friendliest"
staff in Victoria, the entire retail stretch of Fort Street boasts lots of pet-friendly businesses which offer water bowls for a cool drink. (Some even have treats!)
---
DAY TRIPPERS
Forget what you think you know: it's time to revisit these charming destinations. Tip: If you're going by car, pack a cooler: each route is filled with temptations of both the food and libation variety.
Books, Beaches & Bites
Sidney > Plan this excursion for a Thursday to take advantage of the Sidney Night Market. On the way out, stop at Category 12 Brewing Company on Keating Cross Road for a taste of Waveform Witbier; and at Sea Cider Farm and Ciderhouse for some Bramble Bubbly. Sidney boasts the title of Canada's only official "book town," so take the time to pick up some beach reading and make the quick trip on the passenger ferry over to the Sidney Spit. Browse the fabulous downtown boutiques, such as Provence Fine Things, Baden Baden, Waterlily Shoes and Muffet & Louisa. When hunger strikes, try the authentic offerings at Sabhai Thai but save room for old-fashioned donuts from Sidney Bakery — you'll want to pick some up for home too.
Hometown Hoppy Hour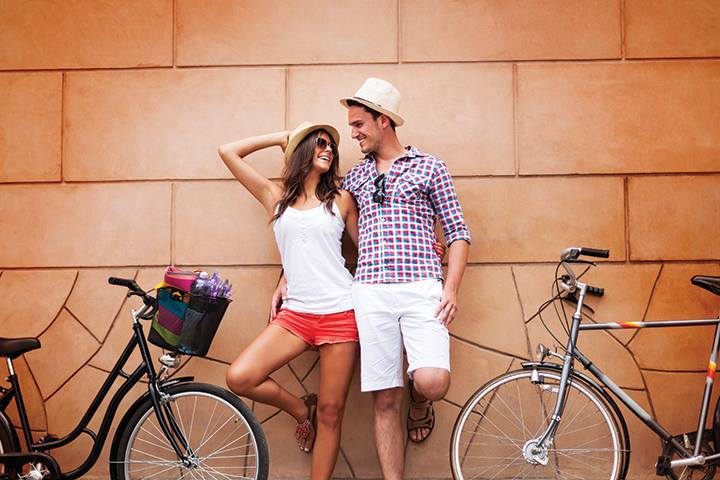 Victoria > What better way to recognize summer in Victoria than by combining two of its most celebrated pastimes — cycling and craft beer. The Pedaler's three-hour "Hoppy Hour" tour takes riders to three different breweries for beer tastings and a snack. Get insider access to the brewers and hear their stories — and your guide has a pannier for any growler purchase.
Near North Navigator
Duncan > The trick to making this jaunt original is lots of stops. Most of the crossroads provide a worthwhile diversion. Linger over a latte at Rusticana Coffee in Mill Bay and partake of a wine tasting at the stunning new facility at Blue Grouse Estate Winery. Visiting the Duncan Farmer's Market is a must on Saturdays, with its live music, artisans and fresh produce. Check out the General Store at Providence Farm for organic produce and artisan goods, and have an amble through their gardens. For lunch, there are plenty of options, including the crisp chef's salad at Bistro 161 or West Coast paella at Hudson's on First — or try some of the Island's best Indian food at the Royal Dar. Eclectic boutiques, such as Spinning Ninny, Fabrications and Cardino Shoes, can be found in the charming downtown strip. Grab a growler at Red Arrow Brewing Company, one of the newest additions to the Island's craft beer scene.
While you're in the area, it's only a short side trip for a matinee performance of Twist and Shout: The British Invasion at the Chemainus Theatre.