By Susan Hollis
The winter holiday season is a time for gathering family and friends together to share meals and stories, but with so much pressure to achieve perfection and holiday happiness, there are so many ways things can go wrong. YAM explores savvy ways to keep the stress level down and bring people together harmoniously.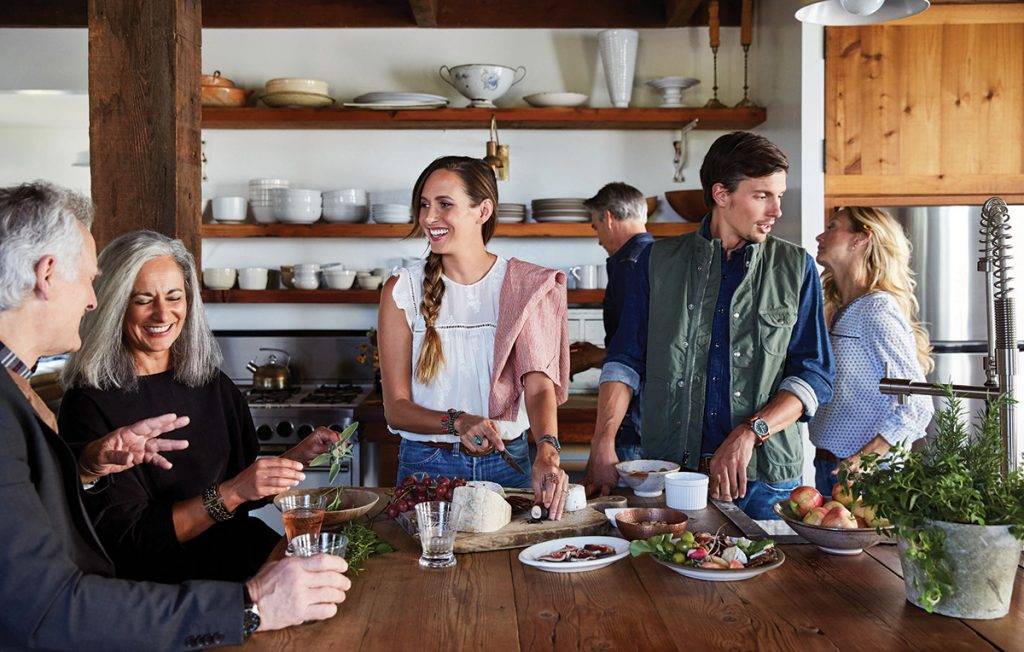 There are few things more Scottish than a damp New Year's day warmed by the traditions of old — outdoor Hogmanay fires, warm bowls of plum porridge, a hearty steak and kidney pie. So when a molten-hot and steaming steak and kidney pie slid neatly out of its flimsy aluminum dish and landed on the floor in front of the oven in one great blob, it was an alarming, if temporary, disaster.
It's one thing to lose an appetizer, or even a dessert, but an entrée hitting the floor while your dinner guests chat expectantly around the table on one of the most significant nights of the year is a disaster.
Staring at the calamity, my proper (and cheeky) Scottish mother-in-law determinedly scooped the whole thing up, put it back into the dish and served it graciously. It was her first attempt at hosting a holiday meal with her even more proper English in-laws. Her dinner guests were (and remained, save her husband) none the wiser.
While the decision to salvage the pie may be cringeworthy to the more food-safe among us, she did what many of us would do — she went to extremes to keep the evening flowing peacefully.
The story still makes her laugh — the only outcome was that she forever eschewed disposable cookware and her choice of casserole dish was upgraded to a sturdy ceramic — and it has become a well-loved memory of time spent with her own parents, her new in-laws and new husband, even some-40-odd years later.
THE COMPANY YOU KEEP
Isn't it curious that despite taking measures to avoid disaster, it's the more colourful tales of hosting over the holidays that we share and reshare, time having softened the sharp edges of despair over family spats and flat Yorkshire puddings.
As the moments that are meant to be perfectly right align in a merciless progression over the holidays, the opportunities for failed perfection are plenty. Burnt or undercooked turkeys, blocked and smoking chimneys, uncooperative Hanukkah latkes, awkward cocktail parties, family rifts and "drunkles" — there may be no way to avoid them, but there are ways to manage messes that arrive with prophetic regularity.
While no one aims to turn a holiday gathering into a jumble of stress, keeping focused on the important bits, like the company you've chosen to share it with, are key to making memories last. But as much as we love the friends and family that make up our personal social microcosms, it doesn't guarantee they'll be easy to handle.
This is the time to invite those close to you to sit elbow to elbow, knee to knee, and connect properly — cell phones away, children sandwiched between adults — but it should be done with careful planning, not dissimilar to a wedding. It's not about the Instagram-worthy table, it's about who is sitting around it, and, with a little forethought, a well-planned seating plan will ensure a cordial meal.
---
TIP: Use place settings to assign seating and play with the personality combinations before your guests arrive.
---
Seat the most easy-going guest next to the more provocative member of the tribe or take that position for yourself; after all, if anyone is to tolerate a quirky personality it should be you, not your visitors. If you're co-hosting, ensure you are seated as far from your co-host as possible, so each of you can share in the orchestration of a perfect meal.
One of the common pitfalls of hosting is when "thirstier guests" get too deep into the wine before (or during) dinner, which can lead to exaggerated reactions to old or new family spats.
---
TIP:A simple way to please your drinkers while governing their intake is to provide a cocktail with low alcohol content, like a festive rum punch — light on the rum.
---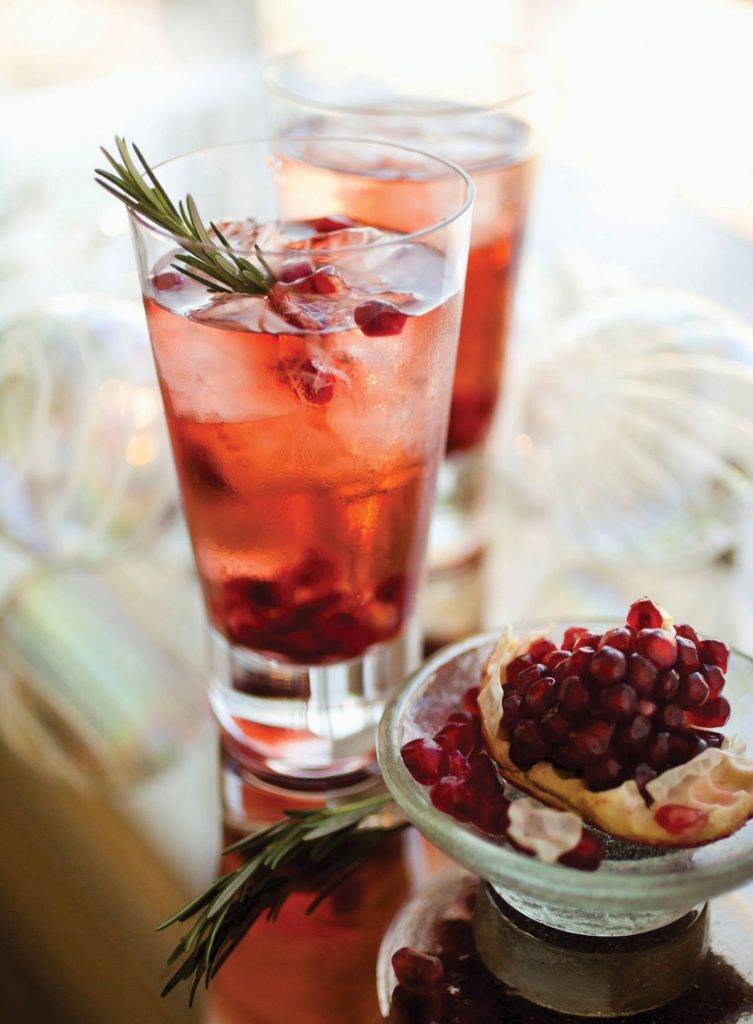 Another reason people tend to drink too much is because there's nothing much to do while they wait for dinner to be served. If you're happy sharing your kitchen, give some of your more shy or volatile guests tasks to help with the prep. If you prefer to keep people out of your workspace (and we don't blame you!), provide a fun trivia game by the cocktails to give people a different focus.
---
TIP: If you know dinner with your beloved, but tricky crew has an expiration date, don't push a long meal. Serve appetizers and dinner at the table and change venues — to the living room — for tea and dessert.
---
Often a change of location will diffuse any building tension or redirect conversations into more neutral territory.
KEEP STRESS OUT OF THE KITCHEN
Numerous chefs and event planners say the same thing: Because most of our holiday culture centres around food, it's easy to forget that the goal is to enjoy time with friends and family.
To achieve success in the togetherness aspect, plan ahead in the kitchen to reduce stress. That, and learn to improvise.
"The reason chefs are able to pull off seemingly giant feats, big catering events and running big restaurants is because a lot of stuff is done ahead of time," says chef Dan Hayes of The London Chef, who once salvaged a mostly raw roast beef by turning it into steaks when cooking for an important client.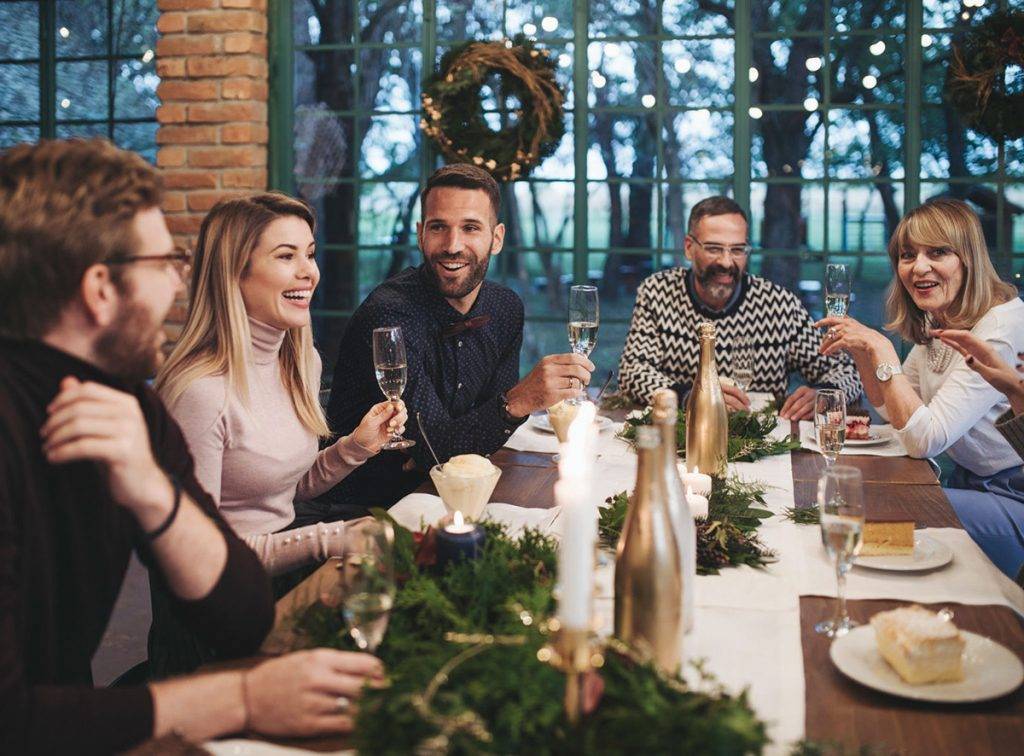 "When things go badly, be honest — if the dog eats all the salmon that you were planning to serve as the first course, tell your guests, hack up some cheese, the baguette and serve a mini-cheese sandwich — everyone will laugh and eat it and remember it forever."
Due to the enormous amount of commercial emphasis on wholesome holiday traditions, like eating together around a table, many of us take on too much responsibility for hosting and feeding our families and loved ones, which can put an enormous strain on all but the most seasoned chefs.
Hayes offers a great tip to dial back kitchen stress:
Do your dinner prep, "then send everyone out for a long walk, while you get everything organized," says Hayes. "And don't forget — always, always, always have a big glass of wine."
---
If cooking isn't your thing, or if it sends the stress levels soaring, don't assume holidays are the best time to change that — if hosting and feeding the people you love is important, rely on professionals to do part of it for you.
"There are lots of great catering options here in Victoria where you don't have to bring in a whole catering team," says Emma McCormick, owner of The Good Party event-planning company. Places like Boom + Batten and The Farmer's Daughter can create ready-made platters and charcuterie boards to take the guesswork out of hosting. She and her husband order Thanksgiving and Christmas dinners from Toque Catering so they can focus entirely on enjoying themselves and their loved ones. 
If hosting isn't appealing, Victoria has many venues that feature festive, delicious holiday brunches, lunches and dinners. The Fairmont Empress Hotel and the Oak Bay Beach Hotel are great options.
YOU'VE GOT THIS
"The main thing about hosting over the holidays is for it to not be perfect, [and] to get clear on why you're gathering because I think if the intent is to have this perfect ideal, you'll just be disappointed, so you have to get rid of that," says designer and author Leslie Shewring, who hosts an annual Christmas dinner for her large blended family of around 18.
"I think often things go sideways because we're really stressed, so even having a little heart-to-heart with oneself before the holidays and setting one's intention on what you want it to look like and how you can make it simpler and more meaningful for everyone [is important]. Sometimes, as the host, it comes down to you to set that tone and pace for the holidays."
For Shewring, any social invites she receives after December 21 are politely declined in favour of spending time with her family and close friends. After years of trying to prepare both a Christmas Eve dinner and a Christmas Day dinner, her family traditions now include dining out on Christmas Eve, which frees up her time and energy to create one big Christmas Day meal and allows her to connect meaningfully with the important people in her life.
She's also wary of the pressures of cramming too many parties and celebrations into a season that's meant to celebrate loved ones.
"Why make the holidays an excuse to be even more neurotic than they already are, when we can ask how can we just dial it all back?" she says. "Look at what's worked and hasn't worked in the past and make changes if you have to.
---
"Even with family it can be simplified: If a dinner is too much, maybe just a walk with hot drinks after, or order some pizzas and serve a great champagne — look for more manageable things."
---
That also applies to readying your home for entertaining. Many of us spend too much time cleaning and arranging things, but when it comes to having people in your home around the holidays, sometimes a perfectly set living room can have a stifling effect on guests, not to mention being a drain on your valuable time. McCormick favours a quick tidy and a generous sprinkling of extra pillows and blankets to ensure the space is appealing.
"I think there's this desire when you're entertaining at home to make the home look like it's not even lived in, which is almost the opposite of what you want to do for the holiday season," says McCormick. "You want it to be that cozy and warm inviting feeling. It doesn't have to be a high level of perfection when someone walks through the door."
So as much as you still might secretly wish for perfection, don't despair if things don't go according to plan and people don't behave exactly as they should. You will have stories to tell many years from now. By then, no one will care if the pie fell on the floor!