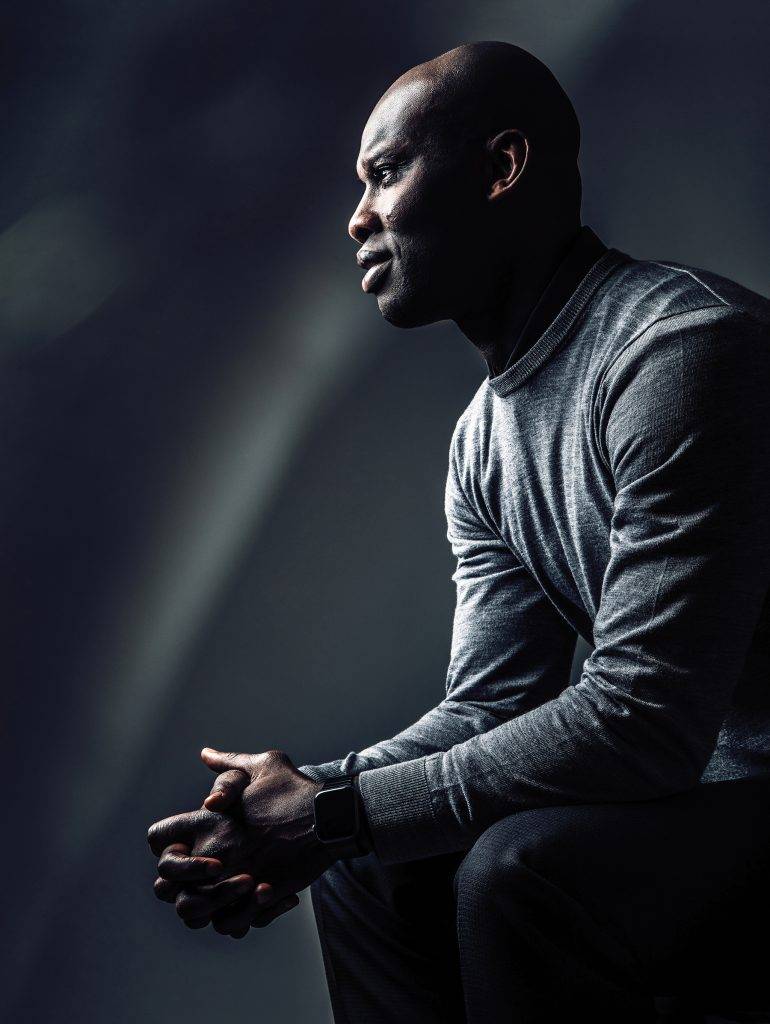 by David Lennam
The new Pacific FC coach talks about self-awareness, leadership, fighting racism and creating community.
He was once called 'The Most Interesting Man in Major League Soccer,' a label he's quick to shrug off with a dismissive laugh — but one that still fits, four years after retiring from playing professionally.
Pa-Modou Kah, who enters his sophomore season as head coach of the Langford-based Pacific FC, a team in the fledgling Canadian Premier League (CPL), earned the accolade during late-career stints with MLS teams Portland Timbers and VancouverWhitecaps. The now 40-year-old was tenacious on the field, vocal in the locker room and became a mentor to some of the brightest young stars of a generation, like former Whitecaps Alphonso Davies, Kekuta Manneh and Marco Bustos.
Manneh and Kah, both Gambians, met on the pitch while wearing rival colours. (Kah was with Portland at the time.) Kah intervened in a skirmish, holding the young striker back from a possible red card, and, foreheads touching in a clinch, administered the kind of advice an older brother would.
"Don't get sent off, and keep your head in the game and just keep going," Manneh remembers being told. It was respect from an opponent, a fellow countryman and, later, a friend and a confidant. "Getting to know Pa is one of the best things that ever happened to me. He's very, very smart. He puts people first before anything. He's an amazing human being, and I'm always going to love that guy until the end."
One of Kah's current stars is Pacific FC midfielder Marco Bustos. When they were both Whitecaps, Kah used a taunt to get the best out of the rookie. At the end of the season, the veteran called Bustos a fat, chubby little kid and bet him $200 that, as a 35-year-old, he would return the fitter of the two after the winter break.
"As a leader in the locker room, part of it was to take care of the younger players and teach them what it takes," says Kah. "[Bustos] had the talent but wasn't taking care of his body. Will he see it as a challenge to get better, or just give up?"
Bustos admits the gentle goading was a big turning point in his career and in the way he carries himself as a professional.
"I went home, and I think I was in the gym every day. I got into the good habits seeing what it takes to be a professional, to be an athlete. I came back in better shape than every other player."
But did you get the $200?
"No, I didn't," laughs Bustos. "But Pa will claim the lesson that he taught me is worth more than $200. Ever since, I've stuck with the same habits, thanks to Pa. It just brings it into full context the kind of guy he is to get me to see the belief in myself."
Kah's mystique was enhanced by the way he balanced his tactical sense of the game with an equal insight into the psyche of those he played for and those who now play under him, as well as a passionate and rare (for an athlete, anyway) commitment to tenets that run far beyond the corner flags. He's also prone to the superior sound bite.
"I am Pa-Modou Kah," he will say, sincerity hanging on every syllable. "I have my flaws. I have my strengths and I'm OK with it. The biggest thing being human is to know who you are. And if you know who you are and you're good about it, that's it. All I want is the guy standing next to me to help him get better. That's me as a person and as a coach."
Kah says professional athletes have to deal with a perception that they're superheroes, when they're just as vulnerable as anyone.
"I'm an athlete for two hours and a normal human being for the other 22 hours."
Kah was the first person from his native Gambia to coach professionally outside the tiny West African nation. (He speaks seven languages and has an engineering degree.) After his family moved to Norway when he was eight, Kah became the first black player to play internationally for that country. Eighteen years of professional football had him suiting up in Europe, the Middle East and North America. The pinnacle of his globetrotting career was a central defender for Roda JC in the Dutch Eredivisie, marking some ofthe best forwards in the game — the likes of Zlatan Ibrahimovic, Dirk Kuyt, Ruud van Nistelrooy and David Villa.
"I started football at eight and ended at 36 —26 years spent doing something you love, day in and day out. It has given me joy and pleasure and taken me beyond where I imagined. I learned the world through football, through travelling."
It's not Kah who brings up race, but me. I know he won't shy from the topic. And he's ready with a monologue. A good one.
The salient points:
"Racism is the biggest pandemic of humankind. One thing that remains constant is that racism really never goes away."
"When you look at blacks and they're good as athletes — that's all people think they can do. It's wrong. We have brains; we can think. I'm a football coach — that's the only thing they know about me. My other side they don't know."
"[As a black man,] the perception is either I'm a drug dealer, a hip hop star or an athlete. Those are the labels that we have: athlete, drug dealer, musician. In my position, I want to change the narrative."
Change it to leader, coach, father and husband, which means family time with wife Dewy (whom he met playing in Holland) and their two young daughters. But, beyond that, his extended family includes Pacific FC — players and supporters.
"This is a club that is for our fans and for the Island, for everyone on this island to be proud of and know they have a professional football club where they can get their sense of belonging in the community."
Bustos says Kah, driven by belief and confidence, is beloved by his players. Fans too, it's hoped, when we're allowed back intoLangford's Starlight Stadium (formerly Westhills).
"Let's all come together and support it and make it huge," says Kah. "The next generation of stars are going to come out of the CPL."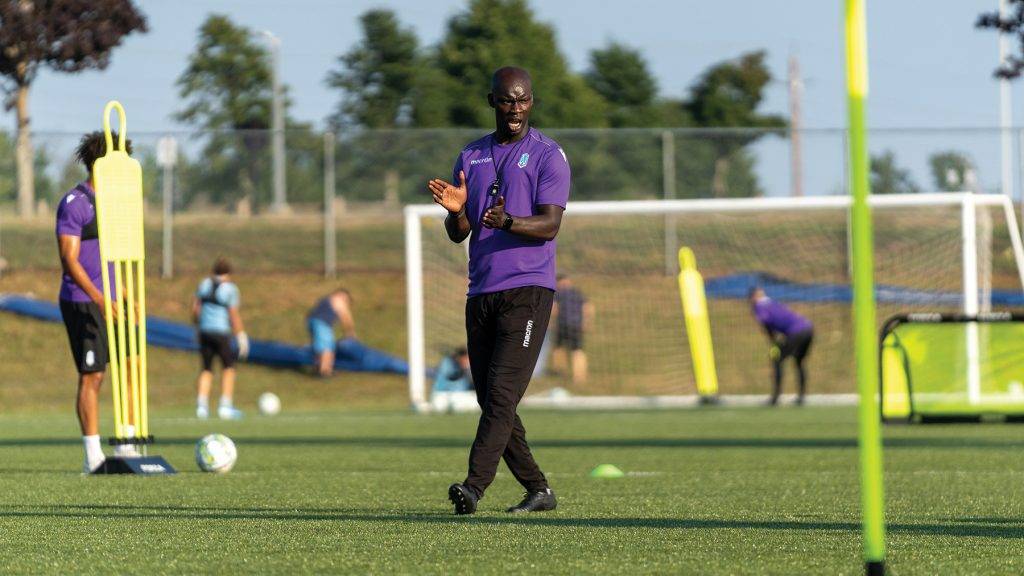 About Pacific Football Club
Founded in 2018, Pacific Football Club brings professional football to Vancouver Island, as part of the Canadian Premier League (CPL). Playing out of the renovated, 6,000-seat Starlight Stadium in Langford, the club provides an outlet for Canadian soccer players to compete at the professional level of the sport on home soil.
Pa-Modou Kah joined Pacific FC as head coach before the 2020 CPL season, guiding the team through a challenging preseason due to the COVID-19 pandemic and posting a 4-2-4 record and a fourth-place finish at last summer's CPL Island Games in PEI.
The club recently announced that Kah and associate head coach and technical director James Merriman have signed three-year contract extensions.
The CPL season is hoping to kick off its 2021 season on May 22, depending on local health authority approval. Season tickets for 2021 Pacific FC matches are now available and start at $22 a month.
You can find updates at http://www.pacificfc/canpl.ca.