A towering seafood sampler is the most sumptuous — and easy — way to celebrate the season with your favourite people.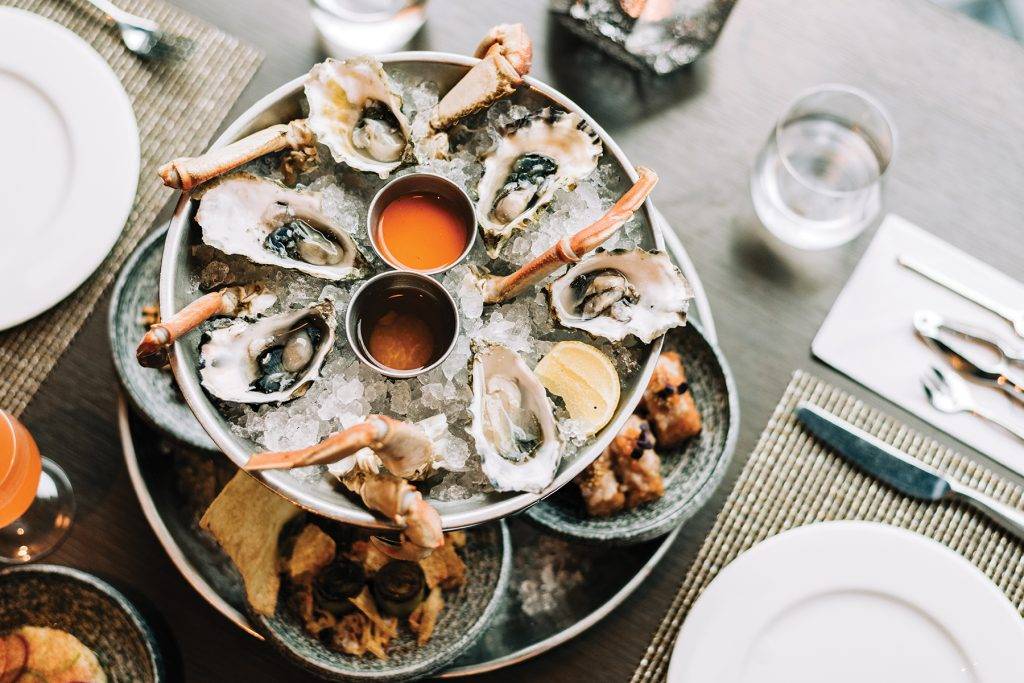 ---
BY CINDA CHAVICH
Loaded with everything from tender oysters and buttery crab to smoky salmon, plump prawns and briny caviar, a seafood platter is the exquisite start to many a formal affair. And this year feels like the right time to pull out the stops and seriously celebrate the season in West Coast style. So dig out your prettiest plates, visit your local fishmonger and start shucking.
Some Assembly Required
The beauty of a cold seafood buffet is its simplicity. It's mainly a matter of collecting, curating and arranging an array of fresh shellfish rather than cooking a lot of complex recipes.
Your display can be as simple or as opulent as time and budget allow, and most of the chilled seafood on the menu can be prepared a day or more in advance.
A quick "seacuterie" board can be as easy as a trip to your favourite fishmonger. Several local fish stores make products that are perfect additions to a seafood platter, such as house-smoked oysters, salmon and octopus from Oak Bay Seafood or silky cold-smoked tuna loins at Finest at Sea (FAS). Marinated salmon or tuna poké and seafood ceviche, crab cakes and seafood pâtés are also available at the fish counter.
Both of these city purveyors specialize in sustainably sourced fish and shellfish from local waters, so you can also buy live clams and mussels to cook at home. You can also ask them to clean and pre-cook a Dungeness crab or curate an entire seafood platter for you.
FAS in James Bay offers its own premium cold-pack canned salmon and tuna, as well as a variety of other easy options, including party-ready seacuterie boxes of shellfish, pickles, pâtés and other gourmet goodies. They'll even deliver a decadent caviar-and-lox platter featuring three tins of Northern Divine sturgeon caviar, cold-smoked spring salmon lox, fresh blinis and crème fraîche.
Tinned seafood is another great option for your cold seacuterie selection. Serve the kind of gourmet Spanish "conservas" that are opened to order at tapas bars, such as marinated octopus, white anchovies or mussels escabeche in a traditional vinegar sauce with paprika. Find them at Charelli's, Fig Deli and other specialty stores.
Oysters on Top
Every seafood tower features an array of shellfish, but here on the West Coast, sweet Pacific oysters are the crowning glory of any display. Presented in their frilly shells, on deep platters filled with sparkling crushed ice, freshly shucked oysters and Champagne get the party started quickly.
Raw oysters or clams should be shucked just before serving, and if you're up to the task, it can be part of the main event. Or you can leave the shucking to the professionals.
The Wandering Mollusk offers the ultimate home oyster experience. For a big splash, hire them to set up their mobile oyster bar at your holiday gathering, or simply pick up a platter of freshly shucked oysters on ice, along with their own mignonette and hot pepper sauces.
"Everything is sourced from local shellfish farms and fishermen, fresh to order," says owner Jess Taylor. You may see Taylor or one of his staff shucking oysters at a local event or pop-up, but you can also find him at Whistle Buoy Brewing Company in Market Square, the pick-up location for pre-ordered oyster platters and seafood boil buckets, his latest innovation.
Each seafood bucket features sustainable, locally sourced seafood that's steamed to perfection in less than 20 minutes (indoors on the stovetop or outside over a grill or beach fire). Make it a memorable, hands-on party with a classic Crab Buckit (Dungeness crab, spot prawns, clams, mussels, corn and baby potatoes); Brussels-inspired mussels with bacon, shallots, mustard and leeks; or spicy Wu-Tang Clams with bok choy, chilies and ginger.
"I pack every bucket fresh that morning," says Taylor of the six different Wandering Mollusk boils. "Then you just boil them with two cups of beer or wine or cider, and roll them out on butcher paper for family feasting."
Expert Inspiration
Given our proximity to the sea, it's no surprise that many local menus feature an array of shellfish starters, whether it's the crab cakes and shellfish steamer pots at Blue Crab Seafood House or the chilled seafood platters at Nautical Nellie's.
Ferris' Upstairs Seafood & Oyster Bar features our Island bivalves in various guises — oysters baked with spinach and Pernod or creamed leeks and prosciutto or served raw with icy horseradish-infused vodka or Champagne — plus tuna sashimi, scallop crudo and smoked seafood with squid ink crackers.
And there's an impressive cold seafood selection at The Courtney Room, where you can start with a plate of briny Island oysters, raw tuna crudo scattered with glistening trout roe or a spectacular tower of shellfish, the pinnacle of the cold seafood plate.
"We prepare towers for parties and regularly serve a selection of cold seafood dishes," says executive chef Brian Tesolin, who offers an array of sustainable seafood on The Courtney Room's menu, including dry-aged Kona kampachi (young Hawaiian yellowtail), sidestripe shrimp and Northern Divine caviar with crème fraîche and duck-fat-fried potatoes.
"We age kampachi for two weeks and serve it raw, like tartare," says Tesolin. "Oysters are always on the platter, with chilled prawns and sometimes seared albacore tuna tataki or king crab."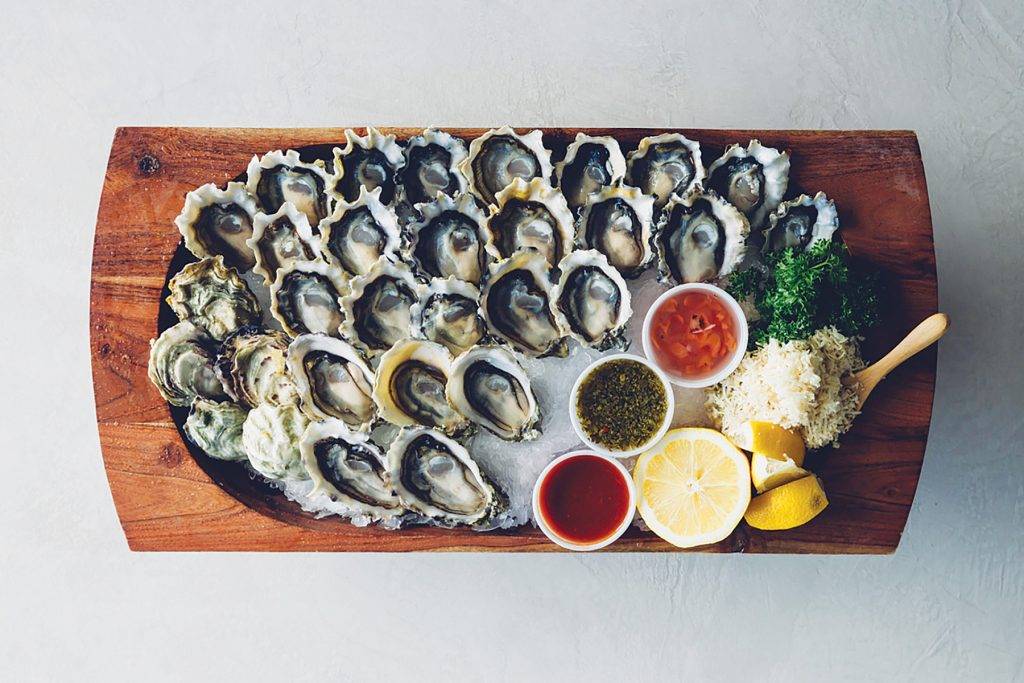 ---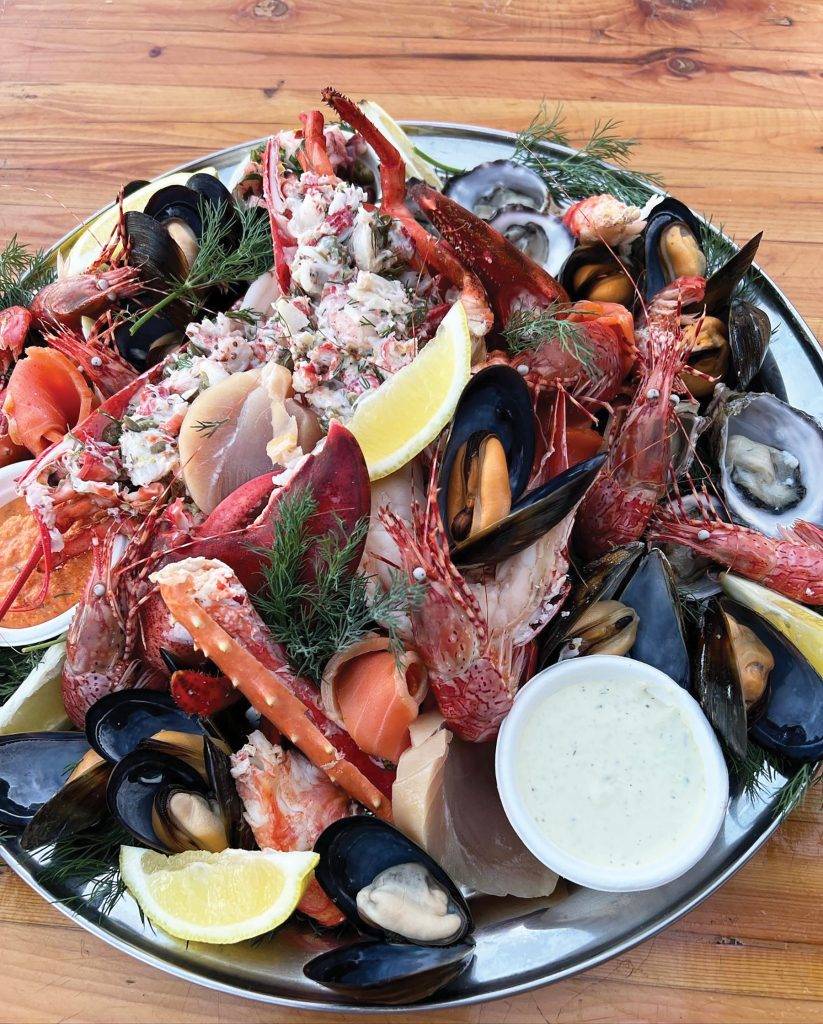 ---
Make It Ahead
While raw oysters or clams should be shucked just before serving, prawns, crab legs, mussels and other shellfish can be quickly steamed in advance, plunged into ice water to chill, then dried well and refrigerated until ready to serve.
Chef Tesolin says cooked shellfish will hold for a couple of days when properly handled.
"Keeping it dry and cold is number one," says Tesolin, who also suggests a fast escabeche-style marinade of citrus, onion, garlic and olive oil to lightly pickle and preserve cooked seafood.
"Cooking" raw fish or shellfish in citrus juice for a simple ceviche or preserving cooked shellfish in a vinaigrette for a mixed seafood salad are both great do-ahead ideas. Cold mussels make a splash on my seafood buffets, too — try them steamed, removed from the shell and tossed with a fresh tomato balsamic dressing, garlic and fresh herbs.
Another of my favourite recipes is salmon gravlax, the ruby red sockeye fillets cured simply with sugar, salt and dill, then sliced thin. Serve it on rye crackers, buckwheat blini or corn cakes, with mustard or horseradish mayonnaise.
For cold tuna tataki, quickly sear albacore tuna loins (just 30 seconds a side), then slice and serve with a soy yuzu dipping sauce. Or make easy tuna crudo — thinly slice raw, partially frozen tuna, then dress it with olive oil, sea salt and fresh lemon juice, and garnish it with capers and shallots.
Perfect Presentation
When shellfish is the star of the show it needs little embellishment, save for few wedges of lemon and dipping sauces. But you can also get creative when it comes to presentation.
Oysters arrive in their own naturally stunning shells for serving cold or hot. A bed of crushed ice holds freshly shucked oysters upright, keeps them cold and preserves their natural juices. A layer of rock salt works as a base for oysters baked Rockefeller style or broiled with garlic-herb butter and breadcrumbs.
Cold king crab legs or lobster tails can be served in their shells, too, while other raw offerings, such as tuna sashimi, crudo or seared tuna tataki, can be served on chilled plates. A bed of blanched and chilled seaweed, sea asparagus (samphire) or kale makes a good base for a cold shellfish platter.
Impress with a pile of chilled prawns and classic tomato-and-horseradish cocktail sauce for dipping. Or layer cold shrimp in mini Mason jars, with a bit of rémoulade or Peruvian green sauce for individual shrimp cocktails. A small cocktail glass filled with iced gazpacho and garnished with a skewer of cold shrimp and cucumber spears is a perfect passed canapé.
Crostini toasts and rice crackers make a good base for smoked salmon lox, crab salad or prawn rémoulade bites. Try baby or fingerling potatoes — halved and steamed, or lightly "smashed" and baked until crispy — as a base for crème fraîche and caviar or smoked salmon starters. Or use sliced cucumbers, endive and small butter lettuce leaves as crisp containers for seafood salads.
And don't forget the wine. Local bubblies and crisp Island whites pair naturally with our spectacular seafood.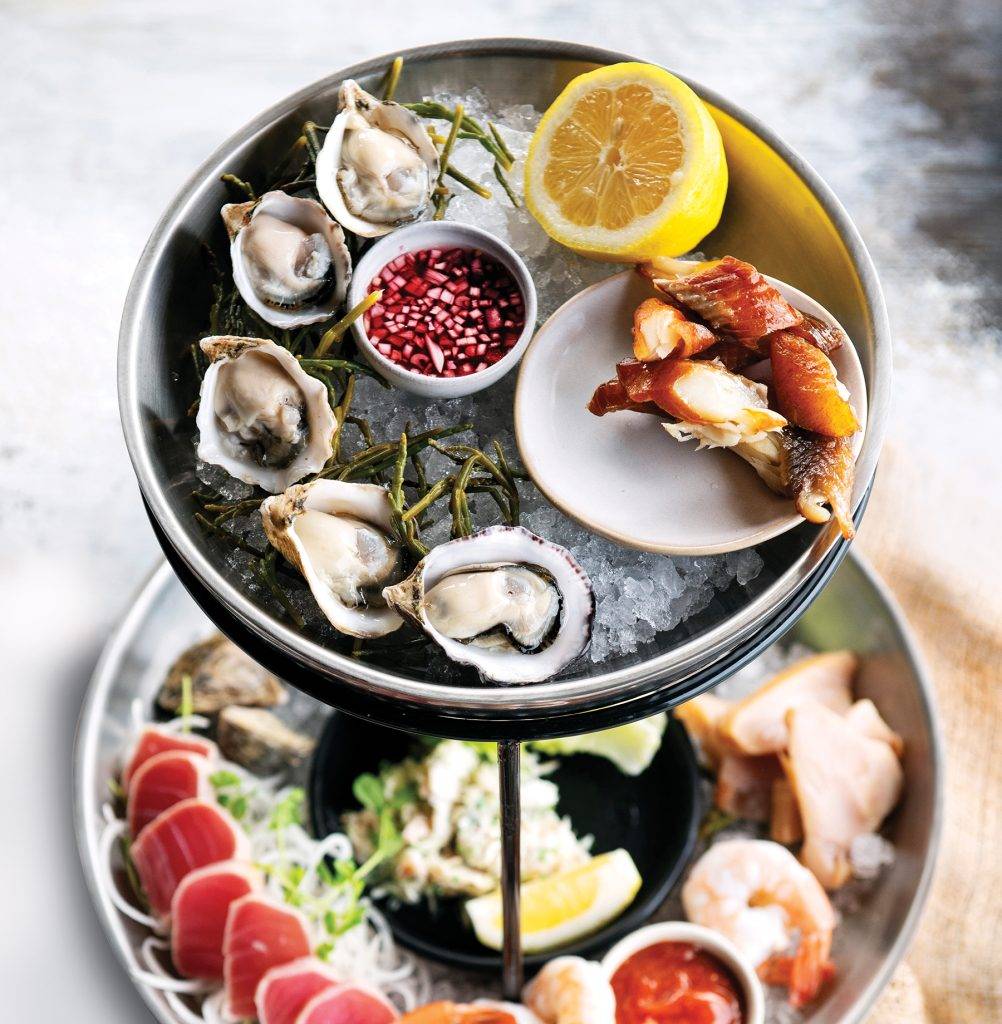 ---
Step by Step: How to Shuck an Oyster
Shucking oysters to order can be fun at a party. Make sure you have a great source of very fresh oysters — ask when and where they were harvested (a food fishmonger has this information). Oysters need to be kept cold and alive, so store live oysters in the refrigerator, cupped side down, topped with a moist towel (but don't cover them with ice — fresh water will kill them). When you tap a shell it should close. If it doesn't, toss it.
Get a sturdy shucking knife, one with a solid handle and a thick, short blade. Wear a heavy, cut-proof glove to protect your hand.
Scrub oysters with a brush to remove any mud or sand before shucking.
Set the oyster on a clean towel, on a flat surface, with the deeper, cupped side down. Fold the towel over the oyster to partially cover it and hold it on the board. You can also buy a cupped container to hold the oyster and steady it for shucking.
Place the point of the shucking knife into the hinge between the top and bottom shell (at the pointed end of the oyster).
Twist the blade and pry/pop the oyster open, sliding the blade inside, along the top shell, to release the meat.
Separate the top shell from the bottom, then cut the abductor muscle on the bottom to release the oyster from the shell. Remove any shell fragments before serving.
Set the shucked oysters in their shells on a layer of crushed ice or rock salt to keep them upright, taking care not to lose any of the juicy liquor.
Serve your freshly shucked oysters straight up, with a squeeze of lemon or a little mignonette. Pass them to your guests immediately after they're shucked. Raw oysters should not sit on a buffet for more than an hour, even if they are on ice.
When shellfish is the star of the show it needs little embellishment, save for a few wedges of lemon and dipping sauces. But you can also get creative when it comes to presentation.
Classic Seafood Tower
You can make a seafood platter simple or grand, but it's always impressive.
•1 ½ pounds extra-large prawns
•1 large Dungeness crab
•8 (or more) king crab legs
•1 pound mussels
•2 to 3 lobster tails, halved after being cooked and chilled
•24 freshly shucked oysters
•Cold smoked fish or salmon gravlax (recipe on page 60)
•Greens or blanched seaweed
•Seafood sauces such as cocktail sauce, horseradish, mignonette and/or rémoulade (see recipe, opposite)
•Hot drawn (clarified) butter for dipping
Garnishes:
•Small ice cubes or crushed ice
•Sea asparagus or seaweed, blanched and chilled
•Dill or fennel fronds
•Lemon wedges
Rémoulade Sauce
A simple sauce for dipping prawns, lobster or other cold seafood.
•1 cup mayonnaise
•2 tablespoons Dijon mustard
•1 tablespoon freshly squeezed lemon juice
•1 tablespoon finely chopped flat-leaf parsley
•1 green onion, minced
•2 tablespoons tomato sauce (or 1 tablespoon tomato paste)
•1 tablespoon capers, roughly chopped
•1 teaspoon Worcestershire sauce
•1 teaspoon hot sauce, or more to taste
Garnish:
• Paprika or cayenne pepper
Combine all ingredients (except garnish) and refrigerate. Serve dusted with a sprinkle of paprika or cayenne. Makes about 1 ½ cups.
Store your serving vessels in the freezer to chill before filling with ice.
Prep prawns, crab legs, mussels and lobster up to a day in advance. Steam each separately, plunge into ice water to cool quickly, then drain well and refrigerate for several hours (or overnight). Alternatively, for mussles, prepare Mussels Vinaigrette.
Shuck oysters just before your guests arrive.
Present cold shellfish on platters or pans that are deep enough to hold a good layer of crushed or cubed ice. Put a towel in the dish before adding ice to absorb some of the water as it melts.
If you can, use separate tiers or plates for raw and cooked shellfish. Present raw food on ice. Cooked cold shellfish can also be simply served on a chilled plate lined with a bed of greens or blanched seaweed.
If you don't have a specialty tiered appetizer dish, you can improvise by using a cake stand or an upturned bowl to balance a second tier or by elevating a shallow dish on a metal pizza stand.
Arrange your chilled seafood artfully in sumptuous piles for best effect, largest items on the bottom tier, smaller on the top. Tuck small bowls of cocktail sauce, horseradish, migonette and rémoulade amid the seafood, but keep drawn butter warm on the side.
Garnish the platters with sea asparagus, dill or fennel fronds, and lemon wedges. Serves 8.
Gravlax on Rye
Gravlax is a traditional way to cure salmon. Start with a fish that's scrupulously fresh or frozen at sea. It takes a few days to "cook" the fish in this marinade, but it's dead easy and makes an impressive nosh for a party buffet. Serve gravlax on rye crackers or bread with fennel salad and mustardy mayo, or on buckwheat pancakes (blini) with horseradish cream and dill.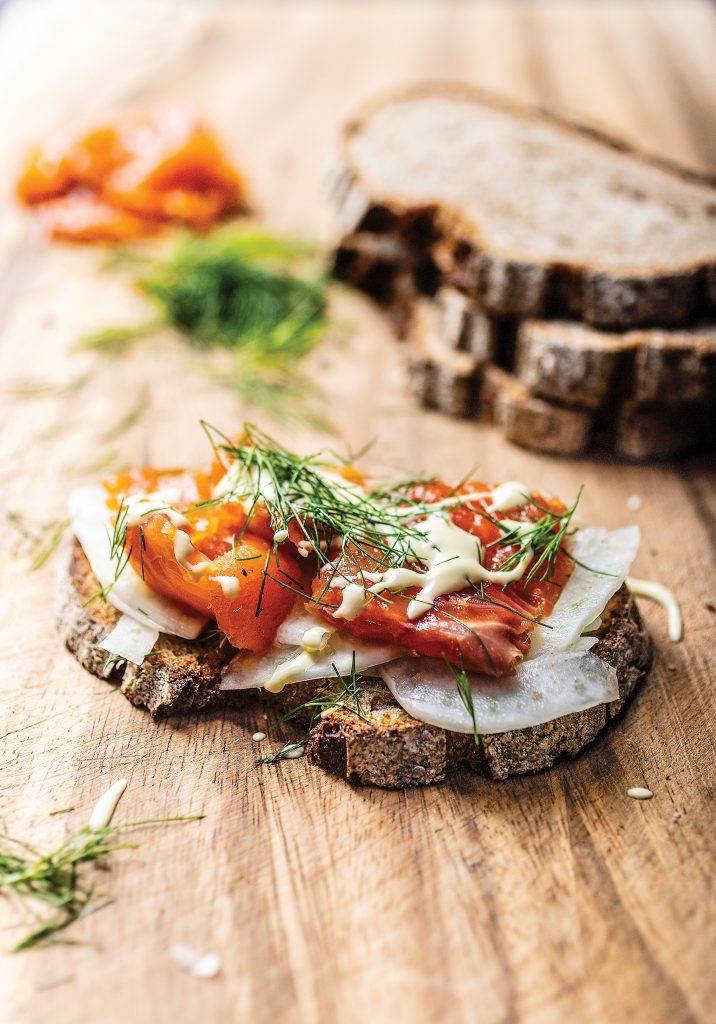 ---
Gravlax:
•1 cup chopped fresh dill, divided
•2 boneless sockeye (or other salmon) fillets, skin intact, pin bones removed (2 to 3 pounds total)
•1/3 cup coarse sea salt
•1/3 cup packed brown sugar
•1 teaspoon freshly ground white pepper
•4 tablespoons aquavit, gin or brandy
Shaved Fennel Salad:
•1 large fennel bulb, core removed and very thinly sliced, fronds reserved for garnish
•½ teaspoon finely grated lemon zest
•1 tablespoon lemon juice
•1 tablespoon extra-virgin olive oil
•Salt and freshly ground pepper
For serving:
•Rye crackers or rye bread
•Mustard mayonnaise
•Chopped dill
Find a deep glass or ceramic dish just large enough to hold the salmon fillets. Sprinkle ¼ cup of the chopped dill over the bottom of the dish. Pat the salmon fillets dry.
Combine the salt, sugar and pepper in a small bowl, then rub most of the mixture over the flesh side of both fillets, then sprinkle with aquavit, gin or brandy.
Lay one fillet, skin side down, in the dish. Evenly sprinkle the fillet with ½ cup of chopped dill, then lay the second fillet on top, flesh side down. (To create an even thickness for curing, lay fillets in opposite directions — tail end to head end.)
Sprinkle any remaining dill, seasoning mixture and aquavit over top of the fillets. Cover with plastic wrap.
Find a board or plate that will fit into the dish and set it directly on top of the plastic wrap covering the salmon. Place something heavy over the board — such as bricks or cans of food — and transfer the dish to the refrigerator. Refrigerate for 2 to 3 days, basting twice a day with the salty juices that will accumulate in the dish. When the fish is properly cured, the flesh will become opaque and firm, as if cooked, and the fish will keep for a week.
For the fennel salad, combine all ingredients in a medium bowl. Toss lightly and season to taste with salt and pepper. Chill.
To serve, rinse fish to remove the excess dill and salt mixture. Pat dry. Set the cured fish on a cutting board, skin side down, and cut on the diagonal into thin slices, freeing each piece from the skin as you cut it.
To serve, top rye crackers or bread with fennel salad and salmon gravlax, drizzle with mustard mayo (mix a little Dijon into mayonnaise, to taste) and sprinkle with dill.
TIP: Aquavit is a grain-based Scandinavian spirit similar to vodka, but flavoured with aromatic herbs and spices such as coriander, lemon, dill and caraway seed. On Vancouver Island, Sheringham Distillery makes Akvavit, an award-winning craft spirit with notes of dill, caraway, anise, citrus and wild-harvested, local winged kelp. Use it in this gravlax recipe and sip it, ice cold, alongside.
Mussels Vinaigrette
This recipe comes from Prince Edward Island, which is known for mussels, but Salt Spring Island mussels are my new favourite. If you like, substitute cooked shrimp and squid for a portion of the mussels and make this into a mixed seafood salad. (You will need about two pounds of seafood in total.)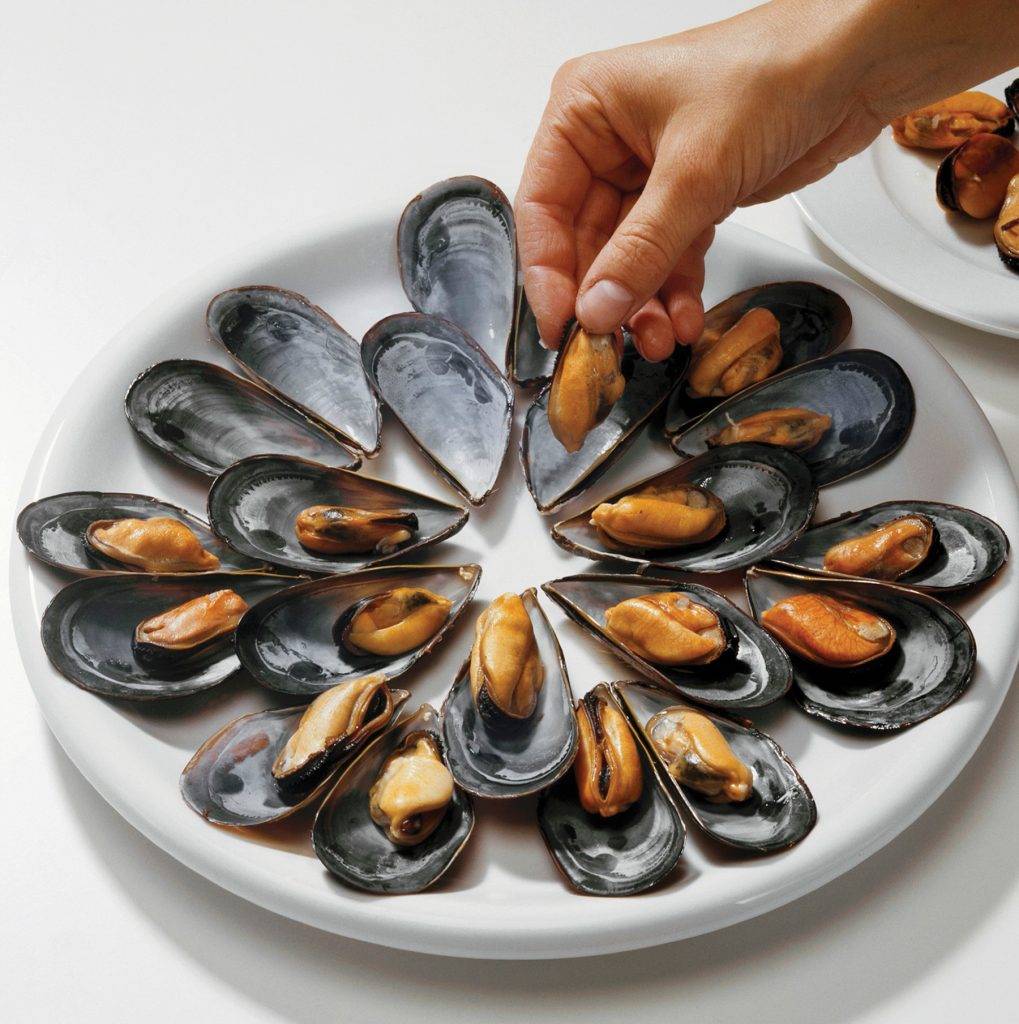 ---
Mussels:
•1 tablespoon olive oil
•¼ cup minced onion
•1 cup white wine
•3 pounds large mussels in their shells
Vinaigrette:
•1 very ripe tomato, seeded and chopped
•2 cloves garlic, pressed or minced
•2 green onions, chopped fine
•¼ cup extra-virgin olive oil
•2 tablespoons balsamic vinegar
•2 tablespoons minced fresh basil and Italian parsley, plus extra chopped herbs for garnish
•1 teaspoon sugar
•1 teaspoon Dijon mustard
Heat oil in a large pot and sauté the onion for 5 minutes, until soft. Add the wine and mussels. Cover the pot, bring to a boil and steam over medium high heat for 5 minutes, or until the mussels open. Discard any that don't open.
Cool and remove mussels from the shell and place in a bowl. (Reserve/freeze the broth for your next chowder, and save a few dozen of the nicest large shells for serving.)
For the vinaigrette, combine the ingredients in a blender or food processor and whirl until combined. Pour over the mussels, cover and marinate for a few hours or overnight in the refrigerator.
Spread a layer of rock salt on a platter and arrange mussel shells attractively on top. Fill each shell with two or three mussels in vinaigrette. Garnish with herbs. Alternatively, serve in shot glasses with cocktail forks, Asian spoons or endive leaves. Makes 24 appetizer servings.