By Cinda Chavich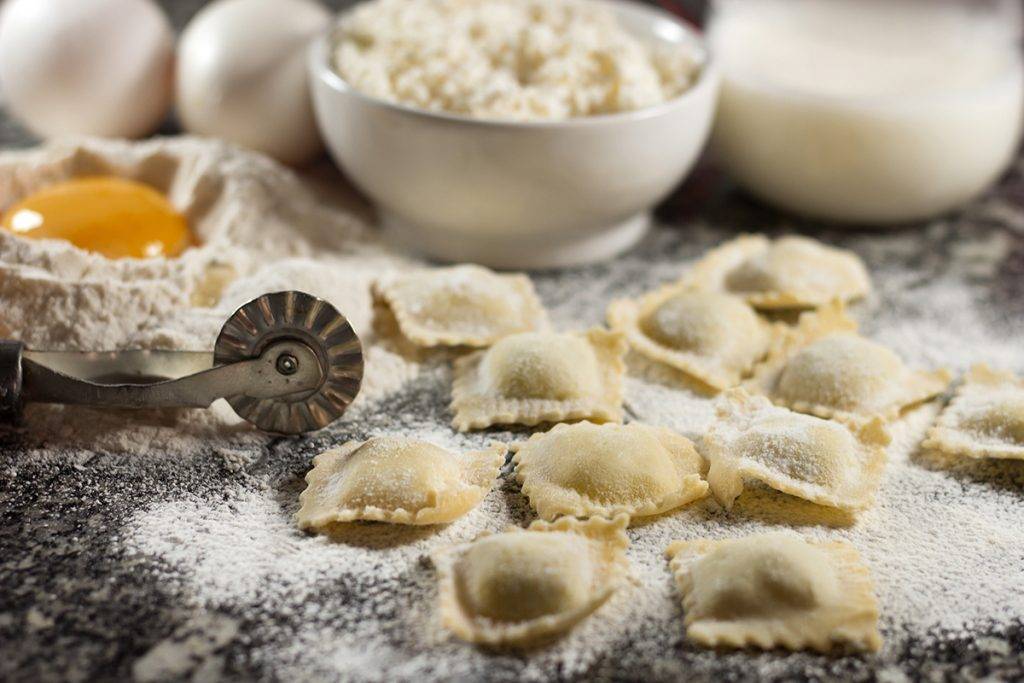 Whether you dress it up or dress it down, pasta is a lifesaver for weekday meals and elegant dinners alike — a simple staple to toss with light sauces and shellfish, lively herbs and young spring greens.
And now this pantry staple comes with artisan cachet — noodles made with heritage grains, slowly extruded and hand-rolled, for the finest flavour and perfect sauce-trapping texture.
There is a lot of choice when it comes to buying pasta. But as I learned on a recent trip to Gragnano, Italy — the historic home of dried pasta — making the finest pasta takes time.
And for the best results in the kitchen, it pays to choose your pasta with care.
BRONZE DIES AND SLOW DRIES
Take a look through the pasta aisle at your local market and you may see some new words on the packages.
The best Italian imports are labelled with descriptors like trafilatura al bronzo or Pasta di Gragnano. Both identify pasta made in the Gragnano area near Naples, using local semolina. Traditional bronze dies are used to extrude the pasta into various shapes. That's important information for pasta connoisseurs. Because bronze is not perfectly smooth, the pasta must be extruded slowly and retains a nice rough "tooth," a texture similar to hand-rolled fresh pasta that helps hold the sauce. This premium pasta is also dried for 24 to 48 hours, which helps to retain its natural colour and flavour.
By contrast, larger commercial pasta makers use Teflon-coated dies to extrude pasta quickly and dry it at high temperatures, creating pasta products with a hard, smooth surface and a lightly caramelized colour and flavour. It's inexpensive to make by comparison, but there's definitely something lost in translation.
If you've ever wondered why a simple dish of fettuccine with olive oil and garlic is so exquisite in your favourite Italian restaurant but falls flat at home, it may be your pasta.
LOCAL ARTISANS
Artisan pasta is experiencing a bit of a renaissance in Victoria, with local makers taking their cues from Italian traditions, creating a variety of fresh and dried pasta from scratch, using imported equipment and Island ingredients.
La Pasta in the Victoria Public Market is the latest on the scene, a casual café and take out where the pasta is made fresh daily.
Chef Aaron Lawrence offers a rotating, mix-and-match menu of pasta and homemade sauces, from gnocchi, pan-fried with fresh peas and arugula pesto, to steamed clams on a sunny saffron-infused linguine, and fuchsia beet pappardelle.
There are more than eight different shapes — watch it extruded in the open kitchen as you wait for your lunch.
It's a similar setup at Lot 1 Pasta Bar, but in a full-service restaurant, with fusion pasta dishes featuring their own homemade bucatini, campanelle, rigatoni and radiatori, made fresh each morning and dried slowly overnight.
For freshly made pasta to cook at home (or take out for lunch), visit the La Tana Italian Bakery at the end of Fan Tan Alley. Baker Claudio Costi has added fresh pasta to the offerings at his authentic Italian bakery, all made in a tiny dedicated pasta kitchen across the narrow historic alleyway.
Or opt for the whole-grain dried pasta and frozen ravioli from chef Matt Horn's Cowichan Pasta Company, now found on many local grocery store shelves.
Made with semolina from ancient grains, including emmer, spelt and khorasan wheat (aka Kamut), it's the kind of nutritious pasta that Horn says is easier for many people to digest. The semolina is freshly ground on Vancouver Island by True Grain, a by-product of the stone-milled flours they use for their artisan breads. That also adds to the nutritional value of the pasta, says Horn, as none of the nutrients are stripped out in the milling process, and the flours are free of the chemical additives used in most commercial flour mills.
SIMPLICITY ITSELF
You'll find a variety of classic Italian pasta dishes on the menu at Zambri's, which features traditional food in a contemporary urban setting. Chef Peter Zambri describes himself as "The King of Simple" when it comes to cooking pasta. All you need is a pot, a spoon and a strainer, he says, sharing his "family secret" technique for making his tasty Pasta with Broccoli.
Zambri says it's all about using delicious ingredients — the sweet, locally grown broccoli, Pemberton garlic and extra virgin olive oil (EVOO) combine with quality Parmesan and Asiago cheeses to create a dish that exceeds the sum of its parts.
The biggest mistake people make when cooking pasta? Starting with an inferior product, says Zambri, and overcooking it.
"Always buy a good-quality pasta, and never cook it past al dente — it needs bite," he says, pulling a variety of Italian products from his restaurant pantry.
If the box says cook for 11 minutes, start tasting the pasta at the seven- or eight-minute mark, he says. You want it to be cooked through, but just barely — there should be no white chalky centre but there should also be a nice, chewy texture to your noodles.
If you're making a sauce, have it hot and ready before you cook your pasta, says Zambri, then undercook the pasta slightly, drain and add to the sauce to finish cooking for a few minutes. This serves to reduce and thicken the sauce, and imbues the pasta with extra flavour.
GOING GLOBAL
Historians believe it was Marco Polo who brought Italy the concept of pasta, the hand-pulled noodles he had discovered on his travels to China in the 13th century.
Asian pasta — Chinese egg noodles, wonton noodles, chewy buckwheat soba — has now permeated our culinary consciousness around the world, as common as macaroni and spaghetti in many modern kitchens.
There's a pasta for every occasion and culture, whether it's fat egg noodles with Hungarian goulash, spicy Pad Thai noodles, big bowls of Japanese ramen or the classic Italian dishes.
Add the variations on dumplings — perogies, gnocchi, spaetzle, tortellini, Chinese soup dumplings, ravioli — and it's plain to see, these dishes have circled the globe for a reason.
People simply love pasta — just make sure you use your "noodle" before you buy.
---
This article is from the March/April 2019 issue of YAM.