By Cinda Chavich
The First Nations have an expression on the coast — 'when the tide is out, the table is set,'" says Brian Kingzett, plunging his shovel into the muck and uncovering a handful of Manilas, littlenecks and fat butter clams. "There's a whole level of protein here under the sand, chowder for four in a square foot."
But you have to know where — and how — to dig. As a recent transplant to the Island, with my deep Prairie roots, I'm keen to learn more about foraging for shellfish on the beach. And here at the end of Baynes Sound, the channel that separates Vancouver Island from nearby Denman Island, is a good place to start.
Known as the shellfish capital of B.C., the beaches of Baynes Sound are where the oyster industry has flourished for decades, in tiny towns like Mud Bay, Deep Bay and the now-famous Fanny Bay. And it's here that coastal people came to live and harvest clams, the deep layers of discarded clamshells, called shell middens, just beneath the surface of the shore evidence of more than 4,000 years of human habitation.
Now it's also the site of the newly opened Deep Bay Marine Field Station, where scientists like Kingzett study shellfish, especially the native geoduck clam, Panopea generosa, the largest clam in the world.
"Last year we had an experimental hatchery for geoduck," he says, holding in his outstretched palm several miniature geoduck "babies" destined for geoduck aquaculture experiments. "Half of all the shellfish in B.C. come from this area — it's the same reason the Coast Salish were here."
And it's a good place to begin your own shellfish studies, whether handling local species in the touch tank or heading down to the beach at low tide.
Gardens of Clams
You can't walk far along a beach, or kayak along the shoreline, before you run into the evidence that coastal people have been harvesting shellfish on Vancouver Island for thousands of years. I first marveled at the deep layers of compressed white shells, or shell middens, while paddling along the shores of Valdes Island, but I've also seen the tell-tale bleached layers in the shoreline along The Gorge, right in the centre of the city.
It's a reminder that First Nations relied on clams as a food source, and that these beautiful and tasty bivalves are still alive and well, if hidden, along the water's edge. There's even some evidence that early coastal people encouraged these crops of wild edibles to flourish — clearing beaches of rocks to create "clam gardens" in protected coves.
According to the Sport Fishing Institute of British Columbia, both big butter clams and native littleneck clams are common in protected beaches, bays and estuaries along the B.C. coast. Manila clams are an imported species, found along Georgia Strait, near Bella Bella, and on the west coast of Vancouver Island. The aptly named razor clam, with its long narrow shell reminiscent of a vintage straight razor, is only found on surf-swept beaches, like Long Beach outside Tofino or on the rugged coast of Haida Gwaii.
And though most clams sit just below the surface of the sand at low tide — a mere four to 10 inches — it takes some sleuthing to find them.
How, Where and When to Dig
I asked Rick Harbo, a former Department of Fisheries and Oceans (DFO) biologist, marine science writer and clam digger of note, to help school me in the finer points of shellfish foraging, and we met on a beach that's designated as a "recreational shellfish reserve" near Nanaimo.
The author of several great books, Harbo knows a lot about clams, an awful lot. Like any good sport fisher, he has some good pointers for a landlubber like me. First, in these parts at least, you need a licence to harvest clams, mussels and other mollusks on the shore, the same Tidal Waters Sport Fishing Licence needed for any fish or shellfish, which costs about $23 annually for a B.C. resident. And while you'll find fishing guides to take you out for salmon or halibut, when you're digging clams, it's a mostly DIY proposition.
Check tide tables online and plan your clam dig around the lowest tides — you'll have an hour or two on each side of the low tide to dig. A shovel or a rake are the implements of choice. And you'll need a food-safe bucket to collect the clams you find. Rubber boots or hip waders are de rigueur for clam digs — it can be a dirty, muddy business.
I quickly had my visions of sifting through the soft sands of beautiful wide beaches (think Parksville or Qualicum Beach) dashed. Clams don't like soft sand, says Harbo. It's the rockier, muddier corners of those coastal coves where you'll find clams, the shallow mud flats. And, due to closures for natural toxins (paralytic shellfish poisoning or red tide) and other contaminants, you'll need to do your research carefully before you decide where to dig.
"It's getting harder and harder to find areas for clamming that are not contaminated," says Harbo, noting that clams, oysters, mussels and other bivalves are "filter feeders" that concentrate contaminants in their bodies, so are the aquatic "canary in the coal mine" when it comes to biotoxins.
Wild clams are really no different than farmed clams, at least those that are harvested by hand on the Island. We watched a group of men digging up Manila clams on the same beach where we found our clams — just a few hundred yards away in a section of the beach that has been leased to a commercial fishing company. Though some of these companies may "seed" their beaches with juvenile clams to harvest later, Harbo says clams release so much seed into the water when they spawn that it drifts many miles, so even seeded beaches will have a good population of wild native species.
But you can't always assume an area is safe for recreational harvest, even if you see commercial harvesters on the beach. Many commercially harvested wild clams go through a process called depuration to remove pathogens, viruses and bacteria, and are tested and certified safe before going to market.
Always check for closures with the local DFO office — people have died from eating contaminated clams, so don't ignore posted warning signs. That said, you'll find clams in the Baynes Sound and Nanoose Bay recreational shellfish reserves or on the beaches around Courtenay. Just be sure to observe the commercial harvesting leases, marked by red concrete blocks or boulders.
Sea Shells on the Sea Shore
The beach at Nanoose Bay is littered with evidence of clam colonies — piles of bleached-white and iridescent-purple shells tumbled together at the high water line — a sign it's a promising place. We are after littlenecks and Manilas, and it isn't long before we've scooped up our limit.
The big butter clams, once a major fishery on the west coast of the Island, are here, too, and, because of their size, are easy to find at low tides. But butter clams store toxins in their tissues longer, six months or even a year, and on many beaches, butter-clam harvesting is closed year-round. Best to leave them behind if you're unsure.
Head to the intertidal zone, sink your shovel into the sand, and turn over a few scoops. It's like searching for new potatoes in the garden. If you're in a good spot you'll soon find clams. A small rake is useful to comb through the muddy sand and to separate the shellfish from the rocks.
The littleneck is the native species, light coloured, small and round. The Manila clam, which arrived on our coast with oyster "seed" from Japan in the 30s, is tasty and more likely to open cleanly when cooked. Manilas are slightly oblong, mottled and a bit bigger than littlenecks, but it's not easy to tell them apart.
Butter clams are larger — two to three inches across — and you might find the purple mahogany or Savoury clam too. Giant geoduck clams and horse clams, with their long siphons, are buried much deeper and are only accessible on very low tides.
Terroir of the Sea
We didn't have the warm, sunny afternoon of my dreams for harvesting clams — our early spring outing was a little chilly and foggy, typical West Coast weather. But it's always great to be out by the water, and a clam dig isn't a huge time commitment. We collected 150 clams in less than an hour, and we carried them home in a bucket of sea water, then let them purge out any sand for a few hours.
Then we gave them a scrub, steamed them in a little white wine until they opened, and feasted on the tender, sweet meat, dipped in melted butter for added effect.
Harbo, like all fishermen, has some secret spots in the Gulf Islands that are only accessible by boat. He alluded to a "very good beach" on Galiano and a few spots on Valdes and Cortes islands to check for clams.
Cook Your Catch
Wash mud and dirt off the clams, then place them in a food-safe bucket and cover them with sea water — in four to eight hours, after they've spit out any sand and grit, they're ready to cook. Small Manila or littleneck clams are easiest. Just pop them in a big pot with a splash of white wine or beer and some minced shallots and garlic, then cover and steam for five to nine minutes, discarding any clams that don't open.
Divide the steamed clams into serving bowls and strain the cooking liquid into a clean pot, leaving any sand behind. Whisk in a few tablespoons of cold butter, parsley or chives, pour back over, then pass around some fresh baguettes to sop up the sauce and dig in! High in minerals and ultra low in fat, clams are good for you, too.
Larger butter clams and razor clams should be blanched, shucked and cleaned before cooking. The meat will be chewier, so you'll want to fillet the body before breading and quickly frying, or chop them up for fritters or chowder.
For a beach bake, you can steam a mess of clams over a campfire, with the requisite seaweed, potatoes and corn, even a few Dungeness crabs. Or recreate the clambake at home, layered in a heavy pot and steamed over high heat on the stove. The Easy Campfire Bake recipe on the next page is perfect for a beach, kitchen or barbecue culinary experience.
Salt, Sand and Taste
Whether you plan your own clam adventure or find a local forager who'll take you along, a clam dig is a great activity for all ages on a sunny afternoon. Because really, what's more fun than finding a delicious free dinner in the sand?
---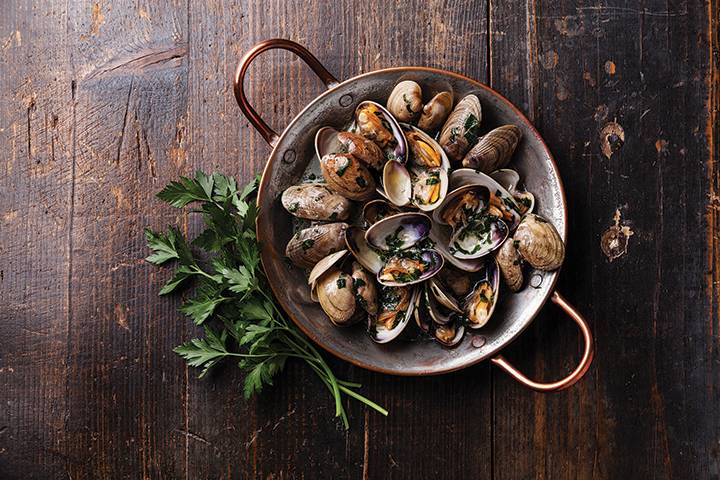 EASY CAMPFIRE (OR CITY) CLAMBAKE
By Cinda Chavich
My inspiration for digging clams comes from the kitchen (of course) and my romantic notion of gathering around a bonfire for a clambake on the beach. But you can also have a clambake in the oven — or even on the barbecue. This is how we do it at home or when we're camping. Just remember to bring the aluminum foil! This recipe is for four. Multiply at will, and feel free to add other shellfish or even chunks of boneless halibut or ling cod to the packages.
• 16 small new potatoes, halved or quartered
• 1 large onion, thinly sliced
• 2 to 3 cobs of fresh corn, cut into 2-inch pieces
• 16 clams, scrubbed well
• 16 mussels, debearded
• 16 spot prawns, heads removed and deveined
• 2 tbsp chopped fresh parsley
• Salt and freshly ground pepper
• 1/2 cup white wine
• 4 tbsp butter
• Baguette for serving
Make four packages using two 24-inch lengths of aluminum foil for each, arranged in a cross shape. Into the centre of each foil, place a quarter of the potatoes, onion slices, corn, clams, mussels and prawns.
Sprinkle each with chopped parsley and season with salt and pepper. Pull up the foil around the ingredients to partially enclose, then add 2 tablespoons of wine and 1 tablespoon of butter to each packet. Tightly fold the seams to seal well.
Set the foil packets on a baking sheet and bake at 350°F in the oven for 30 to 45 minutes, until potatoes are tender and shellfish has opened. You can also cook the packages on a medium-hot grill for 20 to 30 minutes (wait until the coals die down and are glowing, or use medium heat on a gas grill).
Place each packet in a bowl to serve. Open carefully to release the steam, and serve with crusty baguettes on the side.